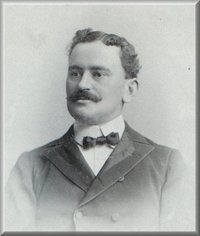 Source: Link
GUAY, JOSEPH-DOMINIQUE, journalist, farmer, politician, and businessman; b. 14 April 1866 in Chicoutimi, Lower Canada, son of Johnny (Jean) Guay, a merchant, and Marie-Émilie Tremblay; m. 2 Sept. 1889 Maria Morin in Saint-Louis-de-Métabetchouan (Chambord), Que., and they had six children; d. 18 Sept. 1925 in Chicoutimi.
Early in 1850 Joseph-Dominique Guay's family became one of the first to put down roots in the Saguenay region. He was the ninth of 11 children. His father, who served as mayor of Chicoutimi from 1863 to 1870, was considered the most important businessman in the region, next to William Price*. When he died in 1880 Johnny Guay would leave his widow a fortune of nearly $100,000. Until her death in 1904, Marie-Émilie, a talented, indeed formidable businesswoman, would see to it that the family wealth increased and that her children were educated and established in life. In 1873 Joseph-Dominique enrolled in the Petit Séminaire de Chicoutimi, with the intention of following in the footsteps of his godfather Dominique Racine*, a future bishop of Chicoutimi, and teaching at the college. His academic results were apparently good, since he was awarded various honours. After completing a year of the two-year philosophy program at the Petit Séminaire de Québec in 1882–83, he began studying law in the office of his brother-in-law, Jean-Alfred Gagné, who was a lawyer in Chicoutimi and an mp. However, he abandoned his studies because of a set of circumstances related to his father's estate, his own temperament, and his personal predilection for business and journalism.
In August 1887 Guay began a career in journalism which he would pursue for some 20 years. With his brother Alphonse and his future brother-in-law Louis de Gonzague Belley, he founded Le Progrès du Saguenay (Chicoutimi). As a result of a gift from his mother on the occasion of his marriage to Maria Morin, he became its owner, editor, and publisher from 1889. Under his direction it became the most important newspaper and the largest printing plant in the region. As a journalist, Guay mainly covered election campaigns. He was a political organizer for the Conservative party and had been active in the 1887 federal election, travelling the length and breadth of the riding of Chicoutimi and Saguenay on behalf of its candidate, his brother-in-law Gagné. He did the same for Belley in the 1892 by-election.
Guay championed the building of the Quebec and Lake Saint John Railway, which would reach Roberval in 1888 and Chicoutimi in 1893 [see Horace Jansen Beemer*]. He made it his mission, first in his newspaper and later in his public life, to promote agricultural and industrial progress in the Saguenay region, the two being, in his opinion, inseparable and complementary. He had shown an early interest in agriculture, attending around 1878 a lecture on the dairy industry given by Édouard-André Barnard*, who was then editor of Le Journal d'agriculture (Montréal) and director of agriculture in the Department of Agriculture and Public Works. In 1887 Guay took part in the Quebec provincial exposition and won first prize in the horse category with a year-old colt.
As the operator of a farm his mother had given him and as a member of the Société d'Agriculture de Chicoutimi, Guay supported the conversion of agricultural operations to dairy farming. In the spring of 1893, with the backing of Bishop Michel-Thomas Labrecque* of Chicoutimi, he encouraged the creation of a mutual fire insurance company for the farming community. He also undertook a tour to promote the establishment of agricultural clubs. In his talks he advocated the improvement of crops, animals, and buildings, and he set an example himself by becoming one of the first to own a silo in the Saguenay region. In October he went with veterinarian Joseph-Alphonse Couture – who, among other things, had founded the École Vétérinaire de Québec in 1885 – to the Columbian exposition in Chicago; while there he noted that Canadian cheese had an excellent reputation and that the British market was opening. In 1894, thanks to his network of contacts and his participation in the field, he was elected president of the Société d'Agriculture de Chicoutimi for the first time. He would continue to be one of its chief architects until 1924.
In 1897 Guay worked with the Société Générale des Éleveurs d'Animaux de Race Pure de la Province de Québec as president of the Canadian horse section. That year he bought his brother Victor's farm, which was one of the finest in the Saguenay region. By cultivating extensive acreage and raising a herd of 30 milk cows and a number of horses, he won a silver medal two years later at the competition for the Order of Agricultural Merit.
From 1895 to 1900 Guay was also a director of the Industrial Dairy Society of the Province of Quebec. Concerned about market standards, he persuaded cheese factory owners to upgrade their equipment and set common rules for the quality of milk as well as for the ripening and packaging of rounds of cheese. In June 1895 he accepted the presidency of a sales syndicate to export cheese directly to England, bypassing the Montreal market. Every two weeks an auction in Chicoutimi drew representatives of buyers from Montreal, Quebec, and the surrounding region. By making it possible for producers to be paid cash on delivery at the highest market price, this initiative not only helped the growth of local savings, but also led to a refrigerated warehouse being built and to the hiring of an inspector to grade the cheese. These improvements were responsible for the excellent reputation of the region's cheddar.
In 1895 Guay gained more influence over the development of the Saguenay region by running for mayor in Chicoutimi on a platform of urban modernization. He and four other fellow candidates won a crushing victory over the group running the previous administration, which had been under the thumb of Price Brothers and Company [see Sir William Price]. At the new council's first meeting, Guay was named mayor. In cooperation with the councillors, he put municipal finances in order. He undertook maintenance work on the streets, inaugurated an electrical system, and provided water service for the townspeople. Focusing on job creation and the growth of the economy, Guay sought to attract new industries by going in search of investors. One approach was to put advertisements in the province's large newspapers extolling the virtues of Chicoutimi. These measures proved unsuccessful and Guay, who was convinced that wood pulp was an "industry of the future," destined to "revolutionize the province" because of the growing demand for paper to print mass-circulation newspapers, then decided he would work to set up a factory.
Thus in 1896 Guay and a few partners founded the Chicoutimi Pulp Company. The construction of the plant created a large work site and in July 1898 production of pulp began. The company soon made a name for itself on the British and American markets, thanks to the high quality of its machine-made pulp and the entrepreneurial spirit of its general manager, Julien-Édouard-Alfred Dubuc*. In 1898 it was cited as an example by La Semaine commerciale (Québec) for "dispelling the false claim that French Canadians are not suited for business." Two years later it won a gold medal at the universal exposition in Paris. Ushering in the era of heavy industry in the Saguenay and Lac-Saint-Jean region, the company contributed to the area's urbanization. Not only did the population of Chicoutimi increase from 2,000 to 5,000 between 1895 and 1902, but its light industry, commerce, and institutions also experienced unprecedented growth.
In 1902, following a trip to Bermuda for health reasons, Guay resigned as mayor and he would not become involved in public affairs again until 1922. Meanwhile he worked as a journalist, writing columns on hunting and fishing for Le Progrès de Saguenay, and he looked after his mother's estate. Along with his father-in-law, he worked to organize a supply of wood for the Chicoutimi Pulp Company, of which he remained a shareholder and co-director until 1909. A large-scale landowner whose properties would be evaluated at more than $42,000 in 1914, he was also particularly involved in real estate. He presided over the operations of the Château Saguenay, a 130-room hotel he had built in Chicoutimi in 1898 in partnership with Dubuc and protonotary François-Xavier Gosselin. The building and the surrounding neighbourhood were destroyed in a fire in 1912. Guay then converted another of his properties, located in the centre of the city, into a hotel. Like a true travel agent, he offered hunting and fishing expeditions to the tourists he welcomed as guests, as well as overseas cruises on behalf of the big ocean-going ship lines. In October 1922 he was again elected mayor of Chicoutimi, but a year later he abruptly terminated his second term of office because of a lengthy illness. He died on 18 Sept. 1925 at the age of 59 years and five months.
A man of vision who focused on his own region, Joseph-Dominique Guay, throughout his life, devoted his energies to the development of the milieu he came from. Forward-looking, he used his boldness, organizational skills, and personal and family capital to ensure the Saguenay region's entry into the industrial age. Circumstances did work in his favour; his success shows nevertheless that progress does not come by itself, without action and determination.
Material relating to Joseph-Dominique Guay in the ANQ-SLSJ includes the records of his baptism and marriage (CE201-S2, 15 avril 1866, and CE202-S5, 2 sept. 1889); entries in the minute-books of notaries T.-Z. Cloutier (CN201-S4), Jean Gagné (CN201-S5), Raymond Belleau (CN201-S9), and G.-A. Saint-Pierre (CN201-S10); the Coll. de la Soc. hist. du Saguenay (P2), S1, D161; and the Fonds Joseph-Dominique Guay (P161).
Arch. de la Ville de Chicoutimi, Qué., Reg. des délibérations du conseil de ville, 1895–1902, 1922–25. Arch. du Séminaire de Chicoutimi, Annales du séminaire de Chicoutimi, 1866–1925. Alma mater (Chicoutimi), 1916–25. La Défense (Chicoutimi), 1898–1905. Le Journal (Chicoutimi), 1899–1902. Le Progrès du Saguenay (Chicoutimi), 1887–1925, esp. 24 sept. 1925. Le Protecteur du Saguenay (Chicoutimi), 1896–98. La Semaine commerciale (Québec), 8 avril 1898. Le Travailleur (Chicoutimi), 1905–12. Gérard Bouchard, "Élites, entrepreneurship et conflits de pouvoir au Saguenay (1890–1920)," Social Hist. (Ottawa), 60 (1997): 267–99. Directory, counties of Chicoutimi and Lac-Saint-Jean, 1927. Raymond Laliberté, "Joseph-Dominique Guay (1866–1925)," Saguenayensia (Chicoutimi), 10 (1968): 89–92.
© 2005–2023 University of Toronto/Université Laval
Cite This Article
Gaston Gagnon, "GUAY, JOSEPH-DOMINIQUE," in Dictionary of Canadian Biography, vol. 15, University of Toronto/Université Laval, 2003–, accessed October 4, 2023, http://www.biographi.ca/en/bio/guay_joseph_dominique_15E.html.
The citation above shows the format for footnotes and endnotes according to the Chicago manual of style (16th edition). Information to be used in other citation formats:
| | |
| --- | --- |
| Permalink: | http://www.biographi.ca/en/bio/guay_joseph_dominique_15E.html |
| Author of Article: | Gaston Gagnon |
| Title of Article: | GUAY, JOSEPH-DOMINIQUE |
| Publication Name: | Dictionary of Canadian Biography, vol. 15 |
| Publisher: | University of Toronto/Université Laval |
| Year of publication: | 2005 |
| Year of revision: | 2005 |
| Access Date: | October 4, 2023 |