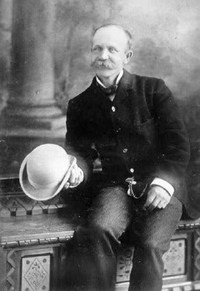 Source: Link
BEEMER, HORACE JANSEN, railway contractor and businessman; b. 1845 or 1848 in Honesdale, Pa; m. June 1887 Clare Eveline Dufresne; they had no children; d. 22 July 1912 in London, England.
Nothing certain is known about Horace Jansen Beemer's childhood and youth. He may have been the son of Moses Beemer, a farmer in Wayne County, Pa, who stated in the 1850 census that he had a five-year-old son named Horace J. In the early 1870s Beemer came to Canada as a foreman for Smith and Ripley of New York and worked on the Welland Canal. During the years that followed, he obtained a few contracts himself, including one for part of a railway bridge in Ottawa and another for portions of the Dufferin Terrace at Quebec. He went into partnership in 1878 with his compatriot Edward Curran and another contractor, John Sullivan of Montreal, under the name of Beemer, Sullivan and Company. The firm built the Kent and Saint-Louis gates in the Upper Town of Quebec. In 1880, on his own again, Beemer was looking for new business opportunities. With Auguste Laberge of Montreal, the next year he acquired an interest in developing an iron ore deposit at Saint-Urbain in the county of Charlevoix, but the project was soon abandoned. He then turned his attention to the water system at Quebec, which the new municipal council under François Langelier planned to renovate.
Begun in 1854, the system by 1882 served only part of the city. Jacques-Cartier and Saint-Roch wards had no running water, and the 18-inch mains could barely meet the demands of the wards in the Upper Town. There was not enough water pressure to fight fires effectively, as city engineer Charles Baillairgé* had noted in his 1881 report. Faced with discontent on the part of citizens and an increase in insurance premiums, in 1883 the municipal administration decided to build a new system of 30-inch mains in order to guarantee an adequate and constant supply of water throughout the city. Beemer was awarded the contract that year, edging out his principal rivals, Carrier, Laîné et Compagnie, John Patrick Whelan, and Thomas McGreevy*. The work was completed in December 1884 and soon became a subject of controversy, for numerous breaks were occurring in the new mains. The city had not accepted Beemer's suggestion to reinforce the pipes, judging that it would be too costly.
During this period Beemer was involved in railway development. In July 1883 the Quebec and Lake St John Lumbering and Trading Company, in return for substantial financial compensation, awarded him a contract to build the last 135 miles of the line that would join Quebec City with Roberval, in the Lac Saint-Jean region. However, the Quebec and Lake St John Railway, which opened early in 1888, was only one link in a much broader strategy aimed at exploiting the natural resources of the area around the city and in the northern part of the province. This plan for expansion came from a group of businessmen affiliated with the Quebec Bank and headed by Francis Ross. In 1888 the group decided to build two branch lines, one to Chicoutimi and the other to what would become La Tuque. Beemer won the contract for the construction of the Chicoutimi branch, which was completed in 1893. Meanwhile, having bought the operating rights to the Quebec, Montmorency and Charlevoix Railway around 1886, he reached an agreement with the owners of the Quebec and Lake St John for setting up the Quebec terminus. In May 1890 the two firms undertook to share the purchase, construction, and development costs of the terminus property, the marshalling yards, and the bridge that was to span the Rivière Saint-Charles. In their quest for capital, Beemer and Ross decided to refinance the debt of the Quebec and Lake St John by issuing new bonds to the value of $3.8 million. This measure made it possible to renegotiate the large sum of $343,000 owing to the Quebec Bank. Instead of setting Beemer free, however, it tied him even more closely to Ross, who remained his chief financial backer.
There were in fact many ties between Beemer and the Ross family. In 1888 he had built a sawmill at Roberval for Ross, Beemer and Company, which was intended to exploit, among other things, the timber rights the Rosses had bought in the early 1870s. Aware of the possibilities that the advent of the railway would bring to the region, he went into partnership that year with Benjamin Alexander Scott* to erect the Hôtel Roberval and begin construction of the Péribonka, a coastal steamer that would carry lumber, merchandise, passengers, and tourists. From 1890 to 1894, thanks to the business acumen of the two partners, three other steamboats were built to facilitate settlement around the north end of Lac Saint-Jean. In 1891 Beemer enlarged his hotel, furnished it luxuriously, and opened a second establishment, Island House, near Saint-Joseph-d'Alma (Alma). Through advertisements in American newspapers, he attracted a cosmopolitan, rich, and distinguished clientèle, eager to try their hand at catching the freshwater salmon, or ouananiche. By setting up a hatchery in Roberval in 1897, he ensured a steady supply of these fish.
Besides helping develop the Lac Saint-Jean region, Beemer was involved in other enterprises. Since 1886 he had been president, majority shareholder, and contractor of the Montreal and Western Railway, the Ottawa and Gatineau Valley Railway, and the Pontiac Pacific Junction Railway. Like the Quebec and Lake St John, these lines traversed a hinterland, the regions to the north of Saint-Jérôme and Hull-Ottawa. Because of his strong business connections with the élite at Quebec, Beemer was close to the government of Honoré Mercier* and benefited from many provincial subsidies. Construction of the lines started in 1890, at almost the same time as work began on extending the Quebec and Lake St John and on building a section of the South Shore Railway between Nicolet and Saint-Grégoire, of which Beemer declared himself the majority shareholder.
All these projects required substantial financing. Grants, whether federal or provincial, were not sufficient and on several occasions Beemer had to face discontented employees and suppliers because he did not have the money to pay them. He would then resort to banking institutions such as the Banque du Peuple, the Banque Jacques-Cartier, and the Quebec Bank or to private investors such as the Montreal brokerage firm of Hanson Brothers and the Ross family. Beemer incurred heavy debts. In order to pay them off, he had to transfer to the Canadian Pacific Railway the operation of the Montreal and Western in 1892, and the Ottawa, Northern and Western (the former Ottawa and Gatineau Valley and the Pontiac Pacific Junction) in 1902, but these measures were not enough. In 1897, when he built the Alexandra Bridge between Ottawa and Hull, a natural extension of the Pontiac Pacific Junction, he had to mortgage his property to repay his debts.
Beemer nevertheless retained solid financial support among the Quebec business élite and American investors. As president of the Quebec, Montmorency and Charlevoix Railway Company from 1891, he realized that the construction of an electrical street railway system for Quebec City was a unique business opportunity. After the company had obtained a franchise from the city authorities to build and operate the transportation system, he tried to interest American investors, but because of the instability of the stock market, they eventually withdrew, and in 1896 he had to turn his franchise over to the Quebec District Railway Company [see Andrew Thomson*]. However, the transfer agreement included a repurchase clause, and in 1898 the Quebec, Montmorency and Charlevoix decided to take advantage of it and thereby become the owner of the Montmorency Electric Power Company.
This merger, estimated to involve more than $2 million, worked to Beemer's disadvantage. The current liabilities of the Quebec, Montmorency and Charlevoix were in the neighbourhood of $800,000, of which $334,000 was owed to Beemer and $176,000 to Ross and Company, his chief creditor. Of the preferred shares, 46 per cent were still owned by Francis Ross, 12 per cent by Hanson Brothers, and 12 per cent by the Banque Jacques-Cartier, a total of 70 per cent. Even though Beemer became president, the real decision-makers would now be Francis Ross and the Quebec Bank, Hanson Brothers, and the Union Bank of Canada, which was the main backer of Quebec hydroelectric firms [see Thomson]. In 1899, when an administrative reorganization led to the creation of the Quebec Railway, Light and Power Company, Beemer was replaced as president by Thomson. Three years later he was ousted from the board of directors.
From then on Beemer progressively lost his prestige and influence. In the early 1900s he seemed to be focused on developing his properties in the Lac Saint-Jean region. After the Hôtel Roberval burned down in 1908, he transferred ownership of his steamboats to his long-standing partner Scott, and in return bought from him his fishing rights at the Grand Décharge on the lake. Beemer had now almost completely withdrawn from the field of railway construction. In 1908 he was invited by the Matane and Gaspé Railway Company to build the first section of its line, between Sainte-Flavie and Matane. Since he was living in New York, he could not mount an influential and effective lobby with the government authorities, and the venture would never see the light of day, at least under his direction.
Horace Jansen Beemer passed away in London in 1912 after two years of illness. Although he was a man of indomitable energy he died, strangely enough, of exhaustion, doubtless undermined by his inordinate ambition. In an era when the construction and operation of railways guaranteed social prestige and wealth, Beemer had never been able to rise above the level of carrying out the orders of others, to become a real decision-maker and a financier. His connections with the Ross family had enabled him to climb rapidly up the social ladder, but throughout his career these ties also hindered his own rise.
AC, Québec, Minutiers, Joseph Allaire, 23 oct. 1896; W. N. Campbell, 11 juin 1898; J.-A. Charlebois, 27 mars 1899; E. G. Meredith, 20 sept., 18 nov. 1878; 30 nov. 1891; 25 mars 1892; 7 janv. 1897; 22 déc. 1905; 10 août 1908; 18 janv. 1909; Cyrille Tessier, 10 juill. 1883, 2 mai 1889, 31 mai 1890. ANQ-Q, T11-1/24, nos.2255–56 (1878); 25, nos.2478 (1880), 2487 (1881). Arch. de la Ville de Québec, QD2, rapport de Henry O'Sullivan, 7 août 1884; QP1-4, contrat entre la corporation de la cité de Québec et H. J. Beemer, 10 juill. 1883; rapport de Charles Baillairgé, 5 déc. 1884. La Semaine commerciale (Québec), 8 nov., 6 déc. 1895; 6 mars, 1er mai 1896; 16 juill. 1897; 1er mars 1901. Le Soleil, 24 juill. 1912. Jules Bélanger et al., Histoire de la Gaspésie (Montréal, 1981), 468. Léonidas Bélanger, "Le lieutenant-colonel B.-A. Scott," Saguenayensia (Chicoutimi, Qué.), 15 (1973): 88–92. Jean Benoit, "Le développement des mécanismes de crédit et la croissance économique d'une communauté d'affaires; les marchands et les industriels de la ville de Québec au XIXe siècle" (thèse de phd, univ. Laval, Québec, 1986). Canadian men and women of the time (Morgan; 1898). Directory, Quebec and Lévis, 1900–2. Martin Gaudreault, "Une ville, Roberval," Continuité (Québec), 47 (1990): 47–50. Gaétan Gervais, "L'expansion du réseau ferroviaire québécois (1875–1895)" (thèse de phd, univ. d'Ottawa, 1978), 291, 426–43. Camil Girard et Normand Perron, Histoire du Saguenay–Lac-Saint-Jean (Québec, 1989), 192, 195. André Lortie, "Hôtel Roberval: tout le monde descend!" Cap-aux-Diamants (Québec), no.33 (printemps 1993): 54–57. The Quebec and Lake St John Railway Company of Canada and others to the trustees, executors, and Securities Insurance Corporation, Limited . . . (London, 1888). Rossel Vien, Histoire de Roberval, cœur du Lac-Saint-Jean ([Chicoutimi, 1955]), 113, 173–74, 182–83.
© 1998–2023 University of Toronto/Université Laval
Cite This Article
Jean Benoit, "BEEMER, HORACE JANSEN," in Dictionary of Canadian Biography, vol. 14, University of Toronto/Université Laval, 2003–, accessed June 8, 2023, http://www.biographi.ca/en/bio/beemer_horace_jansen_14E.html.
The citation above shows the format for footnotes and endnotes according to the Chicago manual of style (16th edition). Information to be used in other citation formats:
| | |
| --- | --- |
| Permalink: | http://www.biographi.ca/en/bio/beemer_horace_jansen_14E.html |
| Author of Article: | Jean Benoit |
| Title of Article: | BEEMER, HORACE JANSEN |
| Publication Name: | Dictionary of Canadian Biography, vol. 14 |
| Publisher: | University of Toronto/Université Laval |
| Year of publication: | 1998 |
| Year of revision: | 1998 |
| Access Date: | June 8, 2023 |