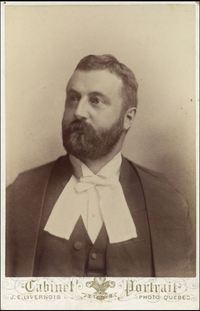 Source: Link
HALL, JOHN SMYTHE, lawyer, politician, and editor; b. 7 Aug. 1853 in Montreal, son of John Smythe Hall, a lumber merchant, and Emma Brigham; m. 3 Jan. 1883 Victoria Rosina Brigham in Ottawa, and they had four children; d. 8 Jan. 1909 in Calgary.
John Smythe Hall was a descendant of families engaged in selling and processing lumber. As a young man, he attended Bishop's College in Lennoxville, Que., and went on to study law at McGill College, where he received a bcl in 1875. He was called to the bar in January 1876 and embarked on what would be a substantial legal career. He practised first with Donald Macmaster and later with James Naismith Greenshields* in Macmaster, Hall, and Greenshields. In 1881 he entered the prestigious Conservative firm of Carter, Church, Chapleau, Carter, and Busteed. There he was associated with Albert William Atwater, Edward Carter, Joseph-Adolphe Chapleau*, then premier of Quebec, and Levi Ruggles Church*, a former Conservative cabinet minister. Subsequently known as Church, Chapleau, Hall, and Atwater, the firm kept changing as partners came and went. By 1892, when Hall became a principal partner, it was Hall, Cross, Brown, and Sharp. He built up important professional and personal relations with, among others, Donald Alexander Smith* of the Bank of Montreal and the Canadian Pacific Railway Company, Thomas George Shaughnessy*, and William Cornelius Van Horne*.
Firmly established in the English-speaking, Conservative, and Protestant business community of Montreal, Hall embarked at the age of 33 on a career in provincial politics. On 14 Oct. 1886 he was elected for Montreal West, defeating Liberal George Washington Stephens by a majority of 127. He was returned by acclamation on 17 June 1890 in the new anglophone riding of Montreal, Division No.5, and won again on 8 March 1892 with more than two-thirds of the votes.
After his first election, Hall found himself in opposition when Honoré Mercier* and the Parti National took office in January 1887, and he remained on the opposition benches until December 1891. As a member of the legislature, he took a general interest in matters concerning Montreal and the English-speaking Protestant minority (especially McGill University), in the control exercised by professional bodies over the content of university programs leading to the liberal professions, in legal questions, and in the conditions of the judicial system in Montreal, as well as in steps to increase Montreal's electoral representation. He took a partisan but quite moderate stand on issues that brought the province's French-speaking and English-speaking communities into conflict; for example, in the Jesuit estates question, he considered the terms of the settlement acceptable, although he opposed it in principle. He regretted the polarization it engendered, especially the rise of the Equal Rights Association [see D'Alton McCarthy*], but he laid the blame at the door of the Parti National for fanning the flames of prejudice. He expressed doubts about the constitutionality of the bill setting up district magistrates' courts and was not surprised that the federal government disallowed it. His connection with the Bank of Montreal explains his opposition to the Mercier government's plan in 1888–89 to convert the provincial public debt. By and large, while in opposition Hall gave serious, well-informed speeches that earned respect.
After the defeat of the Mercier government in December 1891, the Conservatives returned to power. The cabinet formed by Charles-Eugène Boucher* de Boucherville on 21 December included Hall as provincial treasurer and chief representative of the English-speaking Protestant minority. In a little less than three years as treasurer, Hall stirred up a considerable commotion. The fiscal and financial conservatism he displayed in his budgets was particularly rigid, indeed intransigent. He criticized with increasing severity the excesses of the Mercier government regarding indebtedness and budgetary deficits, especially the 1891 loan floated in France on terms that he considered extremely unfavourable when compared with those that might have been obtained from Canadian banking houses, the Bank of Montreal in particular. In an attempt to balance the provincial budget, Hall reduced expenditures substantially. He introduced new taxes, raised others, and tightened up the collection of existing imposts and duties. Altogether, this program was supposed to add another million dollars to the 1891–92 revenue of nearly three and a half million. Hall also committed himself to borrowing as little as possible, and only on the British market through the intermediary of local financial institutions. He was confronted with predictable reactions to the increase in taxes and had to attempt to justify his program by casting provincial finances in a catastrophic light. This strategy had the disadvantage that it intensified, rather than allayed, the concerns of the British and French financial markets about Quebec's ability to honour its obligations. It also created tensions within the cabinet, which had been led since 16 Dec. 1892 by Louis-Olivier Taillon*.
Relations between Hall and Taillon began to deteriorate in 1893 during negotiations for the repayment of the short-term loan taken out in France in 1891. Hall had no intention of renewing the loan with the French syndicate of Crédit Lyonnais and the Banque de Paris et des Pays-Bas, and he conducted negotiations with the latter only as a formality, all the while making every effort to obtain financing on the British market. However, he took so long to arrange a loan in Great Britain that the repayment of the 1891 one on its due date was put at risk and Premier Taillon had to intervene. He forced Hall to negotiate hastily with the French syndicate a simple short-term renewal of the loan on harsh financial terms that included a restrictive repayment schedule. Early in 1894 Hall managed to re-establish connections with the British market, obtaining a loan of slightly less than three million dollars through a Montreal broker, without involving the Bank of Montreal.
In March 1894 Hall fell ill and on 20 April he submitted his resignation as treasurer. Taillon would not accept it and took over the portfolio himself temporarily, from that date until the resignation was withdrawn late in August 1894. During this period, and without Hall's knowledge, Taillon engineered a renewal of the 1893 loan with the French syndicate by means of a long-term bond issue. Hall became aware of this development on his return and on 25 Sept. 1894 gave his resignation to the premier, who accepted it two weeks later. Hall attacked the terms of the loan and even questioned the need for it. Thus, through third parties, the conflict brought into opposition two powerful and competitive financial syndicates, one French and the other based in Montreal and Great Britain. In this imbroglio Chapleau, who was in fact the leader of the Conservatives in Quebec, played a decisive if discreet role. He intervened to see that the French syndicate remained calm and did not take advantage of the situation.
Hall's resignation seriously embarrassed the government, the more so since it was already facing repeated attacks from the Liberal opposition because of its fiscal policies. Hall was also the last anglophone representative in the cabinet. After difficult negotiations, he was replaced by two English-speaking members in minor portfolios. Taillon kept the treasury for himself, breaking with the tradition of having an anglophone there, just as Henri-Gustave Joly had done in 1878.
Though still an assemblyman, Hall became less active on the political scene. His legal practice, which he had never completely abandoned, began to grow again. He participated, for instance, in the negotiations concerning the division of the assets of the province of Canada, which were still going on 30 years after confederation. The Conservative government offered him a judgeship in 1895, but he declined it. His defeat in the general election of 1897 by a mere 16 votes brought his political career to an end.
That year Hall nearly died of scarlet fever. He was even obliged to give up his legal practice. After a long convalescence in Atlantic City, N.J., he returned home, only to contract pneumonia. He left Montreal again in 1901 and went to Denver, Colo, to take the air. Ultimately he moved to Calgary, where he was editor-in-chief of the Calgary Herald, opened the law firm of Hall and Stewart, and then became a member of the municipal council and, in 1906, city solicitor. Even after leaving Montreal, Hall still was listed there until 1906 as principal partner of Hall, Cross, Brown, and Sharp. He died 8 Jan. 1909 in Calgary, where the funeral service was held. On 14 January he was buried in Montreal among the people whose interests he had so zealously defended.
AC, Montréal, État civil, Anglicans, St James (Montreal), 14 Jan. 1909. ANQ-M, CE1-81, 20 nov. 1853. Canadian men and women of the time (Morgan; 1898), 427. Directory, Montreal, 1891–1907. Qué., Assemblée Législative, Débats, esp. the budget speeches on 20 May 1892; 31 Jan., 5 Dec. 1893; Parl., Doc. de la session, 1893–94, no.43; 1894–95, nos.14–15, 20. RPQ. Rumilly, Mercier et son temps, vol.2. Michel Stewart, "Le partage de la dette et des actifs de la province du Canada, 1867–1910" (thèse de ma, univ. de Sherbrooke, Qué., 1976). The storied province of Quebec; past and present, ed. William Wood et al. (5v., Toronto, 1931–32), 3: 179–80; 4: 376. J. A. Tees, Chronicles of Ogilvy, Renault, 1879–1979 (Montreal, 1979), 32–39. Marc Vallières, "La gestion des opérations financières du gouvernement québécois, 1867–1920" (thèse de phd, univ. Laval, Québec, 1980), 145–57.
© 1994–2023 University of Toronto/Université Laval
Image Gallery

Cite This Article
Marc Vallières, "HALL, JOHN SMYTHE," in Dictionary of Canadian Biography, vol. 13, University of Toronto/Université Laval, 2003–, accessed November 29, 2023, http://www.biographi.ca/en/bio/hall_john_smythe_13E.html.
The citation above shows the format for footnotes and endnotes according to the Chicago manual of style (16th edition). Information to be used in other citation formats:
| | |
| --- | --- |
| Permalink: | http://www.biographi.ca/en/bio/hall_john_smythe_13E.html |
| Author of Article: | Marc Vallières |
| Title of Article: | HALL, JOHN SMYTHE |
| Publication Name: | Dictionary of Canadian Biography, vol. 13 |
| Publisher: | University of Toronto/Université Laval |
| Year of publication: | 1994 |
| Year of revision: | 1994 |
| Access Date: | November 29, 2023 |