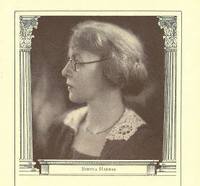 Source: Link
HARMER, BERTHA (named at birth Albertina), nurse, educator, author, and university administrator; b. 22 March 1880 in Port Hope, Ont., one of the seven children of John Harmer, a carpenter, and Albertina Scott; d. unmarried 14 Dec. 1934 in Toronto.
Bertha Harmer moved with her family to Toronto as a young adolescent. There she attended Lord Dufferin Public School and Jarvis Street Collegiate Institute, and was known as a serious student with a love of books. She originally intended to join two of her sisters in the teaching profession, but instead, on completing high school, she worked as a cashier and a bookkeeper for the William Davies Company Limited [see William Davies*], a pork-processing and -packing business, from 1902 to about 1910. A secretary recognized her potential and persuaded her to pursue a career in nursing. She was just over 30 when she entered the Toronto General Hospital Training School for Nurses; at the time, the only nursing education available in Canada was through hospital training programs. Mary Agnes Snively, who retired that year after more than a quarter century as superintendent of the Toronto General Hospital's school, had set high standards, and the institution enjoyed an excellent reputation. When she graduated in 1913, Harmer stood first in her class of 40 students. Her aptitude for passing on her knowledge manifested itself quickly, and she taught at the hospital for two years and held nursing and administrative responsibilities.
In 1915 Harmer enrolled in Teachers' College at Columbia University in New York, where the first American university course for nurses had been developed in 1899; such programs would not exist in Canada until 1919. Along with studying, Harmer nursed and was an instructor at St Luke's Hospital. After graduating in 1918 with a bsc in administration and nursing education, she taught that summer at the Vassar Training Camp for Nurses, a World War I experiment in accelerated preparation for nurses. From 1918 to 1923 she was a full-time instructor at St Luke's, and during that period she wrote the Text-book of the principles and practice of nursing, published in New York in 1922. Based on both her personal experience and her academic knowledge, particularly of physiology, the work would remain for generations a standard text of theory and practice. Three editions appeared before her death in 1934, and another three were published afterwards; she is no longer listed as an author as of the sixth edition, published in 1976, though she is credited as the author of the original book on the verso of the title page. Different editions were translated into several languages, including French, Spanish, Dutch, Swedish, Japanese, and Chinese.
From 1923 to 1926 Harmer served as an assistant professor at the recently established Yale University School of Nursing in New Haven, Conn., and as assistant superintendent of nurses at the New Haven Hospital. Her departure from Yale coincided with her publication of the first textbook on nursing education, Methods and principles of teaching the principles and practice of nursing (New York, 1926). Her two books established her as an acknowledged leader in the field. At the same time, she began to experience the health problems that would plague her remaining years. Even so, she returned to Teachers' College at Columbia, where in 1927 she completed work for an am in administration.
In March 1928 Harmer accepted a post as the head of the School for Graduate Nurses at McGill University in Montreal, following the sudden death of its first director, Flora Madeline Shaw*. Canadian higher education for nurses had begun nine years earlier at the University of British Columbia, the first institution to create a degree program. The following year, five other Canadian universities set up nursing programs, including McGill, which offered one-year certificates and two-year diplomas. Teaching, supervision, and administration in schools of nursing would be the program's primary focus, with a secondary emphasis on public-health nursing. As it happened, however, the majority of students graduated with one-year certificates, and public-health nursing proved to be almost as popular as nursing education.
From its start the school intended to move towards a degree program – a plan that hiring Harmer should have greatly accelerated. After the second edition of the Text-book was released in 1928, she proceeded with confidence to upgrade the programs, revising the curriculum, appointing new faculty, and initiating projects. These measures coincided, however, with the stock-market crash of 1929 and the start of the Great Depression. Promises of private funding were never fulfilled. Enrolment in the two-year course ended abruptly. The school's cost to the university had become significant – a cumulative total of almost $75,000 by 1932 – and the amount per student was nearly as high as the sum spent on each medical student. In July 1932 the McGill board of governors decided that the school would be closed the following year unless private funding could be guaranteed for five years.
Despite being bedridden owing to her deteriorating health, Harmer, assisted by alumni and friends of the school, began an intensive fund-raising campaign led by Sir Arthur William Currie, principal at McGill. Although the campaign never completely met the letter of the board's directive, it ensured the school's survival. To assist the cause, Harmer declined her salary. In May 1934, confident that the school would continue for another year, she resigned; in July the third edition of her Text-book was published; and in December she died of cancer. Although the next decade was difficult – the program was downgraded in 1936, and only certificates were offered – the school survived. In 1944 it would finally offer a bachelor of nursing degree. Harmer's ambitions for nursing at McGill may have been thwarted during her lifetime, but they would be fulfilled over succeeding decades.
Bertha Harmer was a complex person, displaying a range of seemingly contradictory qualities. On a professional level she was a perfectionist, dynamic and highly motivated, with a notable ability to express herself forcefully and effectively in writing. Her ambitions for the nursing profession were high, and were based on improved educational standards. Despite her focus on administration and instruction, she was intensely aware of the need for compassion towards and consideration of patients. On a personal level she was shy and withdrawn; she avoided social activities, preferring to live and work alone. She enjoyed books, art, and theatre. In the words of historian Barbara Logan Tunis, "nursing as an art, a science, a vocation, was her life; the advancing of nursing education her goal."
AO, RG 80-2-0-148, no.21713. MUA, RG 64. Geertje Boschma et al., "Bertha Harmer's 1922 textbook – The principles and practice of nursing: clinical nursing from an historical perspective," Journal of Clinical Nursing (Boston), 18 (2009): 2684–91. Édouard Desjardins, Heritage: history of the nursing profession in Quebec from the Augustinians and Jeanne Mance to Medicare, trans. Hugh Shaw ([Montreal], 1971). S. B. Frost, McGill University: for the advancement of learning (2v., Montreal, 1980–84). Eleanor Krohn Herrmann, "Bertha Harmer, 1885–1934," in American nursing: a biographical dictionary, ed. V. L. Bullough et al. (3v., New York, 1988–2000). J. R. Kerr, "Bertha Harmer and McGill University nurses fight to forestall closure of the School for Graduate Nurses during the depression," Journal of Nursing Hist. (Boston), 3 (1987–88), no.2: 6–21. B. [R.] Logan Tunis, In caps and gowns: the story of the School for Graduate Nurses, McGill University, 1920–1964 (Montreal, 1966).
© 2019–2023 University of Toronto/Université Laval
Image Gallery

Cite This Article
Peter F. McNally, "HARMER, BERTHA (Albertina)," in Dictionary of Canadian Biography, vol. 16, University of Toronto/Université Laval, 2003–, accessed December 7, 2023, http://www.biographi.ca/en/bio/harmer_bertha_16E.html.
The citation above shows the format for footnotes and endnotes according to the Chicago manual of style (16th edition). Information to be used in other citation formats:
| | |
| --- | --- |
| Permalink: | http://www.biographi.ca/en/bio/harmer_bertha_16E.html |
| Author of Article: | Peter F. McNally |
| Title of Article: | HARMER, BERTHA (Albertina) |
| Publication Name: | Dictionary of Canadian Biography, vol. 16 |
| Publisher: | University of Toronto/Université Laval |
| Year of publication: | 2019 |
| Year of revision: | 2019 |
| Access Date: | December 7, 2023 |