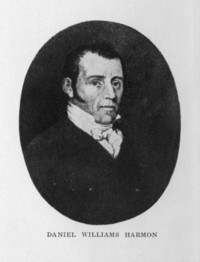 Source: Link
HARMON, DANIEL WILLIAMS, fur trader and diarist; b. 19 Feb. 1778 in Bennington, Vt, fourth son of Daniel Harmon and Lucretia Dewey; d. 23 April 1843 in Sault-au-Récollet (Montreal North), Lower Canada.
At the time of his birth Daniel Williams Harmon's parents kept an inn at Bennington; later, in 1796, the family moved to Vergennes, Vt. The elder Harmons were fervent members of the Congregational Church, and much of their piety would cling to Harmon through his years in the fur trade. Yet, as a young man, he found the puritanical atmosphere of his home too stifling and in 1799 he made his way to Montreal, where he became a clerk to the fur brokers McTavish, Frobisher and Company [see Simon McTavish*]. In 1799 or early 1800 he was engaged as a clerk by the North West Company at £20 a year; upon leaving for the northwest on 29 April 1800 he began the journal in which, for 19 years, he kept a record not only of the daily life of a fur trader but also of his moral struggles in a libertarian and often libertine environment.
Harmon was posted first to Fort Alexandria (near Fort Pelly, Sask.), where he stayed for five years. In February 1805 the post had dependent on it, he noted with characteristic precision, upwards of 70 people who required at least 450 pounds of buffalo meat daily. He also observed in his journal for 1803 the violence that had emerged in the trade rivalry between the NWC and the New North West Company (sometimes called the XY Company). "This jarring of interests, keep up continual misunderstandings, and occasions frequent broils between the contending parties. . . . Here a Murderer escapes the Gallows, as there are no human laws that can reach or have any effect on the People of this Country." In February 1805 he heard with satisfaction that the strife had ended as a result of the union of the NWC and the XY Company. In subsequent years he would carefully avoid involvement in the even more violent confrontations between the Nor'Westers and the men of the Hudson's Bay Company.
Later in 1805 Harmon was transferred to South Branch House (near Batoche, Sask.), where he stayed until 1807. It was there that he married according to the custom of the country. Already, at Fort Alexandria, he had been approached by Cree chiefs offering their young daughters, and he had undergone inner struggles in which an inherited puritanism had triumphed over his natural inclinations. "Thanks be to God alone," he noted on 11 Aug. 1802, "if I have not been brought into a snare laid no doubt by the Devil himself." At South Branch the temptation was greater, for the girl, 14-year-old Lizette Duval, was an attractive Métis, the daughter of a Canadian voyageur and a Snare Indian, and he felt the loneliness of "all gentlemen who remain, for any length of time, in this part of the world . . . If we can live in harmony together, my intention is to keep her as long as I remain in this uncivilized part of the world, but when I return to my native land shall endeavour to place her into the hands of some good honest Man, with whom she can pass the remainder of her Days in this Country."
Harmon's relationship with his Métis wife, who was later baptized as Elizabeth but whom he referred to in his journal only as "my woman" or "the mother of my children," turned out to be exemplary. She accompanied him from South Branch in 1806 to Cumberland House (Sask.) and later to Sturgeon Lake in the Nipigon department, and then on to the Athabasca department – Harmon arrived at Fort Chipewyan (Alta) on 7 Sept. 1808. They later moved to Fort Dunvegan, in the Peace River country, remaining there until 1810. They then crossed the Rocky Mountains to New Caledonia (B.C.), recently opened to the fur trade by another Vermonter, Simon Fraser*, and under the charge of John Stuart.
For the next nine years Harmon remained in this country, serving mainly at Fort St James on Stuart Lake, with periods at Fort Fraser. It was a life of varied activity. Harmon estimated that trading for furs occupied only a fifth of his time. He paid much attention to making New Caledonia's forts self-sufficient in food by accumulating large stocks of dried salmon (sometimes there were 25,000 fish in his warehouse) and pioneering agriculture in the region, where the short, hot summer with long days was excellent for growing vegetables. As well, he carefully observed and recorded the life of the Carrier Indians among whom he worked. He taught his wife and their daughters English, and sent their sons home to Vermont for schooling; their family was large, and accounts of its size vary from 10 to 14, of whom some at least died young. In 1818 he was made a wintering partner in the NWC. The following year he left New Caledonia for Lower Canada.
By now his eldest son was dead and the loss had profoundly affected his attitude toward his wife, whom he decided he could not abandon after all. "How could I spend my days in the civilized world, and leave my beloved children in the wilderness? The thought has in it the bitterness of death. How could I tear them from a mother's love, and leave her to mourn over their absence, to the day of her death?" With his wife and children he arrived at Fort William (Thunder Bay, Ont.) on 18 Aug. 1819. On that day he ended his diary. Harmon and his country wife, who were formally married later, travelled to Montreal and then on to Vergennes, Vt, pausing in Burlington for Harmon to make arrangements for the publication of his journal, which appeared in 1820. By that time he had returned to the fur trade and was in charge of the post at Rainy Lake (near Fort Francis, Ont.).
When the NWC was absorbed by the HBC in 1821 he became a chief trader under an arrangement whereby he would resign immediately but retain his share for seven years. He subsequently returned to his native state, but, like many fur traders, did not prosper once he had left the northwest. With his brother Calvin he set up a store and sawmill, around which they developed a small settlement, Harmonsville (Coventry.) Daniel did badly and, probably during the winter of 1842–43, left to rent a farm at Sault-au-Récollet near Montreal. There he succeeded no better than at Harmonsville; he died almost in poverty on 23 April 1843, survived by his wife and six children and leaving an estate worth less than £100.
Daniel Williams Harmon was not one of the great names in fur-trading history. He served mostly in subordinate positions and carried out no explorations. His fame rests solely but solidly on his Journal, which is not only a fine descriptive narrative of life in the trade during the early years of the 19th century, but also a moving account of moral dilemmas confronted and resolved.
Daniel Williams Harmon's journal, heavily edited and rewritten for publication by the Reverend Daniel Haskel of Burlington, Vt., appeared as A journal of voyages and travels in the interiour of North America, between the 47th and 58th degrees of north latitude, extending from Montreal nearly to the Pacific Ocean, a distance of about 5,000 miles, including an account of the principal occurrences, during a residence of nineteen years, in different parts of the country. . . (Andover, Mass., 1820; repr. New York, 1922). Harmon's original diary is no longer extant, but a manuscript copy of it (perhaps in Harmon's own hand) made in 1816 and sent to his relatives in Vermont is preserved in the Univ. of Iowa Libraries, Special Coll. and mss (Iowa City); a photocopy is available at the PAC. This manuscript, entitled "Copy of a Journal or Narrative of the most material circumstances occured to and some thoughts and reflections . . . during the space of sixteen years while in the North West or Indian Country," was used in the preparation of a new edition, Sixteen years in the Indian country: the journal of Daniel Williams Harmon, 1800–1816, edited and with an introduction by William Kaye Lamb (Toronto, 1957). This edition also includes, from the 1820 version, Hannon's journal entries for 1816–19.
There is a portrait of Harmon in the Bennington Museum (Bennington, Vt.); it is reproduced in both editions of his journal and in John Spargo, Two Bennington-born explorers and makers of modern Canada ([Bradford, Vt.], 1950).
Docs. relating to NWC (Wallace). Brown, Strangers in blood. Marcel Giraud, The Métis in the Canadian west, trans. George Woodcock (2v., Edmonton, 1986). Innis, Fur trade in Canada (1930). Morton, Hist. of Canadian west (Thomas; 1973). Van Kirk, "Many tender ties". M. [E.] Wilkins Campbell, The North West Company (Toronto, 1957); The Saskatchewan . . . (New York, 1950). J. H. Archer, "Tales of western travellers: Daniel Williams Harmon," Saskatchewan Hist. (Saskatoon), 4 (1951): 62–67.
© 1988–2023 University of Toronto/Université Laval
Image Gallery

Cite This Article
George Woodcock, "HARMON, DANIEL WILLIAMS," in Dictionary of Canadian Biography, vol. 7, University of Toronto/Université Laval, 2003–, accessed October 4, 2023, http://www.biographi.ca/en/bio/harmon_daniel_williams_7E.html.
The citation above shows the format for footnotes and endnotes according to the Chicago manual of style (16th edition). Information to be used in other citation formats:
| | |
| --- | --- |
| Permalink: | http://www.biographi.ca/en/bio/harmon_daniel_williams_7E.html |
| Author of Article: | George Woodcock |
| Title of Article: | HARMON, DANIEL WILLIAMS |
| Publication Name: | Dictionary of Canadian Biography, vol. 7 |
| Publisher: | University of Toronto/Université Laval |
| Year of publication: | 1988 |
| Year of revision: | 1988 |
| Access Date: | October 4, 2023 |