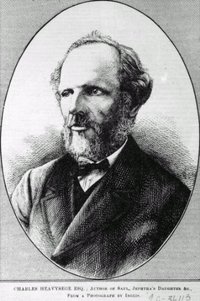 Source: Courtesy of Wikimedia Commons
HEAVYSEGE, CHARLES, poet and dramatist; b. 2 May 1816 in Huddersfield, Yorkshire, England; m. Mary Ann Oddy in 1843, by whom he had seven daughters; d. in Montreal, 14 July 1876.
There is little verifiable information on the early life of Charles Heavysege, and we must depend to some extent on his own accounts of his childhood, especially those appearing in an article by Lawrence Johnston Burpee*, a report of an address by G. H. Flint, and an unpublished thesis by T. R. Dale. Heavysege said, in a letter to Charles Lanman (Montreal, 1860): "I was born in England, as I believe you are aware; my ancestors on the paternal side being of Yorkshire. . . . I was what is usually styled religiously brought up, and, though my works are dramatic, taught to consider not only the theatre itself, but dramatic literature, even in its best examples, as forbidden things. Hence, when a boy, it was only by dint of great persuasion that I covertly obtained from my mother some few pence weekly for a cheap edition of Shakespeare. . . ." According to the same source, Heavysege left school at nine, to return only briefly later. He wrote in another letter that his father, through romantic idealism, had sold his patrimony and divided the money among relatives, but Dale could find no evidence of a Heavysege family holding land in England. In the same letter Heavysege said he was proud to belong to the working class. G. H. Flint adds the following information, probably obtained from Heavysege himself or some friend: "He [Heavysege] was apprenticed to a woodcarver and soon became a first-class workman. On completing his apprenticeship, he started business for himself and employed several men. But he did not seem to have the necessary business tact to compete with the world, and, having married ten years previously, he came to Montreal in 1853, on the invitation of a gentleman here, and followed his occupation as a journeyman carver. . . ."
John Reade*, in a letter to Burpee, writes: "I first met Charles Heavysege in the summer of 1858. He was then living on St. Constant Street, Montreal, and pursuing his occupation as a carver in the firm of J. & W. Hilton, cabinet-makers and upholsterers. . . . Heavysege told me that he was accustomed to compose while he was engaged at work, the occupation of his hands not interfering with the efforts of his mind. Speaking especially of Saul, he said that in this way he had elaborated some of the liveliest scenes." In 1860, according to Heavysege, he became a reporter for the Montreal Transcript; Flint maintained this move was "on the advice of his friends," who hoped it "would stimulate his poetic ability, but, instead, the endless grind and routine almost ruined it." Heavysege apparently remained with the Transcript a short time, and returned briefly to woodcarving. He then joined the Montreal Daily Witness, where he remained until he retired. The report of Flint's address says: "Some two years before his death, his health failing, he resigned his post as City Editor of the Witness, and again turned his thoughts to poetry. He often expressed his desire to review Count Filippo and leave it perfect . . . but he was cut down before the work was fairly begun, on July 14, 1876."
As to the man himself, Burpee quotes a letter from Dr Samuel Edward Dawson*: "The Bible and Shakespeare were his two books. He had a high opinion of his own work, and was obstinate about having anything cut out by his friends. Being a man without general culture, he could not well distinguish . . . between what was good and what was bad. He knew what cost him a long time to do, and he was apt to overvalue that." Heavysege's daughter, Harriet Pettigrew, characterized her father in these words: "He had all a poet's intense love and appreciation of nature. He fairly revelled in the changes in the autumn season." Another daughter, in a letter to Burpee, described him as a sensitive person, who sometimes played his violin with his family. Heavysege seems to have become part of a small literary circle in Montreal which included John Reade and George Martin, and was also, for a time, honorary member of the Montreal Literary Club, which broke up upon the death of Thomas D'Arcy McGee*. Thus he had sympathetic friends, even though, as he remarked, Canada was not a country where circumstances favoured the writer.
Heavysege's first published work is The revolt of Tartarus, a poem in six parts which takes up Milton's Paradise Lost where Lucifer leaves Pandemonium for his mission on the newly created Earth. Upon Lucifer's departure, a group of the fallen angels, despairing and desiring God's forgiveness, decide to disobey Lucifer. Heavysege, wryly, has Jesus, on instructions from God, condemn them once more to eternal punishment although they had begged forgiveness. The machinery for forgiveness had not yet been instituted through the death of Jesus on the cross, but Heavysege shows the same uneasy attitude to the Old Testament God in other works. The dates of the composition and publication of The Revolt remain a mystery as yet. Burpee gives London, 1852, as place and date, which would mean the poem was composed in England. Other sources give other information. Two copies of the work actually obtainable today indicate the poem was published in London, but give no date; it also appeared in Montreal in 1855.
Sonnets "by the Author of 'The Revolt of Tartarus'" was also published in Montreal in 1855. Its 14-line poems only loosely fit the sonnet pattern. They deal with nature, fate, death, and the lessons of history, and contain many Shakespearean echoes.
In 1857 Saul: a drama in three parts appeared in Montreal. This long verse drama, never intended for the stage, deals with Saul's failure to carry out God's commands, and is Heavysege's most notable work. A copy found its way to Nathaniel Hawthorne, then in England, and was passed on by him to the North British Review. The author of its review, Coventry Patmore, said, in part: "In it the greatest subject, in the whole range of history, for a drama, has been treated with a poetical power and a depth of psychological knowledge which are often quite startling, though, we may say, inevitably, below the mark of the subject-matter, which is too great to be done full justice to. . . ." Patmore also speaks of the author's knowledge of the Bible, Shakespeare, and human nature, and of the oddity, subtlety, and originality of his language. Even by modern standards, Patmore's comments are fair and just, though perhaps a little too laudatory. They touch directly on the truth about all Heavysege's works – grand (mainly) in conception, full of a keen understanding of human nature, having fine passages, but spoiled often by the author's lack of self-criticism, which led him from beauty to incongruity. Two short quotations, one from Saul and one from Count Filippo, will serve to show the two extremes: these ridiculous lines from Saul,
Mew, mew, a cat did mew,
That a cat was in the vault is true,
The vault that Saul's his wine in, . . .
and this beautiful passage, which would grace any poet's name:
So often the indulgent moon allows
The tide come kissing up the wet-lipped sands.
The friendly reception abroad, as usual, sharpened appreciation of Heavysege's works in North America; other reviews appeared in the New York Evening Post, the Atlantic Monthly, Galaxy, etc. Saul was revised and reprinted in Montreal in 1859 and again in Boston in 1869. There is a hint that Heavysege prepared a stage version, never produced, but evidence is conflicting.
Count Filippo; or, the unequal marriage (Montreal, 1860) "By the Author of 'Saul'" is based on the trials of a May and December marriage. This verse play seems the best sustained of Heavysege's efforts, and its topic suited to his taste for the incongruous, for bawdy puns and racy dialogue. It is a Boccaccio-Chaucer crossbreed, overlaid with Shakespearean language.
Heavysege produced three shorter poems in 1864 and then Jephthah's daughter, which appeared in London and Montreal in 1865. It was composed, according to a letter that year from the author to Charles Lanman, in the interval between his working for the Transcript and the Witness. A dramatic poem of about 1,200 lines, it tells the tragic story of Jephthah's vow to God, fulfilment of which means the killing of his daughter. Jephthah's moral dilemma is explored. The daughter's final acceptance of her fate means her father's promise will be fulfilled and he will be at peace with his God, if not with himself. The work is marked by the same faults and strong points as earlier writings.
Heavysege's only novel, The advocate, a melodramatic tale which makes use of English and French antagonisms in Lower Canada, was a disaster by any standards. After its appearance in Toronto and Montreal in 1865, the author is reported to have tried to destroy all copies of it. "Jezebel", which appeared in the New Dominion Monthly in 1867, is apparently Heavysege's last written work. Again a biblical story is used to exhibit his obvious ability to portray moral agony in the face of God's punishment; it is not a great work though he does succeed in portraying a spicy, lively Jezebel.
It is difficult to assign a place to the works of Charles Heavysege in the perspective of Canadian literature. He is one of those mysterious figures who often turn up in Canada, produce literature which has little, if any, Canadian flavour, and then perhaps move onto another country; they leave behind works to be examined anxiously for possible literary value, and to be claimed loudly as Canadian if any value, no matter how small, be found. Heavysege's works did not receive wide acclaim or recognition outside of Canada, except for Saul; he never achieved popularity in Canada, and it cannot be said with certainty that his works influenced any other poet. The nature and the quality of his works would hardly seem to merit their republication. Still the works do exist. The product of a circumscribed mind in a circumscribed environment, they contain flashes of acute human insight into moral problems and passages of great beauty. They are a monument to Heavysege's perseverance; more than this cannot be safely said.
Charles Heavysege, The advocate, a novel (Toronto, Montreal, 1865); [ ], Count Filippo; or, The unequal marriage, a drama in five acts (Montreal, 1860); The dark huntsman (a dream) (Montreal, 1864); Jephthah's daughter, a poem (London, Montreal, 1865); "Jezebel," New Dominion Monthly (Montreal), 1867; The owl (Montreal, 1864); [ ], The revolt of Tartarus ([London, 1852]; Montreal, 1855); [ ], Saul: a drama in three parts (Montreal, 1857); [ ], Sonnets (Montreal, 1855).
AJM, Registre d'état civil, Dominion Square Methodist Church (Montreal), 1876. Morgan, Bibliotheca Canadensis. Watters, Check list. Watters and Bell, On Canadian literature. T. R. Dale, "Charles Heavysege," unpublished phd thesis, University of Chicago, 1951. L. J. Burpee, "Charles Heavysege," RSCT, 2nd ser., VII (1901), sect.ii, 19. G. H. Flint, "Charles Heavysege," Dominion Illustrated Monthly (Montreal), 27 April 1889, 263–66. North British Review, XXIX (August 1858), 143–47.
© 1972–2023 University of Toronto/Université Laval
Image Gallery

Cite This Article
J. C. Stockdale, "HEAVYSEGE, CHARLES," in Dictionary of Canadian Biography, vol. 10, University of Toronto/Université Laval, 2003–, accessed June 8, 2023, http://www.biographi.ca/en/bio/heavysege_charles_10E.html.
The citation above shows the format for footnotes and endnotes according to the Chicago manual of style (16th edition). Information to be used in other citation formats:
| | |
| --- | --- |
| Permalink: | http://www.biographi.ca/en/bio/heavysege_charles_10E.html |
| Author of Article: | J. C. Stockdale |
| Title of Article: | HEAVYSEGE, CHARLES |
| Publication Name: | Dictionary of Canadian Biography, vol. 10 |
| Publisher: | University of Toronto/Université Laval |
| Year of publication: | 1972 |
| Year of revision: | 1972 |
| Access Date: | June 8, 2023 |