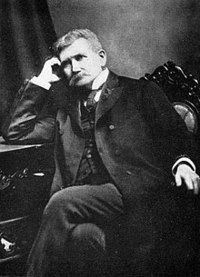 Source: Courtesy of Wikimedia Commons
READE, JOHN, educator, Church of England minister, journalist, essayist, and poet; b. 13 Nov. 1837 in Ballyshannon (Republic of Ireland), son of Joseph Reade and Frances Smyth; d. unmarried 26 March 1919 in Montreal.
Within a year of arriving in Montreal with his parents in 1856, John Reade founded the short-lived Montreal Literary Magazine. Not yet 20 years old, he wrote in his introduction to the first issue with an authority which suggests that his early education at Portora School, Enniskillen (Northern Ireland), and Queen's College, Belfast, had served him well. In 1859, after beginning to study law, he became rector of Lachute Academy, northwest of Montreal. While serving three years in this position, he studied theology. Ordained a minister of the Church of England in 1865, he served at Mascouche in 1865–66 and at Mansonville Potton (Mansonville) in 1867 before retiring from the ministry because of ill health. In 1868 he returned to Montreal and re-established links to the Gazette that he had forged soon after his arrival. He became the Gazette's literary editor in 1870, a position he would retain until his death 49 years later.
At the Gazette, Reade later became most closely associated with his weekly column "Old and new," but, in various capacities, he was responsible for hundreds of unsigned editorials, reviews, and articles. The breadth of his interests can be seen in the wide range of scholarly societies with which he was affiliated. One of the original fellows of the Royal Society of Canada, established in 1882 [see John George Edward Henry Douglas Sutherland Campbell], he was also a founder of the Canadian branch of the American Folk-Lore Society. Named an honorary member of the Literary and Historical Society of Quebec in 1877, he served terms as president of the Society of Canadian Literature and of the Society for Historical Studies, which he had helped to found in Montreal in 1885. In 1896 he was elected a fellow of the Royal Society of Literature of the United Kingdom. The honorary lld awarded to him by the University of Ottawa in 1906 was a tribute, in part, to the extent to which he had combined the wide-ranging interests of a journalist with the rigour and reflection of a scholar.
While primarily associated with the Gazette, Reade published poems, essays, translations, or short fiction in virtually all of the major Canadian journals of his day. In 1864 eight of his poems appeared in Selections from Canadian poets, the anthology edited by Edward Hartley Dewart*, and in 1889 William Douw Lighthall* gave pride of place to Reade's "Hastings" by placing it at the beginning of Songs of the great dominion to head a section entitled "The imperial spirit." Reade's sense of cultural and political indebtedness to England had also surfaced in the title poem of his only collection of poetry, The prophecy of Merlin and other poems, published in 1870. This poem honours the first visit to Canada in 1869 of Prince Arthur as it praises the achievements of Victorian imperialism and points to the future glories of the "great dominion." The reconciliation of fervent imperialism with committed nationalism is characteristic of Reade and his Montreal associates, Reade's nationalistic pride redeemed from charges of jingoism by an obvious immersion in European languages, learning, and literary history reflected not only in the collection's title poem but also in the lyrics and translations accompanying it. For John Lesperance* the Victorian romanticism of the title poem made it "the most perfect poem ever written in Canada, a fit pendant to Tennyson's Idylls of the King," and the accompanying translations from Aeschylus, Homer, Euripides, Virgil, Horace, Alphonse de Lamartine, and others indicate the breadth of Reade's literary interests and learning. The 25 quatrains of his tribute to William Shakespeare signal in both their form and their content Reade's appropriately modest assessment of his own place within inherited British traditions, just as Madeleine de Vercheres, first published in Rose-Belford's Canadian Monthly and National Review (Toronto) in 1878, reflects his commitment to the history and culture of his adopted home.
The choice of the title John Reade and his friends for a commemorative survey of Reade's career suggests the extent to which his public life was intimately bound to an intricate network of personal relationships with the leading Canadian intellectuals and artists of his day. For his contemporaries, Reade represented the best that could be expected in what his friend Thomas D'Arcy McGee* had described as "the mental outfit of the new dominion." As early as 1889 he had been lauded by Lighthall as "one of the chief figures in Canadian literature, and probably the sweetest poet." Although he was appropriately identified in his later years as "the grand old man of Canadian letters," his reputation has not fulfilled the dream of his friend John Boyd that "no anthology of Canadian verse will ever be complete without a wide selection from John Reade's work, rich as it is in content and faultless in its technique." Despite such praise, the late-Victorian personal, political, and poetic values characteristic of Reade's poetry and criticism led to their general disregard within a few years of his death. Reade retains interest as a leader of a generation of late-19th-century Canadians for whom the boundaries separating journalism and scholarship, poetry and public life, and professional credentials and distinguished intellectual achievement were less sharply drawn than for their successors.
John Reade is the author of The prophecy of Merlin and other poems (Montreal, 1870) and Madeleine de Vercheres (Toronto, [189– ?]). A number of his poems were reissued in Selections front Canadian poets . . . , ed. E. H. Dewart (Montreal, 1864; repr., intro. D. [G.] Lochhead, Toronto and Buffalo, N.Y., 1973), and in Songs of the great dominion: voices from the forests and waters, the settlements and cities of Canada, ed. W. D. Lighthall (London, 1889). Reade presented eight papers before the Royal Society of Canada, published in sect.ii of its Trans., 1st ser., 1 (1882–83)–6 (1888), and one before the Literary and Hist. Soc. of Quebec, "Great explorers before Columbus," issued in its Trans., new ser., 17 (1882–83): 3–31. His essays appear in many Canadian journals; notable among these are the following: "Thomas D'Arcy McGee – the poet," New Dominion Monthly (Montreal), February 1870: 12–21; "Canada a hundred years ago," Belford's Monthly Magazine (Toronto), 1 (1877): 621–36: "The testimony of names of places," Rose-Belford's Canadian Monthly and National Rev. (Toronto), 1 (July–December 1878): 602–8; "Lord Tennyson," Dominion Illustrated Monthly (Montreal), [2nd ser.], 1 (February 1892–January 1893): 631–39; and "What is imperialism?" Canadian Magazine, 19 (May–October 1902): 316–18. The only short story by Reade which has come to light is "Winty Dane's transformation," New Dominion Monthly, August 1874: 878–79. In addition, Reade edited the Poems of George Murray (Montreal, 1912) and wrote the "Biographical sketch" which accompanies the volume. A collection of letters to Reade and a scrapbook of reviews are held in his fonds at the McCord Museum of Canadian Hist., Montreal.
John Boyd, "Poet – scholar – gentleman," Gazette (Montreal), 29 March 1919. Gazette, 27 March 1919. T. D'A. McGee, "The mental outfit of the new dominion," Gazette, 5 Nov. 1867. J. D. Borthwick, History and biographical gazetteer of Montreal to the year 1892 (Montreal, 1892). Percy Ghent, John Reade and his friends ([Toronto, 1925]). John Lesperance, "The poets of Canada," RSC, Trans., 1st ser., 2 (1884), sect.ii: 31–44. Standard dict. of Canadian biog. (Roberts and Tunnell).
© 1998–2023 University of Toronto/Université Laval
Cite This Article
Leslie Monkman, "READE, JOHN," in Dictionary of Canadian Biography, vol. 14, University of Toronto/Université Laval, 2003–, accessed December 6, 2023, http://www.biographi.ca/en/bio/reade_john_14E.html.
The citation above shows the format for footnotes and endnotes according to the Chicago manual of style (16th edition). Information to be used in other citation formats:
| | |
| --- | --- |
| Permalink: | http://www.biographi.ca/en/bio/reade_john_14E.html |
| Author of Article: | Leslie Monkman |
| Title of Article: | READE, JOHN |
| Publication Name: | Dictionary of Canadian Biography, vol. 14 |
| Publisher: | University of Toronto/Université Laval |
| Year of publication: | 1998 |
| Year of revision: | 1998 |
| Access Date: | December 6, 2023 |