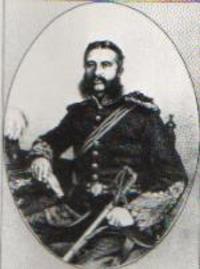 Source: Courtesy of Wikimedia Commons
HEWETT, EDWARD OSBORNE, army officer, military engineer, and college commandant; b. 25 Sept. 1835 in Llantrisant parish, near Pontypridd, Wales, and baptized 30 October in Portsea, England, second son of John Hewett and Frances Thornewell; m. 4 Feb. 1864 Catherine Mary Biscoe in Toronto, and they had at least three sons and eight daughters; d. 3 June 1897 in Woolwich (London), England, and was buried in Gillingham, Kent.
John Hewett claimed a relationship with two families of the landed gentry, the Hewetts and the Osbornes, which had been linked in marriage in the Elizabethan period through Sir William Hewett and his son-in-law Sir Edward Osborne, both lord mayors of London. Hewett himself served in the Royal Navy and the Royal Marines during the Napoleonic Wars and the War of 1812 (he was mentioned in despatches for action at Oswego, N.Y.). At the time of Edward Osborne Hewett's birth, he was a justice of the peace, colonel of militia, and deputy-lieutenant of Glamorgan County in Wales.
Edward was educated at Cheltenham College and the Royal Military Academy, Woolwich, where he won early cadet promotion and academic prizes. Graduating in three years instead of four, in order to serve in the Crimean War, he was commissioned second lieutenant in the Royal Engineers on 15 Aug. 1854 and was promoted lieutenant on 20 October. As a result of the fall of Sevastopol (U.S.S.R.) in September 1855, the orders for his draft were cancelled a few days before it was due to sail.
After taking courses in military surveying and military engineering, Hewett was employed at Dover on the construction of forts and at Shorncliffe artillery camp. In 1857 he was posted to the West Indies where for ten months he served as commanding engineer. Back in England, he was at Portsmouth and at Chatham where in addition to other duties he supervised instruction. Promoted captain on 1 Feb. 1860, he became an assistant instructor at the Royal Military Academy.
On 18 Dec. 1861 Hewett resigned from the academy to come to British North America with the reinforcements sent as a result of the Trent incident [see Sir Charles Hastings Doyle*]. Since ice blocked the St Lawrence River, he sleighed with the troops from Saint John, N.B., to Montreal. Appointed commanding engineer west of Hamilton, he was in charge of the 18th Company, with headquarters in London, and was responsible for selecting military positions and directing surveys for purposes of defence.
In 1862, during the American Civil War, Hewett received official permission to take two months of leave to visit the warring armies "to gain information." He stayed a week at the United States Military Academy in West Point, N.Y., which he thought "as good as any in Europe" and its graduates "more highly educated than perhaps any other body of men in the world." On a visit to the Army of the Potomac, he was impressed by the ability of its commander, General George Brinton McClellan, to control "300,000 men who have little discipline and less experience." Hewett went over all the battlefields in Maryland and Virginia and was present at the battle of Antietam on 17 September. In Kentucky he watched the armies manœuvre for nine days and, when he crossed the line, he was nearly killed by Confederate soldiers. He witnessed the battle of Perryville on 8 October, and he observed units of both armies manœuvring around Harrisburg, Pa. Hewett wrote an account of his trip for his bedridden mother. It reveals British upper-class dislike of democratic "rowdiness" and military professional prejudice on the superiority of cavalry, combined with admiration for the courage and courtesy of many Americans, especially Southerners, and for the intelligence of the men in the ranks.
In 1863 Hewett was posted to Pictou, N.S., and then to Halifax to work on the design and construction of new fortifications. Returning to Portsmouth, England, in 1867, he was in charge of the building of four iron forts in the tidal water at Spithead. In addition to his military duties, he was for eight years inspector of the Science and Art schools of Great Britain. He was promoted major on 5 July 1872.
In 1871 the imperial military forces had been withdrawn from Canada. Professional military education became one concern among the adjustments of the following years. In 1874 Governor General Lord Dufferin [Blackwood*], his secretary (Lieutenant-Colonel Henry Charles Fletcher*), and the acting adjutant-general of militia in Canada (Lieutenant-Colonel Walker Powell*) recommended an appropriate type of institution. Within months the Liberal government of Alexander Mackenzie moved to establish in Kingston, Ont., a college "for the purpose of imparting a complete education in all branches of military tactics, fortifications, engineering and general scientific knowledge in subjects connected with and necessary to a thorough knowledge of the military profession, and for qualifying officers for command and for staff appointments." In 1874–75 Dufferin and Colonial Secretary Lord Carnarvon selected Hewett to command the college. Because of the imperial importance of Hewett's appointment, Sir Frederick Edward Chapman, inspector-general of fortifications, released him from the work at Spithead. Hewett opened the college on 1 June 1876 with 18 cadets, a supporting staff of three British army officers, and a Canadian civilian professor.
Although Hewett does not seem to have done much teaching himself, he was responsible for drafting the curriculum for an innovative institution, a college to give professional training to cadets who were not required to enter the regular forces. Many would serve, however, with distinction in the British army, and graduates provided a professional nucleus for Canada's militia. When the Conservatives regained power in 1878, they accepted the college as an alternative to more costly defence preparations. But there was always tension between the militia and the college, which suffered from patronage appointments after Hewett's tenure.
Hewett was promoted lieutenant-colonel on 21 Oct. 1877, and colonel on 21 Oct. 1881. In 1880 and 1885 his tour of duty at the college (designated the Royal Military College of Canada in 1878) was extended. In 1883 he was made a cmg and in 1885 he was considered for the command of the citizen forces in New Zealand. A year later, following his appointment as commanding engineer in the Western District in England, he left the college and Canada. In 1886 Sir Charles Tupper*, then Canada's high commissioner in London, reported that Sir Andrew Clarke, British inspector-general of fortifications, had described the college as "one of the best of its class in the world. . . . And the Americans themselves, I understand, say better than at West Point." In 1893 Clarke commented that the graduates of Canada's college were better than those from the Royal Military Academy, Woolwich. Lieutenant-Colonel John Bray Cochrane, who served either as a cadet or on staff under all of the commandants at the college until World War I, considered Hewett "by far the most able and informed of them all."
In 1890 Hewett had been on the short list for the position of general officer commanding the Canadian militia. Three years later he was given command of the School of Military Engineering at Chatham, and in 1895 he was promoted lieutenant-general and appointed governor of the Royal Military Academy. Hewett died there in 1897 as a result of breaking a leg while playing tennis.
A portrait in oils, executed posthumously from a photograph of Hewitt, hangs in the Officers' Mess of the Royal Military College of Canada (Kingston, Ont.); it is reproduced in the author's Canada's RMC; a history of the Royal Military College (Toronto, 1969) and in his article "The British influence of RMC," To preserve & defend: essays on Kingston in the nineteenth century, ed. G. [J. J.] Tulchinsky (Montreal and London, 1976), 119–37. There are photographs in Canadian Illustrated News (Montreal), 17 June 1876, Illustrated London News, 12 June 1897, and The Sapper; Royal Engineers' Monthly Journal (Chatham, Eng.), July 1897.
Hampshire Record Office (Winchester, Eng.), Bishop's transcripts of Portsea reg. of baptisms, 30 Oct. 1835. NA, MG 26, A, 318: 32–37; MG 27, 1, D3, 114, no.11915; RG 9,11, A 1, 67, 9 April 1885; RG 31, C 1, 1881, Kingston: 76. Royal Military College of Canada Library, Special Coll. Division, E. O. Hewett to his mother, 3 Dec. 1862. R. A. Preston, "A letter from a British military observer of the American Civil War," Military Affairs (Washington), 16 (1952): 49–60. Royal Engineers Journal (Chatham), 1 Feb 1893; 1 May 1895; 1 March, 1 July 1897; June 1916. Times (London), 5 June 1897. Burke's landed gentry (1848–49), 1: 566; (1871): 619. Cyclopædia of Canadian biog. (Rose and Charlesworth), 1: 638–39. Hart's army list, 1891: 7. Who was who (London), 1 (1897–1916): 336.
© 1990–2023 University of Toronto/Université Laval
Image Gallery

Cite This Article
Richard A. Preston, "HEWETT, EDWARD OSBORNE," in Dictionary of Canadian Biography, vol. 12, University of Toronto/Université Laval, 2003–, accessed September 22, 2023, http://www.biographi.ca/en/bio/hewett_edward_osborne_12E.html.
The citation above shows the format for footnotes and endnotes according to the Chicago manual of style (16th edition). Information to be used in other citation formats:
| | |
| --- | --- |
| Permalink: | http://www.biographi.ca/en/bio/hewett_edward_osborne_12E.html |
| Author of Article: | Richard A. Preston |
| Title of Article: | HEWETT, EDWARD OSBORNE |
| Publication Name: | Dictionary of Canadian Biography, vol. 12 |
| Publisher: | University of Toronto/Université Laval |
| Year of publication: | 1990 |
| Year of revision: | 1990 |
| Access Date: | September 22, 2023 |