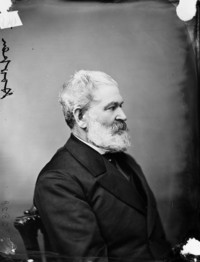 HOOPER, EDMUND JOHN GLYN, lumberman, merchant, and politician; b. 7 July 1818 at Dock (Devonport), England, son of John G. and Sarah Hooper; m. first in 1839 Isabel Richmond of Milton, Vt; m. secondly in 1851 Cynthia Ham of Fredericksburgh, Canada West; d. 5 Oct. 1889 at Napanee, Ont.
Edmund John Glyn Hooper immigrated with his parents to Quebec City in 1819, and studied at the Petit Séminaire de Québec from 1831 to 1833. In 1843 he moved to what later became Lennox and Addington County, Canada West, where, with his brother Augustus Frederick Garland Hooper, he engaged in lumbering operations on the Napanee River. He later built his own sawmill at Fifth Depot Lake in Frontenac County which was destroyed by fire in 1855. Hooper then became a general merchant in Camden East until 1863, when he moved to Napanee and with his two sons, William Henry and Cavalier, established a dry goods business. While in Quebec, Edmund Hooper had served as a lieutenant in the Royal Quebec Voluntary Artillery during the 1837–38 rebellions. From 1866 to 1881 he was captain of the Napanee Battery of Garrison Artillery which he raised and commanded. During the Fenian alarms of 1866 and 1870 he commanded the gunboat Rescue, operating out of Kingston.
In 1863 Edmund Hooper was appointed treasurer of the provisional council of the county of Lennox and Addington, newly separated for judicial and administrative purposes from Frontenac County. The appointment was arranged by Richard John Cartwright*, who had just defeated Augustus Hooper in the riding of Lennox and Addington for a seat in the Legislative Assembly. Both Hoopers were staunch Conservatives and the appointment was intended to assuage supporters of Augustus' unsuccessful attempt to have Newburgh named the county seat; John Stevenson and others had successfully backed Napanee.
In 1873 Edmund Hooper ran against Cartwright in a federal by-election in Lennox caused by the latter's entry into Alexander Mackenzie*'s Liberal cabinet following the Pacific Scandal and the resignation of Sir John A. Macdonald*'s Conservative government. The riding became the arena for a bitter struggle between Macdonald and the Liberal "renegade" Cartwright, which left the two men implacable enemies. Despite the efforts of Macdonald and Alexander Campbell* to secure Hooper's victory, Cartwright won with a large majority.
In the federal election of 1878 Hooper again received the Conservative nomination for Lennox after such outsiders as Lewis Wallbridge, William McDougall*, and Macdonald himself had declined to stand. He was not expected to win; in Kingston the Daily British Whig labelled him a "party scapegoat" and even the Tory Daily News conceded Cartwright's re-election to be "beyond doubt." The contest, as in 1873, was an abusive one in which the editor of the Napanee Express, Cartwright's organ, was charged with writing and distributing in Napanee a scurrilous address attributed to Hooper. Once again Macdonald made every effort to unseat Cartwright, sending Campbell, Wallbridge, Mackenzie Bowell*, and McDougall into the riding to stump for Hooper, in addition to holding his own rallies there. Hooper won with a slim majority, largely as a result of the excellent organization of the Conservatives in the county, Macdonald's efforts, and Cartwright's extended absence during the campaign while he helped the ailing Mackenzie in the Maritimes and western Ontario.
The year 1879 brought to Hooper political and financial ruin. In September a group of "ratepayers" petitioned the provincial government for an investigation of the financial affairs of the county. The inquiry revealed that over $48,000 was missing. Though Hooper, the county treasurer, escaped criminal charges, his sureties (required by his position) were forced to forfeit bonds to the amount of $20,000, he himself was declared indebted to the county for more than $32,000, and he was obliged to resign the post he had held since 1863. In December Hooper and his two sons declared bankruptcy and his house, property, and dry goods store were seized in an effort to pay his debts. He nevertheless retained his seat in the House of Commons and attended sessions until the dissolution of parliament in 1882. His debts, however, compelled him to borrow $4,000, for which he pledged his sessional allowances. In 1880 he had moved to Gauthier, Man., to live with his stepdaughter. In the 1882 federal election, Macdonald himself was elected for Lennox, but was unseated the following year after an election bribery trial of some of his local agents at Napanee.
In late 1886 Hooper returned to Napanee, where he continued to implore Macdonald in vain for patronage: "My defeat of your Mortal enemy Cartwright was my ruin & that of my family." His career in fact provides an interesting glimpse of patronage in the Macdonald era. In a final letter to Macdonald just prior to his death he applied for the position of caretaker at the new Napanee post office, and complained: "I must say without meaning any offence that after 40 years adherence and after all I have done for our party, I have little reward for it." The position, he learned, had already been promised.
MTL, Patullo family papers, Reply to questionnaire from Lennox riding, 1878. PAC, MG 26, A, Lewis Wallbridge to Macdonald, 17 Dec. 1877, 2, 16 March 1878; M. J. Pruyn to Macdonald, 15 Feb. 1878; E. J. G. Hooper to Macdonald, 6 Oct. 1879, 28 March, 24 May 1880, 12 Aug. 1882, 5 March 1885, 10, 12 Dec. 1888. Daily British Whig, 13 Dec. 1877; 12 March, 18 April 1878; 11, 12, 15 Oct. 1889. Daily News (Kingston, Ont.), 16 April 1878, 12 Oct. 1889. Napanee Express (Napanee, Ont.), 12 July 1878, 24 Dec. 1880. Napanee Standard (Napanee), 28 April 1870; 28 Feb., 21 March, 17 Oct. 1878; 29 Jan., 5 Feb., 4 March, 10, 17 June 1880; 25 March, 1 April, 26 Aug. 1882;13 Oct. 1883. CPC, 1879, 1881. J. A. Eadie, "Politics in Lennox and Addington County in the pre-confederation period, 1854–1867" (ma thesis, Queen's Univ., Kingston, 1967). W. S. Herrington, History of the county of Lennox and Addington (Toronto, 1913; repr. Belleville, Ont., 1972). W. M. Alkenbrack, "The financial crisis in Lennox and Addington County, 1879–1880: the Hooper investigation," Lennox and Addington Hist. Soc., Papers and Records (Napanee), 14 (1972): 23–37.
© 1982–2023 University of Toronto/Université Laval
Image Gallery
Cite This Article
James A. Eadie, "HOOPER, EDMUND JOHN GLYN," in Dictionary of Canadian Biography, vol. 11, University of Toronto/Université Laval, 2003–, accessed October 2, 2023, http://www.biographi.ca/en/bio/hooper_edmund_john_glyn_11E.html.
The citation above shows the format for footnotes and endnotes according to the Chicago manual of style (16th edition). Information to be used in other citation formats:
| | |
| --- | --- |
| Permalink: | http://www.biographi.ca/en/bio/hooper_edmund_john_glyn_11E.html |
| Author of Article: | James A. Eadie |
| Title of Article: | HOOPER, EDMUND JOHN GLYN |
| Publication Name: | Dictionary of Canadian Biography, vol. 11 |
| Publisher: | University of Toronto/Université Laval |
| Year of publication: | 1982 |
| Year of revision: | 1982 |
| Access Date: | October 2, 2023 |