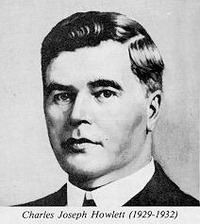 Source: Link
HOWLETT, CHARLES JOSEPH, dentist and politician; b. 25 Jan. 1885 in St John's, youngest son of the seven children of John Howlett, a draper, and Mary Byrne; m. there 8 Sept. 1908 Eleanor M. Walsh; they had no children; d. there 31 March 1932.
Charles J. Howlett received his early education at the principal Roman Catholic schools in his native city, St Patrick's Hall and then St Bonaventure's College, from which he graduated in 1901. After briefly working as a commercial clerk, he attended the school of the Royal College of Dental Surgeons in Toronto for two years and completed his studies at the Philadelphia Dental College. He graduated in 1905 and opened a practice in St John's the following year. In 1916 he became president of the Newfoundland Dental Board, a position he would hold until 1929. By nature a private man, he was also artistic and helped organize local theatrical performances. As well, he belonged to the Rotary Club, which formed a branch in St John's in 1921, and he served as its president in 1928–29. The Rotarians took a strong interest in social problems and initiated a number of community projects.
Howlett's concern over the need for improved civic services led him to enter the mayoralty race in St John's in the municipal election of 9 Dec. 1929. Insisting that city council should take a strong, progressive role, he narrowly defeated the incumbent, Tasker Cook. His campaign had emphasized greater financial independence from the Newfoundland government, the mantra of such civic reformers as William Gilbert Gosling* since before 1920. Cook had intertwined municipal and national politics as a mayor, a member of Sir Richard Anderson Squires's cabinet, and a legislative councillor. A student of the city's history and of civic government elsewhere, Howlett promised to change a situation in which "St. John's has been the football of politicians for years."
The devastating economic impact of the Great Depression forced Howlett to focus on city finances, which could not be easily disentangled from Newfoundland's fiscal woes. In May 1930 council proposed the passage of national legislation authorizing St John's to raise loans on its own credit to repay debt to the dominion government and cover needed civic improvements. Then, in June, Howlett visited financial houses in Montreal, where he was advised the city could support a $3.5 million loan. Facing a staggering national debt, however, the government was unwilling to give the city such financial freedom, nor was it prepared to relinquish control of the city's share of the annual district grants, which had been withheld since 1888. A settlement of sorts took place in August when representatives for the two St John's districts agreed to council's control of the spending of the grants, but under priorities set by both sides.
To improve the city's situation, Howlett petitioned the Supreme Court on 5 Jan. 1931 to compel the government to release the district grants. During the May sitting of the House of Assembly, city solicitor Charles O'Neill Conroy boldly served a writ on Squires and his government. The startled prime minister promised to fight the matter.
For the 1931 legislative session, council submitted another bill to give the city freedom to borrow, but again the government baulked. Instead, it consented to provide municipal funding as part of its own borrowing requirements, with the city to pay its share of the interest. Unable to raise its own loan and forced to secure support from Canadian banks, the government agreed to Howlett's proposal that the city attempt to raise a loan in Canada in July. Montreal financiers proved reluctant, but those in Toronto were willing. On the basis of this promise, Howlett had two St John's thoroughfares paved; work was completed that fall. The proposed conditions for repayment left many in doubt, but Howlett persevered. By January 1932 the government's own deteriorating financial situation forced it to accept his idea for legislation enabling the city to generate up to $3.5 million through bonds and establish a sinking fund for repayment. The city attempted an initial issue of bonds, by the Montreal Trust Company. Howlett appealed to residents on patriotic grounds to invest as they had in Victory Bonds during World War I. Raising enough money again proved difficult, a problem exacerbated in March when, in desperation, the Squires government confiscated the district grants and other civic revenues.
Helping the growing numbers of unemployed in St John's presented other challenges for Howlett. The street-paving program was a partial solution. Another was his formation in January 1932 of a civic relief committee, which began collecting money to provide coal and other assistance for the poor. On 5 January Howlett made a radio appeal, highlighting their plight and the work of the committee. Among the other achievements of his brief mayoralty were the reorganization of the city's financial and administrative systems, the extension of sewerage to impoverished areas of the city, the elimination of tumbrils for collecting sewage at night, and the improvement of more streets to meet the needs of the automobile age.
Howlett did not live to see what success was attained through his efforts to gain independence for his city. Since mid 1930 he had been experiencing discomfort from bladder stones. During his visit in July 1931 to Montreal he sought out medical advice. He then spent two months in London, England, consulting a specialist. For some time in 1932 his health was poor, but he continued in his job as mayor. In March of that year he "was struck down by a serious attack, and his doctors ordered him to desist from any extra strain and limit himself to mere routine." He kept working, however, "firm in his determination to carry on to the end," one journalist friend commented. He died in hospital at St John's.
Charles J. Howlett's mayoralty provided strong, non-partisan leadership and was atypical at a critical juncture in Newfoundland's constitutional and political history.
Memorial Univ. of Nfld, Queen Elizabeth II Library, Arch. and Special Coll. (St John's), coll-087, Municipal Council file. LAC, R4901-0-X, 30 May 1933, 17. RPA, GN 2/5 (Colonial Secretary, Special subject files), file 550. Daily News, 1902, 1929–32. Evening Telegram (St John's), 1902, 1929–32. Academic Year (St John's), 1903: 34–35. Adelphian (St John's), 1 (1904), no.3: 150; 2 (1905), no.2: 102; no.3: 112. G.B., Nfld royal commission, Report (London, 1933). Nfld, Acts, 1932: c.5; General Assembly, Proc., 1931: 405, 469. Who's who in and from Newfoundland … (St John's), 1930.
© 2014–2023 University of Toronto/Université Laval
Image Gallery

Cite This Article
Melvin Baker, "HOWLETT, CHARLES JOSEPH," in Dictionary of Canadian Biography, vol. 16, University of Toronto/Université Laval, 2003–, accessed October 2, 2023, http://www.biographi.ca/en/bio/howlett_charles_joseph_16E.html.
The citation above shows the format for footnotes and endnotes according to the Chicago manual of style (16th edition). Information to be used in other citation formats:
| | |
| --- | --- |
| Permalink: | http://www.biographi.ca/en/bio/howlett_charles_joseph_16E.html |
| Author of Article: | Melvin Baker |
| Title of Article: | HOWLETT, CHARLES JOSEPH |
| Publication Name: | Dictionary of Canadian Biography, vol. 16 |
| Publisher: | University of Toronto/Université Laval |
| Year of publication: | 2014 |
| Year of revision: | 2014 |
| Access Date: | October 2, 2023 |