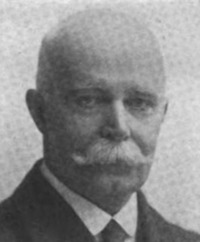 Source: Link
GOSLING, WILLIAM GILBERT, businessman, politician, and author; b. 8 Sept. 1863 in Paget Parish, Bermuda, second of the six sons of Charles Gray Gosling and Elizabeth Gilbert; m. 2 Jan. 1888, in Halifax, Harriette Armine Nutting* of Waterloo, Que., and they had two sons and two daughters; d. 5 Nov. 1930 in Paget Parish.
Gilbert Gosling received his early education at the Pembroke Grammar School in Hamilton, Bermuda. He arrived in St John's on 22 June 1881 to work as a clerk with the fish-exporting firm of Harvey and Company, whose owners had a long commercial and family connection with Bermuda [see Augustus William Harvey*]. Gosling was given charge of the wholesale side of the business and, as his future wife, Armine, would later write, "from the first he showed a . . . marked aptitude for it, setting himself with characteristic patience and thoroughness to master every detail connected with his work."
Not long after his arrival in St John's, he met Armine, the headmistress of the Church of England Girls' School there. They had a lengthy engagement, during which she returned to her native Canada for some time. In his leisure hours Gosling sought solace in reading. "I find it helps me a lot in my work," he told her. "It takes my mind off business troubles." Thus began his life-long passion for books and book collecting, which Armine shared. His other recreational pursuits included photography, painting, and golf.
Before 1900 Gosling's main interest was English literature, especially the works of Shakespeare, and his purchases reflected this preoccupation. In 1899 he published his first literary work, an article on The tempest in the London periodical Literature. Paid nine guineas for this piece, Gosling earned as well the respect of St John's author and judge Daniel Woodley Prowse*, who addressed him as "my literary brother." The money was naturally devoted to Gosling's library. He had become especially interested in rare and first editions, though he could seldom afford them.
In 1906, along with Prowse and others, Gosling helped to revive the Newfoundland Historical Society, which had been moribund since 1881. At this time as well he took up historical writing when Dr Wilfred Thomason Grenfell* asked him to contribute a chapter on the history of Labrador to a book he was publishing on his experiences as a physician there. The chapter became Gosling's own Labrador: its discovery, exploration, and development (London, 1910), which stands to this day as the most comprehensive work on its subject. Gosling drew upon documents he had obtained from both British and Canadian archives. Indeed, his research would prove invaluable to Sir Patrick Thomas McGrath, who in the 1920s prepared Newfoundland's case in its legal dispute with Canada over the ownership of Labrador. At the same time Gosling had undertaken a biography of Sir Humphrey Gilbert*, published in London in 1911.
Active in the local business community, Gosling in 1909 played a prominent role as organizing secretary in forming the Newfoundland Board of Trade, of which he became president in 1913. In that year as well he was made a director of Harvey and Company, an office he would retain until his retirement in 1927. His concern for Newfoundland's commercial interests led him to oppose the colony's confederation with Canada. In 1907 he had corresponded with the London Spectator, arguing the view of his fellow St John's merchants that the basis of Newfoundland's well-being was its freedom of trade. Newfoundland neither consumed what goods it produced nor produced what it consumed, and "must therefore have absolute freedom to sell in the highest and best market, and with the gold thus obtained to buy in the cheapest. To tie ourselves down to buy from any one country would be to sacrifice a portion of our national income." Gosling's standpoint was shaped by the years he had spent as a commercial traveller to Canada, the United States, Britain, and the European continent.
Gosling is best remembered for his contributions to the public life of his adopted city. In 1902 he had served as honorary secretary of a fund-raising committee for rebuilding the Anglican cathedral, part of which had been destroyed by fire in 1892. In 1908 he helped form, and became vice-president of, the Association for the Prevention of Consumption, which did much to encourage the battle against tuberculosis [see Ella Campbell*]. After 1911, however, his interests concentrated on municipal government.
He was greatly influenced by civic reform movements in Canada and the United States and their emphasis on administrative efficiency and social improvement. Using the prestige of his presidency, in December 1913 he had the Board of Trade organize a citizens' committee to ascertain what reforms could be effected in St John's, whose council dated from 1888. The result was that in 1914 the legislature replaced the elective council with a 12-man appointed commission. Under Gosling's chairmanship it governed the city for two years, instituting a number of reforms in the method of collecting and disbursing revenues and reorganizing the city's water and sewage services. It also drafted a new municipal charter, giving the council broader powers and more independence from the legislature. The legislature refused to pass this charter in 1916, however, claiming that more study was needed, and instead restored the elective council.
A civic election was thus held in June 1916, and Gosling was returned as mayor. The following year he succeeded in securing legislative authority for the city to initiate a public housing program and revise its system of taxation. In 1920–21 he was again made chair of an appointed commission, which administered St John's until the charter became law and provided for elected government. His years in local politics were difficult ones for Gosling. "Gone are the lighter avocations of former days, – the painting, the photographing, the adventures in search of old books," his wife had written to her sister in 1914, " – and when there are no meetings he spends his evenings absorbed in light literature dealing with the most approved methods of the disposal of garbage, and kindred topics." His health deteriorated, and in 1921 he declined public demands that he again stand for the mayoralty, withdrawing from civic life for both business and health reasons.
Gosling's efforts at civic reform represented one aspect of a larger social-reform impulse at work in Newfoundland during World War I. Its most obvious manifestation was the organization by William Ford Coaker* of the Fishermen's Protective Union in 1908 and its entry into active politics in 1913. What both reform elements held in common was a strong belief in improving social conditions, which was the subject of a congress held in St John's in October 1917 by local religious and political leaders and featuring Social Gospel reformers from Canada and the United States, among them John George Shearer and Thomas Albert Moore* of Ontario. Mayor Gosling welcomed the participants, saying that he was a "social worker himself, in a measure, because the government of a city touched in hundreds of ways upon the lives of the people." Concerned about the "disgraceful rate of infant mortality in Newfoundland," Gosling had initiated efforts to promote a child welfare service, and in 1918 he helped to fund the salary of a community health nurse from his emoluments as mayor. After 1919 the Women's Patriotic Association, of which Armine was an executive member, took up fund-raising for this cause and its efforts led to the formation in 1921 of the Child Welfare Association under the presidency of Mary Meager Southcott*. Gosling also supported the women's suffrage movement in St John's, which included his wife as one of its strongest proponents [see Fannie Knowling]. The St John's Municipal Act of 1921 reflected this influence by giving women the right to vote in civic elections.
In September 1927 the Goslings retired to Bermuda, where Gilbert died in 1930. His wife later donated his extensive collection of books to the people of St John's to form the basis of the city's first public library, the Gosling Memorial Library, which opened in 1936. The establishment of just such a library had been one of Gosling's cherished dreams before his retirement from public life.
Evening Telegram (St John's), 8 Oct. 1917, 7 Nov. 1930. Melvin Baker, "The government of St. John's, Newfoundland, 1800–1921" (phd thesis, Univ. of Western Ont., London, 1981), 367–71; "Prominent figures from our recent past: William Gilbert Gosling," Newfoundland Quarterly (St John's), 81 (1985–86), no.1: 43; "William Gilbert Gosling and the charter: St John's municipal politics, 1914–1921," Newfoundland Quarterly, 81, no.1: 21–28; and "William Gilbert Gosling and the establishment of the Child Welfare Association, 1917–1921," Newfoundland Quarterly, 77 (1981–82), no.4: 31–32 (the texts of the articles are also available on the author's web site, http://www.ucs.mun.ca/~melbaker/stjohns.htm.). Melvin Baker and G. M. Story, "Book collectors in Newfoundland: the case of W. G. Gosling," in "The book disease": Atlantic provinces book collectors, ed. E. L. Swanick (Halifax, 1996), 83–92. A. [E.] N[utting] G[osling], William Gilbert Gosling: a tribute (New York, [1935]).
© 2005–2023 University of Toronto/Université Laval
Image Gallery

Cite This Article
Melvin Baker, "GOSLING, WILLIAM GILBERT," in Dictionary of Canadian Biography, vol. 15, University of Toronto/Université Laval, 2003–, accessed June 2, 2023, http://www.biographi.ca/en/bio/gosling_william_gilbert_15E.html.
The citation above shows the format for footnotes and endnotes according to the Chicago manual of style (16th edition). Information to be used in other citation formats:
| | |
| --- | --- |
| Permalink: | http://www.biographi.ca/en/bio/gosling_william_gilbert_15E.html |
| Author of Article: | Melvin Baker |
| Title of Article: | GOSLING, WILLIAM GILBERT |
| Publication Name: | Dictionary of Canadian Biography, vol. 15 |
| Publisher: | University of Toronto/Université Laval |
| Year of publication: | 2005 |
| Year of revision: | 2013 |
| Access Date: | June 2, 2023 |