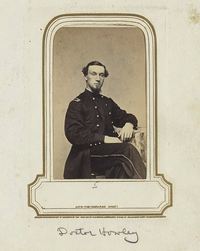 Source: Link
HOWLEY, THOMAS, physician, surgeon, and office-holder; b. c. 1840 at St John's, Nfld, son of Richard Howley and Eliza Burke; m. 26 April 1869 Mary St John of St John's, and they had two sons and one daughter; d. 21 Aug. 1889, near St John's.
Thomas Howley came from a well-known Roman Catholic family of St John's. His Irish-born father, a fish merchant, farmer, and civil servant, encouraged the education of his children with a view to their becoming leaders in colonial society. Thomas became a doctor, James Patrick a government geologist and an historian of the Beothuks, Richard Vincent a priest and educator, and Michael Francis* an author and archbishop of St John's.
Thomas received his early education in St John's under John Valentine Nugent*, a local educator and politician. In 1853 he began working with Thomas McMurdo, a druggist of St John's, and became interested in medicine. He received a medical degree in Ireland in May 1862 and was a licentiate of the King's and Queen's College of Physicians of Dublin and the Royal College of Surgeons of Ireland. After another year of study in Edinburgh Howley worked briefly as a surgeon on a transatlantic passenger liner, before enlisting in the United States Army late in 1863. He was assigned as a surgeon to the 25th United States Coloured Troops' Regiment which fought in Florida. There Howley developed malaria and, although he recovered, the side-effects remained with him. When the Civil War ended, Howley spent the winter of 1865–66 working in several New York hospitals before returning to Newfoundland in April 1866 to establish a general practice at Harbour Grace. Three years later he married and moved his practice to St John's.
Howley was one of eight doctors practising in the city which in 1869 had a population of some 23,000. In 1867 the doctors of St John's had organized a medical society specifically to enforce a new fee structure: instead of patients giving their doctors an annual payment for medical services, they were required to pay for each visit and also for the medicines used. To supplement their private practices, doctors held various government offices: the more senior and experienced were given the positions of visiting physician to the St John's Hospital and the three posts of district surgeon, while the more junior doctors could obtain appointments as city health officers or at the harbour when quarantine was imposed to prevent epidemics spreading from foreign ports. Practitioners were also paid for consultations given to the hospital physician and for services rendered at the hospital. Howley's first major appointment was on 23 April 1872 as one of the two health officers for St John's and he became responsible for maintaining a quarantine establishment at the port. His second major appointment, on 20 May 1879 as a district surgeon for St John's East at an annual salary of $231, made him responsible for the treatment of its sick and poor. He held both positions until his death.
As one of the principal doctors on the island, Howley wrote several medical reports for the government. In 1874 he was asked by the administration of Frederic Bowker Terrington Carter* to head an inquiry into a dysenteric disease prevalent among children in several Notre Dame Bay settlements. Howley attributed the disease to an outbreak of measles and typhoid in the area; in his report he deplored the unsanitary conditions in these settlements and criticized the inhabitants for their lack of concern about individual health and welfare. Following the lead of Sir Edwin Chadwick and other reformers in England, Howley stressed the need for improvements in sanitation and better housing for the poorer classes as the most effective measures against epidemic diseases. Such suggestions generally went unheeded because the politicians disagreed as to how sewage facilities could be provided without the direct taxation opposed by citizens. Howley's warnings proved prophetic: a diphtheria epidemic from 1888 to 1891 resulted in 3,183 cases and 624 deaths. In a report to the government on the epidemic in 1889 Howley blamed its spread in St John's on the city's "wretchedly constructed and located dwellings"; houses were "built in defiance of all sanitary laws; damp sodden foundations; rotting timber sills; mouldy cellars; earth piled up against the bared walls preventing all chances of dryness; no house drains at all in the great majority of instances, necessitating the throwing out of the house slops out of doors, to still further saturate and poison the surrounding soil; and where house-drains do exist, they often are defective. . . ." Characteristically, Howley's report included references to professional studies on the treatment of diphtheria, and he had the 1888 annual report of the New York Board of Health on diphtheria published in the local newspapers.
Howley gave invaluable service to the board of health, which considered him "the ablest authority here on contagion." But illness forced him to retire in 1889 and he spent the last few months of his life in a country residence outside St John's. He had been a diligent doctor, respected for his unselfish devotion to his profession. He was also "a most entertaining conversationalist," "well read," and able to "talk on any subject."
Centre for Newfoundland Studies, Memorial Univ. of Newfoundland (St John's), J. St P. Knight, "History of the fever hospital; a lecture delivered before the Newfoundland Historical Society, March 27th, 1941" (typescript). PANL, GN 2/2, 1889. Nfld., Blue book, 1866–89; House of Assembly, Journal, 1866–89. Daily Colonist (St John's), 22 Aug. 1889. Evening Mercury, 28 March 1889. Evening Telegram (St John's), 24 Aug. 1889. Lovell's province of Newfoundland directory . . . (Montreal), 1871. When was that? A chronological dictionary of important events in Newfoundland down to and including the year 1922 . . . , comp. H.M. Mosdell (St John's, 1923). Paul O'Neill, The story of St. John's, Newfoundland (2v., Erin, Ont., 1975–76), I. W. D. Parsons, "The Newfoundland Medical Association, 1924–1974," Nfld. Medical Assoc., Newsletter ([St John's]), 16 (1974), no. 3.
© 1982–2023 University of Toronto/Université Laval
Image Gallery

Cite This Article
Melvin Baker, "HOWLEY, THOMAS," in Dictionary of Canadian Biography, vol. 11, University of Toronto/Université Laval, 2003–, accessed November 28, 2023, http://www.biographi.ca/en/bio/howley_thomas_11E.html.
The citation above shows the format for footnotes and endnotes according to the Chicago manual of style (16th edition). Information to be used in other citation formats:
| | |
| --- | --- |
| Permalink: | http://www.biographi.ca/en/bio/howley_thomas_11E.html |
| Author of Article: | Melvin Baker |
| Title of Article: | HOWLEY, THOMAS |
| Publication Name: | Dictionary of Canadian Biography, vol. 11 |
| Publisher: | University of Toronto/Université Laval |
| Year of publication: | 1982 |
| Year of revision: | 1982 |
| Access Date: | November 28, 2023 |