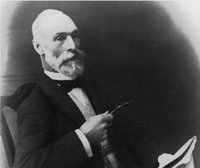 Source: Link
HOWLEY, JAMES PATRICK, geologist, surveyor, museum curator, and author; b. 7 July 1847 near St John's, son of Richard Howley and Eliza Burke; m. Elizabeth Jane Firth, and they had three sons and three daughters; d. 1 Jan. 1918 in St John's.
James Patrick Howley's father, a prominent businessman and financial secretary of Newfoundland, had arrived in St John's from Ireland in 1804. His sons formed an interesting group; they included Michael Francis, the first native-born bishop of Newfoundland, and Thomas*, a surgeon in the American Civil War.
James Patrick was educated in St John's at St Bonaventure's College. From an early age he displayed a particular interest in natural history, scouring the countryside for his eclectic collections. On completing his schooling, he worked briefly in the office of the colonial secretary, but the decisive event in his future career was the arrival in Newfoundland in 1864 of Alexander Murray*, the Scottish-born associate of Sir William Edmond Logan* in the Geological Survey of Canada, for preliminary surveys of the west coast. The creation of a geographical and topographical survey of the colony was a natural development, and in 1867 Murray became its first director. A painful injury he had suffered earlier led him to seek an assistant; the 21-year-old Howley, to his delight and lasting gratitude to Murray, was selected on trial for the field season of 1868. He was appointed assistant the next year and would eventually succeed Murray, although he was not officially appointed director until 1898.
The formal record of Howley's steady and sustained professional work during ensuing decades is contained in the Geological survey of Newfoundland, a reprint of the reports for 1864–80 published by Murray and Howley in 1881, and some 40 later reports and special studies which followed from Howley's hand. Together with successive maps based upon them, these trigonometric surveys and descriptions of the topography and resources of the interior of the island complement the coastal surveys begun by James Cook* and Michael Lane in the 18th century and continued after 1795 by the Hydrographic Office of the British Admiralty until the outbreak of World War II. The work was much facilitated by the good relations between the two groups easily effected at the beginning by British naval veteran Murray.
There is also a remarkable parallel record of the land survey reports in Howley's unpublished "Reminiscences . . . 1868–1911." This work was based on his field notes, diaries, itineraries, and retentive memory, and it preserves a meticulously detailed account of the untravelled interior of Newfoundland, visited at first on foot and by the inland waterways with Micmac guides or by coastal travel, and then as the 19th century advanced by rail or road. Official reports and "Reminiscences," therefore, record the first systematic ascents and descents of the great river systems of Newfoundland, much of the basic topographical mapping of the island, the steady identification of inland forest, mineral, and agricultural resources, and the miscellaneous exact comments of a self-taught naturalist and observer, gifted with uncommon clarity and attentiveness. With remarkable physical stamina and a quick mastery of the skills of wilderness travel and survival went broad human interests. He shared the curiosity of his brother the archbishop in place-names and left his own distinct mark on those of the Newfoundland interior, both in naming unidentified features and in eliciting traditional names from his Micmac guides, whose language he learnt.
Howley's fundamental study of the by-now extinct aboriginal people of Newfoundland, the Beothuk, calls for particular notice. His active interest in the subject began in the early 1870s and was clearly influenced by the companionship of his Micmac guides, and information about the Beothuk and their territories gleaned from them. Authoritative settler informants were still living: John Peyton of Twillingate, for example, and his son Thomas, both of whom had been closely involved in contacts with the women Demasduwit* and Shawnadithit*. Moreover, in the course of his professional field travel, Howley made use of every available opportunity to inspect, study, and photograph identifiable Beothuk sites, collect artefacts, and above all assemble the historical documents, printed and in manuscript, which make his great monograph, The Beothucks or Red Indians (1915), still the one indispensable work on its subject.
An important part of his work as director of the Geological Survey of Newfoundland was, of course, the custody of the geological specimens assembled in the field for analysis and display. In 1907 the government of Sir Robert Bond* opened a new building to house these objects on the site of the St John's Athenæum, burnt in the fire of 1892, and Howley, who had been a pivotal figure in the creation of the enlarged museum facility, transferred to it his own extensive collection of Beothuk artefacts. Later in his career, in 1910–11, he organized and presided over the Newfoundland court at the "festival of empire," held at the Crystal Palace in London.
Throughout his active career Howley wrote and lectured on a broad range of Newfoundland topics. He composed the first text on its subject, Geography of Newfoundland (1876), for use in the schools of the colony; his periodical. essays and public lectures were numerous; and he was a familiar figure at meetings of the Royal Geographical Society, the Smithsonian Institution, the Royal Society of Canada, and other scientific organizations.
In person Howley was unusually strong and energetic, and he retained this physical vigour until the day before his death. An obituarist recalled him as courteous, kind, and devout, his domestic life uncommonly happy; another cited the words of Governor Sir Charles Cavendish Boyle: "a man of untiring zeal in the public service" of Newfoundland.
James Patrick Howley's unpublished "Reminiscences of forty-two years of exploration and survey in and about Newfoundland, 1868–1911" is a massive work, partly typed and partly in manuscript, on which the subject spent much time between 1911 and his death. It was entrusted by the subject's grandson, the late David E. Howley of St John's, to professors W. J. Kirwin and G. M. Story of the Memorial Univ. of Nfld, St John's, for the preparation of a full-scale scholarly edition. An excerpt has been published as "J. P. Howley and the Geological Survey of Newfoundland: Reminiscences of 1868," ed. W. J. Kirwin and G. M. Story, in Newfoundland Studies (St John's), 7 (1991): 172–201.
Howley's important study The Beothucks or Red Indians: the aboriginal inhabitants of Newfoundland (Cambridge, Eng., 1915) has been reprinted twice: Toronto, 1974, and New York, 1979. A partial record of his other publications, including his professional papers and reports, appears in the Biblio. of Nfld (O'Dea and Alexander). In addition, an extensive listing of his contributions to periodicals has been compiled by Professor Kirwin as part of a comprehensive bibliography of Howley's publications to be included in the Reminiscences.
PANL, MG 105. Daily News (St John's), 2 Jan. 1918. Evening Telegram (St John's), 2 Jan. 1918. Adelphian ([St John's]), March 1918. DNLB (Cuff et al.). Encyclopedia of Nfld (Smallwood et al.). [Especially valuable is the sketch of the subject by David E. Howley. g.m.s.] W. J. Kirwin and G. M. Story, "Place naming and the Geological Survey of Newfoundland," Canadian Permanent Committee on Geog. Names, Canoma (Ottawa), 18 (1992), no.1: 38–41. When was that? (Mosdell).
© 1998–2023 University of Toronto/Université Laval
Image Gallery

Cite This Article
G. M. Story, "HOWLEY, JAMES PATRICK," in Dictionary of Canadian Biography, vol. 14, University of Toronto/Université Laval, 2003–, accessed November 30, 2023, http://www.biographi.ca/en/bio/howley_james_patrick_14E.html.
The citation above shows the format for footnotes and endnotes according to the Chicago manual of style (16th edition). Information to be used in other citation formats:
| | |
| --- | --- |
| Permalink: | http://www.biographi.ca/en/bio/howley_james_patrick_14E.html |
| Author of Article: | G. M. Story |
| Title of Article: | HOWLEY, JAMES PATRICK |
| Publication Name: | Dictionary of Canadian Biography, vol. 14 |
| Publisher: | University of Toronto/Université Laval |
| Year of publication: | 1998 |
| Year of revision: | 1998 |
| Access Date: | November 30, 2023 |