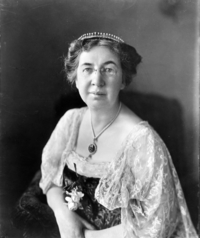 Source: Courtesy of Wikimedia Commons
HUBBARD, MABEL GARDINER (Bell), homemaker, venture capitalist, and social reformer; b. 25 Nov. 1857 in Cambridge, Mass., second daughter of Gardiner Greene Hubbard and Gertrude Mercer McCurdy; m. there 11 July 1877 Alexander Graham Bell, and they had two sons, who died in infancy, and two daughters; d. 3 Jan. 1923 in Chevy Chase, Md, and was buried at Beinn Bhreagh, near Baddeck, N.S.
Mabel Hubbard was born into a rich, well-connected Massachusetts family. Her life and destiny were profoundly affected by deafness caused by scarlet fever at age five. It was the prevailing opinion in the United States that children who became deaf in their early years could not retain the ability to speak; signing was thus considered the best means of communication. To prevent Mabel from becoming mute, Gertrude Hubbard found tutors who could teach her to lip-read and reinforce her speech, so that much of the time her highly intelligent daughter was educated among hearing children. Mabel's father, a distinguished lawyer, played a leading role in securing a charter for the Clarke Institution for Deaf-Mutes at Northampton, where children were instructed in speech; he served as its first president. Though Mabel did not attend the school, at nine she testified before a committee of the Massachusetts legislature to aid the cause. Its members plied her with questions in history, geography, and arithmetic, which she answered with assurance; her voice, though not perfect, was intelligible, according to biographer Lilias M. Toward. Many years later, Mabel, whose triumph over her handicap had led her to conduct her life among hearing people, wrote to her daughter Elsie May commending the school: "Having taught you all my life to forget that I was deaf, I now want you to remember it, at least to the extent of looking on the Clarke School as a sort of family affair whose welfare is a family concern."
It was as a teacher of speech and the deaf that Alexander Graham Bell met Mabel Hubbard. One year out from Scotland, he had left Canada for Boston in 1871 to give a series of talks and he quickly became admired for his teaching techniques. He opened a school, lectured at Boston University's School of Oratory, and worked on inventions. "I both did and did not like him," Mabel wrote in her journal after her teacher Mary True brought her to meet him in 1873 to see if he could improve her articulation. Her sentiments quickly became more positive; engaged in 1875, they married two years later, the telephone by then a reality. On the back of a family picture of Mabel are the words "The girl for whom the telephone was invented." The couple's touching and lively letters bear witness to a lifetime of loving companionship. While away in 1879 testifying in a lawsuit over the telephone, Bell implored her to make him write: "Make me describe and publish my ideas that I may at least obtain credit for them and that people may know that I am still alive and thinking. . . . You are the mistress of my heart and sharer of my thoughts . . . so I send you a few ideas – as they come to me – to be added to the list of unwritten inventions and upon my return to be written out by US." All their life together, Bell relied on her avowal, "I believe thoroughly in you, Alec dear."
It was on Cape Breton Island, N.S., where much of Bell's work after the telephone was accomplished, that the slender, gentle New Englander left her own legacy. The widely travelled family were residents of Washington but Bell disliked its summers. In 1885, with their daughters, the couple made their first summer trip to Baddeck, on the Bras d'Or lakes, and were delighted. "May it be long before fashionable people with their big hotels, big trunks and high charges find their way here," wrote Mabel on 17 September. They returned the following year – they would do so for the rest of their lives, sometimes spending six months at a time – and established themselves in a farmhouse on a property on the outskirts of Baddeck they called Crescent Grove. Bell then bought, parcel by parcel, the headland across the bay that he named Beinn Bhreagh (beautiful mountain). Here they constructed Cape Breton's biggest house and, eventually, miles of roads, wharves, workshops, and a laboratory. In time much of the population of Baddeck became involved in the experiments Bell conducted there. Granddaughter Dr Mabel Hubbard Grosvenor, who witnessed some of these activities as a child, told journalist Jocelyn Bethune, "We grew up with wonders – they seemed commonplace."
Bell's involvement in his work often set him apart. On occasion Mabel complained of "that work of yours of which I am so proud and yet so jealous," but she was tolerant of all his eccentricities and solitary habits. With his eyesight failing, he also needed assistance. When his work with large kites led to thoughts of powered flight, Mabel encouraged him and four young collaborators to set up a formal organization in 1907. She financed the group as the Aerial Experiment Association with $35,000 of her own money, thus becoming the North American aviation industry's first backer. Independently wealthy, she had been further enriched at the time of her marriage when Bell turned over to her all but ten shares in the Bell Telephone Company. Mabel managed all the family's expenses. "Mr. Bell . . . didn't want to be bothered with petty cash and money and bills and Mrs. Bell was more than willing," recalled Edith (Polly) MacMechan. "I was Mrs. Bell's secretary, so I paid the bills. That was fun, too – a great eye-opener for me as to what real money can do." A daughter of Halifax professor Archibald McKellar MacMechan*, Polly met her husband, Claude Congreve Dobson, in 1920 when he arrived with a British naval team to inspect the hydrofoil built by Bell and Frederick Walker (Casey) Baldwin*.
Particularly during earlier summers in Baddeck, before marriages and grandchildren claimed her attention, Mabel had participated vigorously in the community's life. The Bells brought new ideas and legitimized them by their personal involvement. Perhaps Mabel's favourite project was the establishment in 1891 of the Young Ladies Club of Baddeck, one of the first Canadian women's clubs. Founded "to stimulate knowledge and promote sociability," it drew inspiration from a similar type of club she had attended in Washington. A. G. Bell drew up its constitution and it continues to this day as the Bell Club. A former president, Jocelyn Bethune, maintained that, because of the strong religious and political affiliations of the times, in the area around Baddeck "there was not a lot of tolerance for a different point of view. . . . People moved in their own circles." At the club, however, "everybody was brought together in a friendly atmosphere which I think owed a lot to Mrs. Bell's ability to make people feel comfortable." After one meeting Mabel wrote, "There is nothing like real country life when you know how to manage it so that you have real sociability. I have more of this here than I do in Washington." Members met in their homes and each meeting featured an address by one of them. Since there was only one public library in Nova Scotia, in Halifax, they raised money to subscribe to newspapers and magazines. With George Kennan, a Washington friend and journalist who also summered in Baddeck, Mabel rallied support for a library. It became a reality when she bought a former Methodist church, named it Gertrude Hall after her mother, and donated it to the community. The Young Ladies Club also played a role in the development of a national home and school association. On 18 Dec. 1895, after Bell's talk to the club on the parents' organizations he had encouraged at American schools for the deaf, a group of interested women met at Baddeck Academy and formed a parents' association, the first in Canada.
In the 1890s Mabel's interests also encompassed handicrafts. Picking up on ideas made popular by the English arts and crafts movement, she tried to introduce better techniques and materials so that home crafts could generate significant income for rural women. It may have been her example that led her daughter Marian Hubbard (Daisy) to back the work of American occupational therapist Lillian Burke, who about 1927 helped Acadian women in the Chéticamp area of Cape Breton turn rug hooking into a source of profit. Baddeck recognized Mabel's contributions, and tradition has it that sometime in the 1890s, though women did not have the franchise, the town gave her the right to vote in local elections. (History does not relate whether it was exercised.)
Gardens were a lifelong interest for Mabel Bell. Older people remembered that on her walks through Baddeck she would lean over fences, look, and chat about what was growing. She oversaw the development of magnificent gardens at Beinn Bhreagh. After Daisy's marriage in 1905 to David Grandison Fairchild, the plant explorer for the United States Department of Agriculture who helped develop the Florida citrus industry, Mabel often grew unusual foreign plants. One was the edible udo, of Japanese origin, which had been thought to have potential as a cash crop. It never caught on because, unless it was cultivated and harvested with great care, it could taste like turpentine. Mabel was a generous donor of flowers and plants, and for years udo roots flourished in local gardens. Her delight with the outdoors extended as well to her participation in experiments at Beinn Bhreagh, to boating, and to excursions. Even in the months before her death she loved to camp out. As Daisy related, "She couldn't read our lips very well by firelight, so in the evenings she put cushions on the ground and read by the car headlights."
"Mother always did her own thinking," Daisy recalled in a letter to the Bell Club some years after Mabel's death, "and it is interesting . . . to realize what a completely original individual she was. I don't think it was just because her deafness saved her from the endless objections and criticisms that so many of us hear when we have a new idea to put over. She just knew what she thought would be fun or interesting or worth while to do and then tried to do it." Mabel Bell died of cancer at Daisy's home near Washington on 3 Jan. 1923, six months after her husband's passing, and is buried next to him on top of Beinn Bhreagh.
The author wishes to thank Bell Club members Jocelyn Bethune and Nancy Langley of Baddeck, N.S., Ainsley MacFarlane of the Alexander Graham Bell National Historic Site there, and Judith Tulloch of Parks Canada in Halifax for providing information on Mabel Bell.
Alexander Graham Bell National Hist. Site of Canada, Bell Museum (Baddeck, N.S.), A. G. Bell family coll. Library of Congress, Manuscript Div. (Washington), 0030M, A. G. Bell family papers. New York Times, 4 Jan. 1923. D. H. Eber, Genius at work: images of Alexander Graham Bell (Toronto, 1982; repr., Halifax, 1991). From the records: the Bell Club treasures, comp. L. M. Toward and Sharon MacDonald (Baddeck, 1992). C. V. Madder, History, 1895–1963, the Canadian Home and School and Parent-Teacher Federation (Oshawa, Ont., 1964). L. M. Toward, Mabel Bell: Alexander's silent partner (Toronto, 1984).
© 2005–2023 University of Toronto/Université Laval
Cite This Article
Dorothy Harley Eber, "HUBBARD, MABEL GARDINER (Bell)," in Dictionary of Canadian Biography, vol. 15, University of Toronto/Université Laval, 2003–, accessed December 10, 2023, http://www.biographi.ca/en/bio/hubbard_mabel_gardiner_15E.html.
The citation above shows the format for footnotes and endnotes according to the Chicago manual of style (16th edition). Information to be used in other citation formats:
| | |
| --- | --- |
| Permalink: | http://www.biographi.ca/en/bio/hubbard_mabel_gardiner_15E.html |
| Author of Article: | Dorothy Harley Eber |
| Title of Article: | HUBBARD, MABEL GARDINER (Bell) |
| Publication Name: | Dictionary of Canadian Biography, vol. 15 |
| Publisher: | University of Toronto/Université Laval |
| Year of publication: | 2005 |
| Year of revision: | 2005 |
| Access Date: | December 10, 2023 |