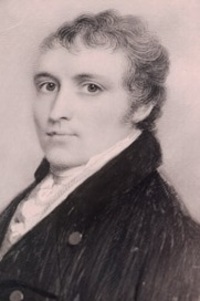 Source: Courtesy of Wikimedia Commons
HUNTER, Sir MARTIN, army officer and colonial administrator; b. 7 Sept. 1757 in Medomsley, England, son of Cuthbert Hunter and Anne Nixon; m. 13 Sept. 1797 Jean Dickson, and they had seven sons and four daughters; d. 9 Dec. 1846 at Antons Hill, the Scottish estate inherited by his wife.
Martin Hunter received his early schooling at Allendale on his father's estate and in Newcastle upon Tyne. Commissioned an ensign in the 52nd Foot in 1771, he was sent to live with Lieutenant-General John Clavering in Hampshire, where he attended school at Bishop's Waltham. Two years later, small for his 16 years, he joined his regiment at Quebec and in 1774 went with it to Boston.
On 19 April 1775 Hunter was at Lexington when the firing began that precipitated war between the British and Americans. Few soldiers can have seen so much action over the next three years. On 17 June he was at Bunker Hill; not yet 18, he became a lieutenant on the following day. After the evacuation of Boston in March 1776, he spent some time in Halifax and then went to New York. Subsequently he served mainly with the light infantry. He was present on 27 Aug. 1776 when the Americans were driven from Brooklyn, and then took part in the attack on Fort Washington and the pursuit to the Delaware. The following year, on 11 September, he participated in the battle of Brandywine, Pa, and ten days thereafter was wounded in the side during a surprise bayonet attack on the Americans at Paoli. At Germantown in early October the light infantry suffered such severe losses that, a short time later, Hunter was promoted captain at the early age of 20. In the autumn of 1778, after the retreat from Philadelphia to New York, he returned to England. At that time the 52nd had been 16 years in North America and had lost more officers and men killed and wounded in the Revolutionary War than any other regiment in the army.
In 1783 Hunter left Britain for ten years' service in India. He participated in a number of engagements in the Mysore War, including the decisive night attack in February 1792 on Tipu Sahib's entrenched camp under the walls of Seringapatam, when he commanded the 52nd and was credited with keeping the commander-in-chief, Lord Cornwallis, from being taken prisoner. In one of the charges of the 52nd, he was severely wounded.
Hunter had already received his majority in the 91st Foot before this battle and after his return to England he was promoted lieutenant-colonel on 19 July 1794. He subsequently rose steadily through the ranks. Early in 1797, having transferred to the 60th Foot, he commanded a brigade at the capture of Trinidad and the siege of Puerto Rico. Shortly after his marriage in 1797 he joined the 48th Foot and went with it to Gibraltar. In 1800 he commanded that regiment at the siege of Malta. He was again in the West Indies in 1801 but returned to England early the following year when Martinique was restored to France by the Treaty of Amiens.
As a reward for his distinguished service, Hunter was chosen in June 1803 to be colonel of the New Brunswick Fencibles, one of four infantry regiments to be raised for service in North America, but not elsewhere. In respect of pay, clothing, arms, and accoutrements, these units were to be on the same footing as regiments of the line; a colonel who brought his regiment up to strength could expect the handsome emoluments received by commanders of regular regiments. Hunter arrived in New Brunswick in the autumn and immediately organized a vigorous recruiting campaign to attract scarce North American manpower. He was particularly successful in Lower Canada, which provided more men than the Maritime provinces did. Substantial numbers were also obtained in Scotland. In October 1805 the regiment, then nearly 600 strong, passed inspection and was placed on the establishment effective from 25 June. Five years later it was granted the status of a line regiment, becoming the 104th Foot. Under that name, after a famous winter march to Quebec, it would serve with distinction in Upper Canada in 1813 and 1814. Hunter remained the regiment's colonel until it was disbanded in May 1817, and its success was largely due to his equable personality, his initiative in attracting competent officers and obtaining men, and his devotion and common sense in handling day-to-day affairs.
Militarily, New Brunswick was a district in the Nova Scotian command, which in turn was a district in the North American command. As the senior active officer in the province, Hunter became commanding officer of the forces there on the departure of Lieutenant Governor Thomas Carleton* in October 1803, and also second in command of the Nova Scotia district. Promoted major-general in 1805, he took over the command in Halifax on the death of Lieutenant-General William Gardiner in 1806, and held it until the arrival of Sir George Prevost* two years later. The same year he again assumed command in Halifax, while Prevost was in the West Indies, returning to New Brunswick in April 1809. In August 1811 he was back in Halifax, Prevost having gone to Quebec as commander of the forces in North America. He remained there until Sir John Coape Sherbrooke* assumed the position of lieutenant governor and commander-in-chief of the Nova Scotia district on 16 October.
When, late in 1807, the attitude of the American government led the British to expect a declaration of war, a large part of the militia of Nova Scotia and New Brunswick was called out at Hunter's request. At the end of March 1808 he reported to the War Office that, according to the best information he could get, "war with Great Britain is predetermined by [Thomas] Jefferson and his party who are completely under French influence and only want a favorable opportunity to commence hostilities." He therefore felt obliged to keep the militia under arms until the arrival of Prevost with reinforcements in April brought an end to the emergency. In the summer Prevost issued instructions to Hunter "calculated to prevent any act which could carry the construction of hostility." In particular, care was to be taken not to interfere with the Americans in their possession of Moose Island in Passamaquoddy Bay, a convenient base for New England traders willing to defy their own government's ban on commerce with British possessions. Faced with the Napoleonic blockade Britain was in urgent need of the American products that could be re-exported from her colonies.
In civil affairs New Brunswick had been administered since 1803 by a succession of temporary appointees. The separation of the civil authority and the military command that had occurred on Lieutenant Governor Carleton's departure was, however, ended by an instruction issued on 28 Jan. 1808. Hunter, or in his absence the officer commanding the forces, was placed first on the list of councillors. He was sworn in as president of the Council on 24 May 1808, displacing Edward Winslow*, and from then until June 1812 he was lieutenant governor in all but name, except for the two interludes in Halifax. Although in 1811 the Council asked the colonial secretary to make Hunter lieutenant governor, he was denied the security and prestige of the office because of the British government's inability or unwillingness to provide a pension for Carleton, who retained the position until his death in 1817.
Hunter's political task was an easy one. By 1808 partisanship in the assembly created few difficulties. Sessions of the legislature dealt only with routine matters or with questions relating to defence. The one exception was an act of 1810 that extended voting rights to Roman Catholics by substituting a declaration of loyalty for the severely Protestant oath laid down in 1791. It is unlikely Hunter played any significant role in initiating the change, though he almost certainly gave it strong support, for in so far as he showed any party sympathies his inclination was whiggish.
When Hunter arrived in New Brunswick in 1803 the economy was in the doldrums. When he departed in 1812 it was flourishing, transformed by a series of measures adopted by the British government that led to a much more profitable fishery and to a revival of the building of ships for long-distance trade. However, the most fundamental change in the economy resulted from Britain's efforts to assure a supply of timber for the fleet and for the home market. A crisis had arisen in 1807 as a result of the American embargo and the virtual exclusion of British timber buyers from the Baltic following the treaty between France and Russia. To encourage colonial exports, duties were placed on Baltic timber that were to remain in force until two years after the war with France ended. British North American timber merchants were quick to respond to this golden opportunity. With its abundant rivers and convenient harbours, New Brunswick was able to increase its production rapidly and between 1807 and 1810 exports trebled. In 1810 Hunter found it necessary to make a strong representation to the Colonial Office on the need for more strict control of timber cutting, but it was several years before action was taken.
In the session of 1812 the assembly made £10,000 available to the government for the defence of the province. This gesture would seem to have been a mark of Hunter's popularity, since the annual revenue in 1811 had been only about half that amount. Hunter was not to have an opportunity to spend it, for on 15 June he was replaced by George Stracey Smyth*. His promotion to lieutenant-general on 1 January had given him a rank too high for his command, but he had no political friends in high places to find him another. Though he lived a further 34 years, he was employed only in honorary positions. He became a full general in 1825, and was awarded a gch in 1832 and a gcmg in 1837.
In 1804 Mrs Hunter had joined her husband in Fredericton, then a village of about 120 houses. She was young, lively, intelligent, and happy, fond of dancing and parties but with a dignity and graciousness that was appreciated by those who valued decorum in the president's wife, the first lady of provincial society. As the seat of government and headquarters of the regiment, Fredericton took on the character of an English county town during the Hunter years, and members of the leading loyalist families, mixing in the company of British officers, had their gentility revitalized. Hunter himself was a handsome man, athletic both in build and in inclination. While in the Maritimes he made some remarkable journeys for a man his age, travelling overland from Halifax to Saint John on one occasion, to see for himself if the route was feasible in case troops had to be moved that way. He seems to have been successful in earning the approval of both superiors and subordinates, though Edward Winslow questioned his knowledge of civil matters, referring to him as "wonderfully out of his element in a Chancery Court, or Land Office." Seventeen years after his death an old friend wrote of him as "the most unselfish person I have ever known" and evoked "his high sense of honor, his scrupulous integrity . . . , his modesty which 'never boasted of itself', his habitual gentleness of manner, [and] his feeling kindness and consideration for all around him."
PAC, MG 30, D1, 16: 237–54. PANB, RG 1, RS330, A6a; RS333, A3–A5; RG 2, RS6, A. PRO, CO 188/15–18; CO 189/11; CO 324/67. UNBL, MG H11. The journal of Gen. Sir Martin Hunter, G.C.M.G., C.H., and some letters of his wife, Lady Hunter . . . , ed. Anne Hunter and Elizabeth Bell (Edinburgh, 1894; typescript at Saint John Regional Library, Saint John, N.B.). N.B., House of Assembly, Journal, 1808–12; Legislative Council, Journal [1786–1830], vol.1, 1808–12. Winslow papers (Raymond). Royal Gazette (Saint John), 1808–12. DNB. G.B., WO, Army list, 1771–1837. PANB, "A new calendar of the papers of the House of Assembly of New Brunswick," comp. R. P. Nason et al. (3v., typescript, Fredericton, 1975–77), 1. D. R. Facey-Crowther, "The New Brunswick militia: 1784–1871" (ma thesis, Univ. of N.B., Fredericton, 1965). Hannay, Hist. of N.B. Lawrence, Judges of N.B. (Stockton and Raymond). MacNutt, New Brunswick. W. A. Squires, The 104th Regiment of Foot (the New Brunswick Regiment), 1803–1817 (Fredericton, 1962).
© 1988–2023 University of Toronto/Université Laval
Image Gallery

Cite This Article
D. M. Young, "HUNTER, Sir MARTIN," in Dictionary of Canadian Biography, vol. 7, University of Toronto/Université Laval, 2003–, accessed June 5, 2023, http://www.biographi.ca/en/bio/hunter_martin_7E.html.
The citation above shows the format for footnotes and endnotes according to the Chicago manual of style (16th edition). Information to be used in other citation formats:
| | |
| --- | --- |
| Permalink: | http://www.biographi.ca/en/bio/hunter_martin_7E.html |
| Author of Article: | D. M. Young |
| Title of Article: | HUNTER, Sir MARTIN |
| Publication Name: | Dictionary of Canadian Biography, vol. 7 |
| Publisher: | University of Toronto/Université Laval |
| Year of publication: | 1988 |
| Year of revision: | 1988 |
| Access Date: | June 5, 2023 |