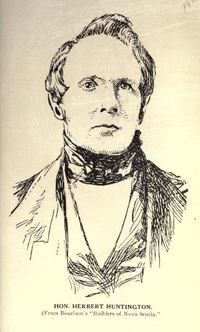 Source: Link
HUNTINGTON, HERBERT, teacher, militia officer, businessman, surveyor, office holder, and politician; b. 27 July 1799 in Yarmouth, N.S., son of Miner Huntington and Martha Walker; m. there 20 July 1830 Rebecca Russell, née Pinkney, and they had five children; d. there 13 Sept. 1851.
A son of a Connecticut loyalist, Herbert Huntington grew up in the shipbuilding and seafaring town of Yarmouth. Situated at the western end of the Nova Scotian peninsula, relatively close to New England, Yarmouth became, early in its history, a citadel of pioneer democracy, individualism, and religious dissent. Next to nothing is known of Herbert's schooling, but he may have received some training from his father, who, as a land surveyor and protonotary, must have had some education. During the War of 1812, Joseph Howe* later recounted, Herbert mustered with the Yarmouth militia to repel the landing of an American vessel. As a young man, he taught school in Yarmouth for a time, served as a militia captain, and in 1822 became the first librarian of the newly formed Yarmouth Book Society. He was a farmer and, not surprisingly for Yarmouth, he held shares in one or more vessels and owned at least one ship, a wrecked brig, which he bought in 1833. As well, he served as a commissioner of sewers for Yarmouth Township and was a founder of the Yarmouth County Agricultural Society, of which he became secretary. In 1839 he succeeded to his father's positions of surveyor and protonotary.
Huntington was repelled by the inefficiency and rank partisanship of the justices of the peace on the courts of sessions, which, in his opinion, formed a "centre of political intrigue [where] Liberals could get neither justice nor courtesy." His antipathy to this abuse of political and judicial authority at the county level led him to attempt to strike at the root of the evil, the provincial government, which controlled the appointment of the justices. Indeed, Huntington later claimed that the authorities in Halifax, often heedless of the people's wishes, had placed their sycophants in "all offices worth holding in Town or Country . . . from the first settlement of the province."
His first essay into provincial politics was in 1830, when the voters of Shelburne County elected him and John Forman to the House of Assembly. Six years later, when Yarmouth County was carved out of Shelburne, Huntington became its assemblyman and would hold the seat until 1851, being opposed only once, during the crucial general election of 1847. From the beginning, the voters' confidence in him was amply justified. In 1834, aided by the efforts of Alexander Stewart*, he succeeded in having Yarmouth made a free port. He was a leader in the fight to abolish the legislation upholding two unpopular measures, quitrents and the General Mining Association's monopoly of coal mining [see Richard Smith*]. The rents were repugnant to a people who wanted free grants of land. Like the majority in the assembly in 1834, Huntington acceded, rather readily, to the demands of the colonial secretary that the rents be commuted for an annual payment of £2,000. Only John Young* and eight other assemblymen, backed by Joseph Howe in the Novascotian, protested Nova Scotia's acceptance of these terms. As for the mining monopoly, it hindered the development of new mines at a time when cheap coal was needed to augment increasingly scarce and dear supplies of firewood. Huntington also opposed protective duties on farm produce, partly from personal conviction and partly because he felt them to be an unfair burden on a fishing population. Only half in jest did he champion his home county against the pretensions of other assemblymen. "The inhabitants of the County of Yarmouth, poor as it is," he claimed in 1841, "could buy Colchester County all up, together with McLellan's shipbuilding establishment at Londonderry" [see Gloud Wilson McLelan]. Even his vote against government aid to sectarian colleges, including the Baptist college, Acadia, did not alienate his constituents, most of whom were Baptists.
Huntington's combination of intellectual power, honesty, and political ability won him a commanding position in the assembly. No great orator, he was a blunt-spoken man with uncommon powers of questioning and summation. He played little part, however, in communicating the reformers' ideas to Nova Scotians outside of Yarmouth, in contrast to Joseph Howe, who entered the assembly in 1836 and became the leading spokesman for the reform cause. Caring little for power for its own sake – Huntington later said that a seat on the Council was "no better than that of a woodcutter" – he nevertheless accepted a place on the newly constituted Executive Council in early 1838, the only reformer to be appointed. Late in March it was discovered that the commission issued to the new governor-in-chief, Lord Durham [Lambton*], differed, in terms of the composition of the Executive and Legislative councils, from the instructions sent to the lieutenant governor of Nova Scotia, Sir Colin Campbell*. It was therefore necessary to reconstitute the councils with reduced numbers, and Huntington was not included in the new Executive Council. Though offered a seat later in the year, he resisted all Campbell's overtures, claiming that his acceptance would do nothing to further the reform cause.
Huntington was convinced that only a strong party, disdainful of coalitions, could wrest power from the ruling clique. His ideas were reinforced by those of Lord Durham, whom he called "the best friend these colonies ever had." To forestall unrest in the British North American colonies, Durham had made numerous recommendations to Westminster, notably the adoption of the principle of responsible party government, a goal Huntington had sought with unflinching determination in Nova Scotia. In an attempt to convince the Colonial Office that the province was ready for a large degree of self-government, Huntington and William Young* took the reform assembly's case to London early in 1839. There they made useful contacts with the likes of Charles Buller* and Colonial Under-Secretary Henry Labouchere, but they made little headway in securing constitutional change before their return that fall, in part because of the presence of the Legislative Council's delegates, Lewis Morris Wilkins* and Alexander Stewart. Still, the reformers came to believe that Lord John Russell, the colonial secretary, had opened the door to party government; his dispatch of 6 Oct. 1839 directed "colonial officers" to be appointed or dismissed on a political basis.
In October 1840, some months after the arrival in Halifax of Durham's successor, Lord Sydenham [Thomson*], Joseph Howe and two other reformers, James Boyle Uniacke and James McNab, succumbed to the governor's blandishments and entered the Executive Council, in coalition with James William Johnston*. But Huntington, undazzled by the "king's wine," spurned the "inglorious" coalition in spite of repeated invitations to join from Howe and Lieutenant Governor Lord Falkland [Cary*]. Again and again Huntington attacked the excessive powers, emoluments, and perquisites enjoyed by the lieutenant governor and the bureaucracy. In 1841 he carried a vote in the assembly against the government over its refusal to surrender the casual revenues to the province, a step which Huntington had constantly demanded, but he failed to get a vote of non-confidence then or in 1844. His efforts produced a cooling in his relations with Howe, for whom he had once acted as second in a duel with John Croke Halliburton, a son of Chief Justice Brenton Halliburton. In assembly debate in 1841 Huntington, along with William Young, Thomas Forrester*, and Henry Goudge, vigorously assailed Howe, who in turn became annoyed when he failed to impress upon Huntington the need for compromise. As a result of Huntington's partisan intransigence, Howe's Novascotian labelled him "disloyal," "traitor," and "democrat."
Huntington kept the reform party on the rails in Nova Scotia during the heated debates of the 1840s, in which few dared to cross swords with the champion of Yarmouth. Even the rabid tory journalists usually let him alone. In December 1843 Howe, McNab, and Uniacke resigned from the Executive Council, outraged by the controversial appointment of tory Mather Byles Almon* to the Legislative Council, and returned to the reform fold. The man from Yarmouth had been right all along: compromise was made impossible by the tories themselves. Reunited, the reformers provided formidable opposition. An editorial diatribe in the Halifax Morning Post & Parliamentary Reporter in April 1847 compared the party to a smithy: Howe was the "Master Blacksmith," always forging something, usually "patriotism" or "office"; Uniacke was a "big sledgehammer with no head"; but Huntington was a "strong pair of tongs, fit to grapple large work." And by 1847 the Colonial Office's opinion of party government had changed. During the general election of that year, which produced a reform victory and led to the first administration based on party in British North America [see Sir John Harvey], the tories mounted a mighty offensive against Huntington in Yarmouth, but to no avail.
In January 1848 he had the supreme satisfaction of seconding William Young's motion of non-confidence, which toppled the administration of James William Johnston and brought in a Liberal government. Huntington entered the Executive Council without portfolio on 30 January, but only reluctantly did he accept the financial secretaryship in mid-June. His appointment was short-lived. Another falling out with Howe may have been a factor. According to the British Colonist, Huntington's belief in 1849 that Howe had treated him badly over the issue of grants to sectarian colleges, which he and William Annand* had opposed unrelentingly and unequivocally, prompted Huntington to strike Howe in the face, evidently in the assembly, and to call him "the lowest and most opprobrious of the epithets among the inhabitants of Billingsgate." As well, study of Adam Smith's views on economics had made Huntington a convinced free trader; he opposed any public aid to the province's economy and he was dismayed by the government's expensive, Halifax-oriented railway policies. His dislike of a protective system, including intercolonial duties, was one reason for his early endorsement of a union of the British North American colonies. In failing health, he resigned from cabinet and left the assembly in December 1850. He died nine months later. Soon afterwards, the assembly unanimously resolved to erect a monument in Yarmouth in recognition of his strenuous public service. Only Joseph Howe has received a like honour from the province's legislature.
The salient features of Huntington's public career are easily set out, but his private life remains obscure, possibly by design. Plagued by recurrent heart trouble during his mature years, he found a haven from the stresses of public life in the austere, unobtrusive piety and plain living of his Congregational household. During his later years at least he became an advocate of temperance and even abstinence. This, of course, was in line with his high regard for the rational and intellectual side of human nature as opposed to the sensual.
It is clear, from the terms of his will (he left modest bequests to his wife and children) and from contemporary accounts, that Huntington was far from wealthy. But his rewards were of another kind: faithful public service, the respect of his friends, and quiet enjoyment of family life. And the achievement of political reform in his native province was largely brought about by his single-minded tenacity and political subtlety.
PANS, MG 100, 166, nos.22, 24; RG 1, 115, doc.49: 114–15; 174: 225; 175: 181; RG 7, 7, May 1833. Joseph Howe, Joseph Howe: voice of Nova Scotia, ed. and intro. J. M. Beck (Toronto, 1964); The speeches and public letters of Joseph Howe . . . , ed. J. A. Chisholm (2v., Halifax, 1909), 1: 314. British Colonist (Halifax), 20, 22, 24 March 1849. Halifax Morning Post & Parliamentary Reporter, 8 April 1847. Novascotian, 11 March 1841; 17 Feb., 8 April 1842; 22 Sept. 1851. Yarmouth Herald (Yarmouth, N.S.), 3, 17 April 1841; 7 Jan. 1847; 20, 27 Sept., 18 Oct. 1851. The Huntington family in America; a genealogical memoir of the known descendants of Simon Huntington from 1633 to 1915 . . . (Hartford, Conn., 1915). Grace Lewis, "The Huntington family of Yarmouth" (typescript, 1958; copy at PANS). Nova Scotia vital statistics from newspapers, 1813–1822, comp. T. A. Punch (Halifax, 1978), no.1498; 1829–34, comp. J. M. Holder and G. L. Hubley (1982), no.739. Beck, Government of N.S.; Joseph Howe, vol.1. J. G. Bourinot, Builders of Nova Scotia . . . (Toronto, 1900), 67. G. S. Brown, Yarmouth, Nova Scotia: a sequel to Campbell's history (Boston, 1888), 69, 314, 349, 351. J. R. Campbell, A history of the county of Yarmouth, in Nova Scotia (Saint John, N.B., 1876; repr. Belleville, Ont., 1972), 155. W. R. Livingston, Responsible government in Nova Scotia: a study of the constitutional beginnings of the British Commonwealth (Iowa City, 1930). M. E. McKay, "The first reform administration in Nova Scotia, 1848–1857" (ma thesis, Dalhousie Univ., Halifax, 1946). D. F. Maclean, "The administration of Sir John Harvey in Nova Scotia, 1846–1852" (ma thesis, Dalhousie Univ., 1947). C. [B.] Martin, "Nova Scotian and Canadian reformers of 1848," RSC Trans., 3rd ser., 23 (1929), sect.ii: 1–16. Gene Morison, "Herbert Huntington," N.S. Hist. Soc., Coll., 29 (1951): 43–61.
© 1985–2023 University of Toronto/Université Laval
Image Gallery

Cite This Article
A. A. MacKenzie, "HUNTINGTON, HERBERT," in Dictionary of Canadian Biography, vol. 8, University of Toronto/Université Laval, 2003–, accessed December 11, 2023, http://www.biographi.ca/en/bio/huntington_herbert_8E.html.
The citation above shows the format for footnotes and endnotes according to the Chicago manual of style (16th edition). Information to be used in other citation formats:
| | |
| --- | --- |
| Permalink: | http://www.biographi.ca/en/bio/huntington_herbert_8E.html |
| Author of Article: | A. A. MacKenzie |
| Title of Article: | HUNTINGTON, HERBERT |
| Publication Name: | Dictionary of Canadian Biography, vol. 8 |
| Publisher: | University of Toronto/Université Laval |
| Year of publication: | 1985 |
| Year of revision: | 1985 |
| Access Date: | December 11, 2023 |