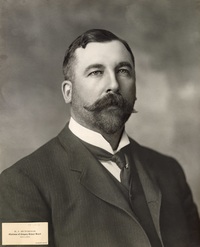 Source: Link
HUTCHINGS, ROBERT JOHN, saddler, businessman, and politician; b. November 1866 in Newboro (Township of Rideau Lakes), Upper Canada, son of Elijah Hutchings and Harriet Gifford; brother of Elisha Frederick Hutchings*; m. first 3 Feb. 1891 Hannah Sutton (d. possibly May 1892) in Winnipeg; they had no children; m. secondly 1893 Anne Hunt, and they had five sons and three daughters, one of whom died in infancy; d. 12 Feb. 1937 in Calgary.
The son of English immigrants, R. J. Hutchings was born into a family of farmers in Newboro, a small community in southeastern Ontario. He went to local public schools and then moved to Winnipeg at age 16 to become an apprentice saddle and harness maker with the E. F. Hutchings Saddlery Company, a growing business that was owned and operated by his older brother. After completing his apprenticeship in 1887 and being made a junior partner, R. J. became convinced – his daughter, Blanche Hunt, would later recall to a Calgary Herald writer – that "Calgary was where the future was." He moved there in February 1889 to set up a subsidiary of his brother's company.
Hutchings was a skilled craftsman, particularly in the making of saddles, and he quickly got the new enterprise up and running in a small shop rented from businessman George Murdoch*. Three months after arriving in Calgary, Hutchings formed a partnership with William James Riley, an experienced local harness maker. They bought out the stock of the fledgling subsidiary and established their own firm, Hutchings and Riley, which in January 1890 R. G. Dun and Company estimated to have assets of between $5,000 and $10,000. Both partners worked intensively on the shop floor, and the Herald would later report Hutchings's reminiscence that "in those early days, he had to be his own drayman, carrying his leather on his back from the station to the saddlery, and working long and late at his craft." By July 1893 the estimated value of Hutchings and Riley had doubled, and its saddles and harnesses won a gold medal that year at the Columbian exposition in Chicago. The company continued to prosper throughout the 1890s and expanded into new markets, opening a branch in the North-West Territories at Maple Creek (Sask.) in 1897 and selling its products in southeastern British Columbia.
In July 1899 Hutchings and Riley amalgamated with E. F. Hutchings and another rival concern, Carson and Shore, to form the Great West Saddlery Company, the largest firm of its kind in western Canada. E. F. became president and continued to work out of the Winnipeg head office, while R. J. was made vice-president and remained in Calgary. At the turn of the century Great West's factory there employed about 60 workers; by 1914, under Hutchings's careful direction, this number had risen to 100. Seven years later R. G. Dun and Company valued the firm's assets in Alberta alone at more than $1 million. Hutchings and his older brother retired from Great West in the late 1920s; R. J. sold his share for $2 million.
Hutchings also became involved in a variety of other enterprises based in Calgary. Interestingly, given that he had spent most of his career in a business related to horses, he assumed the presidencies of two firms in the automobile industry: Alberta Nash Limited, which distributed Nash vehicles, and General Supplies Limited, which dealt in Chevrolets. He was a director of Western Stock Ranches Limited, the Crowfoot Farming Company Limited, and, according to the Herald, "a group of the leading oil companies operating in Turner Valley." As well, he served as president of Calgary's Board of Trade, the Associated Boards of Trade of Western Canada, and the Canadian Manufacturers' Association (CMA).
Some insight into Hutchings's personality traits and his outlook on life can be gained from a series of letters that he wrote in 1924 to his teenage son George Holland, who was getting into the saddlery business in Portage la Prairie, Man. The fatherly advice given in a letter of 7 November is typically earnest and admonitory:
This is the time in life to aim high in the way of accomplishments. You have the physique; the appearance; the intelligence; with a fair education, – all of which are necessary foundation stones for a successful career in life. Added to those must be Character; a proper conviction of what is right and wrong; and enough back bone to say No when tempted to do the wrong thing. There is, however, one thing to be remembered.… Success is the Pearl of Great Price, and only comes to those who dig and delve and earn success, and success is only earned by industry, good judgment, and close application to business. In other words, if you succeed in any outstanding way, you will do so because you are willing to pay the price.
In 1932 a writer whose pen name was Georgios published in the Herald an article in which he described Hutchings, then 65 years old, as a successful businessman and a pillar of the community. He hailed the election of Hutchings as CMA president, claiming that it was "not only a nationwide recognition of his business ability and integrity, but [has also] helped to put Calgary on the map." Unlike Hutchings's brother E. F., who became notorious in Winnipeg for his opposition to unionized employees (and for using his wealth and power in an unsuccessful attempt to get his son Harold Gifford exempted from conscription in 1917), R. J., whose three eldest sons served in World War I, appears to have been highly regarded in his adopted city. He was a Calgary alderman for four years in the 1890s, sat for many years on the city's Board of Education, was a member of the first senate of the University of Alberta, and played an active role in Knox Presbyterian Church (renamed Knox United Church in 1925).
In his Herald article about R. J. Hutchings, Georgios observed, "In the 43 years he has been in Calgary, Mr. Hutchings has established for himself a reputation for acumen and initiative," and he praised his "indomitable spirit." When he died at his home on 12 Feb. 1937 following a brief illness, he was extolled by Reverend Warwick Freeman Kelloway as one who had "done deeds great enough to stand out like a church spire," and Senator Patrick Burns was among those who sent flowers. Hutchings was survived by his wife, Anne, and their seven adult children. His grandson Dave J. Hutchings would carry on the family tradition of working with leather by becoming a bootmaker in the United States.
The R.J. and George Hutchings fonds at GA (M 7952) includes the letter quoted in the text (R. J. to George, 7 Nov. 1924). The GA's Archives Photographs Catalogue also holds digitized photographs of the Great West employees at work (nos.PA 234-1 and PA 234-2), the Hutchings family (no.NA-5610-39), and members of the civic associations to which Hutchings belonged.
GA, M 1469–71 (Great West Saddlery fonds). Albertan (Calgary), 13, 16 Feb. 1937. Calgary Herald, 12 March 1932; 12, 16 Feb. 1937. H. C. Klassen, A business history of Alberta (Calgary, 1999); Eye on the future: business people in Calgary and the Bow valley, 1870–1900 (Calgary, 2002). Man. Hist. Soc., "Memorable Manitobans: Elisha Frederick Hutchings (1855–1930)": www.mhs.mb.ca/docs/people/hutchings_ef.shtml (consulted 13 March 2017). Nick Pernokas, "Dave Hutchings & the legacy of the Great West," Shop Talk!: with Boot & Shoe News (Asheville, N.C.), December 2011: 34–48.
© 2020–2023 University of Toronto/Université Laval
Image Gallery

Cite This Article
Peter McKenzie-Brown, "HUTCHINGS, ROBERT JOHN," in Dictionary of Canadian Biography, vol. 16, University of Toronto/Université Laval, 2003–, accessed September 29, 2023, http://www.biographi.ca/en/bio/hutchings_robert_john_16E.html.
The citation above shows the format for footnotes and endnotes according to the Chicago manual of style (16th edition). Information to be used in other citation formats:
| | |
| --- | --- |
| Permalink: | http://www.biographi.ca/en/bio/hutchings_robert_john_16E.html |
| Author of Article: | Peter McKenzie-Brown |
| Title of Article: | HUTCHINGS, ROBERT JOHN |
| Publication Name: | Dictionary of Canadian Biography, vol. 16 |
| Publisher: | University of Toronto/Université Laval |
| Year of publication: | 2020 |
| Year of revision: | 2020 |
| Access Date: | September 29, 2023 |