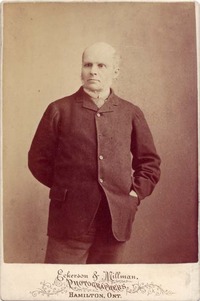 Source: Courtesy of Wikimedia Commons
IRVING, Sir ÆMILIUS, lawyer and politician; b. 24 March 1823 in Leamington (Royal Leamington Spa), England, son of Jacob Æmilius Irving, a British army officer, and Catherine Diana Homfray; m. 3 June 1851 Augusta Louisa Gugy (d. 1892), eldest daughter of Bartholomew Conrad Augustus Gugy*, in Montreal; d. 27 Nov. 1913 in Toronto.
As a young boy living in France, Æmilius Irving learned both Latin and French. Following the family's immigration to Upper Canada in 1834 – they settled near Lundy's Lane (Niagara Falls) in 1835 and then near Newmarket in 1839 – he continued his education at Upper Canada College in Toronto. A spirited youth, he was known to friends as Hickory. His father, a justice of the peace and a reformer, became a legislative councillor and first warden of the Simcoe District in 1843.
In 1844 young Irving entered the Toronto law office of Joseph Clarke Gamble as a student and five years later he was called to the bar. He practised briefly in Toronto before moving to Galt (Cambridge) in 1851 to open a practice there. That same year he married Augusta Louisa Gugy; they were to have two daughters and six sons, one of whom died in infancy. A large family was not Irving's only preoccupation, for he inherited a Jamaican sugar plantation, which appears to have placed demands on his financial resources. These responsibilities no doubt reinforced his determination to advance in his profession. On 24 Jan. 1853 he was appointed clerk of the peace for Waterloo County.
In 1855 or 1856 Irving relocated with his family to Hamilton, where he was employed from that time to 1872 as legal counsel for the Great Western Railway. Its development exposed him to a wide range of technical and strategic legal challenges. Relations with shippers, manufacturers, passengers, and employees required constant attention in the context of a changing legislative framework and the acquisition of new lines. Negotiations with property owners over rights of way, litigation, and the sensitivities of the railway's head office in England were further elements of Irving's unconventional legal experience. He oversaw a number of key cases, including some that were appealed to the Judicial Committee of the Privy Council in Britain. In May 1867 the GWR's London board decided to award him $5,000 for his work, especially in connection with the defence of a large claim brought by the Commercial Bank of Canada. In 1863 Irving had been made a qc and in 1874 he would be elected a bencher of the Law Society of Upper Canada.
Influential observers, among them Globe publisher George Brown*, encouraged Irving to enter public life. At the time of confederation the prospect of applying his talents in politics appealed to him, though, as he acknowledged to Brown in July 1867, he ideally wanted "a seat in the Legislature that would not interfere with my arrangements." After leaving the Great Western, he ran without success in Hamilton as a Reform candidate in the federal election of 1872. Returned in 1874 along with Andrew Trew Wood*, he was unseated in April 1875 but he regained his seat one month later. Irving's most notable intervention as a back-bencher in the government of Alexander Mackenzie* was an amendment to the Supreme Court Bill which, as clause 47, made the proposed tribunal the final court of appeal for Canada and ended appeals to the United Kingdom. This clause, however, was rendered inoperative in 1876 by British law officers.
Defeated in 1878 and again in 1882, Irving moved in 1886 from Hamilton to Toronto, where, for almost three more decades, he would devote his considerable energies to public service and to his profession. Intermittently between 1877 to 1892 he acted as a crown prosecutor, often in opposition to such prominent defence attorneys as D'Alton McCarthy* and Nicholas Flood Davin*. Irving's courtroom style is reflected in the Globe's account in 1880 of his thundering "denunciation" of George Bennett* for his alleged murder of George Brown, and in Hector Willoughby Charlesworth*'s recollection of Irving's "singular habit of thinking out loud," which judges graciously ignored.
More influential contributions were made by Irving in constitutional litigation and intergovernmental negotiations. Looking back in 1913 on Ontario's struggle with Ottawa over the structure of the Canadian federation, the Globe described Irving's role: "He was in an important sense a professional partner of Sir Oliver Mowat[*], who was Attorney-General as well as Premier. For very important cases, where the law of the constitution or the history of easements or franchises was involved, he did much laborious but unostentatious work. Only those on the inside of the Provincial Administration knew how much Ontario owes to him for extensive research that no other available member of the profession had the ability and the lore to carry as he did."
The Ontario-Manitoba boundary dispute was well under way by the time Irving's services were effectively at Ontario's disposal. None the less, his valuable files on the subject suggest a careful monitoring of the legal issues involved and their relationship to other sources of federal-provincial friction. As counsel for his province in matters concerning the tripartite arbitration of accounts arising from the creation of the dominion and, out of the former Province of Canada, Ontario and Quebec, Irving participated in the arduous resolution of many intricate intergovernmental claims. On the so-called interest question, for instance, he appeared before the Supreme Court of Canada in 1894–95; he successfully defended an award satisfactory to Ontario and Quebec, but failed to lay this persistent dispute to rest. Disagreements between Ontario and the federal government concerning financial responsibility for Indian claims under the Robinson treaties of 1850 [see William Benjamin Robinson*] and the "North-West Angle Treaty" of 1873 [see Alexander Morris*] also absorbed Irving's attention during the 1890s. The common-school fund, immigration expenditures, and the Quebec Turnpike Trust were among the many other technically troublesome but financially significant matters that Irving guided through arbitration or took to litigation. He was, as well, principally responsible for the complex fisheries file; he appeared ultimately before the JCPC in 1898 in an elaborate reference, which resulted in the return to the provinces of a large share of jurisdictional control over fisheries. His acknowledged expertise made him a valued adviser on fisheries for many years afterwards.
From 1893 until shortly before his death in 1913, Irving was treasurer of the Law Society of Upper Canada. He presided over its deliberations, in the words of associates, "with an unvarying courtesy, a prudent firmness and a nicely balanced impartiality." He was awarded an lld by the University of Toronto in 1905, and was knighted the following year. An Anglican, yachtsman, and longtime freemason, he died on 27 Nov. 1913 and was buried in St James' Cemetery in Toronto. Irving's son Paulus Æmilius, who was named after an ancestor, achieved prominence on the bench in British Columbia and was a source of satisfaction to his father.
AO, F 1027. Globe, 28 March, 28 Nov. 1913. Attorney-General for the Dominion of Canada v. Attorney-General for the Province of Ontario, [1897] Law Reports, Appeal Cases (London): 199–213 (Privy Council). Attorney-General for the Dominion of Canada v. Attorneys-General for the provinces of Ontario, Quebec, and Nova Scotia, [1898] Law Reports, Appeal Cases: 700–17. Gordon Bale, Chief Justice William Johnstone Ritchie: responsible government and judicial review (Ottawa, 1991). Canadian Law Times (Toronto), 26 (1906): 520–21. Canadian men and women of the time (Morgan; 1898). H. [W.] Charlesworth, Candid chronicles: leaves from the note book of a Canadian journalist (Toronto, 1925). DHB, vol.1. Dominion annual reg., 1880–82. Dominion of Canada v. Provinces of Ontario and Quebec (1894–95), Canada Supreme Court Reports (Ottawa), 24: 498–545. C. B. Koester, Mr. Davin, m.p.: a biography of Nicholas Flood Davin (Saskatoon, 1980). Province of Quebec v. Dominion of Canada, in re Indian claims (1898), Canada Supreme Court Reports, 30: 151–55. Joseph Schull, Edward Blake: the man of the other way (1833–1881) (Toronto, 1975). [L. M. V.] ith, Young Mr Smith in Upper Canada, ed. M. L. Smith (Toronto, 1980).
© 1998–2023 University of Toronto/Université Laval
Image Gallery

Cite This Article
Jamie Benidickson, "IRVING, Sir ÆMILIUS," in Dictionary of Canadian Biography, vol. 14, University of Toronto/Université Laval, 2003–, accessed November 29, 2023, http://www.biographi.ca/en/bio/irving_aemilius_14E.html.
The citation above shows the format for footnotes and endnotes according to the Chicago manual of style (16th edition). Information to be used in other citation formats:
| | |
| --- | --- |
| Permalink: | http://www.biographi.ca/en/bio/irving_aemilius_14E.html |
| Author of Article: | Jamie Benidickson |
| Title of Article: | IRVING, Sir ÆMILIUS |
| Publication Name: | Dictionary of Canadian Biography, vol. 14 |
| Publisher: | University of Toronto/Université Laval |
| Year of publication: | 1998 |
| Year of revision: | 1998 |
| Access Date: | November 29, 2023 |