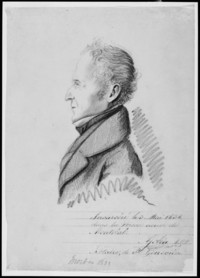 JOBIN, ANDRÉ, notary, Patriote, justice of the peace, politician, militia officer, and office holder; b. 8 Aug. 1786 in Montreal, son of François Jobin and Angélique Sarrère, dit La Victoire; m. first 16 May 1808 Marie-Joseph Baudry; m. secondly 22 April 1816 Marie Archambault, widow of Louis Baudry, in Montreal; m. thirdly 16 Feb. 1824 Émilie Masson, sister of Marc-Damase Masson*, in Sainte-Geneviève (Sainte-Geneviève and Pierrefonds), Lower Canada; m. fourthly 27 May 1839 Marie-Élize Dorval in L'Assomption, Lower Canada; there were several children; d. 11 Oct. 1853 in Sainte-Geneviève.
After graduating from the Sulpician Collège Saint-Raphaël in 1805 and completing his articles, André Jobin was commissioned a notary on 24 Sept. 1813. He opened an office in Montreal, drafting his first deed on 24 October. He began slowly, averaging only a little more than a deed per week during his first year and drawing most of his clients from the ranks of labourers and artisans. A large proportion of his practice consisted of drafting agreements between masters and journeymen and paid substitutions for active militia service. By 1820 he was averaging more than a deed a day and had expanded his clientele to include merchants, builders, and real estate speculators. From the beginning, his work revealed a clarity of expression and a careful attention to detail.
By the late 1820s Jobin had become one of the more prominent Patriotes in the city. In 1828 he was elected to the committee which drew up instructions for John Neilson*, Denis-Benjamin Viger*, and Augustin Cuvillier*, the agents of the House of Assembly, sent to explain Lower Canada's grievances to the British parliament. Although commissioned a justice of the peace on 17 Aug. 1830, Jobin made no secret of his political allegiance during and after the riot in Montreal that preceded the election of Daniel Tracey*. On 21 May 1832 British regulars fired on a crowd, killing three French Canadians. Jobin and his colleagues Joseph Roy and Pierre Lukin were the only magistrates who had opposed the request for use of the military to maintain order. He pointedly attended the funeral of the victims and in September helped Roy gather new evidence which resulted in the arrest of the commanding officers for the second time. In November he was elected to a committee to protest the events of 21 May. For these activities the governor, Lord Aylmer [Whitworth-Aylmer*], struck Jobin from the list of magistrates in 1833, although he was restored to office by Lord Gosford [Acheson*] in 1837.
Jobin's dismissal did not alter his politics. In 1834, shortly after he had moved to Sainte-Geneviève on Montreal Island, he became a member of the committee established in the parish to foster political action on the basis of the 92 Resolutions. In November of the following year the popularity he had gained as a "martyr" in 1833 helped ensure his election by acclamation to the House of Assembly for the riding of Montreal County. In the house Jobin gave consistent support to Louis-Joseph Papineau*.
Jobin was a highly visible Patriote in the months prior to the rebellion of 1837. At a mass meeting in Montreal on 15 May, which became a model adopted in other parts of the colony, he moved the resolution accusing Lord Gosford of using a façade of conciliation to effect coercion. Jobin also served on the Comité Central et Permanent du District de Montréal, which coordinated the agitation throughout the district. In August he resigned his recently restored commission as justice in protest against Gosford's attempt to prohibit magistrates from attending political meetings. In his letter of resignation Jobin asserted that his commission meant nothing since it had not been conferred by the people, and he concluded on a dramatic and defiant note: "The sacrifice of my commission as a justice of the peace is too small a thing to be weighed against my most sacred right as a British subject (to discuss peacefully measures of interest to his country). I gladly renounce my commission . . . to preserve the title of free man." Jobin's act was applauded by the committee and the Patriote press, including the Vindicator and Canadian Advertiser and La Minerve which published the letter.
When the magistrates began to issue warrants for the arrest of leading Patriotes, Jobin went into hiding on 14 Nov. 1837 and remained there for more than five months. That period would forever remain a bitter memory. Faced with a rumour that the troops would burn the Jobins' house and any other building in which their property might be stored, his wife, Émilie, attempted to save the household effects by arranging a simulated auction sale by bailiff. The dishonesty of some of the purchasers caused the scheme to miscarry and Jobin's absence may have hastened his wife's death, which occurred at her father's house on 27 March 1838. On 27 April of that year the government issued a proclamation ending martial law. Jobin came out of hiding that day and was arrested on 3 May. Although charged with seditious practices, he was never tried, being released on a £1,000 bond on 7 July.
Jobin did not lose his taste for politics. In 1840, as notary for the Sulpicians, he travelled north of Montreal Island to organize opposition to the government's policy of gradually extinguishing the community's title to its vast seigneurial holdings. Some of his listeners at Saint-Benoît claimed that he passionately denounced the government and "the Scots" for having condoned pillage and arson during the rebellions and, now, for condoning theft of French Canadian lands. These alleged remarks, which a magistrate characterized as seditious, were vehemently, but not altogether convincingly, denied by Jobin.
Jobin ran as a reformer for Vaudreuil in the general election of 1841. The violent tactics of the supporters of his opponent, John Simpson*, helped bring about the defeat of Jobin, who barely escaped personal injury by jumping through a window. He was more successful in October 1843, winning a by-election in the riding of Montreal. In the election of 1844 on a platform of responsible government he trounced Viger, a leading ministerialist who had also been defeated in Richelieu. During his years as a member of the assembly from 1843 to 1851, Jobin voted with reform leader Louis-Hippolyte La Fontaine* on such major political issues as the bill outlawing secret societies, the status of the French language, and the Rebellion Losses Bill.
As a legislator Jobin devoted much of his energies to matters of a technical, legal nature such as land registration and the corporate powers of Roman Catholic religious orders. He was also active in the area of business law and commercial development, being one of the principal authors of statutes to regulate mutual life insurance companies (1845), to expand the turnpike road system near Montreal (1846), and to extend financial aid to railway construction (1849).
In 1849 Jobin introduced a bill to amend the act of 1847 establishing the notariate as a self-regulating profession. A storm of protest from the Montreal notaries, who had not been consulted, did not deter him. He succeeded in having his personal views written into law in the next session. The amending act of 1850 tightened the requirements for drafting and conserving deeds, provided for the financial autonomy of the boards of notaries in the districts of Montreal, Quebec, and Trois-Rivières through a system of mandatory dues, and restricted the supervisory jurisdiction of the courts to the few matters where it was needed, such as the suspension of notaries and the setting of fees.
During his last years Jobin enjoyed considerable prestige. He was named a director of the Montreal City and District Savings Bank in 1846 and a lieutenant-colonel of militia in 1847. In the latter year he was also elected the first president of the Montreal Board of Notaries, an office he resigned in disgust two years later during the dispute over his amending bill. In 1852 Jobin was named inspector of Roman Catholic schools for the city and county of Montreal. His standing among reformers was evident at the banquet to honour La Fontaine on his retirement from politics in 1851, when Jobin sat at the head table. Almost 50 years after Jobin's death, his memory was honoured by La Revue du notariat, which singled out his life to begin a biographical series on outstanding notaries.
Jobin was a man of diverse talents. He was respected in Sainte-Geneviève as a generous and effective patron of the schools and as a highly skilled arboriculturist. He also took a great interest in the geography of the Montreal area, probably as a result of his experience as a notary for the Sulpicians. That experience was put to good use in 1834 when he published an accurate map of the city and island which was used by the commission of inquiry headed by Lord Gosford in 1835–36. Jobin also drew a detailed plan of the Montreal prison during his incarceration. This plan was cited by Le Devoir in 1911 to refute the claims of La Patrie and the historian Laurent-Olivier David* that the Patriotes had been held in the dungeons of the old prison.
Jobin should be remembered, not only as a pioneer in the organization of the notarial profession, a useful legislator, and a successful politician, but also as a man who had the courage to act upon and suffer for his political principles.
André Jobin's minute-book, containing instruments notarized from 1813 to 1853, is held by ANQ-M, CN1-215. The map of Montreal Island which Jobin drew up is at PAC, National Map Collection, H2/349-Montréal-1834 (1837). A copy of the plan of the Montreal jail is in the Fonds Ægidius Fauteux at the BVM-G.
ANQ-M, CE1-28, 16 févr. 1824, 14 oct. 1853; CE1-51, 16 mai 1808, 22 avril 1816. ANQ-Q, E17/6–52; P-316. PAC, MG 24, B2: 2901–3, 2925–28, 3608–11, 3875–82, 3993–98; RG 4, A1, 561. L.C., House of Assembly, Journals, 1832–33, app.M; 1835–37. Elgin–Grey papers (Doughty). Debates of the Legislative Assembly of United Canada (Abbott Gibbs et al.), 1843–51. "Document historique inédit sur la rébellion de 1837–38," Le Devoir (Montréal), 18 févr. 1911: 5–6. Docs. relating to constitutional hist., 1819–28 (Doughty and Story). La Minerve, janvier–mars 1828; 1832–37; octobre–novembre 1844. Vindicator and Canadian Advertiser (Montreal), 1832–37. F.-J. Audet, Les députés de Montréal (ville et comtés), 1792–1867 . . . (Montréal, 1943), 417–19. Fauteux, Patriotes, 275–76. Quebec almanac, 1832–37. J.-E. Roy, Hist. du notariat, 3: 147–70. André Vachon, Histoire du notariat canadien, 1621–1960 (Québec, 1962). "André Jobin," La Rev. du notariat (Lévis, Qué.), 3 (1900–1): 25–28.
© 1985–2023 University of Toronto/Université Laval
Image Gallery

Cite This Article
F. Murray Greenwood, "JOBIN, ANDRÉ," in Dictionary of Canadian Biography, vol. 8, University of Toronto/Université Laval, 2003–, accessed October 4, 2023, http://www.biographi.ca/en/bio/jobin_andre_8E.html.
The citation above shows the format for footnotes and endnotes according to the Chicago manual of style (16th edition). Information to be used in other citation formats:
| | |
| --- | --- |
| Permalink: | http://www.biographi.ca/en/bio/jobin_andre_8E.html |
| Author of Article: | F. Murray Greenwood |
| Title of Article: | JOBIN, ANDRÉ |
| Publication Name: | Dictionary of Canadian Biography, vol. 8 |
| Publisher: | University of Toronto/Université Laval |
| Year of publication: | 1985 |
| Year of revision: | 1985 |
| Access Date: | October 4, 2023 |