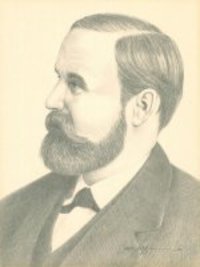 Source: Link
JONES, DAVID ALLANSON, merchant, postmaster, apiarist, and publisher; b. 1836 in Whitchurch Township, Upper Canada, son of Norman Jones, a farmer, and Theresa Jane Patterson; m. first 3 Feb. 1862 Jessie Arabella McPherson (d. 1908); m. secondly Frances M. Barton (d. 1918); he had no children; d. 20 Nov. 1910 in Beeton, Ont.
Early in his life David Allanson Jones moved to the United States, where he worked on a livestock farm in Illinois, and then as a dog and horse trainer. He next turned to selling books and fruit-trees. He was not particularly successful in any of these ventures, so he returned to Whitchurch Township. Within two years of his marriage in 1862 he had moved to the village of Clarksville, in Simcoe County, where he set up a general store in partnership with his brother, Lyman Melvin*. About 1867 he became postmaster, a position he would hold until his death. Influenced perhaps by Lyman's move to Brantford in 1873, D. A. Jones gradually lost interest in his business, which he rented out so that he could devote more time to other activities, especially the development of the 50-acre farm he had bought near Clarksville in 1868.
In 1870 he had obtained from a neighbouring farm two colonies of bees in Langstroth hives. A pioneer American apiarist, Lorenzo Lorraine Langstroth had invented in the 1850s the movable-frame beehive, which revolutionized bee-keeping and stimulated large-scale commercial production. Jones was so excited by bee-keeping that he threw all his energy into developing it as a business, which eventually was named D. A. Jones Company Limited. On 15 July 1870 he patented the Jones Perfection Bee Hive, which was double-walled, with tin and glass lining the inside. The following year he informed the American Bee Journal (Philadelphia) that from six stocks (swarms) of bees he had "taken nine swarms and 1,707 pounds of beautiful honey. I have now 16 stocks all in good condition. I sling [extract] them every three days." In 1880 he was producing 70,000 pounds from 400 colonies and had an apiary foreman and several boys as assistants. Among the many prominent bee-keepers who initially studied with him were George Lang, Frank Wesley Jones, and R. F. Holtermann. By 1890 the number of colonies at Jones's farm had grown to 1,000 and he was being hailed as the most successful bee-keeper of his time. In honour of his work, Clarksville had been renamed Beeton in 1874.
Jones sought to improve his bees by importing pure breeding stock from Europe and the Middle East. (Honey-bees were not native to North America, and he was not content to capture wild bees, as had been the custom.) In January 1880 Jones and a friend, Frank Benton of the Michigan State Agricultural College, had travelled to Cyprus, Syria, and the Holy Land in search of stock. The bees they collected were transported in clay cylinders to a breeding colony Jones had set up on Cyprus. In June he sailed back to Canada, and with his new bees he established special breeding colonies on isolated islands in Georgian Bay. Though the idea of breeding was a good one, and Jones was able to distribute bees throughout North America, the project was not a commercial success. The island colonies were used only for four years.
Despite the failure of this experiment, from 1880 to 1893 Jones's ventures flourished. He was a founder and first president of the Bee-Keepers' Association of Ontario, organized in September 1880 and incorporated in 1886. As well, in 1885 he launched the Canadian Bee Journal. The factory that produced his patented beehives was burgeoning and he even expanded into the manufacture of sashes and doors. In 1886, with others, he displayed 30,000 pounds of Canadian honey at the Colonial and Indian Exhibition in London, England. All of it was sold profitably.
In 1893 disaster struck the "Bee King of Canada," as he had become known. Fire wiped out his factory, destroying everything, including the office and press of the Canadian Bee Journal and of two other publications that Jones had started, the Canadian Poultry Journal and Pigeon Fancier and the Beeton World. He took some consolation in the fact that he still had his hives, but they were soon contaminated by foul brood, which was devastating apiaries across the continent in the 1890s. Jones went bankrupt.
After 1893 Jones carried on as postmaster and concentrated on the development of Beeton, including the planting of trees along its streets – trees that bees would like: soft maple, basswood, and elm. In addition, he built an agricultural hall and a skating-rink, and donated land for St Andrew's Presbyterian Church. The wanderlust that had characterized Jones in his youth may have returned later in his life. He was making plans in 1900 to prospect in Ungava in northern Quebec and at some point he acquired timberlands north of Parry Sound, Ont., and stock in the Mountain Mining Company Limited, in the Sudbury region. In 1910, at the age of 74, Canada's first commercial bee-keeper died; he was buried in St Andrew's Cemetery.
David Allanson Jones's Canadian Bee Journal was issued in Beeton, Ont., from April 1885 until the destruction of his factory in the summer of 1893; for several months in 1889–90 it appeared as the Canadian Bee Journal Weekly and Poultry Weekly before reverting to its original title. Several hundred entries for contributions by Jones to his journal, indexed from the copies available at the MTRL, appear in Science and technology biblio. (Richardson and MacDonald). Jones is also recorded in Canadiana, 1867–1900 as the author of a 24-page pamphlet, The beekeeper's dictionary (Beeton, [1888]), "published in connection with the Canadian Bee Journal," but no copies of it are known to have survived.
A new series of the Canadian Bee Journal began publication as of August 1893 in Brantford, Ont., with Jones's former student R. F. Holtermann as editor.
AO, F 977, cemetery records, St Andrew's Presbyterian Church (Beeton); RG 8, I-6-B, 84: 423–24; RG 22, ser.315, nos.5876, 6581, 9591. NA, RG 31, C1, 1871, Tecumseth Township; 1891, Beeton. Ontario Agricultural Museum Library and Arch. (Milton), "D. A. Jones memorial day, Beeton, Ontario, June 1, 1957." Simcoe Land Registry Office (Barrie, Ont.), Tecumseth Township, abstract index to deeds (mfm. at AO). J. H. Arnott, "Early history of beekeeping in Ontario" (undergraduate thesis, Ontario Agricultural College [now Univ. of Guelph, Ont.], 1942). Canadian Bee Journal (Brantford), new ser., January 1911: 14 (obit. of Jones reprinted from a second Beeton newspaper entitled the Beeton World). Dominion annual reg., 1880–81: 253. U. P. Hedrick, A history, of agriculture in the state of New York ([Albany, N.Y.], 1933; repr. New York, [1966]). R. L. Jones, History of agriculture in Ontario, 1613–1880 (Toronto, 1946; repr. 1977).
© 1994–2023 University of Toronto/Université Laval
Image Gallery

Cite This Article
Alan Skeoch, "JONES, DAVID ALLANSON," in Dictionary of Canadian Biography, vol. 13, University of Toronto/Université Laval, 2003–, accessed June 1, 2023, http://www.biographi.ca/en/bio/jones_david_allanson_13E.html.
The citation above shows the format for footnotes and endnotes according to the Chicago manual of style (16th edition). Information to be used in other citation formats:
| | |
| --- | --- |
| Permalink: | http://www.biographi.ca/en/bio/jones_david_allanson_13E.html |
| Author of Article: | Alan Skeoch |
| Title of Article: | JONES, DAVID ALLANSON |
| Publication Name: | Dictionary of Canadian Biography, vol. 13 |
| Publisher: | University of Toronto/Université Laval |
| Year of publication: | 1994 |
| Year of revision: | 1994 |
| Access Date: | June 1, 2023 |