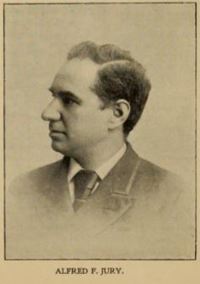 Source: Link
JURY, ALFRED FREDMAN, tailor, labour leader, and civil servant; b. 31 Jan. 1848 in Maidstone, England; m. Emma Hart, and they had six daughters and four sons; d. 28 Sept. 1916 in Liverpool, England.
Alfred F. Jury was apprenticed as a tailor in his home town; after becoming a journeyman in 1868, he joined the Amalgamated Society of Tailors. Rising rapidly in the union's ranks, he became president of his local branch and its representative to the Maidstone Trades Council. Jury and his wife emigrated to Canada in 1873. After four months in Ottawa, they settled in Toronto, where he set up shop and gained prominence in labour circles. He first represented the Tailors Operatives Union at the Toronto Trades Assembly in October 1873; in January he was the assembly's financial secretary as well as the Tailors' president. He served on the TTA executive until its demise in 1878, including a term as president in 1875. A delegate to the second Canadian Labor Union convention, in 1874, he was subsequently elected first vice-president (1875), president (1876), and treasurer (1877).
Jury was prominent in the labour campaigns for legislative reform in the 1870s. He opposed the use of prisoners for labour, demanded full manhood suffrage, and played a leading role in labour's successful demands for changes to Ontario's Master and Servant Act, to decriminalize its breach-of-contract provisions, and to the federal criminal law amendment act, which appeared to limit union actions in strike situations. The assistance in these matters of Liberal governments at both levels no doubt helped confirm Jury's Lib-Lab political stance, which was probably a carry-over from his English labour experience. In the federal election of 1878 he and others organized the Workingman's Reform Association to counter the efforts of the Workingmen's Liberal Conservative Union, which supported the National Policy. The debates in this campaign between Jury and newspaperman Alexander Whyte Wright prefigured the labour battles of the following decade.
For many years Jury led the forces of cooperation in Toronto. In a 14-part series for the Globe in 1880–81 on working-class issues, he presented cooperatives of consumers and producers as "the only remedy for strikes and low wages" and "the ultimate peaceable solution of the labour problem." Jury served in 1877–88 as president of the Toronto Cooperative Association Limited, which operated a store until it declared bankruptcy in 1888. As well, he assisted in setting up various producer cooperatives, often in response to strike situations. Examples include a cigar factory in 1878 and the bus company that ran in opposition to the Toronto Street Railway Company during the strike of May–June 1886 [see Sir Frank Smith*]. Cooperation does not seem to have been a factor in Jury's own business. About 1882 he and George and James H. Ames opened a merchant tailor's shop on Bay Street, but by 1888 Jury was on his own again.
In 1881 Jury, along with Daniel John O'Donoghue*, the former Lib-Lab member of the Ontario legislature, had helped found a central labour council to replace the defunct TTA. A Lib-Lab coalition, the Toronto Trades and Labor Council and its legislative committee, in conjunction with the Knights of Labor, controlled labour's legislative agenda. In October 1882 Jury and O'Donoghue organized Excelsior Local Assembly 2305 of the Knights of Labor, which helped the TTLC launch the Trades and Labor Congress of Canada the following year [see Charles March*]. LA 2305 enjoyed significant successes, which culminated in 1886 in the Knights' triumphs in a number of important strikes. The mayoralty victory of reformer William Holmes Howland* represented another gain. The return from Europe of A. W. Wright in 1886, however, led to the revival of the Conservatives' fortunes with the workers of Toronto.
Labour's surge started to wane as the strike at the Toronto Street Railway in May 1886 dragged on into June and ended in defeat and recriminations against Jury and O'Donoghue. In addition, enthusiasm for independent labour candidates in politics gave way to charges that they were being manipulated by the established parties. In the federal election of January 1887, Jury ran on a labour ticket in Toronto East. The Liberals did not contest the seat but the Tories did, and with the help of such Tory labour politicians as Edward Frederick Clarke and Samuel R. Heakes, John Small defeated Jury. Although O'Donoghue blamed Protestant workers for refusing to support Jury because he was a free-thinker, the Tory hold on Toronto's workers probably proved more important.
The defeat did not lessen the efforts of Jury and O'Donoghue to outmanœuvre Wright. The articulate tailor chaired the Knights' legislative committee in Ottawa in 1888 and turned in a solid performance there as a lobbyist; nevertheless, he was displaced the following year by Wright's nominee. In 1889 Jury and O'Donoghue pressed formal accusations against Wright for misuse of the Knights' educational fund, but to no avail. Such intrigue only diminished the force of the Knights in the eyes of workers.
Jury embraced the broader nostrums for social reform favoured by many labour leaders of the time. A forceful platform speaker, he espoused the radical remedies of Henry George, such as free trade and the single tax, and spoke frequently on agnosticism, a persuasion, shared by his growing family, that he had held since coming to Toronto [see William Allen Pringle*]. As debates over the inadequacy of orthodox religion gained momentum, so did Jury's presence. In 1884 he expressed his views at the convention of the Toronto Secular Society, and in 1886 and 1894 attempts to have him address political clubs at the University of Toronto were blocked.
In 1890 the provincial Liberal government named Jury to its royal commission on the prison and reformatory system [see John Woodburn Langmuir]. His early interest in convict labour and his prominence as a lobbyist made him a logical appointee. Six years later, responding to labour's requests in the matter of child immigration [see George Everitt Green*], the federal Liberals appointed him dominion emigration agent in Liverpool. This job, which Jury held until his death in 1916, entailed lecturing and travel to agricultural fairs throughout northern England. He died in Liverpool and was survived there by his wife and the two children who lived with them in England.
In Canada their eldest child, Alfred Fredman Jr, had been apprenticed to the tailor's craft under his father in the early 1890s and took over the business after Jury left for England. Two daughters, Ada Harriet and Ellen Ann (Nellie), also worked for their father for a time. Nellie, or Helen as she was later known, married socialist leader George Armstrong of Winnipeg and played a prominent role organizing women workers during the Winnipeg General Strike.
Alfred F. Jury, like his closest colleague, D. J. O'Donoghue, was a pragmatic labour leader. In his commitment to cooperation he constantly emphasized its practicality. As a Lib-Lab leader he represents one of the leading ideological traditions of the Canadian labour movement.
Gregory S. Kealey and Christina Burr
Alfred F. Jury's series of articles on class and labour issues appeared in the Globe between 18 Sept. 1880 and 11 Jan. 1881.
AO, RG 80-2. Catholic Univ. of America (Washington), Dept. of Arch. and mss, T. V. Powderly papers. NA, MG 26, A; RG 31, C1, 1891, Toronto, St Patrick's Ward, div.D: 62–63 (mfm. at AO). Globe, 30 Sept. 1916. Ontario Workman (Toronto), 1872–74. Christopher Armstrong and H. V. Nelles, The revenge of the Methodist bicycle company: Sunday streetcars and municipal reform in Toronto, 1888–1897 (Toronto, 1977). Can., Parl., Sessional papers, 1898–1918, reports of the Dept. of the Interior, immigration branch, 1897–1917, esp. Jury's reports as Canadian emigration agent for the north of England, 1897–1914. Canadian men and women of the time (Morgan; 1912). H. [W.] Charlesworth, More candid chronicles: further leaves from the note book of a Canadian journalist (Toronto, 1928). Ramsay Cook, The regenerators: social criticism in late Victorian English Canada (Toronto, 1985). Paul Craven, "An impartial umpire": industrial relations and the Canadian state, 1900–1911 (Toronto, 1980). Directory, Toronto, 1876–1900. Eugene Forsey, Trade unions in Canada, 1812–1902 (Toronto, 1982). G. S. Kealey, Toronto workers respond to industrial capitalism, 1867–1892 (Toronto, 1980; repr. 1991). G. S. Kealey and B. D. Palmer, Dreaming of what might be: the Knights of Labor in Ontario, 1880–1900 (Toronto, 1987).
© 1998–2023 University of Toronto/Université Laval
Image Gallery

Cite This Article
Gregory S. Kealey and Christina Burr, "JURY, ALFRED FREDMAN," in Dictionary of Canadian Biography, vol. 14, University of Toronto/Université Laval, 2003–, accessed November 30, 2023, http://www.biographi.ca/en/bio/jury_alfred_fredman_14E.html.
The citation above shows the format for footnotes and endnotes according to the Chicago manual of style (16th edition). Information to be used in other citation formats:
| | |
| --- | --- |
| Permalink: | http://www.biographi.ca/en/bio/jury_alfred_fredman_14E.html |
| Author of Article: | Gregory S. Kealey and Christina Burr |
| Title of Article: | JURY, ALFRED FREDMAN |
| Publication Name: | Dictionary of Canadian Biography, vol. 14 |
| Publisher: | University of Toronto/Université Laval |
| Year of publication: | 1998 |
| Year of revision: | 1998 |
| Access Date: | November 30, 2023 |