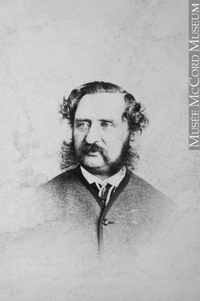 Source: Link
KIERZKOWSKI, ALEXANDRE-ÉDOUARD (baptized Alexander Edward), civil engineer, seigneur, and politician; b. 21 Nov. 1816 in the Grand Duchy of Poznań and baptized 20 Oct. 1817 at Odolanów (Poland), son of Filip Jakub Kierzkowski, an officer in the Polish army, and Maryanna Ludwika Liebermann; d. 4 Aug. 1870 at Saint-Ours, on the Richelieu River, Que.
In 1830–31, despite his youth, Alexandre-Édouard Kierzkowski followed his father's example and took part as an officer of the Polish national army in the campaign against the Russians. It concluded with the defeat of the Polish army and, like numerous other Polish patriots, Kierzkowski found refuge in France, according to a certificate dated 25 Aug. 1832 and signed in Paris by a member of the Polish committee. Kierzkowski completed his studies in Paris at the École Centrale des Arts et Manufactures in 1838, and received a diploma as a civil engineer. He arrived in the United States in 1841 and the following year settled in Canada. From 1842 to 1844 he was a civil engineer with the Board of Works.
On 15 May 1845 Kierzkowski married Louise-Amélie Debartzch; the same day, his compatriot and colleague at the École Centrale in Paris, Édouard-Sylvestre Rottermund*, married her sister, Caroline Debartzch. The girls were daughters of the Honourable Pierre-Dominique Debartzch*, who was also of Polish extraction. Kierzkowski had two sons, who died bachelors. By his marriage he acquired part of the seigneuries of Saint-François-le-Neuf, Cournoyer, Debartzch, and L'Assomption. He made his home at that time at Saint-Marc, on the Richelieu.
In 1852, having noted that land banks had furthered the development of agriculture in his native country, Kierzkowski published at Montreal a pamphlet entitled The question of the seigniorial tenure of Lower Canada reduced to a question of landed credit, which also appeared in French. In it he advocated the setting up of a land bank system for the redemption of seigneurial rights. Investment security, regular interest payments, and reimbursement of capital at the expiry of the term were guarantees which in his opinion would make it possible to obtain the necessary capital at an advantageous rate for the borrowers. He also suggested reforms to the mortgage system. It does not seem, however, that Kierzkowski's proposals were seriously considered by the government when it initiated the reform of the seigneurial system in 1854; the civil code of 1866 did secure the abolition of concealed mortgages which he had requested.
Kierzkowski was one of the directors of the Agricultural Society of Lower Canada in 1852, and was vice-president of the mechanics' institute. In addition he held the office of justice of the peace. On 16 Aug. 1855 he was appointed major of the Richelieu district militia, then on 13 Nov. 1862 lieutenant-colonel. He also commanded the 2nd militia battalion of Saint-Hyacinthe, and was assistant quartermaster-general of the 5th military district of Canada East. Kierzkowski was interested in the building of railways. He acquired four shares in the St Lawrence and Atlantic Railway, which was built under the direction of his countryman Casimir Stanislaus Gzowski*.
On 2 Nov. 1858 Kierzkowski was elected to the Legislative Council for the Montarville division, and on 13 July 1861 was chosen as the representative for the county of Verchères in the Legislative Assembly. On both occasions, however, Kierzkowski was debarred from his seat following decisions by the committees responsible for judging disputed elections. On 10 Sept. 1867 he was elected to the House of Commons as Liberal member for the county of Saint-Hyacinthe; he remained an mp until his death on 4 Aug. 1870.
His wife had died in 1850, and on 21 Oct. 1868 Kierzkowski married Caroline-Virginie, daughter of the Honourable François-Roch de Saint-Ours and cousin of his first wife; the church granted them dispensation from the second degree of affinity. By his second marriage he had one daughter. In his Histoire de la seigneurie de Saint-Ours, Azarie Couillard-Després describes Kierzkowski as a handsome man, with "fine blue eyes and fair hair. He had a sharp wit which he knew how to use effectively but was a man of tact and sensitivity and always in great demand at family gatherings." Kierzkowski is thought to have brought back from a trip to Poland a few handfuls of earth, and to have asked that they be placed with his coffin, so that he might rest in Polish soil.
A.[-É.] Kierzkowski, La question de la tenure seigneuriale du Bas-Canada ramenée à une question de crédit foncier (Montréal, 1852), which also appeared in English as The question of the seigniorial tenure of Lower Canada reduced to a question of landed credit. PAC, MG 27, I, E32, 1, 2. Can., Prov. of, Report of the commission appointed to inquire into the affairs of the Grand Trunk Railway (Quebec, 1861); Legislative Assembly, Journals, 1863. [F.-M.-U.-]M. Bibaud, Le panthéon canadien; choix de biographies, dans lequel on a introduit les hommes les plus célèbres des autres colonies britanniques (2e éd., Montreal, 1891), 124–25. Canada directory, 1857–58. CPC, 1867. G. Turcotte, Cons. législatif de Québec, 248–49. Wiktor Turck, Polonica Canadiana; a bibliographical list of the Canadian Polish imprints, 1848–1957 (Toronto, 1958), 58. C.-P. Choquette, Histoire de la ville de Saint-Hyacinthe (Saint-Hyacinthe, Qué., 1930), 132, 287. [Azarie Couillard-Després], Histoire de la seigneurie de Saint-Ours (2v., Montréal, 1915–17), II, 99–100; La première famille française au Canada, ses alliés et ses descendants (Montreal, 1906), 240. Ludwik Kos-Rabcewicz-Zubkowski, The Poles in Canada (Canada Ethnica, VII, Ottawa and Montreal, 1968), 21–26, 47–50; "Alexandre-Édouard Kierzkowski, patriote polonais, réfugié au Canada (1816–1870)," BRH, LX (1954), 175–80. "L'honorable Alexandre-Édouard Kierzkowski," BRH, X (1904), 86.
© 1976–2023 University of Toronto/Université Laval
Cite This Article
L. Kos-Rabcewicz-Zubkowski, "KIERZKOWSKI, ALEXANDRE-ÉDOUARD," in Dictionary of Canadian Biography, vol. 9, University of Toronto/Université Laval, 2003–, accessed June 2, 2023, http://www.biographi.ca/en/bio/kierzkowski_alexandre_edouard_9E.html.
The citation above shows the format for footnotes and endnotes according to the Chicago manual of style (16th edition). Information to be used in other citation formats:
| | |
| --- | --- |
| Permalink: | http://www.biographi.ca/en/bio/kierzkowski_alexandre_edouard_9E.html |
| Author of Article: | L. Kos-Rabcewicz-Zubkowski |
| Title of Article: | KIERZKOWSKI, ALEXANDRE-ÉDOUARD |
| Publication Name: | Dictionary of Canadian Biography, vol. 9 |
| Publisher: | University of Toronto/Université Laval |
| Year of publication: | 1976 |
| Year of revision: | 1976 |
| Access Date: | June 2, 2023 |