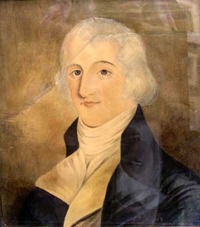 Source: Link
DEBARTZCH, PIERRE-DOMINIQUE, seigneur, lawyer, politician, militia officer, office holder, and newspaper owner; b. 22 Sept. 1782 in Saint-Charles-sur-Richelieu, Que., son of Dominique Debartzch, a merchant, and Marie-Josephte Simon, dit Delorme; d. 6 Sept. 1846 in Saint-Marc on the Richelieu, Lower Canada.

Pierre-Dominique Debartzch's ancestor, Dominicus Bartzsch, came from the Catholic parish of St Mary in Danzig (Gdansk, Poland). When he settled in New France is unknown, but the first mention of his presence dates back to 1752. On 16 April of that year in Montreal, Bartzsch, a merchant-furrier, signed a marriage contract with Thérèse Filiau, dit Dubois, daughter of François Filiau, dit Dubois, a merchant-carpenter. After some time Bartzsch began to spell his name Bartzch and soon, adopting a practice common among Poles who claimed to belong to the nobility and who lived in a French-speaking milieu, he added the particle "de," whence the name de Bartzch or Debartzch.
Pierre-Dominique, an only son, studied at Harvard College in Boston. Then on 28 March 1800 he contracted to article with Denis-Benjamin Viger*. His father being dead, when he went to sign the contract he was accompanied by his guardian Hyacinthe-Marie Simon, dit Delorme, an uncle who was to represent Richelieu in the Lower Canadian House of Assembly from 1808 till 1814. Debartzch soon began buying real estate. In 1802 he rendered fealty and homage for part of the seigneury of Saint-Hyacinthe. On 9 July 1806 he was called to the bar, and the following month he left for Europe.
Debartzch returned to Lower Canada in 1807 and immediately went into politics. He was elected, along with Louis-Joseph Papineau*, for Kent in 1809, and both were re-elected there the following year. In the assembly he sided with the Canadian party and supported the reform cause. When the division of the seigneury of Saint-Hyacinthe was settled in 1811 Debartzch inherited three-eighths [see Jean Dessaulles*], about 88,420 arpents. During the War of 1812 he served as a captain in the 5th Select Embodied Militia Battalion of Lower Canada. In October 1813 he commanded a company at the battle of Châteauguay [see Charles-Michel Irumberry* de Salaberry], demonstrating both bravery and military leadership. John Douglas Borthwick noted, "All did their duty well and nobly that day, but let especial mention be made of captains Ferguson [George Richard Ferguson], de Bartzch and Levesque [Marc-Antoine-Louis Lévesque]."
On 17 Jan. 1814 Debartzch left the assembly for the Legislative Council, of which he remained a member until 27 March 1838. The appointment was certainly an honour – the speaker of the assembly, Jean-Antoine Panet*, was not named to the council until 1815 and Papineau was not offered a seat until seven years later. On 7 June 1815 Debartzch, along with Thomas McCord* and Louis-René Chaussegros* de Léry, was made a commissioner for the improvement of internal communications in the district of Montreal. That year, at Saint-Ours on 25 July, he married Josette de Saint-Ours. Her father was Charles de Saint-Ours*, also a legislative councillor, who was one of the richest Canadian seigneurs at the time, and her mother was Josette Murray, niece of former governor James Murray*. In 1818 Debartzch delivered a speech in the council supporting an assembly resolution that the council be constituted a high court to investigate the case of judge Louis-Charles Foucher of Montreal, who was accused of betraying his trust in the execution of his duties. The following year, on 31 May, Debartzch was appointed to a commission of inquiry concerning the titles and claims of landholders in the seigneury of La Salle in Sherrington Township.
In 1822 Debartzch was active in the huge protest movement organized against a plan to unite Lower and Upper Canada [see Denis-Benjamin Viger]. Those present at the first meeting of the anti-unionists, which was held in Montreal on 7 October, set up a committee of 18 leading inhabitants of Montreal and its environs, among whom were Saint-Ours, Debartzch, Irumberry de Salaberry, and Papineau. The committee was to select delegates to take to England petitions denouncing union. On the day of the meeting the residents of Montreal also gave what they called a constitutional banquet to honour Debartzch, as representative of the Legislative Council, and Papineau, as representative of the House of Assembly. Later, in a song entitled "Les orateurs canadiens," which alludes to the council and the banquet, Michel Bibaud* wrote:
The Areopagus,
Despite itself, I am told,
Dispatches a wise man,
Here, to set the tone:
Ah! tis D........
He is the great orator.
The song thus celebrates Debartzch's stand in opposition to the plan for union.
In 1826 Debartzch, who was anxious to extend his holdings, purchased the seigneury of Saint-François (also called Saint-Charles) at auction. His concerns as a seigneur did not affect his support for reforms. In 1830 he was chairman of a meeting at Saint-Charles-sur-Richelieu attended by leading inhabitants of Richelieu, Verchères, Saint-Hyacinthe, Rouville, and Chambly counties, at which resolutions advocating reform of the Legislative and Executive councils were passed. In 1832, along with Louis Bourdages*, he again chaired a meeting of these counties, which unanimously adopted 21 propositions that contained the seeds of the 92 Resolutions [see Elzéar Bédard]; the principal one demanded the withdrawal of the authority of the head of the executive to appoint legislative councillors.
To further the constitutional struggle Debartzch founded L'Écho du pays at Saint-Charles-sur-Richelieu in 1833. The paper, which opposed the system of government, had as its first editor a Frenchman, Alfred-Xavier Rambau*. Revolutionary articles appeared in its columns, according to Le Populaire of Montreal of 18 Oct. 1837. Debartzch, who had not written the pieces, came down against them and refused to continue supporting the paper, which ceased publication in 1836. That year Debartzch founded Le Glaneur in the same village and made Jean-Philippe Boucher-Belleville* its editor. This magazine, which dealt mainly with agricultural matters, proved ephemeral, its last issue coming out in September 1837.
Since 1835 Debartzch had been carrying on what Charles-Ovide Perrault, member for Vaudreuil in the assembly, termed a "daily" correspondence with Governor Lord Gosford [Acheson]. On 22 Aug. 1837 Debartzch was named to the Executive Council, on which he would sit until 10 Feb. 1841. The appointment seemed to indicate a change in his political attitude and led, among other things, to his being censured by La Minerve, the Patriotes' organ. Yet, as a result of his appointment, Canadians achieved equality in number with the English-speaking councillors.
At the time of the rebellion, Debartzch had to leave Saint-Charles-sur-Richelieu with his family and go to Montreal. Le Canadien on 22 Nov. 1837 noted that his house had been surrounded and ransacked by armed men. Debartzch was to file a claim for $26,000 compensation for the property losses he sustained during the rebellion. Meanwhile, in 1841, he bought the seigneury of Cournoyer, which covered the territory that was later to become the municipality of Saint-Marc. He apparently retired there with his wife and children.
Debartzch died on 6 Sept. 1846 in Saint-Marc, at 63 years of age. He was buried three days later under the seigneur's pew in the church of Saint-Charles-sur-Richelieu. In a biography published in the Revue trimestrielle canadienne Jean-Jacques Lefebvre was to call him "one of the most remarkable and honest figures of the first half of the 19th century in Canada." Debartzch and his wife had had four daughters. Elmire and Caroline married respectively Lewis Thomas Drummond* and Samuel Cornwallis Monk, both Montreal lawyers. Cordelia and Louise married Édouard-Sylvestre de Rottermund* and Alexandre-Édouard Kierzkowski*, Polish exiles who were to make their mark in the province of Canada.
Ludwik Kos Rabcewicz Zubkowski
Pierre-Dominique Debartzch is said to be the author of Vie politique de Mr. . . . , ex-membre de la chambre d'Assemblée du B.C. . . . ([Québec, 1811]). The speech he delivered in the Legislative Council in 1818 is printed in Christie, Hist. of L.C. (1866), 6: 348–52.
ANQ-M, CE2-10, 23 sept. 1782, 9 sept. 1846; CE3-6, 25 juill. 1815; CN1-16, 28 mars 1800; CN1-134, 10 avril 1841; CN1-313, 23 sept. 1811; CN2-27, 23 juill. 1815. PAC, MG 30, D1, 10: 72–87; RG 4, B8: 6491–94; RG 68, General index, 1651–1841; 1841–67. Michel Bibaud, Épître, satire, chansons, épigrammes et autres pièces de vers (Montréal, 1830). "Lettres de 1835 et de 1836," Alfred Duclos De Celles, édit., RSC Trans., 3e sér., 7 (1913), sect.i: 174. La Minerve, 7 sept. 1846. Quebec Gazette, 8 June 1815. F.-J. Audet, "Les législateurs du Bas-Canada." Beaulieu et Hamelin, La presse québécoise, 1: 76–79, 91–92. F.-M. Bibaud, Le panthéon canadien (1858), 76–78; (A. et V. Bibaud, 1891), 68. Borthwick, Hist. and biog. gazetteer, 44, 46–48, 68, 214. Desjardins, Guide parl. Dictionnaire historique et géographique du Canada (Montréal, 1885), 28. H. J. Morgan, Sketches of celebrated Canadians, 357. Officers of British forces in Canada (Irving). P.-G. Roy, Inv. concessions, 4: 97–98, 101; 5: 66–68. Turcotte, Le Conseil législatif, 18, 77. Wallace, Macmillan dict.
Barthe, Souvenirs d'un demi-siècle, 359. T.-P. Bédard, Histoire de cinquante ans (1791–1841), annales parlementaires et politiques du Bas-Canada, depuis la Constitution jusqu'à l'Union (Québec, 1869), 29, 295–96. Chapais, Cours d'hist. du Canada, 2: 268; 3: 121–22; 4: 59, 114, 188–89. C.-P. Choquette, Histoire de la ville de Saint-Hyacinthe (Saint-Hyacinthe, Qué., 1930), 117–19, 124, 130–32; Histoire du séminaire de Saint-Hyacinthe depuis sa fondation jusqu'à nos jours (2v., Montréal, 1911–12), 1: 154, 170–71. Christie, Hist. of L.C. (1866), 4: 422; 6: 352–58. Azarie Couillard-Després, Histoire de la seigneurie de Saint-Ours (2v., Montréal, 1915–17), 2: 74–76, 221. [François Daniel], Histoire des grandes familles françaises du Canada ou aperçu sur le chevalier Benoist et quelques familles contemporaines (Montréal, 1867), 422. David, Patriotes, 37–38. F.-X. Garneau, Histoire du Canada depuis sa découverte jusqu'à nos jours, Hector Garneau, édit. (8e éd., 9v., Montréal, 1944–46), 7: 184; 8: 145. Ludwik Kos-Rabcewicz-Zubkowski, The Poles in Canada (Ottawa and Montreal, 1968), 10, 18–22, 27, 162. Benjamin Sulte, Histoire des Canadiens français, 1608–1880 . . . (8v., Montréal, 1882–84), 8: 72. Claude de Bonnault, "Généalogie de la famille de Saint-Ours: Dauphiné et Canada," BRH, 56 (1950): 106–7. J.-J. Lefebvre, "Les députés de Chambly, 1792–1967," BRH, 70 (1968): 11–12; "Pierre-Dominique Debartzch," Le Devoir (Montréal), 30 oct. 1939: 6; "Pierre-Dominique Debartzch, 1782–1846," Rev. trimestrielle canadienne, 27 (1941): 179–200.
© 1988–2023 University of Toronto/Université Laval
Image Gallery

Cite This Article
Ludwik Kos Rabcewicz Zubkowski, "DEBARTZCH, PIERRE-DOMINIQUE," in Dictionary of Canadian Biography, vol. 7, University of Toronto/Université Laval, 2003–, accessed September 24, 2023, http://www.biographi.ca/en/bio/debartzch_pierre_dominique_7E.html.
The citation above shows the format for footnotes and endnotes according to the Chicago manual of style (16th edition). Information to be used in other citation formats:
| | |
| --- | --- |
| Permalink: | http://www.biographi.ca/en/bio/debartzch_pierre_dominique_7E.html |
| Author of Article: | Ludwik Kos Rabcewicz Zubkowski |
| Title of Article: | DEBARTZCH, PIERRE-DOMINIQUE |
| Publication Name: | Dictionary of Canadian Biography, vol. 7 |
| Publisher: | University of Toronto/Université Laval |
| Year of publication: | 1988 |
| Year of revision: | 1988 |
| Access Date: | September 24, 2023 |