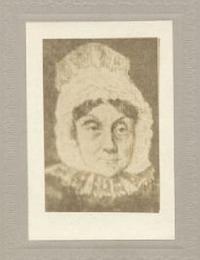 Source: Link
LE MOYNE DE LONGUEUIL, MARIE-CHARLES-JOSEPH, Baronne de LONGUEUIL (Grant), seigneur and philanthropist; b. 21 March 1756 in Montreal, daughter of Charles-Jacques Le Moyne de Longueuil, Baron de Longueuil, and Marie-Anne-Catherine Fleury Deschambault; d. there 17 Feb. 1841 and was buried six days later at Longueuil, Lower Canada.
The posthumous daughter of the third baron, who was listed as missing after the battle of Lac Saint-Sacrement (Lake George, N.Y.), Marie-Charles-Joseph Le Moyne de Longueuil was the twin sister of Marie-Catherine-Joseph, who died when only a few months old. As a young child she lived with her mother at the Hôpital Général in Montreal. Her grandfather, Joseph Fleury* Deschambault, acted as her guardian and attended to her interests.
Shortly after her father's death, Paul-Joseph Le Moyne* de Longueuil, brother of Charles*, the second baron, had claimed that the title was his, since he was the last male descendant of the first baron. The matter was taken before the most eminent jurists in Paris. Between 1771 and 1776 they delivered three opinions, all favourable to Marie-Charles-Joseph, to whom the title of fourth baroness of Longueuil fell by right. She spent the years 1774–77 in France with her mother to lay claim to a pension for the services rendered by her father and her brothers and the losses suffered by her family during the Seven Years' War. For a time she received 300 livres per annum.
On 7 May 1781, after her return to the province of Quebec, Marie-Charles-Joseph married David Alexander Grant, a captain in the 84th Foot and nephew of William Grant*, who had married her mother 11 years earlier. Doubtless because of her husband's military duties, she first lived at Quebec, where she gave birth to three sons, the eldest of whom, Charles William, would be the fifth baron of Longueuil. Then the family settled down in the manor-house on Île Sainte-Hélène, near Montreal. In 1791 William Grant gave the couple the barony of Longueuil and the banal rights on Île Sainte-Hélène. That year their daughter Marie-Élisabeth, who would later become the seigneur of Pierreville and Belœil, was born.
On 20 March 1806 Mme Grant was widowed. The inventory of the joint estate shows that the family's fortune was based on real property: the barony of Longueuil, the seigneuries of Belœil and Pierreville, 36,400 acres in Upton, Roxton, Barford, and Hereford townships in Lower Canada, and half of Wolfe Island, near Kingston in Upper Canada (another 26,000 acres). A short time later she had to fight several legal actions brought by censitaires in the barony because her husband had sold, rather than granted, woodlands, an action contravening the regulations governing seigneurial property.
By 1819 Mme Grant was settled in Montreal, on Rue Sainte-Marie (Rue Notre-Dame). She also owned a residence on Rue Charlotte in Longueuil. In 1823 she contributed to Longueuil's economic boom by having a steam-mill built for carding and milling. In 1829 she handed over half of the barony of Longueuil to Charles William, in return for his oath of fealty and homage. With the population of the village of Longueuil increasing rapidly, she had part of the domain divided into lots in 1835 and got a street plan drawn up by surveyor Joseph Weilbrenner.
Mme Grant was known as a pious and charitable woman. In 1809 she ceded part of the site of the old fort in Longueuil, which was falling into ruin, for a new church to be built. Three years later she granted the parish priest, Augustin Chaboillez*, some land near the church on which he had a spacious house built for himself, and in 1815 she let him have another property behind the church to enlarge the cemetery. In 1821 she subscribed to the Quebec Emigrants' Society. At that time the barony of Longueuil was expanding towards the village of Dorchester, which would later become the town of Saint-Jean (Saint-Jean-sur-Richelieu). Mme Grant gave a piece of land for another church to be built [see Gabriel Marchand*] in 1826. The next year she agreed to become president of the Association des Dames de la Charité, an organization founded by Angélique Blondeau, the widow of Gabriel Cotté*. At the time of the terrible cholera epidemic in 1832, a group of pious ladies inspired by Mme Cotté set up the Orphelinat Catholique de Montréal, an orphanage of which Mme Grant was also named president. She held both offices until her death
Marie-Charles-Joseph was the last legal French descendant of the Le Moyne de Longueuil family in Canada. As had her mother, by her marriage she enabled the new masters of Lower Canada to make their way into the ranks of the Canadian nobility. With her death the barony of Longueuil passed permanently into the hands of the new British "aristocracy." The abolition of the seigneurial system was at hand.
A portrait of Marie-Charles-Joseph Le Moyne de Longueuil is reproduced on page 24 of the work by Marie-Claire Daveluy cited below.
ANQ-M, CE1-12, 23 févr. 1841; CE1-51, 21 mars 1756; CN-174, 31 mai–16 oct. 1806. ANQ-Q, CE1-61, 7 mai 1781; CN1-25, 5 mai 1781. Arch. du diocèse de Saint-Jean de-Québec (Longueuil, Qué.), 7A/49, 67; 12A/25; 14A/19, 28. Arch. nationales (Paris), Fonds des Colonies, B, 149: ff.369, 4321/2;161: f.76. ASN, AP-G, L.-É. Bois, G, 12: 222. ASQ, Fonds Viger–Verreau, sér.O, 0176: 3–5, 22–39; 0178: 14–18. BVM-G, Fonds baronnie de Longueuil, pièces 1–508. PAC, MG 24, L3. "Les Grant de Longueuil," J.-J. Lefebvre, édit., ANQ Rapport, 1953–55: 123–84. Quebec Gazette, 26 Nov. 1821, 15 July 1822. F.-J. Audet et Fabre Surveyer, Les députés au premier Parl. du Bas-Canada, 239–40. F.-M. Bibaud, Le panthéon canadien (A. et V. Bibaud; 1891). Montreal directory, 1819–20. P.-G. Roy, Inv. concessions, 2: 64; 4: 82, 84. Auguste Achintre et J.-A. Crevier, L'île Sainte-Hélène: passé, présent et avenir; géologie, paléontologie, flore et faune (Montréal, 1876), 10–12. M.-C. Daveluy, L'Orphelinat catholique de Montréal (1832–1932) (Montréal, 1933), 303–4. Alexandre Jodoin et J.-L. Vincent, Histoire de Longueuil et de la famille de Longueuil . . . (Montréal, 1889). Robert Rumilly, Histoire de Longueuil (Longueuil, 1974). T. Beauchesne, "Les barons de Longueuil," Nova Francia (Paris), 4 (1929): 311–15, 362–67. Odette Lebrun, "Épouses des LeMoyne: les baronnes de Longueuil," Soc. d'hist. de Longueuil, Cahier (Longueuil), 2 (1973): 3–10.
© 1988–2023 University of Toronto/Université Laval
Image Gallery

Cite This Article
Louis Lemoine, "LE MOYNE DE LONGUEUIL, MARIE-CHARLES-JOSEPH, Baronne de LONGUEUIL," in Dictionary of Canadian Biography, vol. 7, University of Toronto/Université Laval, 2003–, accessed September 29, 2023, http://www.biographi.ca/en/bio/le_moyne_de_longueuil_marie_charles_joseph_7E.html.
The citation above shows the format for footnotes and endnotes according to the Chicago manual of style (16th edition). Information to be used in other citation formats:
| | |
| --- | --- |
| Permalink: | http://www.biographi.ca/en/bio/le_moyne_de_longueuil_marie_charles_joseph_7E.html |
| Author of Article: | Louis Lemoine |
| Title of Article: | LE MOYNE DE LONGUEUIL, MARIE-CHARLES-JOSEPH, Baronne de LONGUEUIL |
| Publication Name: | Dictionary of Canadian Biography, vol. 7 |
| Publisher: | University of Toronto/Université Laval |
| Year of publication: | 1988 |
| Year of revision: | 1988 |
| Access Date: | September 29, 2023 |