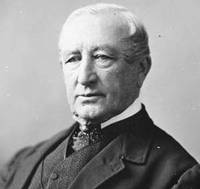 Source: Courtesy of Wikimedia Commons
RYAN, THOMAS, businessman, politician, and office-holder; b. 21 Aug. 1804 at Ballinakill (County Laois, Republic of Ireland); m. and had one son who died in 1866; m. secondly 4 Sept. 1871 in Fribourg, Switzerland, Wilhelmine-Dudding Perrault de Linière, née Montenach, granddaughter of Marie-Charles-Joseph Le Moyne* de Longueuil; d. 25 May 1889 in Montreal, Que.
Thomas Ryan's family had sufficient means to send him and his two brothers, Edward and John B.*, to the Jesuit college of Clonglowes Wood in County Kildare. Thomas attended from 1815 to 1822, after which he emigrated to Canada to enter into business with his brother Edward. Initially, the brothers maintained commercial ties with the Liverpool office of Baring Brothers, the large London-based mercantile-banking firm, and it is likely that consignments were shipped to Ryan Brothers and Company at Quebec City in the late 1820s. By 1838 the firm was actively soliciting business from Barings; in that year Thomas went to Dublin to establish a branch to deal with the import-export business of the company and he offered to act for Barings in Ireland. This undertaking seems to have been short-lived: Barings pulled out of Ireland and Ryan returned to Canada in the mid 1840s In Canada Ryan became the chief commercial correspondent for the London office of Barings. He had maintained his connections with Canada while in Ireland and his Quebec City business had handled tea imports from the Orient through Barings' London office. Ryan functioned as an agent for Barings, communicating much-needed information regarding commodity prices, duties, and freight and exchange rates, and advising them on such financial matters as the Montreal and Quebec municipal debenture issues in 1852 and 1853. He provided Barings with confidential information on firms applying to them for credit or commercial accounts. He also introduced certain businessmen to them, including, in 1852, Peter McGill [McCutcheon*], president of the Bank of Montreal, and John Ross*, a particularly good friend of Ryan's, who late in that year travelled to England to arrange for the financing of the Grand Trunk Railway.
In 1859 Barings, which had a large financial interest in the Grand Trunk, intended to use Ryan's knowledge of the commodity trade in North America to test the feasibility of the transportation route from Chicago to Boston through Canada. Approximately 10,000 barrels of flour were purchased in Chicago and sent on the Grand Trunk to Montreal and from there to Boston. The experiment failed: Barings barely escaped a substantial loss and shipments of flour from the Midwest continued to be sent by the traditional all-American route. The failure of this venture seems to have ended Ryan's commercial connection with Barings.
Ryan's role as informant for and confidant of Barings must have enhanced his position in the Canadian commercial élite. Ties to large British firms formed a vital component of the British imperial economic system and Ryan was connected with one of the world's largest financial houses. Other businessmen, including Francis Hincks, had sought the Barings' agency in Canada, but Ryan remained the unofficial commercial agent until the late 1850s.
Ryan's involvement in business activities was extensive. By the mid 1840s he was a partner with Henry Chapman in Ryan, Chapman and Company, general merchants, in both Montreal and Quebec. Until its dissolution in 1852 the firm also acted as representatives for the Globe Insurance Company and Lloyd's of London. The company's successor, styled Ryan Brothers and Company, was a successful mercantile firm and received good credit ratings. Thomas and Edward were described in 1858 by R. G. Dun and Company as being "always spoken of as Substantial & Respectable People. They watch their bus[iness] closely, are never in trouble very cautious, close & careful." They further noted in 1860 that the popular elder brother, Edward, managed the business in Quebec City, and that Thomas, who managed the firm in Montreal and directed from there the operations of both offices, was "unmarried, queer & somewhat peculiar & inclined in his bus[iness] intercourse to be opinionative & overbearing."
By 1849 Thomas Ryan was operating steamboats along the St Lawrence River and the lower Great Lakes, probably in conjunction with his brother, John B. In 1853 Thomas was one of the incorporators of the Canadian Steam Navigation Company, in competition with Hugh Allan to obtain government subsidies for the transatlantic service. After its establishment in 1875 Ryan was, however, on the board of directors of the Richelieu and Ontario Navigation Company, an enterprise which Allan made into the largest and most successful shipping firm on the St Lawrence; at one time Ryan's investment in the company amounted to $45,000. Ryan remained a director until 11 Feb. 1882 when Louis-Adélard Senécal assumed the presidency.
In addition to his shipping interests, Ryan served as a director of the Bank of Montreal from 1847 to 1881 and as the bank's vice-president from 1860 to 1873. A director of the Dominion Type Foundry Company, the North British and Mercantile Insurance Company, and the Montreal and Western Land Company, he was also among the incorporators of the Montreal Exchange in 1852, the Montreal City Passenger Railway in 1861, and the Chaudière Valley Railway Company and the Kennebec Gold Mining Company in 1864. Ryan had become a prominent figure in Montreal early in his career as was demonstrated by his election as president of the Montreal Board of Trade for 1849–50. He was also appointed lieutenant-colonel in the local militia. Between 1855 and 1861 he served as consul in Montreal for France, Denmark, Lubeck, Bremen, and Hamburg.
In 1863 Ryan was elected for Victoria division in the Legislative Council of the Province of Canada to replace Luther Hamilton Holton* who had resigned to seek a seat in the assembly. As a legislative councillor, Ryan was interested in questions affecting Canada's trade and in 1865 served on the mission which visited Brazil, Mexico, and the British West Indies in an effort to improve commerce with those regions. In the same year he acted as chairman of the Canadian representatives at the reciprocity convention in Detroit. During the confederation debates he strongly supported an appointed upper house of the federal legislature on the grounds that such a house, composed of representatives of a social group differing from that in the assembly, would effectively check the latter body. In October 1867 he was appointed to the Senate, where he took an active interest in legislation affecting shipping, banking, railways, copyright, and commerce.
Ryan was active in the Montreal Irish Catholic community which during the 19th century was tightly knit and sharply focused on the pugnacious defence of religious and ethnic institutions. When in 1860 Bishop Ignace Bourget attempted to change St Patrick's Church, which had been serving all of Montreal's Irish Catholics since 1847, into a canonical parish church for both French- and English-speaking residents of a smaller portion of the city, the parishioners objected. The infuriated Irishmen dispatched Ryan and Thomas D'Arcy McGee* to appeal directly to Rome. Although they were successful it was not until 1873 that the matter was settled to the satisfaction of the congregation. Ryan continued to represent Irish Catholic interests in Montreal, acting as a member of the Catholic committee of the Council of Public Instruction for the province of Quebec from 1869. Unlike many of his fellow Irish Catholics, Ryan, by the time of his death in 1889, had acquired influence in the community and achieved commercial success.
Gerald J. J. Tulchinsky and Alan R. Dever
AC, Montréal, État civil, Catholiques, Saint-Antoine (Longueuil), 25 mai 1889. AO, MU 469, Ryan to Alexander Campbell, 21 Dec. 1871; MU 471, 26 Sept. 1872; MU 472, 1 Dec. 1872; MU 475, 9 June 1883. Baker Library, R. G. Dun & Co. credit ledger, Canada, 5: 79. PAC, MG 24, D21; RG 4, C2. QUA, Canada Steamship Lines Ltd records, La Compagnie du Richelieu, Dividend book, 1867–87; Richelieu and Ontario Navigation Company, Records. Can., Senate, Debates, 1871–84. The case of St. Patrick's congregation, as to the erection of the new canonical parish of St. Patrick's, Montreal (Montreal, 1866). Gazette (Montreal), 28 July 1866, 25 May 1889. La Minerve, 27 mai 1889. Montreal Courier, 26 Nov. 1849. Montreal Daily Star, 25 May 1889. Montreal Herald and Daily Commercial Gazette, 27 May 1889. Montreal Witness, 29 May 1889. La Patrie, 25 mai 1889. Canadian directory of parl. (J. K. Johnson). CPC, 1877. Cyclopædia of Canadian biog. (Rose, 1886), 581. Political appointments, 1841–65 (J.-O. Coté). G. Turcotte, Le Conseil législatif de Québec, 290–91. Denison, Canada's first bank, II. Golden jubilee of St. Patrick's Orphan Asylum: the work of Fathers Dowd, O'Brien and Quinlivan, with biographies and illustrations, ed. J. J. Curran (Montreal, 1902), 4, 22, 41. S. E. C. Hart, "The elective Legislative Council in Canada under the union: its role in the political scene" (ma thesis, Queen's Univ., Kingston, Ont., 1960). R. W. Hidy, The house of Baring in American trade and finance: English merchant bankers at work, 1763–1861 (Cambridge, Mass., 1949). Gerald Berry, "A critical period in St. Patrick's parish, Montreal, 1866–74," CCHA Report, 11 (1943–44): 117–28. Alexandre Jodoin, "La famille de Montenach," BRH, 6 (1900): 365–72. "Prominent figures in the Board's early history," Journal of Commerce of Canada (Gardenvale, Que.), 55 (1927), no.4: 26–27.
© 1982–2023 University of Toronto/Université Laval
Cite This Article
Gerald J. J. Tulchinsky and Alan R. Dever, "RYAN, THOMAS," in Dictionary of Canadian Biography, vol. 11, University of Toronto/Université Laval, 2003–, accessed September 26, 2023, http://www.biographi.ca/en/bio/ryan_thomas_11E.html.
The citation above shows the format for footnotes and endnotes according to the Chicago manual of style (16th edition). Information to be used in other citation formats:
| | |
| --- | --- |
| Permalink: | http://www.biographi.ca/en/bio/ryan_thomas_11E.html |
| Author of Article: | Gerald J. J. Tulchinsky and Alan R. Dever |
| Title of Article: | RYAN, THOMAS |
| Publication Name: | Dictionary of Canadian Biography, vol. 11 |
| Publisher: | University of Toronto/Université Laval |
| Year of publication: | 1982 |
| Year of revision: | 1982 |
| Access Date: | September 26, 2023 |