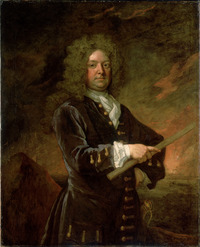 Source: Courtesy of Wikimedia Commons
LEAKE, Sir JOHN, admiral of the fleet; commodore of the Newfoundland convoy and temporary governor, 1702; b. 1656 at Rotherhithe, Kent; 2d son of Captain Richard Leake; married Christian, daughter of Captain Richard Hill; d. 21 Aug. 1720, at Greenwich; buried at Stepney.
As a young man Leake saw much active service, and by 1689 was in command of the Dartmouth at the relief of the besieged city of Londonderry. Soon after the War of the Spanish Succession was declared, Leake was appointed captain of the Exeter and commodore of the Newfoundland convoy for 1702. He received instructions to ascertain the strength of the French and the state of their forts in Newfoundland, to attack their fishing harbours and their ships at sea, and to assist the fishing admirals. Commissioned as temporary governor and commander-in-chief of the land forces in Newfoundland, Leake sailed from Plymouth, 22 July 1702, with five ships of the line of 50 guns, two galleys of 32 guns, a fireship and a sloop. On 26 August the fleet reached Bay Bulls to learn that two French ships were loading at Trepassey Bay and that two enemy warships were lying at Placentia (Plaisance). Leake ordered the Montague and Lichfield to chase four strange sails just then sighted; three of these French ships were captured. Meanwhile Leake and the rest of his fleet proceeded to Trepassey. On 29 August landing parties were sent ashore. They drove out the French and burned their houses, stores, and fish drying stages. Leake proceeded to St John's and was joined there on 19 September by the Assistance, whose crew had wrecked the fort and settlement on Saint-Pierre [see Le Gouès]. Other ships of the squadron were also active, and by October 51 French ships had been sunk or captured, and several settlements destroyed.
Leake had been supplied by the Board of Trade and Plantations with a number of Heads of Enquiry. The board was much concerned about the inhabitants' disregard of the Newfoundland act of 1699, as reported by Leake's predecessors, Commodores Fairborne and Graydon. It therefore required Leake to apply "the best remedies . . . for the prevention of [such] mischiefs" as the illegal trade with New England and the enticement of English seamen from the fisheries.
Leake in his long report noted the usual problems: fishing admirals acted unjustly in settling disputes; there were no provisions in the act of 1699 for enforcing any regulations; the inhabitants passed the long winters in idleness and "debauchery," and the amount of drink sold by public and "suttling" houses had evil effects. (He observed, however, that the beer made from spruce and molasses was cheaper and more wholesome than beer made with malt.) The soldiers of the garrison of Fort William, while not complaining of ill treatment by their officers, were dissatisfied with their poor pay – the engineer Michael Richards obliged them to work on the fortifications for sixpence a day – and were understandably depressed at having been kept so long in Newfoundland with little prospect of returning to England. They were short of clothing and provisions; desertions, probably to Placentia, were not infrequent. Leake also mentioned that he had improvised a temporary boom for the protection of the harbour of St John's but he was not confident that the inhabitants would stay to defend the harbour if an assault were made on it. As far as the French fisheries were concerned, Leake could not supply the board with much information, except to observe that the salt used by the French fishermen was cheaper and more efficient than that used by the English.
Leake returned to England and, in December 1702, was promoted to rear-admiral, and to vice-admiral the following March. In February 1704 he was knighted and that year took part in the assault and capture of Gibraltar under Admiral Rooke. He particularly distinguished himself in the relief of the British garrison of the rock in the subsequent siege by the Spaniards and French. Leake was promoted admiral in January 1708, and admiral of the fleet in December of that year. His son, Captain Richard Leake, was appointed commodore of the Newfoundland convoy in 1713.
Not long after the death of Queen Anne, Leake fell out of favour with the government, who treated him shabbily in the matter of pension, and he retired to a villa he had built at Greenwich. He has been described as a "virtuous, humane and gallant man, and one of the greatest admirals of his time."
A portrait by Kneller of Sir John Leake hangs in the Painted Hall at the Royal Naval College, Greenwich, and another in the guildhall, Rochester.
[Sir John is not to be confused with Capt. Andrew Leake of the Hampshire who was sent to Newfoundland in 1699 as commander-in-chief at land. m.g.]
[Stephen Martin Leake], The life of Sir John Leake rear-admiral of Great Britain, ed. Geoffrey Callender (2v., Navy Records Soc., LII, LIII, London, 1920), I, 99–104 for Nfld. service; II, 462–66 for a chronology of his career. PRO, Adm. 51/325 (captain's log of H.M.S. Exeter); C.O. 194/2; CSP, Col., 1702; B.T.Journal, 1708/9–1714/15, 602 (Richard Leake's answers, 1713). Charnock, Biographia navalis, II. DNB. Lounsbury, British fishery at Nfld., 215–16. Prowse, History of Nfld.
© 1969–2023 University of Toronto/Université Laval
Cite This Article
Michael Godfrey, "LEAKE, SIR JOHN," in Dictionary of Canadian Biography, vol. 2, University of Toronto/Université Laval, 2003–, accessed September 29, 2023, http://www.biographi.ca/en/bio/leake_john_2E.html.
The citation above shows the format for footnotes and endnotes according to the Chicago manual of style (16th edition). Information to be used in other citation formats:
| | |
| --- | --- |
| Permalink: | http://www.biographi.ca/en/bio/leake_john_2E.html |
| Author of Article: | Michael Godfrey |
| Title of Article: | LEAKE, SIR JOHN |
| Publication Name: | Dictionary of Canadian Biography, vol. 2 |
| Publisher: | University of Toronto/Université Laval |
| Year of publication: | 1969 |
| Year of revision: | 1982 |
| Access Date: | September 29, 2023 |