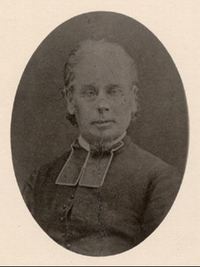 Source: Link
LECLERC, NAZAIRE, Roman Catholic priest, author, and journalist; b. 21 July 1820 at Sainte-Anne-de-la-Pocatière (La Pocatière, Que.), son of Jean-Benoît Leclerc and Anastasie Perrault; d. 31 Oct. 1883 at Cap-Rouge, Que.
After studying at the Collège de Sainte-Anne-de-la-Pocatière from 1831 to 1842, Nazaire Leclerc was ordained priest on 28 Sept. 1845 at Quebec City. He served as curate in the parish of Saint-François (at Beauceville) from 1845 to 1848, as first parish priest of Saint-Vital at Lambton for the next three years, and again as curate in Saint-Jean-Baptiste on Île-Verte (1851–52), in Saint-Pierre-de-la-Rivière-du-Sud (Saint-Pierre-du-Sud, at Saint-Pierre-Montmagny) (1852–56), and in Notre-Dame-de-la-Victoire (at Lévis) (1857–60). In 1861, after 15 years of pastoral endeavour, he returned to the college to live and became editor of La Gazette des campagnes, a newspaper founded that year by Emile Dumais to popularize practical instruction related to farming and settlement. In April 1862 he was authorized by notarial agreement to acquaint himself with the teaching in the college's new school of agriculture [see François Pilote] so that he could publicize in La Gazette des campagnes the "good results [obtained] at this school, from the theoretical as well as from the practical point of view."
During his stay at the college from 1861 to 1868, Leclerc did not always make life easy for his superiors, or, indeed, for the archbishop of Quebec, Charles-François Baillargeon*. He soon deflected La Gazette from its original purpose by using it as a political forum. Nor did he always respect the rules governing the ecclesiastical staff of the college. In 1868 he left the institution in bad odour, after being ousted from La Gazette. "Poor priest! What course will he take? May God counsel and guide him," sighed Archbishop Baillargeon, who had always considered the college an "asylum" and "haven of refuge" for Leclerc. Perhaps the latter had been guilty of some escapade before being charitably taken into the college in deference to the bishop in 1861. Louis-Antoine Dessaulles*, who kept a notebook detailing the amorous adventures of the Quebec clergy, recorded some evidence incriminating Leclerc on this count.
Leclerc's departure from the college not only created a sensation but also had further repercussions. He had sold the institution some land on credit and now gave notice that he wanted what he was owed. In the summer of 1868 his attorney called upon the college to pay eight per cent interest on the sum involved but, because it was in financial difficulties, the college ignored the request. In the autumn Leclerc threatened, through his notary, to prosecute the college if the capital was not repaid, and the college was obliged to borrow $800 to discharge the $924 debt to him.
Withdrawing to Saint-Jean-Chrysostôme from 1868 to 1873, then to Cap-Rouge from 1873 to 1883, Abbé Leclerc, who had substantial capital, decided to become a writer on his own account. In 1868 he published 5,000 copies of the Catéchisme d'agriculture which was intended for primary school teachers who were to have their pupils learn it by heart. The following year at Quebec he started a 24-page bimonthly, La Gazette des familles canadiennes et acadiennes. As both owner and editor, Leclerc busied himself with the journal until 1874; in September of that year he suspended publication, citing reasons of health, and in November he sold the periodical to Abbé Ferdinand Bélanger.
An analysis of La Gazette des familles from 1869 to 1874 reveals certain recurring themes, especially in the leading articles which were chatty pieces on farming, parish life, and the family. Reports on national and European events informed the reader about the Louis Riel and the Joseph Guibord* affairs, the first Vatican council, and the papal Zouaves [see Ignace Bourget], and they also contained reprints of the official declarations of Pius IX. Finally, there were notices of ordinations and deaths of the clergy as well as articles with a moral message on such topics as blasphemy, alcoholism, and proper behaviour at election time. Leclerc's successors seem to have deviated little from this subject-matter.
In contrast, the layout of La Gazette des familles was innovative and foreshadowed the style he later adopted for annals. The reduced format, short articles, and unusually low subscription rate of one écu per year made it a suitable periodical for a populace which was becoming increasingly literate. The readership, of rural origin, was drawn especially from within the diocese of Quebec, although the publication reached as far as Acadia. It was generally the priest, but sometimes a schoolteacher or notary, who undertook the distribution. In this way Leclerc worked to accomplish one of the journal's objectives: to counter the effects of literature judged dangerous. Although according to various indications there were probably about 3,000 subscribers, the irregularity of subscription payments seems to have caused increasing difficulty with accounts receivable during the five years of Leclerc's direction. In his efforts to cover production and distribution costs he showed no lack of ingenuity. From time to time he published a record of subscribers broken down by institution and locality, a sort of prize list designed to promote sales. He lowered costs by producing double numbers, thus publishing less frequently and reducing postal charges. He also sought advertisers: an insurance company and one of his agents in Montreal, a merchant of church ornaments, both paid him for a page. Later he obtained a contract from the Quebec government to publish private bills. Leclerc did not hesitate to offer spiritual rewards to his readers; thus he announced that he would celebrate mass on the first Friday of each month on behalf of his subscribers except, as he specified, those in arrears. Occasionally he threatened to resort to a lawyer to force them to pay. Even the sale of the first bound volumes, which were offered to parish priests for their libraries, did not enable him to get rid of his deficit. Furthermore, when Archbishop Elzéar-Alexandre Taschereau*, extending patronage, sought to increase the demand for the paper by the announcement that Leclerc had undertaken to give half of the subscription payments to the nearly bankrupt Collège de Sainte-Anne-de-la-Pocatière, the expected results failed to materialize. To satisfy his creditors Leclerc had to borrow. In September 1873 he received notice to pay his printer $130; but he had already launched a second periodical, the Annales de la bonne Sainte-Anne-de-Beaupré (Cap-Rouge) in April, and the income from this venture enabled him to clear his deficit.
In fact, because the new periodical gradually became the major medium of communication of an important centre of pilgrimage, the Annales ensured Nazaire Leclerc's financial success. The number of visitors to the village of Sainte-Anne-de-Beaupré (nearly 40,000 by 1877) was growing rapidly and this growth brought a staggering increase in subscribers to the Annales, from 11,000 in 1879 to 30,000 in 1883. When Leclerc sold the periodical to the Collège de Lévis in 1877, it was already earning a profit, as the terms of the transaction indirectly indicate: the purchaser was to pay the founder (or his heirs) half of the profits for the next 20 years. The maximum to be paid was, however, set at $800 per year. The Collège de Lévis respected this agreement until 1897 when it turned over the Annales, with more than 50,000 subscribers, to the Redemptorists (the Congregation of the Most Holy Redeemer) for the sum of $60,000.
Leclerc spent the last years of his life at Cap-Rouge. It would be hard to say whether it was luck, his business talents, or the social and religious situation that created the exceptional success of the Annales in the 19th century. However, the progressive elimination of illiteracy following the establishment of a primary school system in the 1840s led to the growth of a market for ideas. This cultural revolution, still too little known, may explain the proliferation and success of a literature for popular consumption; La Gazette des familles and the Annales were amongst the most widely distributed examples of this genre. Leclerc had perhaps realized that the ability to receive a message by reading might now extend beyond the restricted confines of the élite.
Nazaire Leclerc was the author of two pamphlets: Catéchisme d'agriculture ou la science agricole mise à la portée des enfants, published at Quebec in 1868, and of Le Mois de Ste. Anne et de St. Joachim, also published at Quebec, in 1874. In addition he was the editor of La Gazette des campagnes (Sainte-Anne-de-la-Pocatière [La Pocatière], Qué.), 1861–68, and owner of La Gazette des familles canadiennes et acadiennes (Cap-Rouge, Qué.), 1869–74, and of the Annales de la bonne Sainte-Anne-de-Beaupré (Cap-Rouge), 1873–77.
Arch. de la basilique Sainte-Anne-de-Beaupré (Sainte-Anne-de-Beaupré, Qué.), P 22 A, b 6, nos.2583–85. Arch. du collège de Sainte-Anne-de-la-Pocatière, 30–VII; 30–XLIII; 57–XXX; 57–XXXI; 58–X; 59–C; 60–IX; 62–LXXVI; 64–XXXII; 64–XXXVIII; 66–LXXIII; 122–XI; 122–XLIX; 122–CI; 123–XIII; 123–XIV; 123–XLVII; 123–LI. PAC, MG 24, B59, Cahier de notes. Allaire, Dictionnaire, I: 328. Albert Faucher, Québec en Amérique au XIXe siècle, essai sur les caractères économiques de la Laurentie (Montréal, 1973). Wilfrid Lebon, Histoire du collège de Sainte-Anne-de-la-Pocatière (2v., Québec, 1948–49), I: 202, 312, 484. Gérard Tremblay, "N.-A. Leclerc, fondateur des Annales, 1873; 100 ans dans le bon vent," Sainte-Anne-de-Beaupré, 101 (1973): 165–66.
© 1982–2023 University of Toronto/Université Laval
Image Gallery

Cite This Article
Serge Gagnon, "LECLERC, NAZAIRE," in Dictionary of Canadian Biography, vol. 11, University of Toronto/Université Laval, 2003–, accessed September 27, 2023, http://www.biographi.ca/en/bio/leclerc_nazaire_11E.html.
The citation above shows the format for footnotes and endnotes according to the Chicago manual of style (16th edition). Information to be used in other citation formats:
| | |
| --- | --- |
| Permalink: | http://www.biographi.ca/en/bio/leclerc_nazaire_11E.html |
| Author of Article: | Serge Gagnon |
| Title of Article: | LECLERC, NAZAIRE |
| Publication Name: | Dictionary of Canadian Biography, vol. 11 |
| Publisher: | University of Toronto/Université Laval |
| Year of publication: | 1982 |
| Year of revision: | 1982 |
| Access Date: | September 27, 2023 |