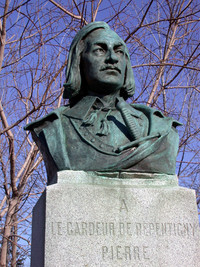 Source: Link
LEGARDEUR DE REPENTIGNY, PIERRE, lieutenant to Governor Huault de Montmagny, director of the Communauté des Habitants, admiral of the fleet; b. probably in the first decade of the 17th century at Thury-Harcourt (Normandy), son of René Legardeur de Tilly and Catherine de Cordé; d. 1648 at sea.
Pierre Legardeur reached Quebec on 11 June 1636 with his mother, his sister Marguerite, wife of Jacques Leneuf de La Poterie, and his brother Charles Legardeur de Tilly. He therefore belonged to the group of Normans and representatives of the lesser nobility who arrived with Montmagny. The name Repentigny would have come to him from a fief belonging to his mother's family at Crasmenil (Craménil), in Orne.
Marie de l'Incarnation [see Guyart] states that he was Governor Montmagny's lieutenant. Probably he succeeded Achille de Bréhaut Delisle in this office; of the latter there is no trace after 1642. Pierre Legardeur came to prominence in 1644, when he and Noël Juchereau Des Châtelets won over the community's important members to the idea of an association of settlers, who would take over the monopoly of the fur trade. In the autumn, with Jesuit backing, Legardeur went to Paris with Jean-Paul Godefroy to negotiate with the directors of the Compagnie des Cent-Associés the transfer of the fur-trading monopoly. The agreement came into effect on 14 Jan. 1645 and was ratified by the king on 6 March. The new company adopted the name Communauté des Habitants. The success of the negotiations was chiefly owing to the Jesuits, in particular to Father Charles Lalemant, who had contacts at court.
The lack of working capital, however, prevented the start of commercial activity. Legardeur obtained funds from Hilaire Leclerc, a treasurer of France at Poitiers. He was then able to load five ships, which put to sea late in the spring of 1645. The zeal that he displayed earned him the title of admiral –that is to say commander of the fleet. He returned to Quebec on 5 Aug. 1645.
Unfortunately, it was not long before the Communauté des Habitants, under Legardeur's leadership, began to take on the appearance of a family business. All the directors were related by marriage. Other settlers were suspicious, and protested; they were supported by Paul de Chomedey de Maisonneuve, who went to France with Robert Giffard in 1646 to denounce the directors' actions. The Conseil du Roi recorded their protests, and on 27 March 1647 passed a "statute to establish order and sound administration in Canada." This ruling created an administrative and supervisory council.
Meanwhile, Legardeur (director of transport to New France in 1645 and 1646) was plying between the colony and the mother country. He would depart Quebec in the autumn with the furs collected during the winter and reappear in the spring with the supplies required for the fur trade. Before he left in 1647 he was made to open his accounts to the administrative council. It was apparent that his methods of book-keeping were inadequate and that he did not skimp on expenses. He was admonished, but retained his position. In the spring of 1648 Pierre Legardeur gave vent to his dissatisfaction with regard to the appointment of Louis d'Ailleboust to the post of governor. The king took firm action by appointing d'Ailleboust general of the fleet for the return voyage to Canada.
According to the royal orders, Legardeur was to resume his office only in the autumn of that year. He did not, however, have the opportunity to do so. In May 1648 he had barely left La Rochelle when an epidemic broke out on the ship that was carrying him. He became seriously ill and succumbed rapidly, "his body half covered with blackish purple spots as large as two-denier pieces."
His wife, Marie Favery, lived until 29 Sept. 1675. She had had four children, two of whom, Marie-Madeleine and Catherine, married Jean-Paul Godefroy and Charles-Joseph d'Ailleboust Des Muceaux respectively. Marie Favery inherited the Repentigny and Bécancour seigneuries, which her husband had obtained in 1647. In 1657 she founded the Confrérie du Saint-Rosaire.
ASQ, Documents Faribault, 34, 74. Marie Guyart de l'Incarnation, Lettres (Sulte), 36f. JR (Thwaites). JJ (Laverdière et Casgrain). Le Clercq, Premier établissement de la foy, I, 494, 497; II, 12. P.-G, Roy, Inv. concessions, I, 244, 251, 257.
Gabriel Debien, "Engagés pour le Canada au XVIIe siècle vus de La Rochelle," RHAF, VI (1952), 187. Faillon, Histoire de la colonie française, II, 94f., et passim. Lanctot, Histoire du Canada, I. "La mort de Pierre Le Gardeur de Repentigny," BRH, XXXII (1926), 45–46. P.-G. Roy, "La famille Le Gardeur de Repentigny," BRH, LIII (1947), 165–76, 195–98; "Jean-Paul Godefroy," BRH, X (1904), 246–50.
Bibliography for the revised version:
Bertrand Pâris et Paul Leportier, La famille de Corday (Mayenne, France, 1994).
© 1966–2023 University of Toronto/Université Laval
Image Gallery

Cite This Article
Jean Hamelin, "LEGARDEUR DE REPENTIGNY, PIERRE (d. 1648)," in Dictionary of Canadian Biography, vol. 1, University of Toronto/Université Laval, 2003–, accessed June 6, 2023, http://www.biographi.ca/en/bio/legardeur_de_repentigny_pierre_1648_1E.html.
The citation above shows the format for footnotes and endnotes according to the Chicago manual of style (16th edition). Information to be used in other citation formats:
| | |
| --- | --- |
| Permalink: | http://www.biographi.ca/en/bio/legardeur_de_repentigny_pierre_1648_1E.html |
| Author of Article: | Jean Hamelin |
| Title of Article: | LEGARDEUR DE REPENTIGNY, PIERRE (d. 1648) |
| Publication Name: | Dictionary of Canadian Biography, vol. 1 |
| Publisher: | University of Toronto/Université Laval |
| Year of publication: | 1966 |
| Year of revision: | 2023 |
| Access Date: | June 6, 2023 |