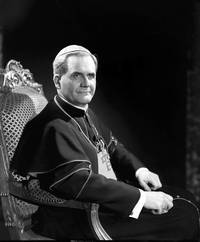 Source: Courtesy of Bibliothèque et Archives Nationales du Québec /
LÉGER, PAUL-ÉMILE, Roman Catholic priest, Sulpician, educator, missionary, archbishop, and cardinal; b. 26 April 1904 in Salaberry-de-Valleyfield, Que., son of Ernest Léger and Alda Beauvais; d. 13 Nov. 1991 in Montreal.
The son of a general merchant, Paul-Émile Léger spent his entire childhood in Saint-Anicet, a small bilingual village on Lac Saint-François, southwest of Montreal, where his parents had settled to engage in business. He took his elementary schooling there and, like many lads of his age, he served as an altar boy at the village church, along with his brother, Jules*, a future governor general of Canada. In Saint-Anicet, where he learned English at an early age, sermons were preached in both French and English. From 1916 to 1925 he pursued his classical studies at the Petit Séminaire de Sainte-Thérèse, but from January 1920 his schooling was interrupted for nearly four years because of illness. During the hiatus, this future prince of the church worked in Lancaster, Ont., at various jobs that brought him into contact with the lives of ordinary people: mechanics, railway workers, and butchers. On his return to Quebec, where his family ran a general store in Saint-Polycarpe, young Paul-Émile, who was now studying philosophy, spent his summers staging plays with Jules, and thus revealed his talent for dramatic art. Then, from 1925 to 1929, after a very short stay at the Jesuit noviciate in Sault-au-Récollet (Montreal), where he was considered too emotional to fit into the order, he studied theology at the Grand Séminaire de Montréal. He was ordained a priest on 25 May 1929 and then officially transferred to the diocese of Valleyfield.
At the age of 25 Léger embarked on a new phase of his life, leaving his childhood in Saint-Anicet and Saint-Polycarpe behind. He carried out his first, very brief, assignment as a priest in the parish of Notre-Dame in Montreal. In September 1929 he decided to join the Society of Saint-Sulpice, and he was then sent to its noviciate in Issy-les-Moulineaux, a suburb of Paris, for his period of solitude in 1929–30. His Canadian superiors next wanted to send him to Rome for further studies, but Cardinal Jean Verdier, the archbishop of Paris and superior general of the Sulpicians, wanted to keep him in Paris. Indeed, a bilingual person was needed in the group that was training the some 50 English-speaking seminarians, and Léger seemed the ideal candidate. He was therefore entrusted with the spiritual guidance of these students while he spent a year studying canon law at the Institut Catholique de Paris. After obtaining a bachelor's degree in 1931, he taught this discipline at the theological seminary. The following year, when he was only 28, he became assistant master at the noviciate, while retaining his teaching responsibilities.
In 1933 Léger obtained permission from Cardinal Verdier to visit his parents, promising to return for the beginning of classes. In July he met the provincial superior of the Sulpicians in Canada, Roméo Neveu. Neveu, who was hospitalized at the time, asked him to go to Japan and set up a grand séminaire in Fukuoka for training the Japanese clergy. Verdier, who also encouraged the Canadians in his congregation to establish institutions in Japan, would nonetheless have preferred to keep Léger in Paris.
When Léger left Montreal for the Orient on 17 Sept. 1933 he was just 29 years old and had been a priest for only four years. In October he reached his destination on a ship that carried 48 missionaries belonging to 12 different religious communities from the province of Quebec to missions in the Far East. Léger and his colleague Charles Prévost were the first Canadian Sulpicians in Japan, where the few thousand members of their faith were lost among the millions of people who were strangers to Roman Catholicism, which was identified with the west.
Léger, who quickly became known as a preacher, soon put down roots in Japan, thanks to his rapid mastery of the Japanese language, a task to which he devoted his first year in Fukuoka. In a letter of 22 Nov. 1933 he confided to Bishop Émile Yelle, the coadjutor to the archbishop of Saint-Boniface, that this learning process was not an easy one. "Since our arrival, all [our] efforts are directed towards the study of the language. This work comes with its own asceticism. After the agreeable Sulpician ministry in Issy, it is hard on some days to devote long hours to Japanese exercises and [still] sound like stammering children.… When will we have an adequate command of this most difficult of the difficult languages?" In the spring of 1934 he spent a few months in Tokyo. Then, only ten months after arriving in Japan, he was offered the position of curé of the cathedral. "I saw in this a sign of Providence. There am I, a curé for a month now, speaking Japanese from morning till night. Whether anyone understands me is something else again," he wrote to Yelle on 4 September. In August 1935 he left this post, completely exhausted, and spent a few weeks at the bishop's palace before retiring to Aohori (Futtsu), where his duties included overseeing the Sisters of St Anne. The goal of the Sulpician mission, however, was still the opening of a grand séminaire in Fukuoka. For this purpose, the Canadian Sulpicians had to take over the management of the existing petit séminaire, which would serve as a foundation for the proposed institution. Léger discovered that the path to this objective was treacherous and that he was facing a number of major challenges. Nothing as yet was organized in a diocese that had been founded in 1927 and numbered fewer than 10,000 Catholics. Léger, who was prone to depression, interrupted his stay in Japan from December 1935 to October 1936 with a long sojourn in Canada in order to publicize his missionary work. In the summer of 1936 he attended the general chapter of the Sulpicians in Paris before going to Rome and Venice.
On returning to Fukuoka, Léger found that the situation had evolved. With serious reservations about the local bishop's plans for the petit séminaire, he directed his efforts instead to setting up the introductory course for seminarians who were undertaking their training with a view to ordination. On 5 April 1937 he left Fukuoka for Omuta, where he introduced the five candidates readying themselves for the grand séminaire, including a deacon who would be ordained priest the following year, to the elements of philosophy as well as to Latin and the spiritual life. At the same time, until March 1938, he served as curé of the parish. Unfortunately this preparatory year was interrupted in the fall of 1937, following a cholera epidemic.
His absence from Fukuoka, however, exacerbated the difficult relationship between the Sulpicians and the local bishop, who wanted to turn his petit séminaire into a secondary school and hand it over to the Marianists, a congregation established in Japan since 1887. In that event, the Sulpicians, who were experiencing serious financial problems at the time, would be in charge of only a boarding school for the students of the petit séminaire and an intermediate seminary where candidates would prepare for the Tokyo Catholic Seminary, which from its inauguration in 1929 had been administered by the Society of Foreign Missions of Paris. Neveu's visit clarified the situation with respect to a re-evaluation of the original project, but Léger's fate, "caught up in the eddies of self-serving and not always honest politics," as he wrote to Yelle on 8 Jan. 1938, seemed to have been already decided. "We wanted to tear you away from Paris – and Japan is the road that will bring you back to Montreal," his superior is said to have told him. Recalled to Canada at the beginning of World War II, Léger left behind four colleagues who would be interned in 1941. The Japan Catholic Seminary at Fukuoka would not be officially established until 1948, but a philosophy seminary was opened in the spring of 1939.
On his return to Montreal Léger devoted himself to teaching at the Séminaire de Philosophie. He also gave lectures on spirituality and apologetics at the Institut Pie XI, which was attached to the Université de Montréal. By then, preaching at numerous retreats, in particular one during Lent in 1941 at Notre-Dame church in Montreal, he drew notice because of his eloquence. In 1940 Léger's career took a new turn. Indeed, during the year in which Joseph Charbonneau*, a fellow alumnus of the Petit Séminaire de Sainte-Thérèse, was named coadjutor with right of succession to the archbishop of Montreal, Léger became vicar general, curé of the cathedral, and a member of the chapter of the diocese of Valleyfield, whose bishop, Joseph-Alfred Langlois, then insisted that he withdraw from Saint-Sulpice. He filled these offices until 1947, when he rejoined the ranks of the Sulpicians and was appointed rector of the Canadian Pontifical College in Rome, a Sulpician institution for members of its community and for Canadian priests pursuing higher studies in the Eternal City. Lucien Martinelli had already been named to this position, but, in the post-war years, the Canadian bishops – especially Bishop Philippe Desranleau* of Sherbrooke – did not approve of appointing a priest with an Italian-sounding surname. Léger resumed the work of the Sulpicians, which had been interrupted by World War II. Even more significantly, he made the acquaintance of Pope Pius XII – who received him affectionately – thanks to the distribution in Rome, a city suffering from the disastrous effects of the war, of substantial quantities of food and clothing collected in Quebec by the Gold Cross, a charity Léger had founded in 1948. He immersed himself in this milieu, explored its corridors, and facilitated relations between the Holy See and Quebec's bishops, the Canadian clergy, and the Catholics hastening to Rome, especially during the Holy Year, as well as members of the government seeking access to the Vatican. He thus became acquainted with the tastes and tendencies of those around him and adopted the style and viewpoints characteristic of Pius XII's papacy. He was one of the first to be informed at the end of 1949 or the very beginning of 1950 of Charbonneau's resignation as archbishop of Montreal.
Elected archbishop of Montreal on 25 March 1950 after the surprising and controversial departure of his predecessor, Léger was consecrated on 26 April in Rome's Basilica of St Mary of the Angels and the Martyrs by Cardinal Adeodato Giovanni Piazza, assisted by Archbishop Maurice Roy* of Quebec and by the Sulpician Jean-Julien Weber, Bishop of Strasbourg. It was not until 16 May that he took possession of his see in Montreal. On 29 Nov. 1952 he was named a cardinal and on 12 Jan. 1953 he became the first archbishop of Montreal to be given the red hat. (Archbishop Roy missed his turn and as a consolation would be appointed primate of Canada in 1956; the title of cardinal would not be his until 1965.) The ceremony was the coronation of the "prince," who was greeted royally on his return to his episcopal city. In his new capacity, Léger would carry out the duties of papal legate in Lourdes, France (1954), at St Joseph's Oratory in Montreal (1955) [see Alfred Bessette*], and in Sainte-Anne-de-Beaupré (1958).
As an ultramontane bishop, Léger conformed faithfully to the doctrinal positions of Pius XII. In the social sphere he organized many communal projects supported by volunteers (including raising the necessary funds for the construction of the new building that, in 1960, would house the Institut Dominique-Savio for adolescents) and collections, and increased the number of welfare and benevolent organizations for the poor in his archdiocese. He set up many charitable foundations, including the Foyer of Charity (1951), a shelter for the indigent, and the Hôpital Saint-Charles-Borromée (opened in 1956) for the chronically ill. He encouraged piety among the people and religious activities to reach a large number by instituting, among other things, the tradition of reciting the rosary on the radio. Cheered by the people of Montreal and on close terms with the destitute, he did not have as warm a relationship with the priests in his archdiocese, towards whom he was sometimes severe and intransigent. Even more complex were his relations with the religious communities, which sometimes made it clear that they were autonomous and independent of the archbishop of Montreal, who would have liked to be able to manage everything.
On 25 Jan. 1959 Pope John XXIII, who had succeeded Pius XII in October of the previous year, and who would occupy the Holy See until his death in June 1963, announced that an ecumenical assembly, the Second Vatican Council, would be held to foster a renewal of the Roman Catholic Church and Christian unity. This declaration opened a new chapter in Léger's life. On 15 June 1960, along with 74 other cardinals, patriarchs, and bishops from around the world, he was appointed a member of the Central Preparatory Commission, and later of the subcommission responsible for amendments to the schemata. Cardinal Léger's thinking changed markedly under the combined influence of the social ferments germinating in the province of Quebec, the new entourage with which he had surrounded himself, the close attention he paid to the leaders with whom he associated (Léger had purchased a residence in Lachine (Montreal), where he could have private meetings with the intellectuals of the day: Pierre Elliott Trudeau, Gérard Pelletier, Claude Ryan*, and, occasionally, Yves Michaud), and the possibilities opened up by the pontificate of John XXIII and preparations for the council. He launched a great mission in his archdiocese, which was patterned on the one he had observed in the archdiocese of Milan, to revitalize Christian life. It took place during Lent in 1960. Although the result was not exactly noteworthy, it marked a break with the pastoral style of preceding years. This change was also borne out in a series of lectures that Léger gave during 1960–62, including the remarkable Les origines de l'homme (Montréal, 1961) on human origins, issued at a time when there was still much discussion about the interpretation of the Book of Genesis and monogenesis. In 1962, even before the council opened, he published in Montreal a pastoral letter on ecumenism, Disunited Christians … Chrétiens désunis …; in many respects it anticipated the eventual developments in the Catholic Church's thinking on this subject. Following the letter's release he created a Diocesan Commission for Ecumenism. His interest in the questions of marriage, the birth rate, and birth control also dated from that year, as evidenced by his significant lectures on these matters. When he expressed an opinion on the purpose of marriage, he increasingly put emphasis on love between husband and wife, rather than on procreation. Responsible fatherhood was also one of his concerns. As a result of the stir created in the media and in the public by his pronouncements, his most striking speeches would be collected in a volume, Trente textes du cardinal Léger qui ont marqué l'Église au concile et au Québec, brought out in Montreal in 1968.
In 1960 Léger also initiated a liturgical revival in his archdiocese with the publication in Montreal of a pastoral directive on the mass, which was soon adopted by a dozen dioceses, and of its companion piece, the Livret des fidèles, which was intended to encourage participation with chanting in modern language. At the assembly of bishops he pleaded for more openness and flexibility, championing a revision of the juridical structures that framed the confessional system of education in the province, especially the control of the Catholic committee of the Council of Public Instruction by that assembly. There was the matter of Les insolences du frère Untel, an explosive essay published anonymously in 1960 at Montreal by Brother Pierre-Jérôme [Jean-Paul Desbiens*] that denounced the educational system and called for its reform. (It was released in 1962 in the same city as The impertinences of Brother Anonymous.) When some of the province's bishops and the Congregation for the Clergy wanted to take disciplinary action against the author, Léger spoke out for greater freedom of opinion in the church. He sensed before these others did that society had changed and that the church had to adapt. This feeling was certainly not unrelated to his affinity with the new pope, who was advocating aggiornamento in the Catholic Church and held views Léger adopted. His frequent stays in Rome, where he took part in the work of the Central Preparatory Commission, also led to close ties with fellow cardinals who were at the forefront of renewal: Franz König (Vienna), Julius August Döpfner (Munich), Josef Frings (Cologne), Achille Liénart (Lille), Bernard Jan Alfrink (Utrecht), Leo Jozef Suenens (Mechelen-Brussels), Giovanni Battista Montini, later Pope Paul VI (Milan), and Augustin Bea, who was in charge of the recently created Secretariat for Promoting Christian Unity.
Even before the council opened Léger distinguished himself as a leading thinker, his remarks often being repeated by his colleagues during the work of the commission. He initiated large-scale consultations in Montreal with laypeople, the religious orders, and priests, so as to be cognizant of their opinions before proceeding further with the work of the council. A number of other bishops in the province would follow his example. The changes in the archbishop of Montreal were perceptible. In August 1962, after reading the preparatory schemata of the first conciliar period that were circulated to the bishops, he sent a petition to John XXIII. With the October date of the council rapidly approaching, he expressed his disappointment with the schemata and his concern about the preparations, which did not seem to respect the pope's objectives of modernization and renewal. Six of the most influential European cardinals of the time added their signatures to the petition.
During the Second Vatican Council (1962–65), Cardinal Léger stood out for his wholehearted commitment to the work of the Commission on Doctrine and of numerous joint subcommissions, as well as for the vigour, quality, and relevance of his discourse in the conciliar assembly. Well served by his gifts as an orator and his perfect command of Latin, he was a key figure in that most important ecclesiastical event. Placing second in the number of speeches given in the conciliar assembly (26), he was recognized as a leader at the council even though his stances cost him some old friendships formed under the pontificate of Pius XII, including that of Cardinal Alfredo Ottaviani, the powerful secretary of the Holy Office, and made him some lasting enemies. For a short time (1962–63) even the Congregation of the Holy Office was concerned about Léger in view of the many and persistent denunciations sent to Rome by some of the faithful from his archdiocese, organized under the name Cité Catholique (also known as VVV, for Via, Veritas, Vita, the title of its publication). There were others, too, who wanted to marginalize this somewhat unsettling leader by taking advantage of one of his faux pas, an indiscreet remark in December 1962 about the illness of John XXIII. Challenged by a conservative fringe group of his flock, less protected at the curia after losing the friendship of influential Roman protectors who were alienated by his bold stands, and a victim of the consequences of the error committed in his communications with the media, Léger went through a dark period, which led to hospitalization at the end of 1962 and the beginning of 1963. Throughout the spring of 1963 he felt abandoned by the European cardinals, who, from then on, carried out their agenda without counting on him. He felt isolated and could no longer believe that the council would succeed. He would get back on his feet and once again take a leading role at the council's sessions, speaking out at both the commissions and in the assembly.
Léger's activity at the council was focused mainly on the following questions: ecumenism, a theme in all his speeches, beginning with his vota of 1960; the family and the underlying topics of procreation and marriage; the place of the Holy Scriptures in the church; freedom of thought within the church and religious freedom, ideas that had already been set forth in the preparatory phase; and the liturgy. Effectively supported by competent theologians (Pierre Lafortune and André Naud) and advised by international experts (among them Philippe Delhaye), he waged important battles, both in the conciliar assembly and on commissions. He did not succeed, however, in working as a team player with the Canadian bishops, with whom he did not have close ties, and collegiality weighed heavily on him. A prominent figure at the council, he did not attain an appointment as head of any of its governing bodies (the coordination commission, team of moderators, or any other commission). His uncompromising positions meant that he was not good at synthesizing an issue or reaching a consensus, and his celebrity status eventually created rivalries, especially with cardinals who feared that Léger might overshadow them (Suenens in particular), and even with some priests who supported, as he did, the modernization of the Roman Catholic Church. While he was not an expert tactician and did not burden himself with complex strategies, his intuition rarely failed him. His sensitivity enabled him to anticipate major turning points, pivotal moments, and changes in opinion. In addition to his determinative speech in November 1962 addressed to John XXIII, who would have to support the will of the majority of the council, and his bitter struggle to leave open the question of contraceptive methods, the reading of one of the council's final messages was no doubt one of the outstanding moments of his participation. The last-minute choice of Léger to deliver that message, addressed to intellectuals and scientists and received by the philosopher Jacques Maritain, was probably a way for Paul VI – who had succeeded John XXIII in June 1963 – to become reconciled with Léger following an earlier disagreement on the subject of procreation.
Outside the council Cardinal Léger collaborated on activities connected to its work. In July 1963 in Montreal he took part in a fellowship evening as part of the fourth world conference of Faith and Order, a member organization of the World Council of Churches. It was the first time that Faith and Order had held its sessions in a predominantly Catholic city and that a cardinal had participated officially in such an event. Léger, who was then being denounced in Rome for his too-liberal stands, had some misgivings about joining in this evening of prayer with non-Catholic Christians.
Léger's journey to Africa from late December 1963 to early January 1964 after the second conciliar period was doubtless even more important for him personally than his work on the council. The cardinal, who had consulted Paul VI before embarking on the journey, was going back to the missionary aspirations he had first expressed in his fourth year of theology and had already put into practice in Japan. On his return he wanted to help some ten leprosaria in Africa by means of the campaign of Fame Pereo ("I am starving to death"). Taking advantage of the council for meditations on the poverty to which the church should devote itself and concerned about the current changes regarding the role of the church in Quebec society, this prince of the church had already begun divesting himself voluntarily of some personal belongings for the benefit of the poor and had suggested to the pope that he give up his see in Montreal and dedicate himself to missionary work, a proposal Paul VI rejected.
Pressing political matters also demanded Léger's attention. Indeed, with Archbishop Roy and the bishops of the province, he had to engage in delicate negotiations with the government of Jean Lesage*, which resulted in major institutional restructuring in the fields of health, social services, and education, particularly with regard to Bill 60, which led to the creation of the Department of Education in 1964. By adopting honest and moderate positions Cardinal Léger, supported by the other bishops, spared the church a confrontation with the Quebec government.
In these hectic years Léger experienced bouts of elation and depression. During his stays in Rome he went through periods of despondency and terrible nervous fatigue owing to the extreme tensions inherent in the conflicts that developed over the course of the council, and the frantic pace of its work, which exhausted a number of participants. Fortunately he found a place where he could rest and regain his equilibrium at the home of his brother, Jules, the Canadian ambassador to Italy from 1962 to 1964, and his wife, Gabrielle. For Léger this family was an oasis of peace, and these special ties were maintained after his brother was posted to Paris in 1964. For the cardinal, every opportunity to visit the City of Light was therefore a good one.
Once the council was over, Léger readjusted with difficulty to the everyday life of overseeing his archdiocese. During these years of transition, which were also marked by the stirrings of the Quiet Revolution and the hustle and bustle of the Universal and International Exposition in Montreal (or Expo 67), life was anything but routine. The man who had openly supported the movement for aggiornamento in Rome would from now on find himself obliged to implement it at a time when he was being sorely tested by the powerful forces of the Quiet Revolution. Working with the priests in his archdiocese at putting aggiornamento into practice was not easy, and his relations with his fellow bishops were difficult. These post-conciliar years were filled with important events, including the secularization of the Université de Montréal, the celebrations for the centenary of Canadian confederation, and an ecumenical achievement of the first order represented by the Christian Pavilion at Expo 67, envisioned by Father Irénée Beaubien and endorsed by Léger. Because the Catholic Church had agreed not to go it alone, for the first time the Christian churches presented a united front at a world exposition. Léger also participated in governing the church as a member of the Sacred Consistorial Congregation, the Sacred Congregation of Rites, the Sacred Congregation for the Discipline of the Sacraments, the Fabric of St Peter, and the Pontifical Commission for the Revision of the Code of Canon Law. As well, he was a member of the first assembly of the Synod of Bishops in 1967. The man who had been chairman of the Canadian Catholic Conference (1951–53) and had championed collegiality in the course of the council debates nonetheless did not find it easy to fit in at the episcopal conference. It was not only because of his temperament, but also because the archdiocese of Montreal was a special case in the Canadian context. Léger also sensed, no doubt, that, with the elevation of Archbishop Roy to the rank of cardinal in 1965, it was now the archbishop of Quebec who was Paul VI's special representative in Canada. The fact that in 1967 the pope had designated Roy as the first chairman of the Pontifical Commission for Justice and Peace and of the Pontifical Council for the Laity, organizations that had just been created in Rome, surely sent a message to the archbishop of Montreal, whose overly flamboyant style and frequent appearances in the media could embarrass Paul VI, a man more at home in the diplomatic world than in the glare of footlights.
In 1967 there was another dramatic turn of events: on 9 November Cardinal Léger announced his resignation as archbishop of Montreal and his intention to devote himself henceforth to working among African lepers. This decision, which caused a considerable stir in the media and astonished the public, has been interpreted in every way imaginable. Several observers have seen it as a bona fide resignation, the flight of a man unable to face the situation and adjust to the church's new challenges in the west, and who much preferred the status of benefactor to the poor in Africa. His was undoubtedly a complicated decision and it can be justified on many grounds. Léger was genuinely attracted to Africa. The personal notes and notebooks he left prove that he had been enthralled and felt engaged by that continent ever since his first visit. Léger had spontaneous bursts of enthusiasm that lacked clear objectives. A sensitive and impressionable man, he could make sudden decisions without thinking them through. Not to be underestimated is the fact that since childhood Léger had been captivated by distant horizons and mission fields. A true romantic, he was seduced by the utopian idea of preaching the Gospel to the ends of the earth. In short, it is hard to imagine Léger settling down in one place. He had to be moving, leaving, turning the page.
Furthermore, the situation of the church in Montreal had become more complex. Indeed, during Léger's episcopacy, the archdiocese, which had an increasingly cosmopolitan population, had gained more than half a million adherents. Charities and parishes proliferated – the cardinal himself established 91 – while the number of priests did not increase proportionately. The Montreal church even lost large numbers of priests starting in 1966, when there was a significant exodus from the ministry. In addition, implementation of the Vatican council's directives, which created new bodies and organizations, made running a diocese more complicated. And finally, as a maverick rather than a team player, Léger found himself isolated and his management occasionally criticized.
Having left Montreal on 11 Dec. 1967, Léger made short stops in Dakar, Senegal, and in Cotonou, Dahomey (Benin), where he visited leprosaria supported by his charity Fame Pereo. He settled in the archdiocese of Yaoundé, Cameroon, where he established about 40 aid projects. From 1967 to 1979 Léger would devote himself almost entirely to this ministry. He interrupted it by one stay in Montreal from October 1969 to January 1970 to raise funds, and by a second, longer one from 1973 to 1976, during which the cardinal, ill and depressed, even questioning his decisions and frustrated in his hopes of serving in Rome, was lost in a city that no longer needed him. He was appointed curé of a parish in the archdiocese of Montreal in December 1974, but he resigned a few months later and then became vicar at the basilica of Marie-Reine-du-Monde, a ministry that was also short-lived. In addition to his pastoral work in Montreal and his charitable pursuits, he served on the Sacred Congregation for the Evangelization of Peoples (1972–84) and on the Pontifical Commission for Migrants and Tourism (1972–79). If he had once hoped to secure an important position in Rome he was now on the downward path towards which his 1967 decision had led him. He had reaped no reward for his reprimand of Cardinal Suenens after the latter had criticized the governance of Paul VI and the system in Rome in 1969. Considered too unpredictable and too changeable, Léger was never able to get back into Rome's good graces.
In 1976 Léger went back to Africa, where he was chaplain to a religious community of women until he returned to Montreal for good in 1979. His successor in the archdiocese, Paul Grégoire, treated him with great deference and delicacy even though the former prelate's presence in Montreal often proved somewhat awkward. Then, in 1980–81, the cardinal embarked on a series of sporadic visits to humanitarian centres, in particular to the refugee camps in Laos, Democratic Kampuchea (Cambodia), Vietnam, and Thailand. He lent his support to the establishment of a hospital and an aid centre for lepers in India in 1982. The following year, on the occasion of the 50th anniversary of his first mission, he travelled to Japan. In 1985 he founded a hospital in Haiti.
Ill and weak, Cardinal Léger spent the last two years of his life in a wheelchair at the Séminaire de Saint-Sulpice, where he had been admitted in July 1984. He died on 13 Nov. 1991 at the age of 87. With his charitable foundations – which include Cardinal Léger and his Endeavours (1969), the Centre de Rééducation des Handicapés de Yaoundé (opened in 1972), the Jules and Paul-Émile Léger Foundation (1981) (to which he bequeathed all his property), Partners of the Cardinal (1983), Partners of the World (1986), and Elderaid (1986) – he left a real legacy for posterity. The honours he received – doctorates (Université Laval, McGill University, Université d'Ottawa, University of Toronto, University of Alberta, Université de Montréal, Université de Sherbrooke, Memorial University of Newfoundland), prizes (the Royal Bank Award in recognition of "his many years of service to his fellow man" in 1969 and the Pearson Peace Medal in 1979), and decorations (Equestrian Order of the Holy Sepulchre of Jerusalem, Sovereign Order of Malta in 1950, Legion of Honour in 1958, Order of Canada in 1968, National Order of Quebec in 1985, and others) – pay homage to the achievements of this great Canadian and great servant of the poor and of the church.
Cardinal Paul-Émile Léger will be remembered for his defence of those whose dignity had been wounded and for his concern for the poor and the indigent, which were real and constant preoccupations throughout his ministry, as his many charitable foundations demonstrate. He will be remembered by many Montrealers as a man of great charity and also a man of eloquence, at times even of grandiloquence. More than theology, he loved literature, especially Péguy and Claudel, but also Bossuet. A born orator with a theatrical bent, he had a feeling for words and for his audience and there were moments when his high office and awareness of his public image led him to succumb to the temptation of acting the prima donna. This powerful man was also sometimes harsh with the priests and members of religious orders of his archdiocese, and he has been criticized by some for always siding with authority: a follower of Pius XII during his pontificate, a supporter of aggiornamento in the time of John XXIII. But Léger did not succeed in winning favour with Paul VI, for the two men had entirely different temperaments. The former was undeniably too obstinate and unpredictable for the latter, a refined and discreet diplomat. In fact, after Léger returned from Africa, when he was disoriented and unable to find his way back into a world that now turned without him, the curia never made room for him. In short, he was a man full of paradoxes, "fragile and spectacular," according to Benoît Lacroix, a prince among the poor, both in Montreal and in Africa. This kind-hearted man, given to impulse, made emotion an important part of his life, so much so that even at the risk of later regret he could take decisions that disrupted his life and called it completely into question. It is not surprising that in his career Cardinal Léger so often experienced radical changes of direction.
The conciliar archives of Cardinal Paul-Émile Léger have been inventoried and can be consulted at the Bibliothèque du Grand Séminaire de Montréal. Pierre Lafontaine published the catalogue under the title Inventaire des archives conciliaires du fonds Paul-Émile Léger (Outremont [Montréal], [1995]). The fonds concerning Léger housed at the Arch. de la Chancellerie de l'Archevêché de Montréal is not yet accessible to the public. Among Léger's writings, apart from those already mentioned, are the following: Détresse des enfants sans famille: allocution au Richelieu-Montréal le 8 mars 1962 (Montréal, 1962); "Remplissez la terre et soumettez-la": familles et nations face aux problèmes de la natalité (Montréal, 1962); Dieu est amour: le Foyer de charité (Montréal, 1963); Le prêtre et l'opinion publique dans l'Église (Montréal, 1966); Paroles de vie pour le peuple de Dieu (Montréal, 1967); "Lettre inédite du cardinal Paul-Émile Léger au pape Jean XXIII en août 1962," in Congrès Annuel de la Soc. Canadienne d'Hist. de l'Église Catholique, Mémoires de Vatican II, sous la dir. de Brigitte Caulier et Gilles Routhier (Saint-Laurent [Montréal], 1997), 93–113; and P.‑É. Léger et al., L'Église et les laïcs mariés (Montréal, 1962). His works can also be found in Mandements, lettres pastorales, circulaires et autres documents publiés dans le diocèse de Montréal depuis son érection (30v. parus, Montréal, 1869– ), 21–30.
Instit. Généal. Drouin, Fonds Drouin, Notre-Dame-de-l'Immaculée-Conception (Bellerive, Québec), 27 avril 1904. La Presse (Montréal), 14 nov. 1991. Ken Bell and Henriette Major, A man and his mission: Cardinal Léger in Africa, trans. Jane Springer (Scarborough [Toronto], 1976). Riccardo Burigana et Gilles Routhier, "La conversion œcuménique d'un évêque et d'une Église: le parcours œcuménique du cardinal Léger et de l'Église de Montréal au moment de Vatican II," pts.1–2, Science et Esprit (Montréal), 52 (2000): 171–91, 293–319. James Duggan, Paul-Émile Léger (Don Mills [Toronto], 1981). A. D. Johnson, The value of charity: the story of Paul-Émile Léger (San Diego, Calif., 1983). Micheline Lachance, Dans la tempête (Montréal, 1986); Paul-Émile Léger: le dernier voyage (Montréal, 2000); Le prince de l'Église: le cardinal Léger (Montréal, 1982). André Lamoureux, Le dernier courrier du cardinal Léger (du 9 novembre au 11 décembre 1967) (Montréal, 1968). André Naud, "Le cardinal Léger au concile," L'Église de Montréal, 109 (1991): 1086–99. P.‑C. Noël, "Le cardinal P.‑É. Léger et le De Ecclesia," in Évêques du Québec (1962–1965): entre Révolution tranquille et aggiornamento conciliaire, sous la dir. de Gilles Routhier ([Sainte-Foy [Québec]], 2002), 29–56. Denise Robillard, Paul-Émile Léger: évolution de sa pensée, 1950–1967 (LaSalle [Montréal], 1993). Gilles Routhier, "Famille, mariage et procréation: le combat de deux cardinaux canadiens," Cristianesimo nella storia [Christianity in History] (Bologna, Italy), 23 (2002): 367–428; "L'itinéraire d'un père conciliaire: le cardinal Léger," Cristianesimo nella storia, 19 (1998): 89–147; "Léger et Suenens: les relations difficiles de deux princes de l'Église," in The Belgian contribution to the Second Vatican Council: international research conference at Mechelen, Leuven and Louvain-la-Neuve (September 12–16, 2005), ed. Doris Donnelly et al. (Leuven, Belgium, and Dudley, Mass., 2008), 325–57; "Les réactions du cardinal Léger à la préparation de Vatican II," Rev. d'hist. de l'Église de France (Paris), 80 (1994): 281–302.
© 2013–2023 University of Toronto/Université Laval
Cite This Article
Gilles Routhier, "LÉGER, PAUL-ÉMILE," in Dictionary of Canadian Biography, vol. 22, University of Toronto/Université Laval, 2003–, accessed September 25, 2023, http://www.biographi.ca/en/bio/leger_paul_emile_22E.html.
The citation above shows the format for footnotes and endnotes according to the Chicago manual of style (16th edition). Information to be used in other citation formats:
| | |
| --- | --- |
| Permalink: | http://www.biographi.ca/en/bio/leger_paul_emile_22E.html |
| Author of Article: | Gilles Routhier |
| Title of Article: | LÉGER, PAUL-ÉMILE |
| Publication Name: | Dictionary of Canadian Biography, vol. 22 |
| Publisher: | University of Toronto/Université Laval |
| Year of publication: | 2013 |
| Year of revision: | 2013 |
| Access Date: | September 25, 2023 |