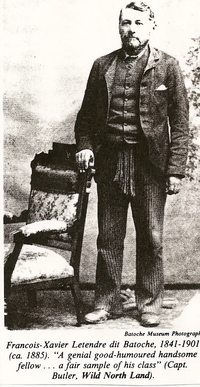 Source: Link
LETENDRE, dit Batoche, FRANÇOIS-XAVIER, merchant, rancher, and farmer; b. c. 1841 in St Boniface (Man.), son of Louis (Louison) Letendre, dit Batoche, and Marie Hallet; m. 19 May 1863 Marguerite Parenteau in St Norbert (Man.), and they had 13 children; d. 25 April 1901 in Batoche (Sask.).
Xavier Letendre, also known as Monsieur Batoche, was the grandson of a French Canadian voyageur, Jean-Baptiste Letendre*, dit Batoche, and a Cree woman named Josephte. During the 1860s he and his family wintered near the Fourche des Gros-Ventres (as the South Saskatchewan River was known). In 1872, following the political upheaval in Manitoba [see Sir Adams George Archibald*], he decided to move permanently to the northwest. William Francis Butler, who met him during the winter of 1872–73, described him as "a genial, good-humoured, handsome fellow." Letendre founded a village he called Batoche, built a store there, and set up a ferry service which became known as Batoche's Ferry. He filed claims for a number of river lots to enable his sisters, brothers, and other relatives to join him. In 1882, eager to draw settlers, he dictated a report to missionary Valentin Végréville in which he praised the village's attractions, pointing out "the advantages of the place and of its future . . . at the centre of the great thoroughfares of communication . . . where the settler will find good land, hay, water, and wood." By 1883 the population of Batoche and the surrounding area had increased to more than 800.
Letendre's commercial network extended northeast to Fort-à-la-Corne and northwest to Frog Lake (Alta), where he had trading-posts. There the Cree exchanged their furs for manufactured articles brought in by Letendre's freighters – the drivers of the Red River carts that travelled back and forth between Winnipeg, Batoche, and his northern posts. By 1878 he was a rich man. He had a luxurious house built for himself, "the finest west of Winnipeg," as he would later say. It was appraised in 1886 at $5,500. He played host to many visitors, including Governor General Lord Lorne [Campbell*] and Lieutenant Governor Joseph Royal.
Active at all levels of community life, Letendre conducted negotiations to get a resident priest and oversaw the construction of the church and rectory of Saint-Antoine-de-Padoue parish. He was a generous benefactor, but above all a shrewd businessman. For instance, he promised to donate $100 for every $500 raised by Bishop Vital-Justin Grandin of St Albert for the building fund. In recognition of his financial assistance, Letendre was named godfather of the church bell, which was christened Marie-Antoinette.
Letendre was deeply involved in the political and social debates that rocked the Métis community in 1884–85. He sat on committees that met to put the Métis claims to land and political rights before an insensitive government in Ottawa. But when the resistance became militant in the spring of 1885, Letendre and the middle class dissociated themselves from the "revolutionaries." He did not openly criticize the leaders, Louis Riel* and Gabriel Dumont, but he took a more pragmatic view of the issue. However, his brothers were involved in the "national war" and several members of his family took up arms. His elderly mother and his daughters nursed the battle casualties in his house, which had been requisitioned by the insurgents. Always a discreet man and a skilful diplomat, Letendre, who was then at Fort-à-la-Corne, informed Riel's emissaries that he could not let them have his large supply of provisions, but he did give them rifles and ammunition.
The battle of Batoche, fought from 9 to 12 May against troops under Frederick Dobson Middleton*, was devastating. In his claim to the Rebellion Losses Commission established in 1886, Letendre reported that his house had been looted by the Canadian militia, his stores emptied, his livestock wiped out, and his family forced to eat dog meat in order to stay alive. He received $19,000 in compensation for losses estimated at nearly $40,000. He fared far better than the poor and uninfluential Métis combatants, who were denied compensation on the pretext that "they had contributed to their own losses." Letendre had powerful friends among the clergy and in the Conservative party. Archbishop Alexandre-Antonin Taché* of St Boniface, Bishop Grandin, and Joseph Royal testified on his behalf.
For Letendre the period after 1885 was a time of reconstruction and new directions. He repaired his buildings and re-established his business. He secured letters patent in 1888 for the 686 acres to which he claimed title. In 1891 he set up a ranch near Alvena, southeast of Batoche, where he kept more than 200 head of cattle and 30 horses. He moved there with his family the following year. In 1895 he sold his house and a parcel of land in Batoche to the North-West Mounted Police, who set up a barracks there.
Letendre continued to play a role on the political and cultural scene. Between 1886 and 1890 he put his mark (in Cree syllabics) to many petitions to the federal and territorial governments demanding free lands for the Métis by virtue of their rights as the first inhabitants, economic aid to facilitate the transition to agriculture, and more equitable political representation. In December 1888 Letendre went to Ottawa to deliver a petition from the Conservatives in the Batoche area to Prime Minister Sir John A. Macdonald*. He became more important politically when his son-in-law, Charles-Eugène Boucher, was elected to the Legislative Assembly of the North-West Territories in 1891. Letendre also served as a school trustee and for several years was in charge of the committee organizing the annual Fête des Métifs, the national celebration held in Batoche on 24 July. In 1900 he sat on a committee to erect a monument to the victims of the fighting in 1885; the memorial, bearing the names of the Métis and Indians who had died in combat, was put up in the local cemetery the following year.
"Monsieur Batoche" was still a person of considerable influence in the region at the turn of the century, although it was clear by about 1895 that his economic situation was deteriorating. His personal and family life was also marked by severe trials and tensions. His sons suffered from the growing prejudice towards "Indians" and found it difficult to make their way in life. Influenza and tuberculosis ravaged the Métis population and Letendre and three of his daughters fell victim to illness.
Xavier Letendre belonged to the last generation of Métis termed the free people in the Canadian west. Colonization by Canadians of European origin isolated and dispossessed the Métis, but they continued to maintain their economic and social traditions. Letendre adopted some of the values and institutions of the newcomers but still respected his native and "métchif" heritage. The next generation proved unable to sustain this identity.
Arch. de l'Évêché de Prince Albert, Sask., Saint-Antoine de Padoue (Batoche, Sask.), RBMS. Arch. Deschâtelets, Oblats de Marie-Immaculée (Ottawa), Compte-rendu de Xavier Letendre, dit Batoche, au père Végréville, 1882. NA, RG 15, 589, file 198086; 914, file 829789; 931. PAM, MG 7, D8; D12; MG 10, F1. Saskatchewan Arch. Board (Saskatoon), Homestead files, 81184, 391562, 4049585. W. F. Butler, The wild north land . . . (London, 1873; repr. Edmonton, 1968). D. [P.] Payment, Batoche (1870–1910) (Saint-Boniface, Man., 1983); "Monsieur Batoche," Sask. Hist., 32 (1979): 81–103.
© 1994–2023 University of Toronto/Université Laval
Image Gallery

Cite This Article
Diane P. Payment, "LETENDRE, Batoche, FRANÇOIS-XAVIER," in Dictionary of Canadian Biography, vol. 13, University of Toronto/Université Laval, 2003–, accessed December 2, 2023, http://www.biographi.ca/en/bio/letendre_francois_xavier_13E.html.
The citation above shows the format for footnotes and endnotes according to the Chicago manual of style (16th edition). Information to be used in other citation formats:
| | |
| --- | --- |
| Permalink: | http://www.biographi.ca/en/bio/letendre_francois_xavier_13E.html |
| Author of Article: | Diane P. Payment |
| Title of Article: | LETENDRE, Batoche, FRANÇOIS-XAVIER |
| Publication Name: | Dictionary of Canadian Biography, vol. 13 |
| Publisher: | University of Toronto/Université Laval |
| Year of publication: | 1994 |
| Year of revision: | 1994 |
| Access Date: | December 2, 2023 |