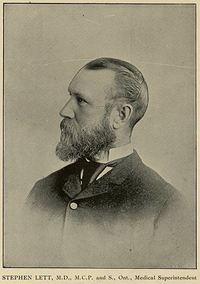 Source: Link
LETT, STEPHEN, physician, asylum superintendent, and author; b. 4 April 1847 in Callan (Republic of Ireland), son of the Reverend Stephen Lett and Harriette Samson; m. 11 June 1874 Annie McLeod in Amherstburg, Ont., and they had a son and a daughter; d. 11 Oct. 1905 in Guelph, Ont.
Born into a respectable Anglo-Irish family, Stephen Lett was educated privately and at Upper Canada College in Toronto. Little is known about his early career except that he joined the militia in 1862 and served at Port Colborne, Welland, and Fort Erie during the Fenian raids of 1866 [see John O'Neill*]. Lett left military service in 1870, and after a few months' apprenticeship with a private physician became a member of the College of Physicians and Surgeons of Ontario. That September he was appointed assistant medical officer at the Malden Lunatic Asylum in Amherstburg, most likely at the behest of John Woodburn Langmuir*, the provincial inspector of prisons, asylums, and public charities, who had also served during the Fenian raids. When Malden was incorporated into the regional asylum opened in London later that year, Lett accompanied his superior, Henry Landor, to the new facility.
From Landor, Lett absorbed traditional mid-19th-century therapeutics, or what was known as moral management. A healthy diet, rest, occupation, and entertainment, with the judicious use of mechanical restraints and of alcohol as a sedative, were considered the best means to alleviate manic or hysterical behaviour. Upon Landor's death in 1877, Lett sought the position of medical superintendent, for which he had been groomed in the past seven years. Yet he was passed over in favour of Richard Maurice Bucke of the Hamilton Asylum for the Insane, a physician whose arrogant behaviour towards Lett and his superior on an earlier occasion had prompted Landor to threaten to resign. Bucke's patron, Timothy Blair Pardee*, the commissioner of crown lands, outranked Langmuir, who was Lett's patron. It is hardly surprising that Lett, quick to take offence and slow to forget a slight, was unable to develop an amicable working relationship with the sanctimonious and eccentric Dr Bucke. Within two months of the new administration, their families, both residing at the asylum, were at war. Langmuir decided to move Lett to the Provincial Lunatic Asylum in Toronto [see Daniel Clark*].
In Toronto, Lett upgraded his deficient medical education, taking his mb and his md from the University of Toronto in 1878 and 1879 respectively. He was transferred in June 1883 to the Hamilton asylum, where he served as assistant physician. His contemporary Charles Kirk Clarke*, who had served at Hamilton in 1880, described his own experience there as being "like a horrible dream. . . . The staff were an impossible, and in many instances, an immoral and uncontrollable rabble." The two men shared many difficulties at this stage of their professional lives. As asylums grew in population, the number of assistant physicians, who were responsible for the daily management of the wards, increased as well. Promotions were often stalled by lack of superintendencies, and therefore opportunities for advancement lay in the development of small proprietary asylums. This was the route chosen by Stephen Lett. When Langmuir retired from the public service, he invited Lett to help him and others such as Edmund Allen Meredith* found the Homewood Retreat in Guelph and to serve as its medical superintendent. The institution, which opened in January 1884, still stands as Canada's largest and longest-operating private asylum for mental and nervous disorders, alcoholism, and drug addiction.
In its early years Homewood was financially shaky. Although Lett was a good alienist, he was a poor administrator. He was never able to become independent of his fellow members of the board of directors, who voted a reduction in his salary during the lean years. Nor was he able to exert strong control over his employees. For instance, when in 1889 the matron, Alice Finch, was found to be supplying male patients with alcohol and drugs, he did no more than record her misdemeanours in his journal in Morse code. Lett's inaction may have been partly due to a chronic neurological disorder which ultimately led to his retirement in 1901. His satisfactory relationship with the authoritarian Langmuir perhaps reflected a malleability on his part that was unsuitable for a superintendent.
Lett was a fine medical writer. He published on masturbation, alcoholism, drug addiction, and "mania." Through his writings he attempted to carve a professional niche for himself and thereby attract to Homewood many of the addicts whom, he claimed, "both Canada and the United States are swarming with." He was the author of a number of articles on the treatment of "drunkards" that appeared in Guelph, Toronto, and Ottawa newspapers, and in professional reviews such as the Canada Lancet, the Quarterly Journal of Inebriety, and the Journal of the American Medical Association. One of the highlights of his career must have been the speech he gave in 1897 before the British Society for the Study and Cure of Inebriety, a prestigious body which elected him a member. Homewood's board of directors subsequently printed 4,000 copies of his paper under the title "Why do men drink?" and distributed them to general practitioners throughout North America.
The quality of Lett's writing is evident in his evocative description of the cocaine habitué that appears in another of his papers: "Nutrition soon becomes impaired, accompanied by emaciation and anaemia; sunken eyeballs with dark areola round the eyes, prominent cheek bones and general pallor make the subject a most ghastly spectacle. As the malady becomes more chronic, mental symptoms in the form of hallucinations and delusions supervene. Persons seen or heard at a distance are construed into bands of enemies, plotting to rob, physically disable, or murder, and as a result, the patient makes complaints and lays charges against innocent persons."
According to Lett's philosophy of therapeutics, substance dependency was a disease rather than a vice and should be treated as such. While he considered excessive drinking itself to be vicious conduct which should be curbed by legislation, he believed that confirmed alcoholism was an illness requiring a protracted period of treatment in a medical institution. Lett further absolved alcoholics of blame for their condition by stating that there was a marked hereditary predisposition to inebriety. This claim was consistent with his basic belief in the importance of heredity in all neurotic and psychotic disorders.
In the area of drug addiction (opium being the substance most frequently abused in the 19th century), Lett was Canada's first well-known specialist. Unlike the British specialist Norman Shanks Kerr, who prescribed the harsh method of immediate withdrawal of the substance, and the American physician Jansen Beemer Mattison, who advocated a very short period of withdrawal, Lett preferred gradually "decreasing the amount [of the opiate] in fractions of a grain at each dose." Over the course of weeks, if not months, Lett would reduce the dosage until the patient would be consuming 1/6000 of a grain in 24 hours. Lett believed patients suffered the least physiological and mental hardship through this therapy, which required a lengthy residence in his institution. During their stay he sustained them with tonics, bromides, and Cannabis indica (marijuana). Lett's treatment of addiction was benevolent and sympathetic; he did not display the prejudices against addicts that coloured other, more punitive forms of treatment.
Stephen Lett is the author of "The relationship of insanity to masturbation," Canada Lancet, 19 (1886–87): 360–63, and a number of articles on the subject of addiction, including "Treatment of the opium neurosis," American Medical Assoc., Journal (Chicago), 17 (July–December 1891): 828–33; "Why do men drink?" Quarterly Journal of Inebriety (Hartford, Conn.), 19 (1897): 264–69; and "Cocaine addiction and its diagnosis," Canada Lancet, 31 (1898–99): 829–32.
Photographs of Dr Lett and of the Homewood Retreat (Guelph, Ont.) in the 1890s, both held by the Homewood Sanitarium, are reproduced in C. L. Krasnick, "The aristocratic vice: the medical treatment of drug addiction at the Homewood Retreat, 1883–1900," OH, 75 (1983): 403–27.
AO, F 1398, esp. medical superindendent, journal, 1889, and reports, 1890, 1896; RG 22, ser.318, no.5535; RG 63, A-1, box 230, file 6598, Landor to Langmuir, 19 March, 24 July 1876; Langmuir to Lett, 9 Jan., 25 April 1877; Bucke to Langmuir, 29 March 1877; RG 80-5, no.1874-001307. Globe, 12 Oct. 1905. Canadian men and women of the time (Morgan; 1898). J. D. Griffin and Cyril Greenland, "Psychiatry in Ontario in 1880: some personalities and problems," Ontario Medical Rev. (Toronto), 47 (1980): 271–74. C. [L.] Krasnick Warsh, Moments of unreason: the practice of Canadian psychiatry and the Homewood Retreat, 1883–1923 (Montreal and Kingston, Ont., 1989).
© 1994–2023 University of Toronto/Université Laval
Image Gallery

Cite This Article
Cheryl Krasnick Warsh, "LETT, STEPHEN," in Dictionary of Canadian Biography, vol. 13, University of Toronto/Université Laval, 2003–, accessed December 10, 2023, http://www.biographi.ca/en/bio/lett_stephen_13E.html.
The citation above shows the format for footnotes and endnotes according to the Chicago manual of style (16th edition). Information to be used in other citation formats:
| | |
| --- | --- |
| Permalink: | http://www.biographi.ca/en/bio/lett_stephen_13E.html |
| Author of Article: | Cheryl Krasnick Warsh |
| Title of Article: | LETT, STEPHEN |
| Publication Name: | Dictionary of Canadian Biography, vol. 13 |
| Publisher: | University of Toronto/Université Laval |
| Year of publication: | 1994 |
| Year of revision: | 1994 |
| Access Date: | December 10, 2023 |