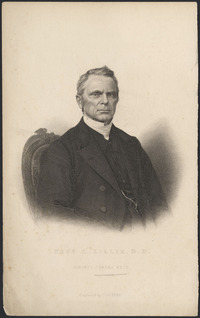 LILLIE, ADAM, Congregational minister and educator; b. 18 June 1803 at Glasgow, Scotland; d. 19 Oct. 1869 at Montreal, Que.
Adam Lillie as a child fell under the religious influence of Ralph Wardlaw, a Congregational minister in Glasgow then at the height of his pulpit eloquence. Lillie joined the church at age 18, and, hoping to become a minister, studied intermittently for several years at the University of Glasgow, where he won a prize in classics. While he was at Glasgow, however, he offered his services to the London Missionary Society, an interdenominational organization largely supported by Congregationalists. In preparation for his future work Lillie was sent to the Theological Academy at Gosport, Hampshire, directed by David Bogue, a founder of the LMS. Graduating in 1826, he was ordained at Stockwell Independent Church, London, on 28 March and a month later he and his wife Elizabeth sailed for India. He was stationed in Belgaum, but found the climate so injurious to his health that he returned to Glasgow a year later.
Weakened by his ordeal, Lillie hesitated to undertake the full responsibility of a church and supported himself as a private tutor preparing students for the university and at the same time assisting the Reverend John Watson in his church in Edinburgh. One of the students whom he prepared for matriculation in 1829 was a young Canadian, Henry Wilkes*. At Wilkes' urging, and with the aid of £20 from the London Missionary Society, Lillie came to Canada in 1831 to start a Congregational church wherever it might be needed. Wilkes' family lived in Brantford, Upper Canada, and had already shown their Independent sympathies by starting a union Sunday school. They invited Lillie to join them in founding a church. A church roll was started in 1834 and enlarged so rapidly that they were able to erect a frame building in 1836.
In the period following the Napoleonic wars considerable numbers of Scottish and English Congregationalists immigrated to British North America, usually to urban areas where they engaged in commerce. Most were educated in the rudiments of trade, and they were usually modestly independent financially. Liberal in their political and social ideas, they emphasized the importance of popular education beyond the classroom (through such groups as the mechanics' institutes) and civic involvement in social movements against intemperance, slavery, and church establishment. Mildly Calvinistic in their theology, the Congregationalists were also closely aligned with the Baptists because of their insistence on congregational autonomy and religious equality.
In 1839 the Congregational church in Guelph sent Ludwig Kribs to Lillie to be trained for the ministry; in order to have more space for students he moved that year to Dundas, and began serving the Congregational churches in both Dundas and Hamilton. The following year his class in theology had increased to five students, and the Congregational Union of Upper Canada agreed to establish the Congregational Academy of British North America in Toronto. Later that year the academy opened, and there Lillie, with the help of a tutor, taught 64 students between 1840 and 1864. Meanwhile, in 1836, Henry Wilkes had returned to Canada as minister of Zion Church in Montreal and agent of the LMS in Canada. Wilkes and his associate, J. J. Carruthers, in 1842 formed in that city a small training institute for ministers, the Congregational Theological Institute, but the number of students was not encouraging and in 1845 they decided to unite with the Toronto college and send their students to Lillie. The combined college in Toronto was renamed the Congregational Theological Institute in 1846.
In spite of his heavy duties in the college, Lillie was secretary of the Congregational Union of Upper Canada from 1842 to 1844, and published a lecture on educating the ministry which he had delivered at the opening of the academy in Toronto in 1840. Two lectures, delivered before the Toronto Mechanics' Institute in March 1852, were also published in the Quebec Gazette and the Journal of Education of Upper Canada, where they attracted considerable complimentary attention. They were later published in a volume which included a statistical appendix concerning the future of the united counties of Leeds and Grenville. His third publication, Canada: physical, economic, and social, directed at prospective immigrants, contained detailed maps of Canada, geographical and agricultural information, a description of the economy and of transportation facilities, and a discussion of governmental and cultural institutions. Lillie was also a frequent contributor to the Congregational magazines, the Harbinger, and its successor, the Canadian Independent. The University of Vermont, in a state with a strong Congregational tradition, honoured him with a dd in 1854. In 1850 Lillie had been a founding member of the Anti-Clergy Reserves Association and in the 1860s served as a member of the University of Toronto senate.
In the census of 1851 Congregationalists in Canada had numbered 11,674 compared to 914,561 Roman Catholics, 280,619 Methodists, and 268,592 Anglicans. The Congregational Church's growth in the following decade required more ministers. In 1864, because of the increasing number of students, it was decided to move the college from Toronto to Montreal, where Wilkes and Dr George Cornish, who were experienced in training ministerial students, could also be used as professors. Lillie, who taught theology and church history, remained principal, while Cornish taught Greek testament and exegesis and Wilkes homiletics and pastoral theology. Lillie travelled between Montreal and Toronto, where his wife and eight children remained, as his work dictated. At his death in 1869 the Canadian Independent said that "no man had a higher estimate than Dr. Lillie of the requirements of the Christian ministry, in respect to intellectual endowment and culture . . ." and that he had always given to his students the "choicest fruits of his own reflection and research . . . ."
Adam Lillie was the author of Canada: its growth and prospects; two lectures delivered before the Mechanics' Institute, Toronto . . . (Brockville, [Ont.], 1852); Canada: physical, economic, and social (Toronto, 1855); and with W. P. Wastell, Ministerial education; two discourses delivered in the Congregational chapel, Toronto . . . (Toronto, 1840). Canadian Independent (Toronto), November 1869. Harbinger (Montreal), 15 July 1842. E. B. Eddy, "The beginnings of Congregationalism in the early Canadas" (unpublished thd thesis, Emmanuel College, Toronto, 1957). John Robertson, History of the Brantford Congregational Church, 1820–1920 ([Brantford, Ont.], n.d.). John Waddington, Congregational history [1200–1880] (5v., London, 1869–80), IV. John Wood, Memoir of Henry Wilkes, D.D., LL.D., his life and times (Montreal and London, 1887).
© 1976–2023 University of Toronto/Université Laval
Image Gallery

Cite This Article
Earl B. Eddy, "LILLIE, ADAM," in Dictionary of Canadian Biography, vol. 9, University of Toronto/Université Laval, 2003–, accessed October 3, 2023, http://www.biographi.ca/en/bio/lillie_adam_9E.html.
The citation above shows the format for footnotes and endnotes according to the Chicago manual of style (16th edition). Information to be used in other citation formats:
| | |
| --- | --- |
| Permalink: | http://www.biographi.ca/en/bio/lillie_adam_9E.html |
| Author of Article: | Earl B. Eddy |
| Title of Article: | LILLIE, ADAM |
| Publication Name: | Dictionary of Canadian Biography, vol. 9 |
| Publisher: | University of Toronto/Université Laval |
| Year of publication: | 1976 |
| Year of revision: | 1976 |
| Access Date: | October 3, 2023 |