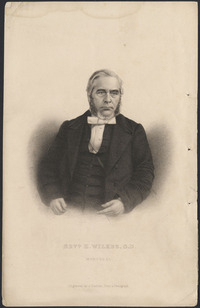 WILKES, HENRY, businessman, educator, and Congregational minister; b. 21 June 1805 at Birmingham, England, son of John Aston Wilkes and Susanna Philips; m. 5 June 1832 Lucy Hedge, in Montreal, Lower Canada; m. secondly in September 1839 Susan Holmes, widow of John McDonell; d. 17 Nov. 1886 in Montreal.
Henry Wilkes, the son of a Congregationalist who was a manufacturer, grew up in a region where manual labour was quickly giving way to machines, and at a time when English capitalism, in accordance with the theories of Scottish economist Adam Smith, was gaining impetus. At 14, having already received a sound business training, he began to sell the products of his father's factory. In 1820 the Wilkes joined the many English and Scottish Congregationalists then trying their luck overseas and immigrated to Upper Canada. They took up residence in York (Toronto) and then moved to Brantford, but Henry remained there for only a short time. By 1822 he was in Montreal, where he obtained employment as clerk in the towing company of John Torrance*; this company, which faced close competition from the Molsons' shipping firm, used steam tugboats to haul sailing ships from Quebec to the port of Montreal. In 1827 Henry Wilkes became a partner of David Torrance*; his earnings enabled him to undertake theological studies which he was eager to begin in order to become a Congregational minister.
After visiting his parents in Brantford, where in June 1828 he set up the first Congregational Sunday school, he went to Scotland, arriving in Glasgow in October 1829. Under the direction of the Reverend Adam Lillie* he prepared for admission to the Congregationalists' Theological Academy, and in 1832 he was ordained minister. Soon afterwards he returned to Canada, but he went back to Scotland almost immediately to take his ma. On 18 April 1833 he began his ministry in Edinburgh, taking advantage of his stay in Scotland to recruit Congregational ministers for Canada. This task had been delegated to him by the Canada Educational and Home Missionary Society, a body formed in Montreal in 1827 of which he had been both a director and the secretary. One of the first of these recruits was his former teacher, Adam Lillie, who had become a friend.
In June 1836 Wilkes himself came back to Canada as a delegate of the Congregational Union of England and Wales, a branch of the London Missionary Society, which had been founded in 1831 to promote Congregationalism in the British Isles; the Colonial Missionary Society, whose object was to establish Congregational churches in the English colonies, had joined the Congregational Union in 1836. Hence it was under these auspices that in October Henry Wilkes began to serve as minister of the First Congregational Church (Zion Church) in Montreal.
A Puritan sect which had evolved from the Church of England around 1590, Congregationalism was a logical extension of the Protestant concept that the faithful have a direct and exclusive relationship with Christ. Thus, properly speaking, there is no institutional church, rather local gatherings (congregations) of believers and an ideal, invisible church composed of the communities which, recognizing Christ as their Lord, are linked to him and cooperate fraternally. The first American Congregationalists were the Pilgrim Fathers of Plymouth (Massachusetts) who founded Harvard College in 1636. Indeed, there were Harvard graduates among the pastors ministering to the Congregationalists in Nova Scotia, just after the founding of the naval base at Halifax. But many of those who came to the Maritimes around the time of the American revolution were Baptists and this denomination began to experience renewal with the preaching of such men as Henry Alline*; even more important, Congregational circles were sympathetic to the Thirteen Colonies and as a result, by about 1800, Congregational churches in the Maritimes had virtually disappeared.
They began to appear, however, in Upper Canada, for instance at Frome (southeast of London) in 1819, under Joseph Silcox, and in Brantford where Adam Lillie had joined the Wilkes family. In Lower Canada, Richard Miles established the First Congregational Church on Rue Saint-Maurice, Montreal, in 1832. Montreal became the stronghold of Canadian Congregationalism when Henry Wilkes succeeded Miles in 1836; in 1842, with the collaboration of J. J. Carruthers, he founded the Congregational Theological Institute to train pastors, although in 1846 the lack of students obliged him to amalgamate his institute with the one in Toronto of which Adam Lillie was president.
A zealous proselytizer, Wilkes was an excellent speaker; backed by generous grants from the London Missionary Society and the Colonial Missionary Society, he made numerous tours through the Canadas, New Brunswick, and Nova Scotia to reorganize or found Congregational churches. Although he had only limited success in the Maritimes, he had better results in western Upper Canada, where the urban middle class had a natural affinity for Congregationalism.
It was, however, in Montreal that Wilkes was able to give free rein to his abundant energies. In November 1846 a new Zion Church was opened on Rue Sainte-Radegonde to accommodate the growing number of believers. In addition to official duties as administrator and Congregational minister, he served as president of the board of examiners for Protestant schools for 12 years. He contributed effectively to the development of commercial libraries and mechanics' institutes by attending meetings of their members, and by giving free informal lectures reflecting his early business experience. He also became involved in religious journalism, and in January 1842, with his friend Carruthers, started the Harbinger (Montreal), a successful newspaper which continued to publish until Carruthers left for Portland, Maine, in 1844. After an attempt at a weekly, the Observer of Montreal, which lasted only a year, he established the more successful Canadian Independent in Toronto, a periodical that was to continue under different titles from 1875 to 1925.
A devout Protestant, Wilkes early took an interest in the spiritual lot of French-speaking Catholics. When, on 13 Feb. 1839, the Reverend James Thompson, representative of the British and Foreign Bible Society in Montreal, appealed to ten or so of his compatriots to found the French Canadian Missionary Society, Wilkes made it his business to establish close ties between the Protestant body in Montreal and the powerful American and Foreign Christian Union; Robert Baird, its secretary, was interested in the progress of the evangelical mission at Grande-Ligne, Lower Canada, being run by two French-speaking Swiss Protestants, Louis Roussy* and Henriette Feller [Odin*]. At the meeting of the American and Foreign Christian Union on 11 May 1852, Wilkes declared that it was the duty of English and American Christians to enlighten French Canadians. The following year, on 6 Jan. 1853, he was able to write to Baird that between 636 and 681 French Canadians had been converted to the pure gospel. Six months later, on 9 June 1853, ex-Barnabite Alessandro Gavazzi delivered a violently anti-Catholic speech in Zion Church, where Wilkes ministered. A struggle ensued which brought military intervention. The result was half a dozen people killed and some 50 wounded. A moderate man, Wilkes had certainly not foreseen this outburst of popular passion.
The remainder of his career unfolded peacefully. In 1850 he had received the degree of thd from the University of Vermont, which had a strong Congregational tradition. McGill College in its turn conferred an lld on him. For several years in succession the Congregational Union of Canada chose him as its chairman, and at its request Wilkes wrote a book on Congregationalism entitled Internal administration of the churches, which was published in 1859.
The 1851 census listed 11,674 Canadian Congregationalists, an advance largely attributable to Wilkes's efforts, and their numbers continued to increase in the decade following. With more pastors needed, it was decided in 1864 to transfer the Congregational Theological Institute from Toronto to Montreal. Wilkes was asked by the principal, his friend Lillie, to teach the courses in moral theology and homiletics. When Lillie died in October 1869, Wilkes resigned as pastor to succeed him as principal.
Age brought physical disabilities. He was racked with rheumatism, from which hydrotherapy in England and the United States gave him scant relief. He died in Montreal, in his sleep, on 17 Nov. 1886.
Published sermons and speeches by Henry Wilkes are listed in Morgan, Bibliotheca Canadensis, 391–92.
AC, Montréal, État civil, Congregationalistes, Zion Church (Montreal), 20 Nov. 1886. Notman and Taylor, Portraits of British Americans. Wallace, Macmillan dict. D. [G.] Creighton, The empire of the St. Lawrence (Toronto, 1956), 213, 260. E. B. Eddy, "The beginnings of Congregationalism in the early Canadas" (thd thesis, Emmanuel College, Toronto, 1957). J. S. Moir, The church in the British era, from the British conquest to confederation (Toronto and Montreal, 1972) 152–53, 166. Robert [Philippe] Sylvain, Clerc, garibaldien, prédicant des deux mondes: Alessandro Gavazzi (1809–1889) (2v., Québec, 1962), II: 307–8, 395, 398. H. H. Walsh, The Christian Church in Canada (Toronto, 1956), 220. John Wood, Memoir of Henry Wilkes, D.D., LL.D., his life and times (Montreal and London, 1887).
© 1982–2023 University of Toronto/Université Laval
Cite This Article
Philippe Sylvain, "WILKES, HENRY," in Dictionary of Canadian Biography, vol. 11, University of Toronto/Université Laval, 2003–, accessed June 6, 2023, http://www.biographi.ca/en/bio/wilkes_henry_11E.html.
The citation above shows the format for footnotes and endnotes according to the Chicago manual of style (16th edition). Information to be used in other citation formats:
| | |
| --- | --- |
| Permalink: | http://www.biographi.ca/en/bio/wilkes_henry_11E.html |
| Author of Article: | Philippe Sylvain |
| Title of Article: | WILKES, HENRY |
| Publication Name: | Dictionary of Canadian Biography, vol. 11 |
| Publisher: | University of Toronto/Université Laval |
| Year of publication: | 1982 |
| Year of revision: | 1982 |
| Access Date: | June 6, 2023 |