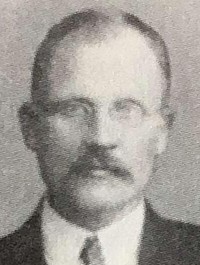 Source: Link
LINDALA, JAMES (Jaakko), tailor, socialist, and Finnish community leader; b. 11 May 1860 in Vähäkyrö (Finland), son of Matti Jaakonpoika Lindala, a tinsmith and farmer, and Maria Henrikintytär Vappula; m. 25 Jan. 1896 Irene Charlotte Leineberg (d. 1944) in Brooklyn (New York City), and they had two sons, one of whom died in infancy, and two daughters; d. 23 March 1917 in Toronto.
James Lindala left his home village at the age of 11 with two weeks of formal education and moved to the coastal city of Vaasa, where he was apprenticed as a tailor. In 1887, along with thousands of others from the western and northern regions of Finland, then an autonomous grand duchy of Russia, he emigrated to North America. Finns, especially the landless peasants, were fleeing the economic uncertainties caused by a shortage of arable land and devastating early frosts. Some, like Lindala, also opposed the Russification programs that threatened Finland's autonomy, such as conscription into the Russian army. Lindala arrived in Toronto on 13 October, its first permanent Finnish resident.
Lindala quickly saw the business opportunities in the rapidly expanding city. But life for the only Finn in town was lonely and he began a letter campaign to entice other Finnish tailors to come to Toronto. By the turn of the century ten of them, and their families, had settled in the Spadina Avenue–Queen Street area, establishing a nucleus for the 800 or so Finns who would take up residence in Toronto over the following decade. Unlike most other Finnish immigrants, Lindala learned to speak English and wished to integrate his community into Canadian social and political life. He was to join the masonic fraternity, the Canadian Order of Foresters, and the Journeymen Tailors' Union of America. He was ideologically committed to social democracy and the cooperative movement, both of which were hotly debated in his native land where the plight of the peasants and the need for land reform provided a fertile ground for socialism.
Although Lindala soon earned a reputation as an excellent tailor, he obtained further training by attending design courses in New York, where he met his wife, Irene Leineberg, a native of Pori (Finland). An atheist, Lindala did not allow his children to be baptized, although his wife would do so secretly when they were older and seriously ill with scarlet fever. Their son, George James Constantine, became the first Finnish-immigrant child to graduate from Upper Canada College.
In 1902 Lindala, who had worked for a number of tailoring concerns, established a cooperatively run tailoring business, Iso Paja (the Big Shop), on Peter Street. For a decade over 50 Finnish tailors, all members of the Journeymen Tailors' Union, rented space there. In 1910 Lindala was the union's delegate to the American Federation of Labor. Three years later, following a long strike, many Finnish tailors moved away from the city, and the Big Shop closed. During its operation it had become the centre for spreading socialism and trade-union activism among the Finns of Toronto.
In addition to the Big Shop, Lindala owned a community sauna and a travel agency, and his wife ran a grocery store which could provide familiar foods for the growing community. Intent on improving the immigrants' quality of life, Lindala was instrumental in founding, in 1902, the Finnish Society of Toronto, a social, cultural, sports, and temperance organization. In 1907 he provided most of the financing for the purchase of the Finns' first community centre, at 214 Adelaide Street West.
Among the executive of the Finnish society were many political leaders and journalists who had been forced to flee Finland because of their socialist radicalism. Their influence during the formative years of Toronto's Finnish community was so powerful that in 1906 the entire membership of the society joined the Socialist Party of Canada. In 1907 the SPC nominated Lindala as its candidate for mayor of Toronto. The incumbent, Emerson Coatsworth, won with 13,698 votes to Lindala's 8,286. The election caused a stir in the Toronto press. The Globe, for instance, wondered how "an unknown Socialist tailor of foreign birth should poll over eight thousand votes . . . against a barrister of irreproachable character." Lindala's platform had advocated the abolition of "wage slavery" and urged collective ownership of lands and machinery, but his strong showing seems to have been largely due to a high protest vote. The socialists were nevertheless elated both with the results and with the publicity surrounding the campaign, in which, the Western Clarion of Vancouver reported, "a manifesto full of revolutionary fire" drew "attacks from the capitalist press."
The union between the Finns and the SPC did not last long. The latter adhered to a strict Marxist platform while the Finns were ready to work within existing political structures. In 1910 the SPC expelled most of its foreign-language locals because of their "revisionist" stands. As a result, the following year Lindala and the Finnish Society of Toronto joined forces with the Canadian Socialist Federation and together they helped found the Social Democratic Party of Canada. By 1914 the Finns made up 55 per cent of its membership and had 64 locals across Canada with 3,047 registered members. The association was discontinued during World War I when the federal government declared the party's foreign-language groups illegal.
In 1917 Lindala died of stomach cancer in his home at 130 Peter Street and was buried in Mount Pleasant Cemetery. The Finnish community mourned the loss of its founder, its political leader, its most successful businessman, and the benefactor who had always lent his community a helping hand.
Information on James Lindala and the Finnish Soc. of Toronto was drawn from the author's interviews with the subject's daughters, Saima (Saimi) Lempi Irene Lindala Hormavirta, 1978–80, and Aili Suoma Hellen Lindala Piton, 1978 (available at the Multicultural Hist. Soc. of Ontario, Toronto), and with a grandson, James Lindala of Toronto, 1993, as well as from a family bible in his possession. Family photographs and documents formerly held by the Multicultural Hist. Soc., including some likenesses of the subject, are now found in AO, F 1405-15-49-MSR 6888 (Lindala family photos); F 1405-15-50-MSR 6889 (Hormavirta photos); and F 1405-62-36-MSR 6889 (Hormavirta papers).
AO, RG 22-305, no.33372. NA, MG 28, V 46, Finnish Soc. of Toronto records, minutes; väestönlaskenta [census], 1903. Canadan Uutiset [Canadian News] (Port Arthur [Thunder Bay], Ont.), 5 April 1917. Canadian Forward (Toronto), 10 April 1917: 4. Globe, 2 Jan. 1907. Western Clarion (Vancouver), 8 Feb., 26 Sept., 10 Oct. 1908. Canadan Suomalainen Järjestö 25 Vuotta, 1911–1936 [Finnish Organization of Canada, 25 years, 1911–1936] (Sudbury, Ont., 1936), 5–8. Canadian annual rev. (Hopkins), 1906: 300–1; 1907: 265. Directory, Toronto, 1887–1917. Alexander Fraser, A history of Ontario: its resources and development (2v., Toronto, 1907), 2: 758. Varpu Lindström-Best, The Finnish immigrant community of Toronto, 1887–1913 (Toronto, 1979); "The Socialist Party of Canada and the Finnish connection, 1905–1911," in Ethnicity, power and politics in Canada, ed. Jorgen Dahlie and Tissa Fernando (Toronto, 1981), 113–22. Satu Repo, "The Big Shop: Finnish immigrant tailors in Toronto," This Magazine (Toronto), 9 (1975), no.5/6: 31–33.
© 1998–2023 University of Toronto/Université Laval
Image Gallery

Cite This Article
Varpu Lindström, "LINDALA, JAMES," in Dictionary of Canadian Biography, vol. 14, University of Toronto/Université Laval, 2003–, accessed September 26, 2023, http://www.biographi.ca/en/bio/lindala_james_14E.html.
The citation above shows the format for footnotes and endnotes according to the Chicago manual of style (16th edition). Information to be used in other citation formats:
| | |
| --- | --- |
| Permalink: | http://www.biographi.ca/en/bio/lindala_james_14E.html |
| Author of Article: | Varpu Lindström |
| Title of Article: | LINDALA, JAMES |
| Publication Name: | Dictionary of Canadian Biography, vol. 14 |
| Publisher: | University of Toronto/Université Laval |
| Year of publication: | 1998 |
| Year of revision: | 1998 |
| Access Date: | September 26, 2023 |