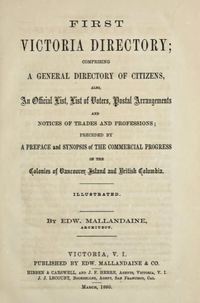 Source: Link
MALLANDAINE, EDWARD, architect, artist, surveyor, and publisher; b. 6 Aug. 1827 in Singapore, only surviving son of John Mallandaine of the East India Company and Mary Smith; m. first 5 May 1855 in London, England; m. secondly 1 Sept. 1866 Louisa Townsend in Victoria, and they had two daughters and three sons, one of whom, Edward, became an architect; d. 5 April 1905 in Victoria.
Educated in Dinan, France, where his father had settled, Edward Mallandaine received cursory architectural training in 1844 at Camberwell (London). This lasted under three months, contrary to the claim he evidently allowed to be included in an 1892 directory: "articled for five years to an architect in London." Forced to accept menial drafting work, and neglecting an opportunity to acquire advanced technical skills, he dallied with the idea of marriage before accepting his father's offer of £50 to emigrate to Australia. There, between 1852 and 1854, he worked at the gold-diggings and as a draftsman.
Once back in London Mallandaine resumed itinerant architectural drafting and married his first wife, who died giving birth to a short-lived daughter. That tragedy was compounded by the death in July 1856 of his father, from whom he inherited £100 and possibly the idea of emigrating to Victoria. He initially went to Sacramento, Calif., and stepped ashore at Victoria only on 12 Oct. 1858. Succumbing to gold-fever, he thereupon decided "to go to the mines," at Bridge River on the Fraser. Despite his appearance of intelligence, determination, and even stylishness in contemporary photographs, he was dogged by misfortune, and he had his possessions stolen by "Indians" before he reached Fort Langley (near Langley) in December. Pencil studies in his one remaining sketch-book carry inscriptions that prove he stayed at the fort until mid January 1859. Another sketch, inscribed "Miners hut on the Coquihalla Creek" and dated "M 26 59," indicates his presence at the goldfield in the spring.
An attempt to establish a smallholding on Salt Spring Island in August proved nugatory, but Mallandaine returned the next January in vain pursuit of election to the House of Assembly of Vancouver Island. Meantime he began to teach French in Victoria at a school run by J. Silversmith. Unwisely, given the competition from denominational schools, he purchased Silversmith's interest, and he persisted with the Victoria Select School for some two years while financing the publication of his illustrated First Victoria directory, which appeared in 1860.
Prefaced by a brief history of the province, the directory is an invaluable historical resource, listing the centres of settlement, administrative officials, and members of the professions, trades, and local organizations. Significantly, it contains a section devoted to San Francisco businesses. Mallandaine clearly intended that it should encourage development of the "resources of these fertile lands," especially commending Vancouver Island as the potential "gem of the Pacific" and Victoria as a free port astride the "highway of travel for English wealth and enterprise" to the Pacific region. He would reiterate these themes in subsequent issues.
After 1862 Mallandaine frequently ventured from Victoria, initially in the employ of the Victoria District road commission and then as collector of taxes for the Esquimalt commission before, on 24 Oct. 1864, accepting that "somewhat baleful business" for both commissions. His responsibilities would continue until at least 1868. Meanwhile, unsettled and wanting funds, he went to Portland, Oreg., to look for work. In April 1870 he assumed the office of school-tax collector in Victoria and, with the honorary rank of captain, he was paymaster of Military District No.11 from 27 April 1874 until 1 July 1879. He thrice joined surveys for the railway intended to link Canada with the Pacific: in 1871, 1877, and 1882. Upon the second survey, through July and September 1877, he drew his most evocative pencil sketches and did the spacious water-colour inscribed "Mountain on Fraser R. 36m above Boston Bar." The surveys, and excursions to Cassiar in August 1875 in a vain search for gold, to San Francisco in 1876–77 for architectural employment, and to Portland in 1882 where he spent some time drafting for the Northern Pacific Railroad, underscore the failure of the architectural practice Mallandaine had established in 1863.
Despite the construction in 1863–64 of a brick and stone building on Store Street that was subsequently integrated into the Albion Iron Works, Mallandaine had not flourished as an architect. The withering of his practice was probably connected with competition from the more successful John Wright and John Teague. In 1873 Mallandaine claimed to have received commissions for renovations to the Female Infirmary, together with a special "Fever Ward," and the post office on Government Street for which he prepared "classical" and simpler Palladian schemes, each estimated to cost $40,000. He was, however, superseded before building commenced, except on the infirmary. He did proceed with commissions for a plain Neo-Gothic hall-plan church at Metchosin and economical wooden schools at Cedar Hill (Saanich), Comox, Sooke, and Nanaimo. Several grander residential plans were rejected or abandoned along with projects for hotels in New Westminster and Victoria. This litany of failure persisted with the loss of the 1875 competition for Victoria City Hall to John Teague. The reason for this loss probably lay less in the size of his estimate, as Mallandaine complained, than in the absence of real architectural competence, compounded by the inadequate interpersonal skills which had cost him a position in the Lands and Works Office during 1874.
That at least one of the "several warehouses" Mallandaine was said to have built proved unstable could explain the termination of several contracts for substantial commercial buildings in 1884 and 1885. His major remaining structure, St Luke's Church (Anglican), is on Cedar Hill Cross Road in Saanich. Erected in the winter of 1887, and by that time outdated, it is a modest interpretation of the Gothic Revival style. His amateurism is especially manifested in the superficially grandiose design he entered in 1892 for the new provincial legislature. The competition was won by Francis Mawson Rattenbury*, and Mallandaine's loss seemingly terminated his architectural endeavours. He continued to write to the Daily Colonist on current issues, compiled reminiscences from his terse diaries in 1897, but suffered increasing ill health in his final home, at James Bay. He died there, his longevity having finally accorded him the reputation he had been unable to achieve in his career.
The main records of Edward Mallandaine's life are preserved in the BCARS. His papers, including his reminiscences, diaries, and notebooks, are held at Add. mss 470, and additional family information is available in his file in D-19. Many of his pencil, pen, and water-colour sketches, and several ink caricatures, are found in the Visual Records Unit (pdp 1256–87, pdp 1337–44, pdp 3387–406); most notable among these are the views of Fort Langley and locations along the Fraser River. A plan he drew in 1873 for the Esquimalt naval base is in the Map Coll. (CM C382), as is his 1892 design for the provincial legislature (14991B); the latter is reproduced in The British Columbia Parliament Buildings, ed. Martin Segger (Vancouver, 1979), 53. There is also some Mallandaine correspondence in City of Victoria Arch., City clerk's office, ser.11, box 1, files 3–4, 6, 9, and two pencil sketches of Fraser River scenes at Port Ellice House, Victoria.
Mallandaine was the compiler of First Victoria directory; comprising a general directory of citizens, also, an official list, list of voters, postal arrangements and notices of trades and professions, preceded by a synopsis of the commercial progress of the colonies of Vancouver Island and British Columbia (Victoria, 1860), and of four subsequent editions: First Victoria directory, second issue, and British Columbia guide . . . (1868); . . . third issue . . . (1869); . . . third [i.e., fourth] issue . . . (1871); and . . . fifth issue . . . (1874). He also prepared, and issued in collaboration with the publisher Robert Taylor Williams, The British Columbia directory, containing a general directory of business men and householders in the principal cities and every important district, with provincial and dominion officials and general information about the province, 1887 (Victoria, 1887). As headmaster of the Victoria Select School, he published a brochure outlining its curriculum: Private educational institute, established 1858: prospectus ([Victoria, 1860]). All of these works have been made available on microfiche by the CIHM and are listed in its Reg.
Daily Colonist (Victoria), 23 March, 26 Sept. 1924; 29 Sept. 1925. Patricia Gregson, "Victoria's first directory," Daily Colonist, 26 Sept. 1971. J. [K.] Nesbitt, "Old homes and families," Daily Colonist, 17 May 1953. Margaret Sharcott, "Frustrated architect," Daily Colonist, 29 March 1964. British Columbia; pictorial and biographical (2v., Winnipeg, 1914), 2. Geoffrey Castle and B. F. King, Victoria landmarks (Victoria, 1985). Directory, B.C., 1892. Harper, Early painters and engravers. Martin Segger and Douglas Franklin, Victoria: a primer for regional history in architecture (Watkins Glen, N.Y., and Victoria, 1979).
© 1994–2023 University of Toronto/Université Laval
Cite This Article
R. Windsor Liscombe, "MALLANDAINE, EDWARD," in Dictionary of Canadian Biography, vol. 13, University of Toronto/Université Laval, 2003–, accessed June 10, 2023, http://www.biographi.ca/en/bio/mallandaine_edward_13E.html.
The citation above shows the format for footnotes and endnotes according to the Chicago manual of style (16th edition). Information to be used in other citation formats:
| | |
| --- | --- |
| Permalink: | http://www.biographi.ca/en/bio/mallandaine_edward_13E.html |
| Author of Article: | R. Windsor Liscombe |
| Title of Article: | MALLANDAINE, EDWARD |
| Publication Name: | Dictionary of Canadian Biography, vol. 13 |
| Publisher: | University of Toronto/Université Laval |
| Year of publication: | 1994 |
| Year of revision: | 1994 |
| Access Date: | June 10, 2023 |