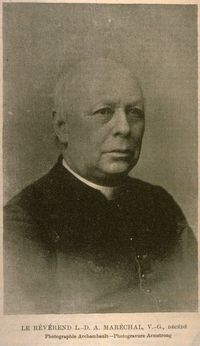 Source: Courtesy of Bibliothèque et Archives Nationales du Québec / 52327/2076044
MARÉCHAL, LOUIS-DELPHIS-ADOLPHE (baptized Louis-Delphis), Roman Catholic priest and vicar general; b. 23 Jan. 1824 in Montreal, son of Louis Dière, dit Maréchal, and Geneviève Saint-Denis; d. there 26 July 1892.
The son of a tanner in Saint-Henri (Montreal), Louis-Delphis-Adolphe Maréchal began his schooling there and in 1837 was accepted, without payment, as a day student at the Petit Séminaire de Montréal. He did the final two years, Philosophy, while acting as reader-in-residence at the seminary. In September 1845 he began the theological studies leading to the priesthood at the Grand Séminaire de Montréal under Sulpician Dominique Granet. He also began to teach the first form (Latin Elements) and the fourth (Poetry).
There were urgent pastoral needs in the diocese of Montreal, and a few days after his ordination by Bishop Ignace Bourget* on 5 Nov. 1848, Maréchal was named assistant to the curé of Saint-Martin, a large parish on Île Jésus. Having received his formation under Granet in the traditions of 17th-century French spirituality, he soon found joy and pride in the new mission assigned to him of serving recently settled territories, among them Sainte-Julienne, Saint-Patrice at Rawdon, and Kilkenny Township. Based at Saint-Esprit, and then at Saint-Jacques-de-l'Achigan (Saint-Jacques) he visited remote areas with fellow priests and was shocked to discover both the ignorance of the faith and the immorality of adolescents left to their own devices. But in dealing with the parishioners at Saint-Jacques-de-l'Achigan he had more familiar problems. He had to decide what attitude to take towards those in sympathy with the newspaper L'Avenir of Montreal, what to do about those who felt no obligation to attend mass on Sundays and feast-days, and how to clarify the rules of certain religious confraternities .
By November 1850 Bourget considered Maréchal experienced enough to be given charge of the pioneer parish of Saint-Alphonse. There he found a widely scattered population of 500 devout people old enough to receive Communion and well disposed towards religion. Maréchal was eager to guide them along the spiritual paths he himself was following, by teaching the young their catechism, hearing confession and giving Communion to all, and organizing two religious associations for women.
Ten months later Maréchal was named priest of Saint-Ambroise, but in February 1852 he was recalled by the bishop and given his first real curacy, in the important parish of Saint-Cyprien at Napierville, which then had a population of nearly 5,000. When the Easter season was over, Maréchal was surprised to find that almost 30 per cent of his parishioners had neglected their Eucharistic obligations. There was clearly work to be done for their conversion. The young curé therefore organized a major three-week preaching mission by the Oblates of Mary Immaculate. At the same time he joined in the work of repairing the side galleries in the church.
Maréchal felt torn, however, between a life of action, in which he was generally successful, and an inward life of asceticism and longing for a personal experience of God, in which he had attained no perceptible results. Presumably he saw his sudden decision, on 15 Aug. 1853, to volunteer for the chaplaincy of the Sisters of St Anne as the best solution to his difficulty, a move towards the inner life. This appointment, approved by Bourget as an answer to prayer, was to affect the destinies of several women in a recently founded community that was then leaving Vaudreuil to settle at Saint-Jacques-de-l'Achigan.
From early September Maréchal's first contacts with its founder and superior, Esther Sureau*, dit Blondin, named Mother Marie-Anne, were glacial. Bourget refused her request for a new chaplain and from the outset viewed the problem as one of obedience and humility in the face of decisions made by ecclesiastical superiors. Maréchal never interpreted in any other way the resistance put up by the mother superior, her assistant, and the majority of the members of the community to his attempts to shape their spiritual life. During the first months tension increased to the point where Paul-Loup Archambault*, the superior of the community at the time it was founded, suggested to Bourget in February 1854 that Maréchal be replaced. The crisis came to a head the following summer. In view of Mother Marie-Anne's refusal to follow his advice, Maréchal, convinced of her pride, deceitfulness, and scheming, considered her unfit to train nuns. She had to go. Bourget took steps to relieve her of her duties. The shock of this repudiation by her ecclesiastical superiors made her so ill that the physician feared for her life. Maréchal considered it his duty to break down her obstinacy and refused to hear her confession until she acknowledged that her resistance was a spiritual transgression. By the end of October the struggle, in which the clerics were attempting to seize control of a young community of women whose leaders did not want to abdicate their power of decision but in which all the actors spoke the same religious language, was beginning to die down. Maréchal went to the convent nearly every morning at ten o'clock to instruct the sisters in a method of prayer taken from St Ignatius of Loyola, and again at four in the afternoon for spiritual readings. Later he suggested changes in the rules, and he wrote a short catechism on the duties of the religious life in 1858 and a regulation concerning summer vacations for the sisters.
When the curé of Saint-Jacques-de-l'Achigan, Jean-Romuald Paré, died in 1858, Maréchal, as he had hoped, was appointed to succeed him. He could now continue to be involved with the Sisters of St Anne, but as their superior rather than their chaplain. Until 1882 Maréchal apparently encountered only occasional problems: his parishioners' distrust with regard to the temporal power of the pope (1860), a priest who began selling medicine and giving medical consultations (even to women), poverty in the northern townships (1863), and repeated drunkenness during the Christmas holidays. The parish was a devout one, with an abundance of religious associations, and it was conscientious about keeping its places of worship in good condition. It was thus a more flexible pastor, one mellowed by experience, whom Édouard-Charles Fabre, the bishop of Montreal, decided in September 1882 to appoint vicar general. He seems to have worked effectively in the background, helping the bishop mainly in directing the religious communities and by taking an interest in the fate of their missions in the west.
Not long after a trip that took him all the way to British Columbia, Louis-Delphis-Adolphe Maréchal died of a heart attack. He had twice been in charge of administering the diocese in Fabre's absence and had presided over the chapter in his capacity as dean. The presence of 6 bishops and 200 priests at his funeral attested both to the numerical strength of the clergy at the time and to the high esteem in which they held this priest, whose actions had so dramatically affected the history of the Sisters of St Anne.
ACAM, 421.103; 990.029; RC, VI: ff.231, 239v; RLB, VI: 216–17, 512; VII: 158. ANQ-M, CE1-51, 23 janv. 1824, 26 juill. 1892. Arch. de la congrégation des Sœurs de Sainte-Anne (Lachine, Qué.), Corr., Maréchal à Bourget, 1849–54, 1856–76; Maréchal et autres prêtres; Papiers Maréchal. Arch. de l'évêché de Joliette (Joliette, Qué.), Dossiers-chemises, Saint-Jacques-de-l'Achigan, cure et chemin de croix; vie religieuse; Reg. des lettres, Saint-Ambroise-Rodriguez; Saint-Ambroise-de-Kildaire; Saint-Esprit/Sainte-Julienne; Saint-Jacques-de-Montcalm. Allaire, Dictionnaire. É.-J.[-A.] Auclair, Histoire des Sœurs de Sainte-Anne; les premiers cinquante ans, 1850–1900 (Montréal, 1922). Henri Giroux, La communauté des Sœurs de Ste. Anne (Montréal, 1886). Frédéric Langevin, Mère Marie-Anne, fondatrice de l'Institut des Sœurs de Sainte-Anne, 1809–1890; esquisse biographique (2e éd., Montréal, 1937). Sœur Marie-Jean de Pathmos [Laura Jean], Congrégation pour la cause des saints, Montréal, canonisation de la servante de Dieu Marie-Esther Sureau, dit Blondin (en religion mère Marie-Anne) . . . dossier sur la vie et les vertus (Rome, 1985); Les Sœurs de Sainte-Anne; un siècle d'histoire (1v. paru, Lachine, 1950– ). Eugène Nadeau, Martyre du silence; mère Marie-Anne, fondatrice des Sœurs de Sainte-Anne (1809–1890) (Montréal et Lachine, [1956]). Pouliot, Mgr Bourget et son temps, vol.3.
© 1990–2023 University of Toronto/Université Laval
Image Gallery

Cite This Article
Louis Rousseau, "MARÉCHAL, LOUIS-DELPHIS-ADOLPHE," in Dictionary of Canadian Biography, vol. 12, University of Toronto/Université Laval, 2003–, accessed June 1, 2023, http://www.biographi.ca/en/bio/marechal_louis_delphis_adolphe_12E.html.
The citation above shows the format for footnotes and endnotes according to the Chicago manual of style (16th edition). Information to be used in other citation formats:
| | |
| --- | --- |
| Permalink: | http://www.biographi.ca/en/bio/marechal_louis_delphis_adolphe_12E.html |
| Author of Article: | Louis Rousseau |
| Title of Article: | MARÉCHAL, LOUIS-DELPHIS-ADOLPHE |
| Publication Name: | Dictionary of Canadian Biography, vol. 12 |
| Publisher: | University of Toronto/Université Laval |
| Year of publication: | 1990 |
| Year of revision: | 1990 |
| Access Date: | June 1, 2023 |