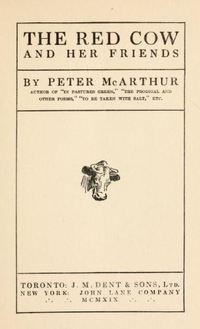 Source: Link
McARTHUR, PETER GILCHRIST, writer and farmer; b. 10 March 1866 in Ekfrid Township, Upper Canada, son of Peter McArthur and Catherine McLennan; m. 11 Sept. 1895 Mabel Clara Haywood-Waters in Niagara (Niagara-on-the-Lake), Ont., and they had four sons and a daughter; d. 28 Oct. 1924 in London, Ont., and was buried in Ekfrid.

Raised on a farm by Scottish-born Presbyterian parents, Peter McArthur would become a lifelong spokesman for the values he believed were implicit in a pioneer's way of life. Upon graduating from the collegiate in nearby Strathroy in 1887, he attended the model school there and taught briefly. The following year he entered the University of Toronto, where his character and determination to resist hazing impressed President Sir Daniel Wilson*. His ambition was to be a writer, hence he submitted jokes to John Wilson Bengough's Grip and in 1889 left university to be a reporter with the Toronto Daily Mail.

McArthur moved to New York City in 1890 to hone his craft freelance. He quickly fitted in with the Canadian expatriate artistic community there, which included poets Charles George Douglas Roberts* and William Bliss Carman, poet-artist Duncan A. McKellar, and Jay Hambidge, an illustrator who studied proportion in art and mathematical formulae in nature. He referred to the group as "the commune." Two of them, Carman and printer Calvert Bowyer Vaux, would correspond with McArthur throughout his life, and in 1921 McArthur would organize Carman's Canadian reading tour. Besides contributing articles, poems, and humorous items to such publications as Life, Puck, and Atlantic Monthly, McArthur, as editor of the New York Truth from 1895 to 1897, published work by Roberts, Carman, Stephen Butler Leacock*, and Duncan Campbell Scott*. It was while he was living in Brooklyn in 1895 that he married Mabel Haywood-Waters, at St Mark's Anglican Church in Niagara.

In 1902 McArthur went to London, England, with his family to edit a magazine that would express Hambidge's "aesthetics of dynamic symmetry." It did not materialize so he turned to other projects there: contributing to Punch, working with William Thomas Stead on the Review of Reviews and the Daily Paper, and writing To be taken with salt: being an essay on teaching one's grandmother to suck eggs (1903), a satire that reflects a colonial's view of imperial society. In 1904 the McArthurs came back to New York, where Peter, as a partner in an advertising agency, wrote short fictional works that conclude with product endorsements, and, as a freelance writer, produced The prodigal, and other poems (1907), in which several items anticipate a return to rural life. Shortly thereafter he left the uncertainties of business, moved to Niagara, and in 1908 took his family to Ekfrid, where his father had left him land. He would live there for the rest of his life, carrying on a small mixed-farming operation, not for wealth but for physical well-being and spiritual nourishment (in addition to that gained as a member of St John's Anglican Church). His enterprise, similar to the one in Henry David Thoreau's Walden, allowed him to relish and describe the natural world and rural activity, and to interpret them in a philosophical spirit. His persistent focus on the common man emerged easily from his spiritual analysis of nature. In one unpublished essay, which challenged Richard Maurice Bucke*'s championship of Walt Whitman's primacy as a cosmic thinker, McArthur held that cosmic consciousness "is possessed by men of all description" and that Whitman's real glory lay in his intent "to help every man to develop the possibilities of his own nature."

McArthur's preferred place for thinking and writing was a tent in his woodlot. From 29 May 1909 until his death he revealed his manifold interests in articles for the Toronto Globe, and between 1910 and 1917 he contributed as well to the Farmer's Advocate and Home Magazine (London, Ont.). Selections from these sources were published in Toronto as In pastures green (1915) and The red cow and her friends (1919). His reputation rests mainly on these essays, and on occasional poems, but McArthur was a prolific writer. Between 1910 and 1912 he published eight numbers of Ourselves: a Magazine for Cheerful Canadians (St Thomas, Ont.), a largely humorous and satirical journal that includes critiques of some of his favourite targets: big business, the Canadian banking system, politicians, and the staleness of imperial society. His poems and stories also appeared from time to time in other Canadian and American periodicals and newspapers. In 1919 he compiled a eulogistic and anecdotal biography of Liberal prime minister Sir Wilfrid Laurier* and in 1923 he would undertake a study of Stephen Leacock for Lorne Albert Pierce*'s Makers of Canadian literature series. The affable stranger (Toronto, 1920), a collection of essays, is the product of McArthur's observations during travels in Canada and the northeastern United States after World War I. Through a sceptical and conservative lens, and with repeated assertion of the validity of pioneer values, he examines contemporary economy, organizations, social movements, and differences between the Old and the New World. He also returned to commerce as a theme, writing tracts and poems on life insurance as a means to reform society in the interests of the common man. A chant of Mammonism (Waterloo, Ont., [1922]), for example, predicts the demise of the capitalist as the financial power of mutual life insurance companies grows.

Much of McArthur's work gives evidence of haste, the biography of Laurier being a notable example. Hence, he has been charged by critics with carelessness and stylistic unevenness. F. W. Watt, in his examination of McArthur and the "agrarian myth," asserts that his work rarely emerges from "journalistic dross." To some extent these defects may be forgiven in the light of McArthur's observation about Leacock, that the pressure exerted by publishers may have limited the development of his powers. In McArthur's case, the demands of his farm and semi-weekly newspaper columns strained the quality of his prose. Any unevenness or lack of cohesion also stems from his use of various styles and tones, and the wide range of his interests: natural history, farming, theosophy, depersonalization caused by urban life and technological development, the evils of big business and politicians, and "the over-organization of humanity for profit," especially during the war.

Despite this diversity, there are unifying themes in McArthur's work. He consistently espoused the idea of a New World democracy that was epitomized in the cooperative individualism of the pioneers. Out of this model came his articulation of the interests of the "common man" and his emphasis on "brotherhood," notions that found their best political expression, he believed, in the liberalism of Laurier. Idealistically, he urged people to cease being pawns of exploitive organizations and capitalist greed, and to return to the land for lives of self-reliance and mutual support. That his advocacy was widely admired is testified to by the numerous obituaries of "the Sage of Ekfrid" that appeared in newspapers and journals throughout Canada and United States after his death. He died in 1924 following surgery at the Victoria Hospital in London.
Peter McArthur's writings are listed in W. A. Deacon, Peter McArthur (Toronto, [1923?]) and Alec Lucas, Peter McArthur (Boston, [1975]). In addition, he wrote "Public opinion and political life," in The new era in Canada; essays dealing with the upbuilding of the Canadian commonwealth, ed. J. O. Miller (Toronto, 1917), 331–45. A selection of his works by Alec Lucas has been published as The best of Peter McArthur, (Toronto, 1967). McArthur's manuscripts, along with many other papers and his lantern slides, can be found in Univ. of Western Ont. Library, Regional Coll. (London), B4291–94.

AO, F 977-4, Eddie Cemetery (Ekfrid Township, Ont.), nos.90–91 (mfm.); F 978, St Mark's Anglican Church, Niagara [Niagara-on-the-Lake, Ont.], RBMB, 11 Sept. 1895 (mfm.); RG 80-5-0-226, no.7378; RG 80-8-0-966, no.21243. Univ. of Toronto Arch., B65-0014/004(02). Glencoe Transcript (Glencoe, Ont.), 12, 19 Sept. 1895; 7 Jan. 1904. London Evening Advertiser, 29 Oct. 1924. Canadian men and women of the time (Morgan; 1898 and 1912). Brandon Conron, "Essays (1880–1920)," in Literary history of Canada: Canadian literature in English, ed. C. F. Klinck et al. (Toronto, 1965), 340–46. F. W. Watt, "Peter McArthur and the agrarian myth," Queen's Quarterly (Kingston, Ont.), 67 (1960–61): 245–57.

© 2005–2023 University of Toronto/Université Laval
Cite This Article
Carl P. Ballstadt, "MCARTHUR, PETER GILCHRIST," in Dictionary of Canadian Biography, vol. 15, University of Toronto/Université Laval, 2003–, accessed June 9, 2023, http://www.biographi.ca/en/bio/mcarthur_peter_gilchrist_15E.html.
The citation above shows the format for footnotes and endnotes according to the Chicago manual of style (16th edition). Information to be used in other citation formats:
| | |
| --- | --- |
| Permalink: | http://www.biographi.ca/en/bio/mcarthur_peter_gilchrist_15E.html |
| Author of Article: | Carl P. Ballstadt |
| Title of Article: | MCARTHUR, PETER GILCHRIST |
| Publication Name: | Dictionary of Canadian Biography, vol. 15 |
| Publisher: | University of Toronto/Université Laval |
| Year of publication: | 2005 |
| Year of revision: | 2005 |
| Access Date: | June 9, 2023 |