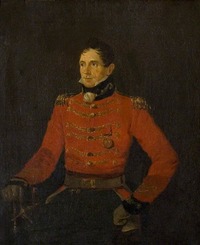 Source: Dumfries and Galloway Council (Stranraer) More about image copyright
McDOUALL, ROBERT, army officer; b. March 1774 in Stranraer, Scotland, second son of John McDouall, a magistrate of the town; d. there unmarried 15 Nov. 1848.
Robert McDouall received a tolerable education in Scotland and England before being placed in a business establishment in London. His father and uncle hoped that he would become a merchant, but the young man was attracted to a military career. With his father's reluctant approval he purchased an ensigncy in the 49th Foot on 29 Oct. 1797 and a lieutenancy in the 8th Foot three days later. McDouall took part in the British expedition to Egypt in 1801, and he was promoted captain on 24 Oct. 1804. He saw service during the Copenhagen expedition of 1807 and at Martinique in 1809 before coming to Lower Canada with his battalion in May 1810. Soon after the outbreak of war with the United States in the summer of 1812, McDouall was appointed an aide-de-camp to Governor Sir George Prevost*. He was with Prevost at the attack on Sackets Harbor, N.Y., in May 1813, and was then sent to the Niagara peninsula with instructions for Brigadier-General John Vincent. McDouall later claimed to have suggested the attack at Stoney Creek on 6 June, in which he took part. Promoted major in the Glengarry Light Infantry Fencibles on 24 June, he was sent home with dispatches and was made brevet lieutenant-colonel on 29 July. He came back to the Canadas before the end of 1813.
McDouall's connection with Prevost was undoubtedly responsible for his selection late that year as commandant of Michilimackinac (Mackinac Island, Mich.), which since its capture from the Americans in July 1812 [see Charles Roberts*] had been the key British military and fur-trade post in the northwest. Being "fully sensible to the chances of enemy attack," he had detailed conversations with Prevost about the reinforcement of the post and conducted a correspondence with William McGillivray* of the North West Company to obtain advice about local conditions. Under his leadership an expedition bringing reinforcements and much-needed supplies reached Michilimackinac on 18 May 1814 after a difficult journey via York (Toronto), Lake Simcoe, and Nottawasaga Bay.
Late the next month McDouall received news that the Americans had taken Prairie du Chien (Wis.), a strategic post on the Upper Mississippi. He at once realized that if the enemy were not removed "there was an end to our connextion with the Indians . . . tribe after tribe would be gained over or subdued, & thus would be destroyed the only barrier which protects the Great trading establishments of the North West & the Hudsons Bay Companys." He at once sent a force under William McKay* "to dislodge the American Genl from his new conquest," and Prairie du Chien was retaken on 20 July.
The dispatch of McKay's expedition had reduced the garrison of Michilimackinac, a cause for concern in light of intelligence that the Americans were planning an attempt to recapture the island. Over the summer the defences were strengthened, but McDouall's numbers were still much smaller than the 1,000 troops in four warships which appeared off Michilimackinac on 26 July. When the enemy landed on 4 August, McDouall moved to meet them with 140 soldiers and several hundred Indians. As the opposing forces were skirmishing McDouall received a false report that American troops were in his rear, and he began a retreat in which most of the Indians joined. Left behind was a band of Menominees, who "commenced a spirited attack" upon the enemy. The Americans, after losing "their second in Command [and] several other officers" in a short time, retired "in the utmost haste & confusion" to their boats, McDouall noted.
Although Michilimackinac was not attacked for the duration of the war, the Americans destroyed the British base at Nottawasaga Bay and stationed two vessels near Michilimackinac to prevent supplies from reaching the garrison. Rations were short when Lieutenant Miller Worsley* of the Royal Navy arrived on 30 August with supplies. With McDouall's approval, he carried out an attack which captured the American vessels and ensured British control of the northwest during the conflict.
In the spring of 1815 McDouall learned that peace had been signed and that "the mutual restoration of all Forts" had been ordered. He was "penetrated with grief at the restoration of this fine island, a fortress built by Nature for herself," and lamented that "our negociators as usual, have been egregiously duped . . . they have shewn themselves profoundly ignorant of the concerns of this part of the Empire." As preparation for the restoration of Michilimackinac, which occurred on 18 July 1815, the British had established a base on nearby Drummond Island (Mich.), and McDouall was commandant there until the reduction of the garrison in June 1816. Before leaving for Scotland the same year, he asked McKay to sit for a portrait, as it was his intention "to embellish [his] retreat" with paintings of his wartime friends.
McDouall spent the remainder of his life at Stranraer. Although eager to return to active duty, he was not employed again, being promoted colonel in July 1830 and major-general in November 1841. In February 1817 he had been appointed a companion of the Order of the Bath for his efforts at Michilimackinac. Later in life McDouall was much influenced by the teachings of the Free Church of Scotland, and he gave generously of his time and money to its works, contributing to the libraries of the church's colleges in Edinburgh and Toronto. A solid, dedicated, and astute officer, Robert McDouall was representative of the British military and naval personnel who served with courage and quiet distinction in British North America during the War of 1812 while their confrères were enjoying the limelight cast by the Napoleonic battles of Salamanca and Vitoria.
AO, MS 35. DPL, Burton Hist. Coll., Robert McDouall, orderly book, Drummond Island, 1815. PAC, MG 19, E5; RG 8, I (C ser.), 685, 688, 1219. Andrew Bulger, An autobiographical sketch of the services of the late Captain Andrew Bulger of the Royal Newfoundland Fencible Regiment (Bangalore, India, 1865). "Major-General M'Douall, C.B.," Free Church of Scotland, Pub. Committee, Monthly-Ser. of Tracts (Edinburgh), no.58 (July 1849). G.B., WO, Army list, 1798–1848/49. Officers of British forces in Canada (Irving). B. L. Dunnigan, "The British army at Mackinac, 1812–1815," Mackinac Island State Park Commission, Reports in Mackinac Hist. and Archaeology (Mackinac Island, Mich.), no.7 (1980). A. R. Gilpin, The War of 1812 in the old northwest (Toronto and East Lansing, Mich., 1958). R. S. Allen, "The British Indian Department and the frontier in North America, 1755–1830," Canadian Hist. Sites, no.14 (1975): 5–125. B. L. Dunnigan, "The battle of Mackinac Island," Mich. Hist. (Lansing), 59 (1975): 239–54.
© 1988–2023 University of Toronto/Université Laval
Cite This Article
Robert S. Allen, "McDOUALL, ROBERT," in Dictionary of Canadian Biography, vol. 7, University of Toronto/Université Laval, 2003–, accessed December 7, 2023, http://www.biographi.ca/en/bio/mcdouall_robert_7E.html.
The citation above shows the format for footnotes and endnotes according to the Chicago manual of style (16th edition). Information to be used in other citation formats:
| | |
| --- | --- |
| Permalink: | http://www.biographi.ca/en/bio/mcdouall_robert_7E.html |
| Author of Article: | Robert S. Allen |
| Title of Article: | McDOUALL, ROBERT |
| Publication Name: | Dictionary of Canadian Biography, vol. 7 |
| Publisher: | University of Toronto/Université Laval |
| Year of publication: | 1988 |
| Year of revision: | 1988 |
| Access Date: | December 7, 2023 |