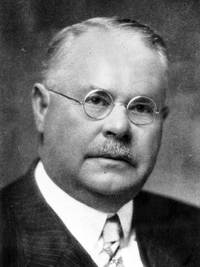 Source: Link
Mc​GREGOR, JAMES DUNCAN, businessman, livestock breeder, rancher, and office holder; b. 29 Aug. 1860 in Amherstburg, Upper Canada, son of David McGregor, a livery-stable owner, and Annie Smith; m. 10 April 1883 Elizabeth (Lizzy) Murphy (d. 1902) in North Cypress, Man., and they had three sons, one of whom predeceased him, and one daughter; d. 15 March 1935 in Winnipeg.
Educated in Windsor, Upper Canada, James Duncan McGregor left school at age 15. In the spring of 1877 he moved with his parents and siblings to Winnipeg, where his father and uncle opened a sale-and-commission business dealing in horses, oxen, feed, harnesses, wagons, buggies, and carts. Two years later McGregor set himself up as a trader in the frontier settlement of Portage la Prairie. In 1881, when the Canadian Pacific Railway decided on the route through Brandon, McGregor arrived there before the line was completed and was soon in business, outfitting settlers with horses and cattle. In 1885 he created J. D. McGregor and Company, which auctioned horses, cattle, and sheep. Four years later, he co-founded Munn, McGregor and Company with Henry Toke Munn; its primary function was to purchase western range horses, tame them, and sell them to Manitoba farmers. They dissolved their partnership in 1893, probably at McGregor's insistence, because of difficulties in collecting money owed to them by poor farmers, most of whom purchased on credit. Nevertheless, McGregor's original firm stayed in business until at least 1895 and was quite successful. By 1889 he had built for his family a residence that the Brandon Mail described as "one of the handsomest" in the city.
McGregor's dream was to find a breed of cattle that would "produce quality beef economically." He first encountered such animals at the farm of Hiram Walker and Sons [see Hiram Walker*] in Walkerville (Windsor), Ont. He saw similar cattle at the Quorn Ranch [see John Ware*] in the District of Alberta. In 1889 Walter Frederick Campbell Gordon-Cumming, a shareholder in the Quorn, had imported 40 Aberdeen Angus heifers and 3 bulls from his farm in Scotland. Later that year McGregor brought 2,000 cattle to the Quorn Ranch to be fattened and noticed the Aberdeen Angus herd, which he subsequently purchased and moved to one of his farms south of Oak Lake, Man. In the early 1890s, under the firm name Glencarnock Stock Farms, he established several farms, among which were two main properties, Glencarnock Farm proper, three miles south of Brandon, and Griswold (Deer) Farm, 35 miles west of the city; as well, there was Gwenmar Farm, near the community of Kemnay. During the same period he also acquired fillies from California and prize-winning stallions, Shropshire sheep, and Tamworth hogs from England, either to sell in Canada or to improve his own stock.
With the creation of the Yukon judicial district on 16 Aug. 1897, McGregor was appointed one of two inspectors of mines, with an annual salary of $1,500, by his close friend Clifford Sifton*, federal minister of the interior. He left soon afterwards for Dawson. Now 37 years old, McGregor stood six feet tall, had broad shoulders, and weighed over 200 pounds. He was a strapping and courageous man, well suited for the rigours of the trek to the Yukon and life among the miners. A natural leader, he confronted tough situations head-on and built a reputation for being honest, forthright, and fair.
McGregor's time in office, however, was not without controversy. In 1899 he was acquitted of charges of accepting bribes and illegally using official information. That year Sifton named him liquor commissioner for the Yukon, at which time he left his post as mining inspector. He would stay in the territory for about eight years in all, regularly returning to Brandon and his farms.
In 1901 McGregor obtained a lease of more than 47,600 acres of land near the junction of the Bow and Oldman rivers, west of Medicine Hat (Alta). Arthur H. Hitchcock, a banker from Moose Jaw (Sask.), took a lease for a slightly larger acreage adjoining McGregor's holding. To manage the Bow River properties, they incorporated the Grand Forks Cattle Company on 28 Aug. 1903 with the help of other investors. The firm was successful, and by 1906 it had almost 6,000 head of range cattle, 875 pure-bred cattle, and 951 horses. McGregor, Hitchcock, and British partners began to organize a massive irrigation project. They established the Robins Irrigation Company to acquire additional land nearby. In the fall of 1906 ownership of the cattle and the irrigation companies was transferred to the Southern Alberta Land Company, which was funded by the Canadian Agency, a British investment firm. McGregor became manager and oversaw the diversion of water from the Bow River to an artificial reservoir (now McGregor Lake) and the building of canals, dams, and flumes to irrigate more than 95,000 acres. Construction began in 1909, but three years later, after the collapse of diversionary works, the chief engineer, Arthur Grace, resigned and McGregor was replaced as manager. He would remain with the company as its farm operations adviser.
The quality of the animals bred by Glencarnock Stock Farms, which McGregor had continued to oversee despite his absences, improved significantly in 1902 when he and James Bowman of Guelph, Ont., a noted breeder of doddies (as Aberdeen Angus were called), imported an outstanding bull from Scotland named Prince of Benton. In 1909 and again three years later McGregor arranged for significant importations of cattle from Scotland. The foundations were now laid for a breeding program that would produce one of the leading Aberdeen Angus herds in North America. Between 1908 and 1925 McGregor would show his cattle extensively across the continent, and during that period they were awarded "more prizes than any [other] herd in [Canada]." On 2 Dec. 1912 at the Chicago International Livestock Exposition his Aberdeen Angus steer Glencarnock Victor won the grand championship for the best fat animal. The following year McGregor won the same competition with Glencarnock Victor II. His success in Chicago did more than anything else to draw the attention of Canadian cattlemen to the merits of the breed. In 1923 he won his third grand championship, on this occasion with Blackcap Revolution, one of the greatest breeding bulls of his time. McGregor relied on the prepotency of the Aberdeen Angus bull "for the improvement of the common cattle of the country."
In McGregor's view expositions and fairs would "set the standard for [the] requirements of intelligent production and marketing [and serve as] an advertising medium for the producers of Canada." This conviction gave him a strong motive for establishing, in 1907, the Brandon Winter Fair and Livestock Association, later the Manitoba Winter Fair and Fat Stock Association. The fair, over which McGregor would preside for 15 years, was first held in March 1908; it became the prime testing ground in Canada for the Aberdeen Angus breed and its crosses.
McGregor became famous within the beef industry for developing an innovative breeding technique: instead of using pedigreed cattle for reproduction, he selected bulls based on their individual characteristics, choosing ones whose aggregate of distinctive features matched those of the foundation cows. He gradually convinced prairie farmers of the importance of raising quality stock. In 1929 Maclean's magazine applauded his method: "Shaggy, rough hides became smooth and glossy. Former canners were transformed into prime beeves."
By urging farmers in Manitoba to stop depending solely on wheat and those in Saskatchewan and Alberta to cease concentrating on livestock, McGregor also played a role in diversifying western Canada's monocultures. He pioneered the general cultivation of alfalfa there and helped establish the growing of sweet clover and fodder corn in Manitoba. In recognition of his "development of agricultural thought and practice, and in appreciation of his efforts as a breeder and exhibitor of Aberdeen Angus cattle," the Agricultural College of Manitoba presented him with an honorary diploma on 3 April 1925. On 2 Dec. 1928 his portrait was hung in the Saddle and Sirloin Club of Chicago, the highest honour conferred by stockmen. The following year, on 25 January, McGregor succeeded Theodore Arthur Burrows* as lieutenant governor of Manitoba, a position he reluctantly accepted "as a compliment to the whole farming industry." He would use this office to further the agricultural interests of Canada. Former business partner Munn described him as "a man of tremendous drive and energy, and with a remarkable imagination and vision as regards the development of the Canadian West." With what the Winnipeg Evening Tribune described as "mingled benignity and quiet authority," McGregor used the office as a platform for spreading his vision of Canada's future, which involved building railways and roads to exploit the vast mineral resources of the north.
McGregor sold off his entire herd of cattle in October 1930. Although his sons and others had taken over Glencarnock Stock Farms, incorporating it a year and a half before the sale, the enterprise failed to flourish after the patriarch left, and the family had divested all their interests in the business by 1935.
An important influence on the development of the stock-raising industry in Canada, McGregor had been a member of the Canadian Aberdeen Angus Association and was its president from 1911 to 1921; he was also an organizer and president of the Manitoba Stock Association and a member of the Western Canada Live-stock Union. In 1918 he was appointed to the Canada Food Board as director of agricultural labour. In 1929 he became the founding president of the Canadian Council of Beef Producers, and the following year the Nor'‑West Farmer awarded him an honorary Master Farmer Medal. In addition, he headed the Dominion Agricultural Credit Company Limited, established in 1931 to help farmers diversify their production by raising livestock, but he resigned in 1934 because of ill health.
James Duncan McGregor was a bold and enterprising figure in the development of the beef industry in western Canada and in agriculture more generally, internationally known for his pioneering methods in stockbreeding. On 15 March 1935, shortly after retiring from the lieutenant governor's office, McGregor died at his Winnipeg residence. He was buried in Brandon cemetery four days later, the opening day of the city's 28th winter fair. In 1979 he was inducted into the Manitoba Agricultural Hall of Fame.
AM, CCA (Companies office corporation docs.) 0059, GR6427, file 425g, Glucarnock Stock Farms, Q 24620. Brandon Univ., S. J. McKee Arch. (Man.), RG 5, James Duncan McGregor fonds. GA, M 2389/627; M 2389/1055. LAC, R190-138-X, files 419067, 429492; R7693-0-0. Man., Dept. of Justice, Vital statistics agency (Winnipeg), no.1883-001263. Manitoba Free Press, 3 Dec. 1912, 3 Dec. 1913, 5 Dec. 1923, 4 Dec. 1928, 16 March 1935. Nor'-West Farmer (Winnipeg), 5 May, 20 Oct., 30 Nov. 1930. Shath Square, "Lieutenant-governors of Manitoba: part eleven," Winnipeg Free Press, 10 July 1971, New Leisure: 22. Winnipeg Free Press, 16 March 1935. Edward Brado, Cattle kingdom: early ranching in Alberta (Vancouver, 1984). Kenneth Coates and Fred McGuiness, Pride of the land: an affectionate history of Brandon's agricultural exhibitions (Winnipeg, 1985). Macdonald Coleman, The face of yesterday: the story of Brandon, Manitoba (Brandon, [1957]). Cornwallis Centennial Committee, Municipal memories ([Cornwallis, Man., 1984?]). F. W. Crawford, Aberdeen-Angus cattle in Canada (Winnipeg, 1944). J. F. Gilpin, Prairie promises: history of the Bow River irrigation district (Vauxhall, Alta, 1996). Griswold United Church Women, Bridging the years: Griswold centennial booklet, 1867–1967 ([Griswold, Man., 1967]). John Hurley, "From sombrero to cocked hat," Maclean's, 1 Nov. 1929: 11. H. T. Munn, Prairie trails and Arctic by-ways (London, 1932). A. H. Sanders, A history of Aberdeen-Angus cattle … (Chicago, 1928). F. H. Schofield, The story of Manitoba (3v., Winnipeg, 1913).
© 2019–2023 University of Toronto/Université Laval
Cite This Article
Peter Hanlon, "MCGREGOR, JAMES DUNCAN," in Dictionary of Canadian Biography, vol. 16, University of Toronto/Université Laval, 2003–, accessed October 1, 2023, http://www.biographi.ca/en/bio/mcgregor_james_duncan_16E.html.
The citation above shows the format for footnotes and endnotes according to the Chicago manual of style (16th edition). Information to be used in other citation formats:
| | |
| --- | --- |
| Permalink: | http://www.biographi.ca/en/bio/mcgregor_james_duncan_16E.html |
| Author of Article: | Peter Hanlon |
| Title of Article: | MCGREGOR, JAMES DUNCAN |
| Publication Name: | Dictionary of Canadian Biography, vol. 16 |
| Publisher: | University of Toronto/Université Laval |
| Year of publication: | 2019 |
| Year of revision: | 2019 |
| Access Date: | October 1, 2023 |