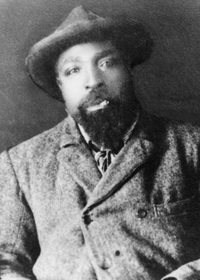 Source: Link
WARE, JOHN, cowboy and rancher; b. 14 May 1850, probably in northern Texas, second youngest of 11 children; m. 2 March 1892 Mildred Lewis in Calgary, and they had two daughters and four sons; d. 11 Sept. 1905 near Brooks, Alta.
John Ware's life in Canada spans the golden years of the ranching frontier, the period of the great cattle companies [see Matthew Henry Cochrane]. The stories that have contributed to his emergence as a regional folk hero centre upon his remarkable horsemanship, his prodigious strength, his good-natured humour and general kindness, and his loyalty to friends and neighbours, as well as his willingness to take novice cowhands under his guidance. Ware is presented as a man of action and few words. All of these attributes are shared by the heroes of the cowboy subculture of this frontier. What distinguishes John Ware is that he was black and that he has become a symbol of racial tolerance.
Ware was born a slave, and the best evidence indicates that he grew up on a small ranch somewhere in northern Texas. After the American Civil War ended in 1865, the cattle-ranching industry spread rapidly over the dry interior plains, and this expansion presumably afforded Ware the opportunity to sell and refine his skills as a cowboy. In the spring of 1882 he met Tom Lynch in southern Idaho. Lynch had come from Canada to purchase a foundation herd for Sir Hugh Allan*'s North-West Cattle Company (commonly known as the Bar U). Having obtained more than 3,000 head, Lynch was looking for experienced cowhands and he hired Ware to help take the great herd northward to its new range in the Rocky Mountain foothills. The drive began in May, and in September Ware arrived with the herd at the ranch, in the District of Alberta west of the High River area.
Seasoned cowboys were in short supply on the Canadian range in the early 1880s, and Ware was persuaded to stay at the Bar U. He remained until 1884 when he went to work at the just-established Quorn Ranch on nearby Sheep Creek (Sheep River). The Quorn was owned by members of the Quorn Hunt Club in Leicestershire, England, and although it had a sizeable cow herd, its main purpose was to raise horses for the English market. Expensive breeding stock was imported, and Ware's position in charge of the horse herd manifests his emerging stature in the ranching community.
In late May 1885 a hundred riders accompanied by five hundred horses and fifteen chuck-wagons moved out of Fort Macleod on the last of the big spring round-ups to comb the entire foothills country from the Montana boundary north to Calgary. Ware was there to represent the Quorn, and the Macleod Gazette observed: "John is not only one of the best natured and most obliging fellows in the country, but he is one of the shrewdest cow men, and the man is considered pretty lucky who has him to look after his interest. The horse is not running on the prairie which John cannot ride." Also on the 1885 round-up was Edward J. F. Hills, a recently arrived English gentleman and novice cowboy. In letters home Hills wrote of Ware's reputation as "the best rough-rider in the North-West," of the "rough" Montana cowboys, and of Ware's personal kindness in helping him master range-land skills.
On 25 May, just before the round-up began, Ware had registered his own cattle brand, 9999. (Known as the four-nines or walking-stick brand, on 3 Jan. 1898 it would be reregistered as three nines.) Perhaps this step was in anticipation of accepting some of his wage in cattle, and it is likely that Ware had the nucleus of a small herd when he established his own ranch three years later. Located on the north fork of Sheep Creek not far from the Quorn, Ware's place was one of an increasing number of smaller, family-operated units. This new phase in his life was confirmed by his marriage in 1892 to Mildred Lewis, daughter of Daniel V. Lewis, a black homesteader and cabinet-maker who had recently moved to the Calgary area from Ontario. Reporting on the wedding in the town's First Baptist Church, the Calgary Tribune extended its "heartiest congratulations," noting that "probably no man in the district has a greater number of warm-personal friends than the groom."
Completion of the railway from Calgary to Fort Macleod in 1892 opened the foothills country to general settlement. Faced with ever-diminishing grazing lands, some ranchers began to move their operations eastward to the more sparsely settled prairie. In 1902 Ware joined the exodus. He sold his foothills property and for $1,000 purchased an isolated homestead on the Red Deer River northeast of Brooks. Here he could expand his herd and better support his growing family, which consisted of two daughters and two sons. Two more sons, one of whom died in infancy, were born shortly after the move.
Ware's dream of a ranch on the Red Deer was short-lived. In April 1905 his wife died of typhoid and pneumonia, and most of the family were sent to live with her relatives in Blairmore, Alta. Tragedy struck again in September. While attempting to cut a steer from a bunch of cattle, Ware was killed when his horse stumbled in a badger hole and fell on him. Many journeyed from distant ranches to his funeral in Calgary on 14 September, and the ranch country mourned one of its most respected cattlemen.
On 8 Dec. 1943 the locally known name Ware Creek was given official recognition, as was the appellation of a ridge that combined Ware's given name with a racist epithet. Both are in the vicinity of his first ranch. In 1970 the latter feature would be renamed John Ware Ridge. The designation of Mount Ware, in the same area, was approved on 6 Sept. 1951.
[The historical John Ware is difficult to find. He was illiterate and relevant contemporary documents are few. Reminiscences are the main source but these, with all their usual deficiencies, are even less helpful than is often the case. Ware's children were relatively young when he died, and most of the commentaries written by his cowboy friends do not begin to appear until the late 1930s. d.h.b.]
An excellent photograph of John Ware and his family is available at the GA (see digitized copy above).
GA, M572; M1281, esp. file 2; M7988, 6, 25 May, 6 Oct. 1885; M8119, file 224. Calgary Herald, 14 Sept. 1905. Calgary Tribune, 2 March 1892. Macleod Gazette (Fort Macleod, [Alta]), 23 June 1885; 15, 22 Sept. 1892. D. H. Breen, The Canadian prairie west and the ranching frontier, 1874–1924 (Toronto, 1983). Canadian Cattlemen (Calgary), 1 (1938–39): 67, 82, 89; 2 (1939–40): 247, 274; 5 (1943–44): 145. Leaves from the medicine tree; a history of the area influenced by the tree, and biographies of pioneers and old timers who came under its spell prior to 1900 (Lethbridge, Alta, 1960). [J. W.] G. MacEwan, John Ware's cow country (Calgary, 1960; repr. 1974).
Revisions based on:
Calgary Herald, 12 Sept. 1905. Find a Grave, "Memorial no.122746083": www.findagrave.com (consulted 24 June 2019).
© 1994–2023 University of Toronto/Université Laval
Cite This Article
David H. Breen, "WARE, JOHN," in Dictionary of Canadian Biography, vol. 13, University of Toronto/Université Laval, 2003–, accessed December 3, 2023, http://www.biographi.ca/en/bio/ware_john_13E.html.
The citation above shows the format for footnotes and endnotes according to the Chicago manual of style (16th edition). Information to be used in other citation formats:
| | |
| --- | --- |
| Permalink: | http://www.biographi.ca/en/bio/ware_john_13E.html |
| Author of Article: | David H. Breen |
| Title of Article: | WARE, JOHN |
| Publication Name: | Dictionary of Canadian Biography, vol. 13 |
| Publisher: | University of Toronto/Université Laval |
| Year of publication: | 1994 |
| Year of revision: | 2021 |
| Access Date: | December 3, 2023 |