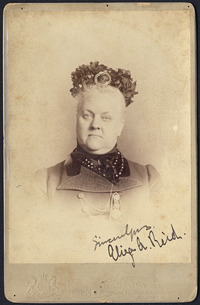 McINTOSH, ELIZA ANN (Reid), social reformer; b. 30 Oct. 1841 in Montreal, daughter of Nicholas McIntosh, a cabinetmaker, and Margaret Brown; m. there 12 Sept. 1867 Robert Reid, and they had one daughter; d. there 8 Jan. 1926.
The increased public involvement of women and the rise of feminism were closely linked to the urban reform movement that began to take shape in Canadian cities around 1880. It was in this context that Eliza Ann Reid, about whom little is known before the 1890s, would win renown through her dynamism and innovative spirit. The daughter of a Montreal furniture maker, she probably received an education comparable to that of her sister, Frances Ramsay, who studied with private teachers and attended lectures given under the auspices of the Montreal Ladies' Educational Association. Frances was to marry George Washington Stephens* in 1878 or 1879 and, like her sister, would be active in various women's associations. In 1867 Eliza Ann married Robert Reid, a man of Scottish origins who prospered with the stone-carving firm he established in Montreal.
In 1892 Eliza Ann founded one of the first women's associations in Canada, the Montreal Women's Club, drawing her inspiration from similar organizations in a number of American cities. The club's objectives were broad: it sought to promote the cultural, scientific, and social development of its members. A feminist orientation clearly coloured its activities. It was concerned particularly about the lack of women on school and hospital boards, and on several university faculties. It fought this discrimination by sending petitions to the provincial government and to the relevant authorities, as well as by organizing lectures on themes such as education, law, and women at work, addressing in particular the academic programs to which women had access, their legal status in the province of Quebec, and their presence in the business world. Among the notable members of the Montreal Women's Club were Carrie Matilda Derick*, Lady Drummond [Parker*], Octavia Grace Ritchie*, and the president's own daughter, Helen Richmond Young Reid*. Eliza Ann Reid remained at the head of this association until her resignation in 1902.
In 1893, when the Local Council of Women (the Montreal branch of the National Council of Women of Canada) was founded [see Ishbel Maria Marjoribanks*], the Montreal Women's Club became affiliated with this new federation of women's associations in the city. Eliza Ann was then made a vice-president of the Local Council and she remained on its board until at least 1924 (acting as an honorary member during the last few years). In her work within this federation, she came into contact with several renowned feminists of the Montreal bourgeoisie, including francophones Marguerite Thibaudeau [Lamothe*], Joséphine Dandurand [Marchand], and Marie Gérin-Lajoie [Lacoste*]. At the national level, she served on a committee studying the legal protection of women and children.
The activities of the Montreal Local Council of Women were related to a number of the themes already espoused by the Montreal Women's Club; the Local Council, however, had greater means and more members to devote to the defence of its causes. Its strengths no doubt explain Eliza Ann's long-lasting commitment to this organization, which made a name for itself through campaigns raising awareness and achievements in public health (by combating infant mortality), education (by distributing pamphlets to mothers), and culture (by presenting concerts and promoting the arts). Advocating a social feminism that still accepted the idea of a natural distinction between the roles of men and women, the association nonetheless helped broaden the rights and privileges of female citizens. Thus it was as wives and mothers that women were urged to demand, for example, the vote and access to higher education and the liberal professions. In this spirit, Eliza Ann encouraged her own daughter to seek admission to McGill College's faculty of arts from the principal himself, John William Dawson*, even though women did not as yet have the right to attend this institution. Helen would follow in her mother's footsteps, being active in the Local Council of Women, figuring among the first women to obtain a ba from McGill University, and contributing to, among other things, the establishment of the McGill School for Graduate Nurses.
Along with her daughter, Eliza Ann served during the 1920s on the board of directors of the Victorian Order of Nurses, an organization that sought to disseminate principles of hygiene, particularly to mothers and young children, and that also helped gain recognition for the nursing profession.
Eliza Ann, who supported commercial reciprocity with the United States [see William Stevens Fielding; Sir Wilfrid Laurier*], gave her political allegiance to the Liberal party. Her religious fervour led her to devote herself to promoting the growth and influence of the Unitarian faith, of which she was an active member. She was on the advisory committee and the board of Montreal's Church of the Messiah.
Firmly convinced that women needed to participate more fully in public affairs, Eliza Ann preached by example. Thus, as a Montrealer she took part in a number of initiatives, among them the improvement of housing in poor neighbourhoods and urban development reforms such as the building of parks, public playgrounds, and public baths, and the upgrading of the water supply, lighting, and public transportation (tramways) services. Following the example of her reformist colleagues, Eliza Ann also concerned herself with urban crime, the fate of prisoners, and prison reform. Involved as well in the fight against alcoholism, she advocated public intervention in this problem and demanded that the city of Montreal grant fewer liquor licences. She also recommended stricter control over the entry of immigrants into Canada.
Upon her death on 8 Jan. 1926, several prominent figures paid tribute to Eliza Ann Reid as a remarkable Montrealer and a Canadian pioneer in organizing women's clubs and promoting women's rights.
ANQ-M, CE601-S126, 17 janv. 1842; S132, 12 sept. 1867. Victorian Order of Nurses for Canada, Arch. (Montreal), Minutes, 1898–1925. Gazette (Montreal), 9, 11–12 Jan. 1926. Canadian men and women of the time (Morgan; 1912). Elizabeth Collard, "Montreal cabinetmakers and chairmakers, 1800–1850: a checklist," Antiques (New York), 105 (January–June 1974): 1132–46. Margaret Gillett, We walked very warily: a history of women at McGill (Montreal, 1981). N. E. S. Griffiths, The splendid vision: centennial history of the National Council of Women of Canada, 1893–1993 (Ottawa, 1993). Local Council of Women [of Montreal], Annual report, 1897–1923; Montreal Local Council of Women: 21st anniversary, 1893–1915 ([Montreal?, 1915?]). Montreal Women's Club, Report, 1893–95, 1898–99, 1900–1. Juliette Patterson, "Helen Reid; l'accès des femmes à l'université: une cause familiale," in Ces femmes qui ont bâti Montréal, sous la dir. de Maryse Darsigny et al. (Montréal, [1994]), 115–16. Yolande Pinard, "Les débuts du mouvement des femmes à Montréal, 1893–1902," in Travailleuses et féministes: les femmes dans la société québécoise, sous la dir. de Marie Lavigne et Yolande Pinard (Montréal, 1983), 177–98. V. J. Strong-Boag, The parliament of women: the National Council of Women of Canada, 1893–1929 (Ottawa, 1976).
© 2005–2023 University of Toronto/Université Laval
Cite This Article
Louise Bienvenue, "McINTOSH, ELIZA ANN (Reid)," in Dictionary of Canadian Biography, vol. 15, University of Toronto/Université Laval, 2003–, accessed October 1, 2023, http://www.biographi.ca/en/bio/mcintosh_eliza_ann_15E.html.
The citation above shows the format for footnotes and endnotes according to the Chicago manual of style (16th edition). Information to be used in other citation formats:
| | |
| --- | --- |
| Permalink: | http://www.biographi.ca/en/bio/mcintosh_eliza_ann_15E.html |
| Author of Article: | Louise Bienvenue |
| Title of Article: | McINTOSH, ELIZA ANN (Reid) |
| Publication Name: | Dictionary of Canadian Biography, vol. 15 |
| Publisher: | University of Toronto/Université Laval |
| Year of publication: | 2005 |
| Year of revision: | 2005 |
| Access Date: | October 1, 2023 |