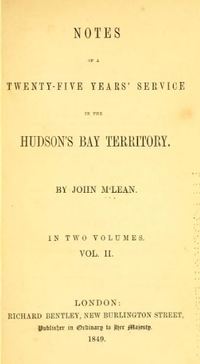 Source: Link
McLEAN, JOHN, HBC fur-trader, explorer, public servant, and author; b. 24 July 1798 or 14 Dec. 1800 in Dervaig, Isle of Mull (Strathclyde), Scotland; m. first in 1837 Margaret Charles at Norway House (Man.), and they had one child; m. secondly in 1845 Clarissa, daughter of the Reverend James Evans*, at Rossville (Man.), and they had five children; d. 8 March 1890 in Victoria, B.C.
John McLean entered the service of the North West Company at Montreal in 1820, probably as an apprentice clerk, and continued with the Hudson's Bay Company when the two companies merged the following year. He served in the Ottawa River area until his transfer in 1833 to the Columbia or Western Department on the Pacific coast. At the end of the 1836–37 outfit McLean was sent to the Northern Department. When he reached Norway House in June the Council of the Northern Department, presided over by Governor George Simpson*, was holding its annual meeting to make arrangements for the forthcoming season's trade. McLean, with 16 years of service in the HBC, was eligible for promotion to chief trader, but much to his disappointment the governor and council of company officers promoted two more senior candidates. Although McLean interpreted this rejection to be a result of Governor Simpson's personal intervention, there does not seem to be any basis for such a charge. In his "Character book" Simpson acknowledged McLean's abilities as a fur-trader and believed that he was "likely to be promoted in due time."
McLean spent the next five years in charge of the Ungava District with headquarters at Fort Chimo (Que.), a post established in 1830, where he laboured relentlessly to develop an economic overland communication route between Fort Chimo and Fort Smith (now North West River, Labrador) on Hamilton Inlet. Believing that success in the area would result in his rapid promotion, McLean embarked on trips of exploration into the interior between 1838 and 1841. Setting out on 2 Jan. 1838, he and his companions followed a route previously explored in 1834 by his predecessor at Fort Chimo, Erland Erlandson*, and travelled about 533 miles in 47 days to Fort Smith at the mouth of the Naskaupi River. In June 1839, accompanied by a "strong crew" which included Erlandson, McLean went by canoe along the coast of Ungava Bay to George River which he ascended as far as it was navigable. Then, travelling overland, he reached Fort Nascopie, on Petitsikapau Lake (Labrador), before moving southeast on what is now known as the Churchill River, to become the first European to view the Grand (Churchill) Falls. At this point he was forced to turn back, and reached Fort Chimo on 20 September. The following year he canoed to Fort Smith by a different route from that taken two years earlier. In 1841, using information supplied by William Henry Allan Davies, the HBC officer in charge of the Esquimaux Bay District, who had ascended the Churchill River from its mouth to near the falls the previous year, McLean discovered a route around the falls and into the interior which the HBC immediately began using.
In spite of McLean's efforts, the profits of the area remained low and the expenses high, and in 1841 Governor Simpson ordered that communication with the district by sea be cut from once a year to once every two years. This directive intensified the feelings of isolation and abandonment which had developed during McLean's previous four years; even his promotion to chief trader in 1841 did little to reassure him. In 1842 McLean embarked on his first furlough in 22 years, and the unprofitable Ungava District was closed the following year.
He returned from the British Isles early in 1843, and in May led an HBC brigade from Lachine, Canada East, to Norway House. Accompanying him was Lieutenant John Henry Lefroy, an officer in the Royal Artillery, who was conducting a magnetic survey of British North America. Lefroy considered McLean to be "a person of intelligence and information beyond what one might expect from a man who has all his life been scraping beaver skins together at remote stations" and remarked on his ability to play the flute.
Poor health, however, prompted McLean to inform Simpson in June 1843 of his intention to retire should he be appointed to a "second Ungava." He attempted to secure adequate personal resources by offering the company the shares he owned as an officer, but it declined to buy them back and he was forced to remain in the service regardless of his posting. McLean was sent to Fort Simpson (N.W.T.) believing he would have charge of the Mackenzie River District. He did supervise the district operations for a year, but in June 1844 Simpson informed him that he had misinterpreted his instructions of the previous year and that Chief Trader Murdoch McPherson, an officer with more seniority, would be assuming command. For McLean this was the final indignity. Not content with venting his feelings on Simpson, he carried his demand for justice to the HBC governor and committee in London, who ruled that McLean had not suffered any more hardships than other company officers and fully supported Governor Simpson's actions. Completely disenchanted with the company, McLean retired on 1 June 1846.
He spent the next nine years in Guelph, Canada West, as a manager of the Bank of Montreal. In November 1855 a scandal involving the loss of £1,300 from his branch resulted in financial ruin for McLean and the end of his banking career when he took responsibility for the loss and turned over most of his savings as restitution. Although Erland Erlandson, whom McLean had hired to assist him at the bank, has since been suspected of the theft, largely because he left a large estate at his death in 1875, nothing has been proven, and McLean himself rejected this notion. By 1857 McLean had moved to Elora, Canada West, where he became the clerk of the division court, a position he held for more than 25 years.
McLean had remained actively interested in developments within the HBC, and in 1849 he published Notes of a twenty-five years' service in the Hudson's Bay territory, a work which remains one of the few firsthand accounts of the fur trade and the administration of Governor George Simpson. In 1869 he published several articles in the Elora Lightning Express describing his impressions of his 25 years in the west, with the purpose of encouraging the acquisition of the territory for Canada. In 1883 he left Elora for Victoria where several years later he died in the home of his daughter, having received during his lifetime little recognition for either his explorations or his publications. They are, however, now receiving attention in new studies of fur-trade history.
John McLean published Notes of a twenty-five years' service in the Hudson's Bay territory (2v., London, 1849), repub. as John McLean's notes of a twenty-five year's service in the Hudson's Bay territory, ed. W. S. Wallace (Toronto, 1932); in 1869 he published a series of articles describing his impressions of his 25 years in the west in the Lightning Express (Elora, Ont.).
PAM, HBCA, A.6/25: ff.118–118d; A.6/26: ff.145–145d; A.10/18: ff.490–93; B.134/c/1: f.422; B.134/c/15: f.180; B.134/g/2–8; B.154/z/1: f.421; B.188/d/15: ff.9d–10; B.223/b/10; B.239/g/12–14; B.239/g/16; B.239/k/2: ff.38, 70d, 124; D.4/23: ff.45, 136d; D.4/26: f.8; D.4/28: f.78; D.4/31: f.49d; D.4/32: f.97d; D.4/62: ff.55d–62; D.5/5: ff.164–164d; D.5/8: ff.311, 366; D.5/18: ff.52–53d; mfm. copy no.384. HBRS, XXX (Williams). J. H. Lefroy, In search of the magnetic north: a soldier-surveyor's letters from the north-west, 1843–1844, ed. G. F. G. Stanley (Toronto, 1955). Mactavish, Letters of Letitia Hargrave (MacLeod). Daily Colonist (Victoria), 9 March 1890. J. R. Connon, "Elora" (n.p., 1930; repub. as The early history of Elora, Ontario, and vicinity, intro. Gerald Noonan (Waterloo, Ont., 1974)). A. S. Morton, Sir George Simpson, overseas governor of the Hudson's Bay Company: a pen picture of a man of action (Toronto and Vancouver, 1944).
© 1982–2023 University of Toronto/Université Laval
Image Gallery

Cite This Article
Garron Wells, "McLEAN, JOHN (d. 1890)," in Dictionary of Canadian Biography, vol. 11, University of Toronto/Université Laval, 2003–, accessed December 5, 2023, http://www.biographi.ca/en/bio/mclean_john_1890_11E.html.
The citation above shows the format for footnotes and endnotes according to the Chicago manual of style (16th edition). Information to be used in other citation formats:
| | |
| --- | --- |
| Permalink: | http://www.biographi.ca/en/bio/mclean_john_1890_11E.html |
| Author of Article: | Garron Wells |
| Title of Article: | McLEAN, JOHN (d. 1890) |
| Publication Name: | Dictionary of Canadian Biography, vol. 11 |
| Publisher: | University of Toronto/Université Laval |
| Year of publication: | 1982 |
| Year of revision: | 1982 |
| Access Date: | December 5, 2023 |