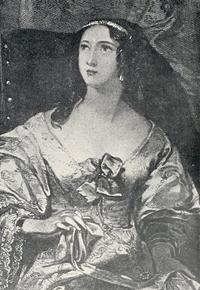 Source: Courtesy of Wikimedia Commons
MONTGENET (Mongenet, Montgenêt), THÉRÈSE-BERNARDINE, Comtesse de MONTGENET, known as Mme de Saint-Laurent; b. 30 Sept. 1760 in Besançon, France, daughter of Jean-Claude Mongenet, a civil engineer, and Jeanne-Claude (Claudine) Pussot; d. unmarried and childless 8 Aug. 1830 in Paris.
In November 1790 Thérèse-Bernardine Montgenet, as Mlle de Saint-Laurent, agreed to join Prince Edward* Augustus, the fourth son of George III, then serving in Gibraltar. He had sent an intermediary to France to find "a young lady to be my companion and mistress of my house." She left her current lover – "a countryman of her own who calls himself the Marquiss de Permangle" – and became Mme de Saint-Laurent "with an hundred names and titles," among them Baronne de Fortisson, a title adopted, it seems, from an earlier lover. She charmed the prince, spurned a bribe to leave him, and accompanied him in the summer of 1791 to his military command in Quebec, beginning a 27-year liaison of great mutual happiness.
In January 1794 the prince left Quebec to join the British forces in Martinique. Madame went with him as far as St Johns (Saint-Jean-sur-Richelieu). He travelled to Boston to take ship; she continued to New York (followed by ribald American newspaper comment), and thence to Halifax and London. Edward, reaching Halifax in May, fretted until her return to him in August. For the next four years (the prince now military commander in the Maritime provinces) Madame was welcomed in Halifax as she had been in Quebec, except among "the proper ladies . . . [who] do not accept her socially," as a French visitor to the Lower Canadian capital had remarked. To John Wentworth*, lieutenant governor of Nova Scotia, she was "an elegant, well bred, pleasing sensible woman – far beyond most – I never yet saw a woman of such intrepid fortitude yet possessing the finest temper and refined manners." In Quebec she had made a lifelong friend of Ignace-Michel-Louis-Antoine d'Irumberry de Salaberry and his family, and her letters to them reflect her gaiety and warmth.
In October 1798 Madame left for London with the prince, who needed treatment for a leg injury. He bought her a house in Knightsbridge, and set up a fund for her future security, which she thriftily invested. He returned to Halifax in September 1799 as Duke of Kent and commander of the forces in British North America, and Madame was hostess again in Prince's Lodge, the suburban retreat lent by Wentworth. She went with the duke on his provincial tours, and found a steadfast friend in the exiled Duc d'Orléans when he visited Halifax.
She made her sixth and last transatlantic crossing in August 1800 when the duke left the climatic rigours of North America forever. Over the next 16 years, including some ten months when the duke was governor and commander at Gibraltar, Madame created the "quiet & peaceable home" he valued. At his Ealing (London) estate, Castle Hill Lodge, or in his Kensington Palace suite, the duke's "beloved companion" arranged intimate dinners, welcomed friends, read in his extensive library, sewed ("she makes the whole of her cloaths herself"), or scribbled in her commonplace-book. Frequent visitors were the four Salaberry sons, delighted by her kindness and charm. She and the duke shepherded the youngest, Édouard-Alphonse* (their godson), through his studies and grieved over his death in April 1812 at Badajoz, Spain; he was the third of the brothers to die. Madame also followed with close interest the education at Ealing of Charles-Jean Mongenet, elder son of her brother Jean-Claude; the duke was godfather to Édouard, the younger son.
The duke's debts drove him in 1816 to live in less expensive Brussels. After tours in Germany and France, he joined Madame in Paris for 11 days of an 11-week reunion with her sister, Jeanne-Beatrix de Jansac, and two of their three brothers. She settled in Brussels with him in November, and happily acquired as protégé the young son of the duke's controller and friend, Frederick Augustus Wetherall. Wetherall, in return, kept an eye on her nephew in England.
For some time the duke had been uneasily contemplating marriage as a way to clear his debts. The death in November 1817 of Princess Charlotte Augusta, second in line to the throne, increased pressure from friends, family, and London papers to marry and provide an heir. His letters to Wetherall showed his distress at losing "that excellent and beloved individual" with whom he was so happy: "You may judge how my heart sinks within me & bleeds at every mark of tenderness & affection she bestows on me."
They parted in Brussels in March 1818, she to return to Paris. Both behaved with impeccable dignity. She made no reproach. They corresponded: he worried about her, set up an annuity for her, sent friends to call. Louis XVIII gave her the title of Comtesse de Montgenet. She asked the duke only for Sir William Beechey's portrait of him: he sent it in care of the Duc d'Orléans.
In July 1818 Madame's sister died suddenly in the suite they shared in Paris, and her old lover the Marquis de Permangle helped to settle the estate. With the duke's death in January 1820 her annuity ceased, but he had provided for her well while he lived. His wife, respecting the duke's love for Madame, sent a personal message at once by her brother Prince Leopold of Saxe-Saalfeld-Coburg to the Duc d'Orléans, who took it to her and returned her reply.
Her nephews Charles-Benjamin and Charles-Jean Mongenet were present at her death in 1830. She had dictated personal bequests to her lawyer; her remaining assets went to her legal heirs, two surviving brothers and a nephew. Beechey's portrait of the duke she bequeathed to the Duc d'Orléans, who the day after her death acceded to the French throne as Louis-Philippe. The Duke of Kent having undertaken to support Madame for life, in 1837 Charles-Benjamin Mongenet petitioned Edward's daughter, Queen Victoria, for the rest of his aunt's annuity, which it is believed was paid.
Mme de Saint-Laurent had accepted her position with dignity and faultless behaviour, and had made no attempt to exercise influence in the duke's public life. She was buried from the Eglise de la Madeleine in her sister's grave in the Cimetière du Père-Lachaise, Paris; she had asked that the tombstone should read "Here lie two sisters united in life, whom death could not separate."
[In addition to a number of titles, Mme de Saint-Laurent went by a variety of given names: Alphonsine appears in the baptismal certificate of her godson; she herself signed her letters J. de St Laurent, the initial apparently standing for Julie, a name which also appears in her godson's baptismal certificate, though it was added apparently at a later date and in a hand other than that of the officiating priest; her will, however, was signed T.-B. de Montgenet. Many legends have grown up around her – about her origins, the children she supposedly had with Edward, and her life after her separation from him; these myths have been put to rest in Mollie Gillen, The prince and his lady: the love story of the Duke of Kent and Madame de St Laurent (London, 1970; repr. Halifax, 1985). A codicil to Madame's will discovered too late for inclusion in the original edition of the book confirmed the assumption that Beechey's portrait of the duke was bequeathed by her to the Duc d'Orléans: Arch. de Paris, DQ7 9162: f.103r, 5 mai 1825. m.g.]
© 1987–2020 University of Toronto/Université Laval
Cite This Article
Mollie Gillen, "MONTGENET, THÉRÈSE-BERNARDINE," in Dictionary of Canadian Biography, vol. 6, University of Toronto/Université Laval, 2003–, accessed February 23, 2020, http://www.biographi.ca/en/bio/montgenet_therese_bernardine_6E.html.
The citation above shows the format for footnotes and endnotes according to the Chicago manual of style (16th edition). Information to be used in other citation formats:
| | |
| --- | --- |
| Permalink: | http://www.biographi.ca/en/bio/montgenet_therese_bernardine_6E.html |
| Author of Article: | Mollie Gillen |
| Title of Article: | MONTGENET, THÉRÈSE-BERNARDINE |
| Publication Name: | Dictionary of Canadian Biography, vol. 6 |
| Publisher: | University of Toronto/Université Laval |
| Year of publication: | 1987 |
| Year of revision: | 1987 |
| Access Date: | February 23, 2020 |