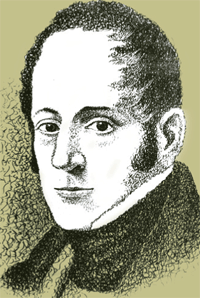 Source: Link
MOZIÑO LOSADA SUÁREZ DE FIGUEROA, JOSÉ MARIANO (also Mociño and Mosiño, but he most frequently signed Moziño), natural scientist and author; baptized 24 Sept. 1757 in Temascaltepec (Mexico), son of Juan Antonio Mosiño and Manuela Losada; buried 19 May 1820 in Barcelona, Spain.
José Mariano Moziño, a Mexican of pure Spanish ancestry, was first educated in his native town and in 1774 entered the Seminario Tridentino in Mexico City as a scholarship student. He received his bachelor's degree in philosophy after just two years and on 17 July 1778 completed the course in scholastic theology and ethics. Later that year Moziño married Maria Rita Rivera y Melo Montaño and moved to Oaxaca, where he became a professor of ecclesiastical history, theology, and ethics at the local seminary.
His teaching career was brief. Discord arose between Moziño and his wife, and in 1784 he returned to Mexico City to enrol in medicine at the Royal and Pontifical University (National Autonomous University of Mexico). He received his bachelor's degree in medicine on 30 April 1787. While he was working toward this degree he also completed a course in mathematics at the Royal Academy of San Carlos (National Autonomous University of Mexico) and substituted in the chair of astrology and mathematics at the university.
Attracted by research, particularly in the field of medicinal plants, Moziño then entered the course in botany at the Royal Botanical Garden in Mexico City. Recognized as the year's outstanding student upon graduation in 1789, he delivered an address defending the controversial Linnaean system of biological nomenclature. Shortly afterwards, he was chosen to participate in botanical investigations north and west of Mexico City as a member of the Royal Botanical Expedition to New Spain.
Upon the recommendation of Martín de Sessé y Lacasta, director of the expedition, Viceroy Revilla Gigedo appointed Moziño to a scientific post with another expedition, led by Juan Francisco de la Bodega* y Quadra. It was to proceed to Nootka Sound (B.C.), where the commander hoped to come to some arrangement with British commissioner George Vancouver*, their nations having disputed territorial rights on the northwest coast. After departing San Blas on 3 March 1792, the group arrived at Nootka Island on 29 April and remained there until 21 September. During this period Moziño met the previous commandant, Pedro de Alberni, the explorer Francisco de Eliza* y Reventa, and the Nootka chief Muquinna*. The duration of Bodega's stay allowed Moziño sufficient time to compile Noticias de Nutka (published first in 1913), a geographical description of the area with an account of the customs, government, economy, rites, chronology, and music of the Nootka Indians. In this work he included a history of European voyages to the sound, added a dictionary of the Nootkan language, and classified more than 200 species of plants and animals. Though fascinated by Nootka Sound's attractions for the naturalist and ethnographer, Moziño was realistic in assessing Spain's official presence there. He believed that retention of the presidio offered no military or commercial advantage. Unlike Dionisio Alcalá-Galiano he did not assume that Spanish control of the maritime fur trade would cause other countries to lose interest in the area, and he knew that on a coastline as complex as this a garrison of 6,000 to 8,000 men would scarcely be sufficient to guard against incursions by other Europeans. Further, even a monopoly of furs would not offset the enormous cost of such a force. He therefore recommended withdrawal, hoping nevertheless that individual Spaniards would be encouraged to enter the fur trade. Moziño's recommendations appear to have made little impact politically, but his manuscript was immediately recognized as valuable by the few scientists who had access to it.
Returning to San Blas and then to Mexico City in February 1793, Moziño rejoined the Royal Botanical Expedition. He subsequently undertook investigations in the present-day states of Veracruz, Tabasco, and Oaxaca, ultimately collecting as far south as Nicaragua. Early 1799 saw his return to Mexico City, where he devoted himself to cataloguing specimens. Four years later he accompanied Sessé to Spain; there he taught at the Royal Academy of Medicine in Madrid and served four terms as its president. In 1808 Joseph Bonaparte, then king of Spain, appointed him director of the Royal Museum of Natural History, but Moziño fell from favour when the Spaniards returned to power in 1812. His consequent exile to Montpellier, France, prevented him from publishing the results of his field-work, and so he entrusted some 1,400 drawings of plants of the New World, including many of the Nootka area, to Swiss botanist Augustin-Pyramus de Candolle. When in 1817 Moziño learned that he was to be allowed again into Spain he asked for the return of his drawings; before giving back the originals Candolle had copies of most of them made by hand and preserved in the Conservatoire Botanique in Geneva, where they are still housed. The Mexican scientist died on his way to Madrid and was buried in Barcelona on 19 May 1820.
José Mariano Moziño collaborated with Martín de Sessé on two major botanical works, Flora Mexicana and Plantae Novae Hispaniae, published in 1888 and 1889 in Mexico City, and wrote articles on medical, botanical, and philosophical subjects. His Noticias de Nutka, diccionario de la lengua de los Nutkeses, y descripción del volcan de Tuxtla, edited by Alberto M. Carreño, was published in Mexico City in 1913. Translated into English and further edited by Iris Higbie Wilson [Engstrand], it was published in Seattle, Wash., in 1970 as Noticias de Nutka: an account of Nootka Sound in 1792.
Archivo del Ministerio de Asuntos Exteriores (Madrid), ms no.145, J. M. Moziño, "Breve diccionario de los terminos que se pudieran aprender del idioma de los naturales de Nutka"; J. M. Moziño and José Maldonado, "Catálogo de los animales y plantas que han reconocido y determinado segun el sistema de Linneo los facultativos de mi expedición." Museo Naval (Madrid), ms nos.143, 468, J. M. Moziño, "Descripción de la isla de Mazarredo, junto a la Quadra o Vancouver y noticias de aquellos países." Diccionario Porrúa de historia, biografía y geografía de México (1v. and Supplemento, Mexico City, 1964–66), 1: 1027–28. J. C. Arias Divito, Las expediciones científicas Españolas durante el siglo XVIII: Expedición Botánica de Nueva España (Madrid, 1968). Rogers McVaugh, Botanical results of the Sessé & Mociño expedition (1787–1803) (Ann Arbor, Mich., 1977). H. W. Rickett, "The Royal Botanical Expedition to New Spain, 1788–1820, as described in documents in the Archivo General de la Nación [Mexico]," Chronica Botanica (Waltham, Mass.), 11 (1947–48): 1–86. I. [H.] Wilson Engstrand, Spanish scientists in the New World: the eighteenth century expeditions (Seattle, 1981).
© 1983–2023 University of Toronto/Université Laval
Image Gallery

Cite This Article
Iris H. Wilson Engstrand, "MOZIÑO LOSADA SUÁREZ DE FIGUEROA, JOSÉ MARIANO," in Dictionary of Canadian Biography, vol. 5, University of Toronto/Université Laval, 2003–, accessed September 28, 2023, http://www.biographi.ca/en/bio/mozino_losada_suarez_de_figueroa_jose_mariano_5E.html.
The citation above shows the format for footnotes and endnotes according to the Chicago manual of style (16th edition). Information to be used in other citation formats:
| | |
| --- | --- |
| Permalink: | http://www.biographi.ca/en/bio/mozino_losada_suarez_de_figueroa_jose_mariano_5E.html |
| Author of Article: | Iris H. Wilson Engstrand |
| Title of Article: | MOZIÑO LOSADA SUÁREZ DE FIGUEROA, JOSÉ MARIANO |
| Publication Name: | Dictionary of Canadian Biography, vol. 5 |
| Publisher: | University of Toronto/Université Laval |
| Year of publication: | 1983 |
| Year of revision: | 1983 |
| Access Date: | September 28, 2023 |