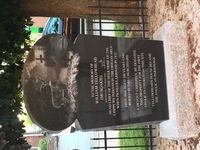 Source: Link
MUSQUAKIE (Mayawassino, Waisowindebay, also known as William Yellowhead), Ojibwa chief; d. 11 Jan. 1864 at the Rama Reserve, Canada West.
Musquakie has often been confused with his father, also called Yellowhead, who had preceded him as an Ojibwa chief. "The Yellow Head, Chief of Lake Simcoe," who visited the British fort at York (Toronto) in 1796 was probably the father, as was the Yellowhead who visited York and Niagara in 1797. It is also likely that the father was the Yellowhead responsible for keeping the Ojibwas of southern Upper Canada loyal to the British during the War of 1812. The elder Yellowhead was severely wounded in the defence of York in 1813, and as a result his son, who was also present, was then created a chief of the tribe. Four years later, "at the desire of his father," he assumed the position of head chief of the Ojibwas around lakes Simcoe and Huron.
In 1818 Musquakie took part, with several other Ojibwa chiefs, in a surrender of 1,592,000 acres of their territory to the British government in exchange for a "perpetual" annuity of £1,200; the area today forms part of Grey, Wellington, Dufferin, and Simcoe counties. Musquakie's father in 1815 had surrendered 250,000 acres in Simcoe County for which the tribe received £4,000. Musquakie and several hundred followers, however, continued to use their hunting grounds around Lake Simcoe after the treaties until in 1830 Sir John Colborne, disturbed by their migratory life, set aside lands for them at The Narrows (Orillia) and persuaded them to settle there. The government constructed dwellings, a meeting-house, and other buildings for them, and engaged a white settler to teach them farming. The Methodist missionary, Samuel Rose, was optimistic in 1831 about the Indians' condition and success in their new location. Musquakie had evidently been converted to Christianity some years previously, and his example was followed by his band.
By 1835 Musquakie's band at The Narrows and another Ojibwa band under Snake, which had been settled in 1830 at Coldwater, had improved their lot considerably. Thomas Gummersall Anderson*, an Indian agent, submitted an enthusiastic report in that year which stressed that the tribes had made a successful transition from hunting to farming and that religion and education were increasingly important in their lives. Moreover, the Ojibwas had begun to construct furniture for themselves and to sell fish to neighbouring white settlers; they had also largely overcome problems of debt and drunkenness.
The next year, however, Lieutenant Governor Sir Francis Bond Head*, anxious to remove the Indians from areas which were now being claimed by white settlers, persuaded the Ojibwas at The Narrows and at Coldwater to surrender their lands and move to a reserve in the Rama-Longford Mills region. The treaty of surrender was drawn up, and Musquakie and his band bought with their annuity money some 1,600 acres in Rama Township. Before they were able to move, the government, alarmed by the disturbances in 1837–38 led by William Lyon Mackenzie, called out the Ojibwas of lakes Huron and Simcoe as a local defence force. In the winter of 1838 members of several bands, including Musquakie, were camped at Holland Landing, where they experienced considerable hardship. The tribe was unable to do its winter hunting, and pay and provisions were stopped after a short period. Musquakie and other chiefs petitioned the government for supplies, claiming that starvation was imminent.
White settlers at Orillia and Coldwater also petitioned the government, demanding that the Indians be moved as soon as possible. In the summer of 1839 Musquakie and his band settled on the reserve in Rama Township, the other bands also establishing themselves in the same region. Houses and barns were again built for them, and farm implements and supplies provided. For the first few years the reserve flourished, exporting surplus produce to the surrounding white settlers. In 1842, however, Musquakie and several other chiefs claimed that they were being denied the proceeds from the land they had surrendered to the government in 1836. By the mid 1850s conditions on the reserve at Rama had deteriorated considerably; a government report of 1858 attributed the decline to a reduction in the number of supervising officers. Farm production had dropped off noticeably, and the Ojibwas had largely returned to hunting and basket-making. The Methodist missionary apparently neglected the Indians' education, and the buildings were all in decay.
Musquakie himself was less active in the affairs of his band and of the Ojibwas in general during the latter years of his life. In 1840, however, he had renewed the Ojibwa friendship treaty with the Six Nations, and in 1845 he had complained to Methodist officials of the tendency of missionaries to attempt to persuade the Indians to ignore the powers of their chiefs. Methodist ministers nevertheless continued to live and work in the Rama Reserve after 1845.
On his return from a mid-winter hunting trip in 1863–64, Musquakie was taken ill, and died shortly after. At that time his age "was supposed to be upwards of one hundred years," although the burial register of St James' Church, Orillia, lists his age as 95. A large gathering of whites and Indians attended his funeral out of respect for this influential chief who had often stressed his loyalty to the British crown. In his will Musquakie assigned his reserve lands and his hunting grounds to his nephew Isaac, and charged him to care for his wife Elizabeth and his daughter Jane; Isaac was designated head chief by Musquakie, but Joseph Benson Naingishkung became chief instead. Soon after Musquakie's death his wife petitioned the government for an increase in her pension, but it is not known if her appeal was successful.
Although the claims of several other persons have been advanced, it is generally believed that Musquakie is the origin of the name of the town and district of Muskoka.
PAO, Misc. 1831, Rose papers, 1831–59. Canada: Indian treaties and surrenders . . . (3v., Ottawa, 1891–1912; repr. Toronto, 1971), I. The correspondence of Lieut. Governor John Graves Simcoe, with allied documents relating to his administration of the government of Upper Canada, ed. E. A. Cruikshank (5v., Toronto, 1923–31), IV. Muskoka and Haliburton (Murray). Gazetteer and directory of the village of Orillia for 1866–7 (Toronto, 1866; repr. Orillia, Ont., 1967). Guide book & atlas of Muskoka and Parry Sound districts, 1879 (Toronto, 1879; repr. Port Elgin, Ont., 1971). W. P. Bull, From Strachan to Owen: how the Church of England was planted and tended in British North America (Toronto, 1937). Pat Reid, A history of Orillia (n.p., n.d.). C. H. Hale, "Chief William Yellowhead: sketch of the life of William Yellowhead, head chief of the Chippewas, whose Indian name was Musquakie, 1769–1864," Orillia portraits (2nd ed., Orillia, Ont., 1966), 23–26.
© 1976–2023 University of Toronto/Université Laval
Cite This Article
In Collaboration, "MUSQUAKIE," in Dictionary of Canadian Biography, vol. 9, University of Toronto/Université Laval, 2003–, accessed December 9, 2023, http://www.biographi.ca/en/bio/musquakie_9E.html.
The citation above shows the format for footnotes and endnotes according to the Chicago manual of style (16th edition). Information to be used in other citation formats:
| | |
| --- | --- |
| Permalink: | http://www.biographi.ca/en/bio/musquakie_9E.html |
| Author of Article: | In Collaboration |
| Title of Article: | MUSQUAKIE |
| Publication Name: | Dictionary of Canadian Biography, vol. 9 |
| Publisher: | University of Toronto/Université Laval |
| Year of publication: | 1976 |
| Year of revision: | 1976 |
| Access Date: | December 9, 2023 |