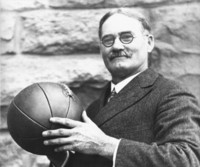 Source: Link
NAISMITH, JAMES, educator, sports innovator, physician, military chaplain, Presbyterian minister, and author; b. 6 Nov. 1861 in Ramsay Township, Upper Canada, elder son of John Naismith, a cooper, and Margaret Young; m. first 20 June 1894 Maude Evelyn Sherman (d. 4 March 1937) in Springfield, Mass., and they had three daughters and two sons; m. secondly 10 June 1939 in Overland Park, Kans., Florence Mae Kinsley (d. 18 March 1977), widow of Frank Burton Kincaid; d. 28 Nov. 1939 in Lawrence, Kans.

After the deaths of their parents in 1870, James Naismith and his sister and brother were raised by their bachelor uncle Peter Johnston Young in a Scottish-immigrant environment on a farm north of Almonte, Ont. Educated at nearby Bennies Corners and Almonte's high school, and after spending some time in a lumber camp, Jim enrolled in Montreal's McGill College in 1882 on a scholarship, bent on the ministry. Following graduation in 1887 (ba in mental and moral philosophy), having achieved success too in rugby football and other sports, he entered the Presbyterian College of Montreal. While there, in 1889, he took on the directorship of McGill's gymnasium; he himself played sports with ferocious intensity and a Christian bearing. "He had abundant vitality," childhood friend and fellow sportsman Robert Tait McKenzie would remember; together the jaunty pair joined the 5th Battalion of Infantry (Royal Scots of Canada) [see Sir Frederick Oscar Warren Loomis].
Naismith was licensed to preach in 1890. College principal Donald Harvey MacVicar* leaned on him to give up the perceived evils of athletics. Instead, drawn to lay ministry through sport, a radical decision that distanced him from his sister, Naismith forewent ordination to become a student in 1890–91 and then, in 1892, a physical instructor at the International Young Men's Christian Association (YMCA) Training School in Springfield, Mass. At this centre for advanced learning in administration and physical education, the salvation of the body and the soul became his creed. He was struck by the groundbreaking ideas in social psychology of the superintendent of the physical department, Dr Luther Halsey Gulick, particularly his concepts of teamwork.
Springfield brought out Naismith's inventiveness in sport and honed his pedagogical devotion to the betterment of young men. In the fall of 1891, to protect his battered ears, he had devised the first known football headgear. Some authorities credit him as well with helping to introduce the forward pass, though evidence points to its appearance from 1895 in university games elsewhere. Later in 1891, in a psychology seminar, Gulick challenged his students, including Naismith, to create an indoor winter activity suitable for the school's physical-education courses. Shortly thereafter Gulick asked Naismith to take over a class of the school's pent-up secretarial students, all men, for two weeks and see what he could come up with. Intended to solve a broader problem for physical educators, the goal was not just to develop an engaging recreation but also to promote complete physical conditioning. Drawing on his boyhood experience of playing a stone-tossing game and his own brilliantly imaginative analysis of gaming rudiments, especially during his collegiate days, Naismith developed "basket ball." Since it was to be played in a confined space, the new game had to involve "a large ball that could be easily handled." It would be accessible, since little equipment was needed, and reward accuracy rather than force through the use of an elevated, horizontal goal.
The first match, a ragged affair, was played by the class in the dimly lit Springfield gym with suspended peach baskets on 21 Dec. 1891 (some sources give the 15th). Among the 18 players were 5 Canadians, including Naismith. Another, Finlay Grant MacDonald of Nova Scotia, would recall that in the fall the football team, to which he also belonged, had experimented with a hat and a pail attached to each goalpost. Publication of Naismith's 13 rules followed in 1892. The game exploded in popularity across North America via the network of YMCA branches, coming to Montreal, Toronto, and St Stephen (St Stephen–Milltown), N.B., that same year. By 1896 it was going professional; by 1900 girls as well as boys were playing in a public-school basketball league in Toronto. Easily suited as well to informal play, the game had an impact on theories and forms of children's education. The modest Naismith would seldom dwell on how his game came to shape the North American sports psyche. He rarely played again – his style was too rough despite his dislike of aggressive play – but he would applaud refinements that complemented his goals for a fluid game. When teams at Yale University developed the technique of dribbling the ball in the mid 1890s (rather than passing it while remaining stationary), he hailed the movement as "one of the sweetest, prettiest plays."
While in Springfield, Naismith married Maude Sherman, herself an early basketball player. In 1895, with a family to support, he accepted the directorship of physical education at the large YMCA in Denver, Colo. At the same time, to round out his ability to care for the body, he enrolled there in the Gross Medical College. He graduated with an md in April 1898.
That fall, tormented by the accidental death of a student in his gymnasium, Naismith found a fresh opportunity – as chapel director, coach, and head of physical education at the University of Kansas in Lawrence. Athletics there were not important; basketball, introduced by an undergraduate, Lola Bell, had petered out. Naismith revived it but downplayed the importance of winning; he still saw the game as a means of building bodies and character. Stories of the good doctor and basketball abound; he never yelled during games and frowned at booing. In 1906 he became a full professor. Though his multiple duties would be reduced to teaching, he pushed the athletic program in new directions. Fencing and rowing were added to basketball, track, and football; games were created for the gym; a golf course was built. The body, in all its dimensions, fascinated Naismith. In his health and hygiene classes, he included sex education. He helped pioneer a comprehensive health service for students. Explanations of bone structure and nervous tissue in his kinesiology lectures could give way to ethical discourse. Students remembered his private counselling and emphasis on moral rectitude. In 1909 he devised an apparatus for testing the effects of alcohol on the nervous system, and over a long period he conducted anthropometric studies of students and children in several states. He did research as well into what he would call "physiology of basketball." After 1918, in a successful refutation of charges that the sport was too strenuous, he carried out urinalyses, examinations of muscle chemistry, and tests of exertion and relaxation on basketball players. More broadly, he vocally opposed commercialization (professionalization) in sports [see Francis Joseph Nelson] and supported the playground movement [see Mabel Phoebe Peters*]. In recognition of his contributions, the International YMCA Training School had granted him an honorary ma in physical education in 1911.
After moving to Lawrence in 1898, the engaging Naismith entered fully into community life, his retiring wife less so. A member of the State Medical Society of Kansas, he served as president of the Douglas County Medical Society in 1911. He was a member of the local Presbyterian church, a freemason, and a busy public speaker. A loving but sometimes-inattentive provider, he once lost the family home. Throughout his years in the United States, he maintained relations with his Ontario kin. Learned in four languages besides English, he most enjoyed western films and the novels of Zane Grey, and was an avid boater and fisherman. Photographs show a solid, suited man with a thick moustache and glasses. He spoke English with a barely noticeable Scottish – some said Canadian – accent.
Appointed a chaplain in the Kansas National Guard in 1915 and ordained in April 1916, Naismith served in the Mexican border conflict that year. His main adversary was organized prostitution in the military camps, where he set up basketball courts for recreational diversion. On leave from his university, he did an American tour with the YMCA in 1917 during World War I. He was in France from the fall of that year until 1919, organizing sports for American soldiers and working as director of the association's social-hygiene section. Near the end of the war, he filed for American citizenship, which would be granted in 1925.
Following his return to Kansas, Naismith resumed teaching and became active in such national organizations as the American Physical Education Association. In 1921 he helped found the Kansas School of Religion. His religious views took a liberal turn, and he accepted preaching duties in communities outside Lawrence. His presence at the university was receding, but by the 1930s he could not ignore the fame thrust upon him. "You're public property, Doc," close friend Alessio P. (Duke) D'Ambra told him. Though he made little money from the game, awards and touring invitations flowed his way. During a trip to Toronto in 1930 to present awards at its Central YMCA and speak on his invention of basketball, he was reunited with a member of the 1891 Springfield team, retired YMCA executive Thomas Duncan Patton. (Press coverage noted that Donald MacLennan Barton had brought the game to Toronto's YMCAs from the Chicago branch in 1892.) In 1936 Naismith was thrilled to be sent to the Olympics in Berlin, where he watched the United States defeat Canada 19 to 8 to win the first gold medal in basketball. While in Europe he was elected honorary president of the International Federation of Amateur Basketball. Though largely a figurehead, he still championed athletic fundamentals – that boys played games instinctively, even aggressively – in his sport's continuing development. To his protégé John Blanche McLendon, the first black graduate of the University of Kansas's physical-education program (in 1936), he passed on his enthusiasm for fast-break basketball.
Naismith retired from the University of Kansas in June 1937. He subsequently travelled for pleasure, to speak, and to appear at a host of tournaments and other functions. In Canada again that year, he made stops at places such as Almonte, Toronto, and Edmonton, where he met the female basketball squad coached by John Percy Page*, the Edmonton Grads. Normally sparing in his plaudits, Naismith considered it to be one of the finest teams of all time. He was awarded honorary degrees by McGill (lld) in 1938 and the Presbyterian College of Montreal (dd) in April 1939. Seven months later he died of a heart attack in the aftermath of a cerebral haemorrhage.
James Naismith's single significant contribution to basketball was its creation, but in a global sport, that accomplishment was enough to guarantee stupendous memorialization. Among many tributes, he would be inducted into several sports halls of fame. "He was something – a goal – to shoot for in life," son James Sherman said in an interview in 1961. A Christian educator to the end, in his posthumously published history of basketball, the self-effacing Naismith concluded, in true YMCA fashion: "Let us all be able to lose gracefully and to win courteously; to accept criticism as well as praise; and last of all, to appreciate the attitude of the other fellow at all times."
Documents and artefacts are held by Arch. and Special Coll., Springfield College (Mass.); in the James Naismith Coll. (PP 305) at Univ. Arch., Kenneth Spencer Research Library, Univ. of Kans. (Lawrence); in the mss Div., William L. Clements Library, Univ. of Mich. (Ann Arbor); and by Maple Leaf Sports & Entertainment Ltd (Toronto). Digital copies of records in the Maple Leaf Sports & Entertainment collection were kindly provided by Mr Jamie Deans of the Toronto Raptors Basketball Club Inc. Canada's Sports Hall of Fame (Calgary) and the James Naismith Museum at the Mill of Kintail Conservation Area in Mississippi Mills, Ont., also have material.
James Naismith was the author of Rules for basket ball (Springfield, 1892) and with L. [H.] Gulick, Basket ball (New York, 1894). He also contributed to Official basket ball rules as adopted by the Young Men's Christian Association Athletic League of North America …, ed. L. [H.] Gulick (New York, 1896). The 1894 and 1896 works were published by the American Sports Publishing Company, which also released them in its monthly Spalding's Athletic Library in January 1894 and October 1896 respectively. Naismith's later works include "Basketball – a game the world plays," Rotarian (Chicago), 54 (1939), no.1: 33–36; and Basketball: its origin and development (New York, 1941; repr. 1996).
The best biography of Naismith is by Bernice Larson Webb, entitled The basketball man: James Naismith (Lawrence, 1973); it includes a bibliography of his writings and is richly informed by interviews. The book by Bob Rains, James Naismith: the man who invented basketball, foreword Roy Williams, intro. Hellen [Naismith Dodd] Carpenter (Philadelphia, 2009), contains new information. Opposing claims on the invention of basketball are considered in R. W. Peterson, Cages to jump shots: pro basketball's early years (New York and Oxford, Eng., 1990), app.A.
Of the many web pages about Naismith, the following are useful: McGill Athletics and Recreation, "Hall of Fame, Dr. James Naismith": mcgillathletics.ca/hof.aspx?hof=1 (consulted 10 Sept. 2018); and Wikipedia, "James Naismith": en.wikipedia.org/wiki/James_Naismith (consulted 15 Oct. 2021).
A radio interview with Naismith, entitled "We, the people," is preserved in the WOR Coll. (program 19, 31 Jan. 1939) of the Recorded Sound Section, Library of Congress (Washington). A copy of the audio recording can be heard at youtu.be/5yxk6pb64F8 (consulted 10 Sept. 2018).
Almonte Gazette (Almonte, Ont.), 8 Jan. 1932. Corpus Christi Caller-Times (Corpus Christi, Tex.), 5 Nov. 1961. Globe, 28, 31 Dec. 1892; 3 Jan. 1893; 31 March 1905. Globe and Mail, 27 Jan. 1937, 13 Nov. 1995. Toronto Daily Star, 9, 10, 12 April 1930; 31 Jan., 31 March, 6 April, 28 Nov. 1939; 13 Dec. 1946. H. C. Cross, One hundred years of service with youth: the story of the Montreal YMCA (Montreal, 1951). L. R. Gerlach, "Naismith, James 'Jim,'" in Basketball: a biographical dictionary, ed. D. L. Porter (Westport, Conn., and London, 2005). Heritage Auction Galleries, Heritage Auction Galleries presents the Dr. James Naismith collection, December 8 & December 15, 2006, Dallas, Texas (Dallas, Tex., 2006). C. H. Hopkins, History of the Y.M.C.A. in North America (New York, 1951). Connie Kirchberg, Hoop lore: a history of the National Basketball Association (Jefferson, N.C., and London, 2007). KU News, "KU professor researching Naismith, religion and basketball," 13 March 2012: news.ku.edu/2012/03/13/ku-professor-researching-naismith-religion-and-basketball (consulted 30 July 2021). Mabel Lee, A history of physical education and sports in the U.S.A. (New York and Toronto, 1983). C. F. Macdonald, "Reverend Finlay Grant MacDonald, 1870–1951," in his Notable Pictonians (New Glasgow, N.S., 2003), 91–105. R. T. McKenzie, "Dr. James Naismith, the originator of basketball," McGill News (Montreal), 14 (1933), no.3: 14–15. D. S. Mulder, "The college and athletics: James Naismith," in Still voices – still heard: sermons, addresses, letters, and reports, the Presbyterian College, Montreal, 1865–2015, ed. J. S. S. Armour et al. (Eugene, Oreg., 2015), 100–16. Keith Myerscough, "The game with no name: the invention of basketball," International Journal of the Hist. of Sport (London), 12 (1995): 137–52. Clifford Putney, Muscular Christianity: manhood and sports in Protestant America, 1880–1920 (Cambridge, Mass., and London, 2001). Ron Thomas, They cleared the lane: the NBA's black pioneers (Lincoln, Nebr., and London, 2002). Who was who in America … 1897–1942 (Chicago, 1943). Thomas Winter, "Luther Halsey Gulick: recreation, physical education and the YMCA": infed.org/mobi/luther-halsey-gulick-recreation-physical-education-and-the-ymca (consulted 10 Sept. 2018).
© 2021–2023 University of Toronto/Université Laval
Cite This Article
David Roberts, "NAISMITH, JAMES," in Dictionary of Canadian Biography, vol. 16, University of Toronto/Université Laval, 2003–, accessed October 2, 2023, http://www.biographi.ca/en/bio/naismith_james_16E.html.
The citation above shows the format for footnotes and endnotes according to the Chicago manual of style (16th edition). Information to be used in other citation formats:
| | |
| --- | --- |
| Permalink: | http://www.biographi.ca/en/bio/naismith_james_16E.html |
| Author of Article: | David Roberts |
| Title of Article: | NAISMITH, JAMES |
| Publication Name: | Dictionary of Canadian Biography, vol. 16 |
| Publisher: | University of Toronto/Université Laval |
| Year of publication: | 2021 |
| Year of revision: | 2021 |
| Access Date: | October 2, 2023 |