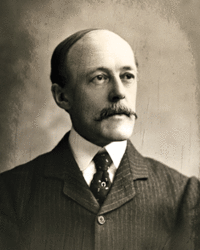 Source: Courtesy of Wikimedia Commons
CREIGHTON, JAMES GEORGE AYLWIN, engineer, journalist, lawyer, and athlete; b. 12 June 1850 in Halifax, eldest son of William Hudson Creighton and Anna Fairbanks; cousin of folklorist Mary Helen Creighton*; m. 25 June 1878 Eleanor Platt in Montreal; they had no children; d. 27 June 1930 in Ottawa.
Educated at Halifax Grammar School, where he graduated at age 14, James George Aylwin Creighton went on to earn a ba with honours at Dalhousie College in 1868. He then studied under Sandford Fleming*, who as engineer-in-chief for the Intercolonial Railway hired him to work on surveys in Nova Scotia. Creighton moved to Montreal in 1872 and was employed as an engineer on the Lachine Canal, Montreal Harbour, and other public works. He was elected an associate of the Institution of Civil Engineers of Great Britain in 1876.
The following year Creighton entered McGill College and began legal studies with barrister Donald Macmaster; he obtained a bcl degree in 1880. On 9 July that year he was called to the Quebec bar, and two years later he became a partner in the firm of Barnard, Beauchamp, Creighton, and Doucet of Montreal. As a young advocate in 1881, he had to testify at the inquest into the death of his younger brother Harry Montgomery, who was the victim of a stabbing. During his law studies Creighton was also active as a journalist and served as correspondent for the Montreal Gazette in the press gallery of the House of Commons.
This experience and legal training led to his appointment on 3 March 1882 as law clerk to the Senate, a position he would hold for 48 years. The Ottawa Citizen hailed the choice, saying, "Mr. Creighton will fill the position with credit," a prediction he fulfilled from the beginning. On 27 June the same year he added the title of master in chancery, and in 1909 he became parliamentary counsel to the Senate. Between 1885 and 1886 he was employed in the consolidation and revision of the statutes of Canada [see George Wheelock Burbidge*]. He was also instrumental in drafting important legislation, including the Gold and Silver Marking Act (1906), which was almost entirely the product of his legal skills. Creighton supplemented his $2,500 annual salary from the Senate by writing articles for Scribner's (New York) and other magazines. He was made a cmg in 1913; he was also appointed a kc.
Throughout his engineering and legal career, Creighton pursued his love of sports, which he had first developed during his boyhood in Halifax, where a freewheeling, stick-ball game called "ricket" or occasionally "hockey" was played on ice. In Montreal, Henry Joseph, a teammate, later credited him with organizing the first public exhibition of ice hockey at the Victoria Skating Rink on 3 March 1875, played by two teams drawn from the club, where Creighton also served as a judge of figure skating. His nine-man team won two "games" (goals) to one over the opposition led by Charles Torrance. "It was this exhibition which aroused city-wide interest and gave rise to the formation of other ice hockey teams and to the rapid development of the game," McGill's physical education director Emanuel M. Orlick would write in the Gazette in 1943.
On the hockey rink, Creighton was praised for his ability to pass the flat, circular piece of wood in use at the time as a puck and for his attempts to initiate combination play. In 1876, while he was captain of a team from the Montreal rugby football club, of which he was vice-president, it was noted that he played "offside," or ahead of the puck carrier, evidence that early Montreal games were played under the newly formed (field) Hockey Association and rugby rules, rather than the so-called Halifax rules, which permitted forward passing. In February 1877 he captained a team from the Metropolitan Club against members of the St James' Club. On this occasion the Gazette published "the rules of the game"; only the word "ice" distinguished them from field hockey regulations in use at the time. As vice-president of the football club, Creighton led a Montreal delegation to a meeting in Toronto in October 1875 to organize an interprovincial association and moved a successful motion to adopt "rugby union rules," with their vital "onside" stipulation.
Barrister and businessman Byron Arthur Weston of Dartmouth, N.S., described Creighton as "tall and spare." He weighed only 144 pounds at age 25, when he played rugby for Canada against Harvard University. Though he was "quiet and retiring," according to Senator Charles Elliott Tanner of Pictou, N.S., Creighton's name appeared in a magistrate's court docket in an unresolved case in 1883 that involved the burning of cayenne pepper and removal of furniture from an apartment. One of the few members of his family not to enter the Creighton business in Halifax (his grandfather had operated James G. A. Creighton and Son, a ship chandler and wholesale food business), he seldom returned to the city of his birth. He maintained connections with his home province, however, and in 1874 wrote a testimonial for spring skates – the "first in the world adjustable with a lever" – made by the Starr Manufacturing Company of Dartmouth.
After moving to Ottawa, where he preferred to be known under the old family name of Aylwin rather than James, Creighton continued his interest in sports. He was a key member of the Rideau Rebels hockey club, formed in 1889 and made up of two sons of Governor General Lord Stanley*, viceregal aides-de-camp, members of parliament, and senators. The team occasionally travelled in the governor general's private railway car and helped to promote the sport across southern Ontario with exhibition games in such centres as Kingston, Lindsay, and Toronto. Creighton was in his 40th year when he played his last game with a parliamentary team against Government House.
Credited by some modern-day writers with being the "inventor of hockey," the modest law clerk never claimed that honour or participated in early debates over the birthplace of the game. A few years before his death, he wrote to Rebel teammate and former mp Henry Alfred Ward to stake his only sporting claim: that he had had the honour to be captain of the first regular hockey club to be formed in Canada, which was at Montreal in 1877. Before the Montreal winter carnival popularized the game, Creighton described the city's interest in outdoor sports in an article, "French-Canadian life and character," for Picturesque Canada (1882–84), edited by George Monro Grant*. He cited "the brilliant fancy dress entertainments" that attracted royalty to the Victoria Skating Rink, listed curling, golf, bicycle, and football clubs, and saluted lacrosse – "the national game of Canada" – but ignored the ice game he had helped to foster.
A long-time member of the Rideau Club of Ottawa, Aylwin Creighton died there of a heart attack in 1930. At his funeral former prime minister Sir Robert Laird Borden* was among the mourners. Obituaries listed his recreations of angling, exploration, book collecting, and skating but made no mention of his part in helping to found Canada's national winter sport. More recently hockey historian Michael McKinley has observed that "Creighton's genius in putting hockey under a roof was to allow it to grow in a kind of sporting hothouse, protected from the harsher elements." Authors Sydney Francis Wise and Douglas Mason Fisher have classed him with the founders of organized lacrosse and basketball, William George Beers* and James Naismith*, as among "the rare few who originate or crystallize games or competitions." In 1993 Creighton was inducted into the Nova Scotia Sport Hall of Fame as the "father of organized hockey." At the Hockey Hall of Fame in Toronto, this trailblazer has been nominated but not yet inducted as a builder.
ANQ-M, CE601-S68, 25 juin 1878. MUA, RG 46, J. W. Regan to Henry Joseph, 29 March 1944. Private arch., J. W. Fitsell (Kingston, Ont.), Team photograph of the Ottawa Rideau Rebels, 1889; M. J. Pothier (Dartmouth, N.S.), Creighton family tree. Gazette (Montreal), 3–4, 17 March 1875; 27 Feb. 1877; 27 Nov. 1943. Ottawa Citizen, 4 March 1882, 28–30 June 1930. Ottawa Evening Journal, 28–30 June 1930. Canadian men and women of the time (Morgan; 1912). CPG, 1927. J. W. Fitsell, Hockey's captains, colonels and kings (Erin, Ont., 1987), 30–39. Michael McKinley, Putting a roof on winter: hockey's rise from sport to spectacle (Vancouver and New York, 2000). Nevill Miroy, The history of hockey (Laleham-on-Thames, Eng., 1986). B. M. Patton, Ice-hockey (London, 1936). Who's who in Canada, 1929. S. F. Wise and Douglas Fisher, Canada's sporting heroes (Don Mills [Toronto], Ont., 1974).
© 2005–2023 University of Toronto/Université Laval
Cite This Article
J. W. Fitsell, "CREIGHTON, JAMES GEORGE AYLWIN," in Dictionary of Canadian Biography, vol. 15, University of Toronto/Université Laval, 2003–, accessed June 7, 2023, http://www.biographi.ca/en/bio/creighton_james_george_aylwin_15E.html.
The citation above shows the format for footnotes and endnotes according to the Chicago manual of style (16th edition). Information to be used in other citation formats:
| | |
| --- | --- |
| Permalink: | http://www.biographi.ca/en/bio/creighton_james_george_aylwin_15E.html |
| Author of Article: | J. W. Fitsell |
| Title of Article: | CREIGHTON, JAMES GEORGE AYLWIN |
| Publication Name: | Dictionary of Canadian Biography, vol. 15 |
| Publisher: | University of Toronto/Université Laval |
| Year of publication: | 2005 |
| Year of revision: | 2005 |
| Access Date: | June 7, 2023 |