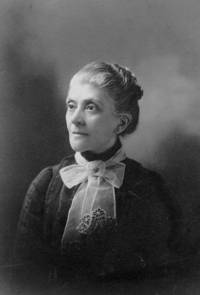 Source: Link
NORRIS, HANNAH MARIA (Armstrong), educator, Baptist missionary, and author; b. 30 Nov. 1842 in Canso, N.S., daughter of George Norris and Hannah Whitman; m. 31 Jan. 1874 the Reverend William Freeman Armstrong in Rangoon (Yangon), Burma, and they had two sons and a daughter; d. 14 Sept. 1919 in Toronto.
Maria Norris came from a Catholic-Protestant marriage at Canso. Her family's mercantile background ensured that she received an adequate elementary education, which she combined with studies at the Normal School in Truro in 1860–61. After her return to Canso she taught both the town's young and the Micmac children of the nearby islands, making the effort to learn the native language. The early work of the Baptist missionary to the Micmac, Silas Tertius Rand*, served as a model for her.
In 1866 Maria converted from Congregationalism to the Baptist faith. Two years later her independence of mind and action led her to take up a teaching post at the Baptists' Grand Pre Seminary in Wolfville. There was at this time a rising interest among Canadian Protestant denominations in overseas missionary activity. Before her conversion Maria had found herself attracted by literature on missions in the Indian subcontinent, and at Wolfville, in the heartland of the Maritime Baptist organization, she was able to learn more, notably from the Reverend Arthur Richard Ralph Crawley and his wife, Laura Johnston, who were on furlough from Burma. She decided to offer herself to the Baptist Convention of Nova Scotia, New Brunswick and Prince Edward Island for service in Burma.
The personal motives for Norris's mission goal cannot be understood apart from her evangelical faith. There was no suspicion of "imposing a foreign religion" on another culture in the 1860s and 1870s. From the Baptist perspective, Norris was offering, not imposing; moreover, she could realize in the mission field the opportunity to improve the quality of life for women and children in societies where too often women were regarded as chattels.
Initial response from the convention was cool. Funds and qualms over sending unmarried women were the excuses offered. Only Norris's decision to present herself to the American Baptist Missionary Union prompted the convention's conservative members to bend. She had in fact embarked at Halifax when the Reverend Edward Manning Saunders persuaded her to approach the convention again. Church leaders now suggested that, if she studied the Karen languages and was successful in appealing to Baptist women for funds, the convention would accept her. Norris returned to Canso to launch the Woman's Baptist Missionary Aid Society on 18 June 1870. Within two months, calling upon her drive and organizational abilities, she had formed societies in 32 centres in Nova Scotia and New Brunswick. The outcome showed that Baptist women were anxious to have their own say about foreign missions within a women's structure. In the face of this overwhelming response, the convention agreed to back Norris for mission work.
She left for Rangoon on 21 Sept. 1870 and eventually took up work in a school in Bassein. Later she was attached to the station at Tavoy. In January 1874 she was joined in Burma by seven other missionaries commissioned by the Maritime convention [see Mary E. Lamont*]. Among this group was William F. Armstrong, whom Maria had met when he was studying theology in Wolfville. The couple were married shortly after his arrival. The following year the Armstrongs reluctantly went to India, where the convention had decided to concentrate its efforts. Their unhappiness about abandoning the investment in effort and linguistic studies they had put into their Burma outreach was exacerbated by frequent illness. A return to Canada in 1880 to restore their health did not resolve their conflict with the convention, and when they returned to mission work it was in Burma, under the auspices of the American Baptist Missionary Union.
Altogether the Armstrongs served in Burma and India for over 40 years. Throughout, they promoted literacy at such stations as Chicacole (Srikakulam) in India, where they had schools for both girls and boys. From this one station alone they ranged out to cover some 4,000 villages and towns. Hannah's linguistic studies included not only Karen dialects but also Burmese, Tamil, Telugu, and Hindustani, and she published articles and books she had translated from these languages. Her letters home appeared in such journals as the Christian Messenger, Tidings, the Canadian Missionary Link, and the Missionary Review of the World. In her last years she travelled widely to raise funds for a multinational school in Rangoon.
Maria returned to Canada only after William's death in 1918, and she died the following year in Toronto. Her legacy was by no means small. One of a number of capable, educated women at the forefront of organizational drives for foreign missions in Canada, she had been the moving cause prompting Maritime Baptists to enter the mission field. The woman's missionary aid societies became centralized in 1871 and later, in 1884, formed the Woman's Baptist Missionary Union of the Maritime Provinces, which has continued to the present day. Maria herself had been the emissary for women who, too busy at home and curtailed by resources or convention, could none the less meet weekly to learn of women engaged in mission work overseas, communicate with them through published media and extensive correspondence, and experience vicariously participation in evangelical service. Maria Norris Armstrong showed that even within the bounds of later Victorian Canadian social and religious conservatism women could prepare the way for a more liberal society willing to accept a much wider role for them and their daughters.
[Maria Norris Armstrong published a number of works, including Little Utchima (Rhoda): a letter from Mrs. Armstrong, recent missionary, to the Telegus, to the Heart and Hand Mission Band in Providence, R.I. (Providence, 1883); Tamil hymns . . . Telugu and Hindustani . . . churches in Burma (Rangoon [Yangon, Myanmar], 1899); Charlie's triumph: the story of a Tamil kindergartner (Rangoon, 1901); and a translation of Ko San Lone, Karen folk-lore, an unwritten bible (Rangoon, 1913). Details concerning Tamil hymns and Charlie's triumph were obtained from Professor H. Miriam Ross of Acadia Divinity College, Wolfville, N.S., who has consulted copies in the possession of Maria's descendants. a.b.r.]
Christian Messenger (Halifax), 1870, 1919. An abiding conviction: Maritime Baptists and their world, ed. R. S. Wilson (Saint John, 1988). Baptist Convention of Nova Scotia, New Brunswick and Prince Edward Island, Minutes (Saint John), 1870. Canadian Missionary Link (Toronto), 1878–81. Ruth Compton Brouwer, New women for God: Canadian Presbyterian women and India missions, 1876–1914 (Toronto, 1990). Mary Cramp, Retrospects: a history of the formation and progress of the Women's Missionary Aid societies of the Maritime provinces (Halifax, 1892). R. R. Gagan, A sensitive independence: Canadian Methodist women missionaries in Canada and the Orient, 1881–1925 (Montreal and Kingston, Ont., 1992). G. E. Levy, The Baptists of the Maritime provinces, 1753–1946 (Saint John, 1946). Missionary, Rev. of the World (Princeton, N.J., etc.), 1890. Wendy Mitchinson, "Canadian women and church missionary societies in the nineteenth century: a step towards independence," Atlantis (Wolfville), 2 (1976–77), no.2, pt.2: 57–75. H. M. Ross, "Woman's strategies for mission: Hannah Maria Norris blazes the trail in 1870," Canadian Soc. of Church Hist., Hist. papers (n.p.), 1992: 5–23. E. M. Saunders, History of the Baptists of the Maritime provinces (Halifax, 1902). D. A. Steele, Our pioneer: impressions regarding Mrs. H. M. N. Armstrong ([Amherst, N.S., 1920]). Tidings (Kentville, N.S., etc.), 1870–1918.
© 1998–2023 University of Toronto/Université Laval
Image Gallery

Cite This Article
Allen B. Robertson, "NORRIS, HANNAH MARIA," in Dictionary of Canadian Biography, vol. 14, University of Toronto/Université Laval, 2003–, accessed June 7, 2023, http://www.biographi.ca/en/bio/norris_hannah_maria_14E.html.
The citation above shows the format for footnotes and endnotes according to the Chicago manual of style (16th edition). Information to be used in other citation formats:
| | |
| --- | --- |
| Permalink: | http://www.biographi.ca/en/bio/norris_hannah_maria_14E.html |
| Author of Article: | Allen B. Robertson |
| Title of Article: | NORRIS, HANNAH MARIA |
| Publication Name: | Dictionary of Canadian Biography, vol. 14 |
| Publisher: | University of Toronto/Université Laval |
| Year of publication: | 1998 |
| Year of revision: | 1998 |
| Access Date: | June 7, 2023 |