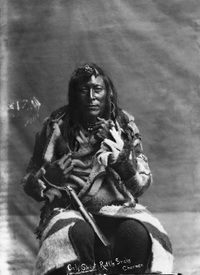 Source: Link
ONISTAH-SOKAKSIN (Calf Shirt), leader of the Namopisi (Crooked Back) band of Blood Indians (a division of the Blackfoot); b. 1844 in what is now southern Alberta, son of Motsikis (Shoulder); m. Natsikapway-niki (Double Killer) and Akakutatosi (Many Stars); d. in the autumn of 1901 on the Blood Indian Reserve (Alta).
Calf Shirt was a nephew of Calf Shirt [Onistah-sokaksin*], a Blood leader who signed a treaty with the American government in 1855. Calf Shirt the younger took part in several raids against enemy tribes and gained a notable war record. He is best remembered for his role in a major battle between the Cree and the Blackfoot near the site of Lethbridge, Alta, in 1870 [see Jerry Potts*]. Carrying only a double-bladed knife, he attacked and killed two better-armed foes.
A short time later Calf Shirt was camped near what is now Medicine Hat when both of his parents died. Despondent, he wandered off into the sand hills. There he had a vision in which a rattlesnake came to him in the form of a man and offered to adopt him, saying that all snakes would be his brothers. From then onward Calf Shirt displayed a remarkable skill in handling rattlesnakes in spite of the fact that his tribe loathed and feared them. He had a small snake-pit in his log house and usually carried one of the reptiles inside his shirt. In the 1880s and 1890s his ability was recognized by residents of nearby towns, where he put on demonstrations at 25 cents per spectator. Calf Shirt, said the Macleod Gazette, "claims to have some subtle power over the snakes, and to see him take his present specimen up, she measuring about 3ft. long, catch it by the neck and cram about 8in. of it, the deadliest reptile in America, head downwards down his throat, is calculated to make the marrow in any man's bones shiver."
In 1881 Calf Shirt had aspirations of becoming a chief, so he set out to court officials of the Department of Indian Affairs and to adopt progressive measures. He became one of the first farmers on the Blood Indian Reserve, invited Methodist missionaries to establish a school in his camp, reported bootleggers, and discouraged raids against enemy tribes. In 1884 he gained the ill will of many when he told departmental authorities that the Blood were padding their ration lists by claiming more children than they really had or by adding names of persons from other reserves. Through his efforts more than a thousand names were removed from the ration list.
During the rebellion of 1885 [see Louis Riel*], Calf Shirt assumed a vital role of conciliator to keep his people out of trouble and two months later, on or about 21 June, he was officially appointed a minor chief of the Blood tribe. Then, knowing that his position was secure, he turned his attentions away from pleasing the government in favour of working for the betterment of his tribe. In 1886 journalist George Henry Ham described him as "the most influential individual amongst the Indians of the lower camp," and later in the year Indian agent William B. Pocklington said he was "probably the most reliable Indian on this Reserve."
In 1888 Calf Shirt established his own band, the Namopisi. He and about 40 followers moved away from the main Blood camps and settled at the northern end of the reserve, close to Lethbridge. This was the only place on the reserve where rattlesnakes could be found. From here the chief added to his income by putting on regular snake-handling demonstrations in town. At the same time he was appointed a scout for the North-West Mounted Police and was active in keeping undesirable elements out of the Indian camps.
A year later, billed as a snake-charmer, he spent a season with a Wild West show which toured Manitoba and Ontario. By 1895 his reputation was so well established that he was a guest at the Territorial Exhibition in Regina. His snake demonstrations were intended by its organizers to show the past "pagan" culture of the Indians, to be contrasted with modern agricultural efforts and residential school education. During the exhibition one spectator accused him of using defanged reptiles. In response Calf Shirt had his snake bite one of the camp dogs. In a few minutes the animal was dead.
Much of Calf Shirt's time in the 1890s was spent trying to improve the situation of his tribe. He lobbied for more rations, encouraged horse-racing and sports, opposed activities which took people away from their fields, and acted as unofficial magistrate of the northern part of his reserve. During this period Methodist missionary John Maclean* considered him to be "a shrewd and intelligent man" who had a "natural ability" for leadership. By the time of his death in 1901, Calf Shirt was famous among non-Indians as a snake-charmer and was respected by his own people as a wise chief.
An engraving of Onistah-sokaksin, after a photograph, appears in John Maclean, Canadian savage folk: the native tribes of Canada (Toronto, 1896); three photographs of him accompany H. A. Dempsey's article, "The snake man," in Alberta Hist. (Calgary), 29 (1981), no.4: 1–5.
Private arch., H. A. Dempsey (Calgary), Interview with Jim White Bull, Blood Indian Reserve, Alta, 29 Dec. 1955. NA, RG 10, 1556, 8 April 1886. Home & School (Toronto), 27 Dec. 1890. Macleod Gazette (Fort Macleod, [Alta]), 2 Nov. 1894. Manitoba Free Press, 15 Aug. 1889. Toronto Daily Mail, 28 Jan. 1886.
© 1994–2023 University of Toronto/Université Laval
Image Gallery

Cite This Article
Hugh A. Dempsey, "ONISTAH-SOKAKSIN," in Dictionary of Canadian Biography, vol. 13, University of Toronto/Université Laval, 2003–, accessed June 9, 2023, http://www.biographi.ca/en/bio/onistah_sokaksin_13E.html.
The citation above shows the format for footnotes and endnotes according to the Chicago manual of style (16th edition). Information to be used in other citation formats:
| | |
| --- | --- |
| Permalink: | http://www.biographi.ca/en/bio/onistah_sokaksin_13E.html |
| Author of Article: | Hugh A. Dempsey |
| Title of Article: | ONISTAH-SOKAKSIN |
| Publication Name: | Dictionary of Canadian Biography, vol. 13 |
| Publisher: | University of Toronto/Université Laval |
| Year of publication: | 1994 |
| Year of revision: | 1994 |
| Access Date: | June 9, 2023 |