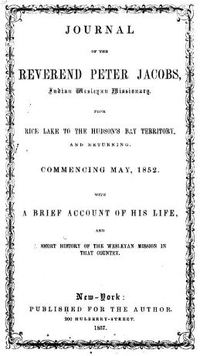 Source: Link
PAHTAHSEGA (Pautaussigae, literally he who comes shining, or one who makes the world brighter; also known as Peter Jacobs), Methodist missionary; b. c. 1807 near Rice Lake, Newcastle District, Upper Canada; m. first c. 1826 Mary (d. 1828), a member of the Credit band of Mississaugas, and they had one daughter; m. secondly in May 1831 Elizabeth Anderson, and they had five children; d. 4 Sept. 1890 at the Rama Indian Reserve, near Orillia, Ont.
Peter Jacobs, whose parents died when he was three years old, was an Ojibwa, probably of the Mississaugas, and he later became an adopted member of the Credit band. He was one of the early native converts of William Case*, having first heard the Methodist missionary speak in 1824. Soon afterwards he attended school in Belleville, at Grand River, and then in 1826 at the Credit River mission. A fluent orator with some knowledge of English, Jacobs acted as an interpreter and prayer leader, assisting both Case and Peter Jones [Kahkewaquonaby*] in their efforts to Christianize the Indians. Indeed, shortly after his conversion, he read from the New Testament in English and Ojibwa at a meeting in New York of the Missionary Society of the Methodist Episcopal Church. An observer noted that "his broken English, added to the obvious simplicity and sincerity of his narrative, combined to render the scene truly impressive." In 1829 Jacobs was one of four Indians being educated by the Dorcas Missionary Society.
Despite this auspicious beginning Jacobs did not become a missionary for some years, probably because Case was fearful of the amorous proclivities he displayed after the death of his first wife in 1828. During the early 1830s he kept a store and "made a comfortable living," but by 1836 he was preaching to Indians near St Marys River. Two years later he accompanied James Evans* on his first missionary tour of the Lake Superior region. He remained behind, probably near Lac La Pluie (Rainy Lake, Ont.), when Evans returned briefly to Upper Canada.
In 1840 the Wesleyan Methodist Missionary Society in Britain, inspired by Evans' description of the immense potential of the northwest and doubtless desiring to outflank the Canadian Methodists from whom their church would soon separate, decided to establish a mission in the Hudson's Bay Company territories, a decision endorsed by the company. The principal mission station was founded at Rossville near Norway House (Man.) in September 1840; there Jacobs helped Evans build several houses for the resident Indians and inaugurate a varied programme of religious and secular education. Jacobs remained at his own main station of Fort Alexander (Man.) until he departed for England in 1842 for his ordination. In London he lived with Robert Alder*, the Wesleyan missionary secretary for British North America, under whose parental care Jacobs became an ardent Anglophile and a devoted adherent of English Methodism.
Returning to British North America, Jacobs was stationed at Fort Frances on Lac La Pluie (Rainy Lake). His letters in the late 1840s unfold a rather pathetic account of an intelligent and lonely man concerned with his wife's failing health, the education of his growing family, and the hostile forces which surrounded him. The Indians of Lac La Pluie "are like the Jews of old. 'Behold this people is a stiffnecked people.' They are wholly given to idolatry." They were fearful of their own conjurers and were ready to become dependents of anyone who would convert them. The HBC, upon which the mission relied, resisted the moral pressure of the missionary; Jacobs deplored the "diabolical doings of this Fort." Deprived of the wise guidance of Evans, his "Saint Paul," Jacobs read the Anglican service and John Wesley's sermons to the whites and considered the merits of various new mission sites. He finally left Fort Frances without permission in 1850.
Nevertheless, after a respite in Canada and England, Jacobs returned to the northwest in 1852; the account of his journey from Rice Lake to York Factory and return, published in 1853, provides a valuable description of the mission field and the perils of the region. As he travelled along the fur-traders' route, he was pleased with the well-developed missions at Rossville and Oxford House, the latter directed by Henry Bird Steinhauer, another Indian convert. At York Factory Jacobs was disappointed at not meeting Methodist missionary John Ryerson*, whom he had expected to be visiting the area. Leaving hastily to avoid the onset of winter, he almost drowned in Lake Winnipeg and fought through a blizzard near Fort William (now part of Thunder Bay, Ont.) before boarding a steamer for Rice Lake and home. In 1853–54 he was stationed at the Saugeen Reserve and in 1855–56 at the Rama Reserve. He received no station in 1857 and was expelled from the conference the following year. The Christian Guardian noted in 1858 that Jacobs was in the United States soliciting funds without the approval of the church. Evidently Jacobs settled at Rama where he acted as school teacher, merchant, and interpreter, and supplemented his income by fishing and guiding. Although he appears to have undergone a reconversion in 1867, he was constantly bedevilled by heavy drinking and sank into poverty and oblivion. At his death, his reputation as a lecturer was recalled by local newspapers. He was survived by three of his six children; one son was a missionary in the Church of England. Another son, also named Peter Jacobs, who had died in 1864, had been a Church of England missionary as well.
Peter Jacobs' career was ultimately rather tragic. Largely assimilated himself, he brought European customs to the tribes in Ontario and the northwest. In a limited sphere he showed his brethren a new system of values and a new manner of existence. But he was the representative of a church which lacked the resources or the knowledge to conduct a comprehensive and imaginative programme of assimilation and which was both unwilling and unable to revitalize the Indians' own culture, and he soon reached the limits of his own usefulness.
Pahtahsega was the author of Journal of the Reverend Peter Jacobs, Indian Wesleyan missionary, from Rice Lake to the Hudson's Bay territory, and returning; commencing May, 1852: with a brief account of his life; and a short history of the Wesleyan mission to that country (Toronto, 1853; 2nd ed., Boston, 1853; [3rd ed.], New York, 1858).
Methodist Missionary Soc. Arch. (London), Wesleyan Methodist Missionary Soc., Corr., Canada, 1844–52 (mfm. at UCA). Carroll, Case and his cotemporaries. [James Evans], "Letters of Rev. James Evans, Methodist missionary, written during his journey to and residence in the Lake Superior region, 1838–39," ed. Fred Landon, OH, 28 (1932): 47–70; "Selections from the papers of James Evans, missionary to the Indians," ed. Fred Landon, OH, 26 (1930): 474–91. [Kahkewaquonaby], Life and journals of Kah-ke-wa-quo-nā-by (Rev. Peter Jones), Wesleyan missionary, [ed. Elizabeth Field] (Toronto, 1860). Methodist Magazine and Quarterly Rev. (New York), 1824–28. G. F. Playter, The history of Methodism in Canada: with an account of the rise and progress of the work of God among the Canadian Indian tribes, and occasional notices of the civil affairs of the province (Toronto, 1862). Wesleyan Methodist Church in Canada, Minutes (Toronto), 1858. Wesleyan-Methodist Magazine (London), 1843. Christian Guardian, 4 Dec. 1839; 1 April 1840; 23 Nov. 1842; 12 July 1843; 2 Aug., 20 Sept. 1848; 30 Oct. 1850; 17 March 1858; 10, 21 Sept. 1859; 30 Aug., 16 Oct. 1867. Daily Times (Orillia, Ont.), 4 Sept. 1890. Cornish, Cyclopædia of Methodism. G. G. Findlay and W. W. Holdsworth, The history of the Wesleyan Methodist Missionary Society (5v., London, 1921–24). John Maclean, Vanguards of Canada (Toronto, 1918). D. B. Smith, "The Mississauga, Peter Jones, and the white man: the Algonkians' adjustment to the Europeans on the north shore of Lake Ontario to 1860" (phd thesis, Univ. of Toronto, 1975).
© 1982–2023 University of Toronto/Université Laval
Image Gallery

Cite This Article
G. S. French, "PAHTAHSEGA," in Dictionary of Canadian Biography, vol. 11, University of Toronto/Université Laval, 2003–, accessed December 7, 2023, http://www.biographi.ca/en/bio/pahtahsega_11E.html.
The citation above shows the format for footnotes and endnotes according to the Chicago manual of style (16th edition). Information to be used in other citation formats:
| | |
| --- | --- |
| Permalink: | http://www.biographi.ca/en/bio/pahtahsega_11E.html |
| Author of Article: | G. S. French |
| Title of Article: | PAHTAHSEGA |
| Publication Name: | Dictionary of Canadian Biography, vol. 11 |
| Publisher: | University of Toronto/Université Laval |
| Year of publication: | 1982 |
| Year of revision: | 1982 |
| Access Date: | December 7, 2023 |